Speech
DECC's celebration of International Women's Day
Speech by Baroness Verma to launch DECC's celebration of International Women's Day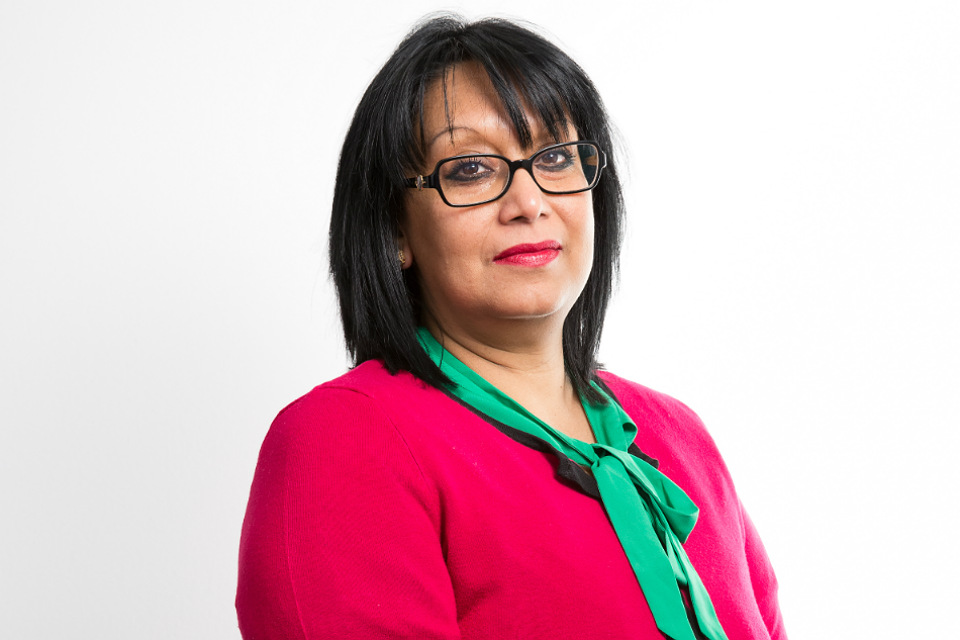 Thank you all for being here today at the start of DECC's celebration of International Women's Day.
I would like to congratulate the DECC Women's Network on the fantastic work they have carried out since they were established. The network has come a long way and faced many challenges during its establishment. I believe it now holds a strong and respected ground within the department where it is able to successfully influence and inform key decisions affecting women within the department and I am glad to see so many of you here today.
The Network offers a great forum to discuss the issues face by women within the department and the wider energy sector. It is proactive in its approach and seeks new ways to reach out and challenge the status quo. I have been very impressed with the range of events put on by the network including talks from senior colleagues within the department and tailored workshops such as the Maternity and Paternity forum put on at the beginning of this month.
I would like to congratulate the founders of the group (Becca and Rebecca) and the newly created steering group for all their hard work to date. In order for the network to build on its work and its continued success, is dependent upon your support.
I would like to tell you a little bit about:
International Women's Day

The importance of encouraging more women to consider a career in the energy sector

My experience as a business woman and politician.
So turning to International Womens Day.
International Women's day was held this Saturday 8th March and thousands of events are being held throughout the world this week to mark the 103rd year of this celebration.
This year's theme is inspiring change. Whether that's at work, at home or in life in general, it focuses on how women have inspired change.
International Women's Day is a great example of how, collectively, we are able to not only inspire but also deliver change.
We have come some way since the founding years of International Women's Day. Female rights and equality for women now have a global stage, the day is now a public holiday in 27 countries and this year over 1,200 official events have been arranged across the globe. Women's equality has made positive gains. However, there is still much more work needed in the fight for gender equality, the various areas of abuse; domestic, sexual, psychological, forced marriage, dowry, land rites, the list goes on.
International Women's day encourages advocacy for women's advancement everywhere, in every way. It calls for challenging the status quo for women's equality and inspiring positive change.
However, for these issues to be addressed, we need the support of all in society - with change, will and leadership coming from the top – the confidence and trust coming from the bottom.
Which brings me to my second point:
The work you do in DECC transforming the energy landscape and acting on global climate change is vitally important to us all. Women are increasingly playing a more active role in the energy and green sectors.
We need to ensure the benefits of stronger female representation within the energy sector, particularly at board and senior management levels. Which is one of the sub themes of this year's international women's day.
As the recent PWC report, prepared in association with the Women's Oil Council, found:
13% of non-executive roles are female, whereas only 1% of executive roles can say the same.

Only six oil and gas companies in the survey had a board that was 30% or more female.
It is crucial for companies, along with Government, to ensure that we all are provided with the support to pursue those career paths to reach senior levels that become available.
Or if the impact of energy usage in the home of developing countries- I have seen for myself the positive impact a clean cook stove can have on the day to day lives of women in rural towns and villages – their life quality improving – the impact on time management to pursue other activities to ensure that they can become economically more secure – ensuring their position in society changes.
If we are to ensure we tackle carbon emissions globally- then this work towards our climate change goal is vital- severe weather effects globally are a reminder of the impacts of continuing to exploit our planet. So whether it is in our collective thinking globally- women have a major role to play at work or at home.
I believe that there is an important role here for inspiring female role models and mentorship, along with visionary and innovative employers.
Looking at this room- reflects how the purchasing power of goods/ services relating to energy and households impacts upon women and the real need to engage and involve women in the sector.
This is why, over the coming months, along with a number of excellent women in the energy sector, I will be working to establish a group to encourage more women to consider a career in energy, to showcase those successful women already and to interact and connect globally with women in the energy sector across the world.
Finally, I was asked to say a few words about my own personal experience…
I still often find there are moments when I wake up in the morning and have to remind myself that I have actually broken through a great many barriers and often against the backdrops of the almost impossible.
It is good to remind yourself, not to over analyse things that may not have gone to plan but to take advantage of any opportunity that comes your way.
Growing up in Great Britain, I faced a battle of wills with my father; trying to live a life that satisfied my family's cultural values and those that met my own expectations as an ordinary young person. This experience provided me with an armoury of tools that equipped me to take on and challenge anything that prohibited or blocked my way to progress.
At 19, married, with a small baby in tow and a mortgage, I took the decision to start a business with my husband, in high fashion manufacturing. I became very much involved in local activities, especially supporting victims of domestic violence, speaking up on gender issues, etc.
The overt and covert prejudices that I have experienced throughout my life whether on the grounds of colour or gender, have always strengthened my resolve to ensure that others are supported in fighting the challenges that sadly we still have to address.
As with all things that have arisen in my life, along with the challenges have come excellent opportunities and some absolutely brilliantly supportive people.
I have 2 major strengths, one - I am very good at networking, not shy to ask the stupid question and secondly I don't beat myself up with over analysing when things don't go my way and I look at learning from the experience and moving on.
My own life experiences and challenges have shaped what I set myself to do in areas in which I have influence or authority.
And whilst the demands of being a minister are huge, from the onset ( and with the support of the Secretary of State and other DECC ministers), I have ensured that how we shape our policies, the messages we wish to convey and predominantly how we engage with those that are the biggest purchasers of our goods and services are properly incorporated in those policies.
The energy sector is one where there is huge opportunity going forward for us all to shape. I do hope you will help, by playing your part in ensuring that the sector is fit and representative for this incredibly exciting decade of innovation and change.
So turning to this week, I am very proud to lend my support to the Women's Network and I encourage you all to attend the fantastic programme of events, starting tomorrow with some of our female colleagues at Grade 7 who will talk about their progression through the civil service.
On Wednesday The Department of Health has organised an all-day conference on inspiring women, inspiring change and features high profile speakers from across the public service.
On Thursday, Jane Cunningham, who runs her own marketing business, will speak about marketing specifically to women – providing useful consumer insights for DECC no doubt!
And finally the week finishes with a panel debate on women in science, including various women in science related jobs in both the public and private sector.
Thank you again for coming today. I'd like to end by reiterating my support for International Women's Day, the DECC Women's Network and what looks like a very exciting and inspirational series of events. I encourage you all to pop into the sessions, to support your network and most importantly, promote equality for women.
Published 12 March 2014