British High Commissioner Robert W Gibson CMG at Diplomatic Correspondent Association of Bangladesh (DCAB) at National Press Club today.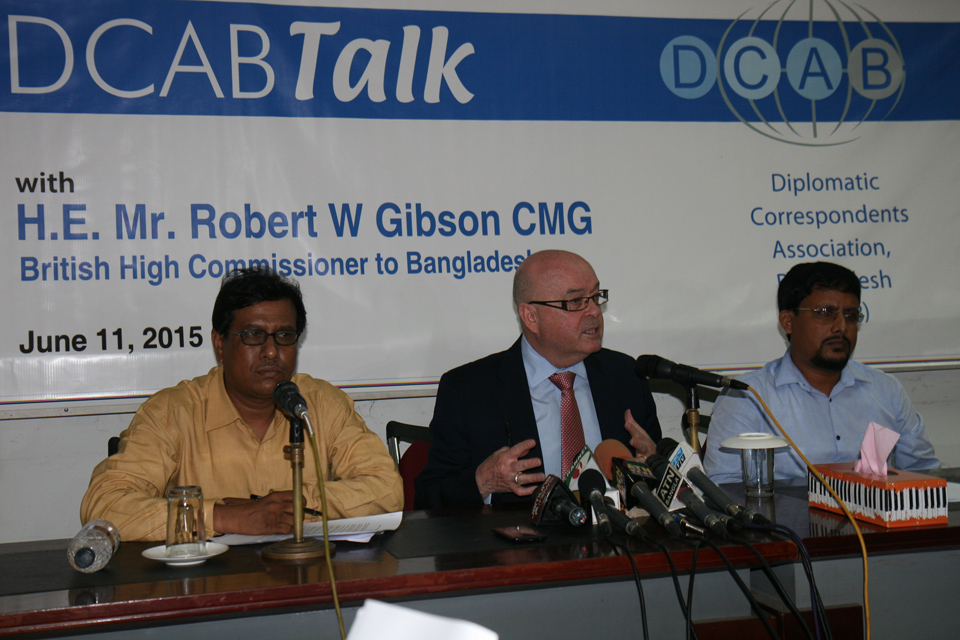 Good morning and thank you for inviting me again to address the Diplomatic Correspondents Association of Bangladesh.
This is the third time I have had the privilege to address this august group. It is an event I look forward to each year and this year is no exception. I first set foot on Bangladesh soil in January 2002. At that time it felt I was stepping into what we used to call a third world country.
The airport was unwelcoming and chaotic. But amidst the chaos there was warmth and generosity.
And above all a welcome. That welcome has remained with me all these years.
It was responsible for my 14 year love affair with Bangladesh. It was responsible for my total commitment to this country and its relations with the United Kingdom.
A commitment to support your belief in equality, respect for religion, and freedom of individual expression. Themes I will address in my remarks this morning.
In 2012 my Prime Minister announced a vision. A vision for a society which was open.
A society which had an open economy bound by an open government. At the heart of this vision is a document created in the summer of 1215 on a riverbank near London.
Civil society in England had then been pushed to their limits by the King. The King had used his arbitrary power to extort and appropriate their property, more or less at his personal whim and will.
This group of people were determined to circumscribe the power of the monarch.
The result was the Magna Carta, whose 800th anniversary we are celebrate next week.
It has left a legacy. I am sure that small group of civil society members, at the time did not realise, they created a powerful document which would guide our lives today.
Its enduring significance instead lies in its main themes of rule of law and justice for all.
Themes that have been widely replicated and interpreted in the centuries that followed setting out the basic liberties of the English and other nations. Its impact on the UK was the creation of the world's oldest parliament.
The founding fathers of The United States referred to the Magna Carta when writing the American Declaration of Independence and the Bill of Rights. The United Nations, took its concept and presented its ideas in the Universal Declaration of Human Rights. And very proudly, its principles resonate throughout the Commonwealth of which Bangladesh is a member.
It remains a powerful reminder to modern politicians of the dangers for a State that tries to live beyond its means and disregards the interests of those who fund it.
That power is not to be exercised in an arbitrary and unconstrained way;
that the State is answerable to its citizens;
that there must be due process; and
that the "rule of law" is the most important of the principles that underpin strong institutions and accountable government.
Those principles are enshrined in The Commonwealth Charter, which has been adopted by all member countries.
It sets out - for the first time in a single document - the Commonwealth's core values. It commits its leaders to:
upholding democracy and human rights,
promoting tolerance and respect,
protecting the environment,
providing citizens with access to health, education and food and
recognising the positive role of young people in promoting these and other values.
Bangladesh is a signatory to the Commonwealth Charter.
As one of the largest members of the Commonwealth in terms of population size, Bangladesh has a key role to play in keeping these principles and turning them into reality.
The UK and Bangladesh have both signed up to the numerous international Conventions and Covenants that have given life to the Universal Declaration and indirectly to the principles of the Magna Carta.
We welcome Bangladesh's membership of the UN Human Rights Council and its representation on various treaty bodies.
We welcome its leadership of the Commonwealth Parliamentary Association and International Parliamentary Union. But with membership comes responsibility. Responsibility to uphold the principles of those bodies.
Responsibility to ensure those principles are fully implemented domestically as well as internationally.
The UK has reached a state in which we have shown that it is possible both to uphold universal human rights and create a society where debate is healthy and violence not tolerated.
We are determined to pursue every opportunity to promote human rights and political and economic freedom around the world. That is why the UK Government has six priority areas to protect human rights
Freedom of expression,
Prevention of torture
Abolition of the death penalty
Freedom of religion or belief
Women's rights
Business and human rights
These veins run throughout our foreign policy. It forms the basis of our development programmes; how we do business, and is integral to our security policy.
We have all witnessed, and many of you here today have probably reported on, the brutal attacks in the past year by professed Islamist terrorists throughout Europe in Canada and Australia.
There are many examples in all media where good people have been executed just because they come from a country which upholds freedom as part of its society.
We cannot be complacent.
We have to be on our guard against the rise of anti-Semitism and Islamophobia. We have to stand up against religious and other persecutions across the world.
Whether it be of Christians, of those who are lesbian, gay, transgender or bisexual, they all deserve the freedom to live peacefully and respect for what they believe.
When it comes to tackling Islamist extremism and its consequences, we will need a comprehensive approach.
Established groups such as ISIL and al-Qaeda pose a direct threat to the safety of all peace loving citizens across the globe.
Instability and extremism in one part of the world can end up costing innocent lives on the other side of the globe.
Extremist groups have led to millions of people being forced to flee from their homes in search of safety.
We need to deploy every one of the tools available to us in a generational struggle against an amorphous evil.
The UK is committed to remain at the forefront of the battle to degrade and ultimately destroy Islamist extremism wherever it operates. And to stop it spreading and undermining democracy in Asia.
The Charter stresses the importance and protection of human rights is paramount to the freedom of every person. We all have a duty to protect this freedom.
Whether it is being free to practice religion, to discussing our beliefs, to just saying what we feel, whether we like it or not; irrespective what domain it is published or heard, we cannot shy away.
We all must protect this.
But we haven't won the battle.
Already we can see new threats.
Threats such as "modern authoritarianism."
Governments around the world that practice modern authoritarianism seek to dominate not only the executive and legislative branches, but also the media, the judiciary, civil society, the economy, and the security forces.
Authoritarians consider it imperative to ensure favourable electoral outcomes through a certain amount of fraud, gerrymandering, handpicking of election commissions, and other such rigging techniques.
They give equal or even more importance to control of the information landscape, the marginalization of civil society critics, and effective command of the judiciary.
As stalwarts of the Commonwealth and its values, we need to guard against such trajectories.
I am look to Bangladesh to recognises this and assist us in our vision.
The UK is one of only a small number of countries with both the aspiration and the means to play a significant role in world affairs.
The UK is one of the most successful multiracial democracies in the world.
Britain is admired by many countries across the world for its genuine freedom.
As a permanent member of the UN Security Council and a leading member of the EU and NATO, as well as the G7, the G20 and the Commonwealth, Britain is in a better position to help deliver that ambition than most.
As one of the most open economies in the world, which earns its living through trade in goods and services across the globe, we have a greater stake than most in securing a world that operates according to a rules-based system of conduct.
The rules are essential for any free and fair society. But they must protect human life and society rather than punish and put at risk what ordinary citizens expect from their country, whether domestically or on the world stage.
The British Foreign Secretary, the Right Honourable Philip Hammond MP after being re-elected at the UK General Election in May, made a commitment to establish a rule-based international system.
A system in which international norms are respected. Where differences are resolved through the application of legal principles Where there is recognition of mutual benefit through international co-operation and where there is rejection of the zero-sum game approach.
A world in which the majority of nations work together with a common agenda and resolve to isolate rogue states and suppress terrorists and others who threaten the rule of law.
A rules-based international order that is in Britain's interest but is also in the interest of building stability, security and prosperity for the world's population as a whole.
As the leaders of the G7 said this week:
"Guided by our shared values and principles, we are determined to work closely together to meet the complex international economic and political challenges of our times.
We are committed to the values of freedom and democracy, and their universality, to the rule of law and respect for human rights, and to fostering peace and security.
We stand united in our commitment to uphold freedom, sovereignty and territorial integrity."
Sadly, as we look around us today, we see that we are far from that vision of the world.
In Europe, where we thought the rules-based system was well established, we face the challenge of a Russia riding roughshod over it by illegally violating Ukrainian sovereignty.
The middle east and north Africa are threatened by a violent extremism.
Violence that by its actions has shown itself the enemy of every reasonable vision for civilisation and a travesty of the values of the religion it purports to defend.
In Bangladesh, we have seen innocent people, exercising their freedom of expression and being hacked to death. I unequivocally condemn, the killing of bloggers in Bangladesh and elsewhere in the world.
Freedom of expression is a fundamental right.
Respect of different opinions is a key element of free press.
We all have duty to preserve this.
As Press you have a duty which may involve taking risks.
Recognising and reporting injustice is necessary in protecting freedom.
A press that is constrained, some may even say violated, fails in that duty.
An environment where people cannot express themselves will do more harm than good.
An environment where the rule of law is not respected and applied correctly, will do harm.
I would now like to turn to economics.
Britain has one of the world's most open economies.
In 2014, the UK was the fastest growing economy in G7. It grew 75 per cent faster than Germany, three times faster than the Euro zone and seven times faster than France.
My Government has a vision. It wants to develop a long term economic plan to not only support increased growth but enhance the opportunity of all British citizen's to share in this prosperity.
The UK government believes strongly in the capability of the private sector to improve the prosperity and well-being of poor people. 9 in 10 jobs in developing countries are found in the private sector.
When I talk to poor people and ask them what will make the biggest difference to their lives – it is always a job.
The long term economic vision is about sustainable global growth through partnership and aid. That partnership with the UK is already happening here in Bangladesh.
Already we are working together to address some of the key constraints to economic growth, investment and job creation:
we are working to build access to finance;
we are helping people get the skills they need to compete in the workplace;
we are making markets work for the poor; and
we are working to reduce the cost of doing business in Bangladesh, to stimulate both domestic and foreign investment, including by supporting the growth of special economic zones.
And I think, our diplomatic reporters are well aware about our contribution to the Bangladesh Bank, regarding Automated Clearing House, Electronic Tax Identification Number, or Electronic Fund Transfer.
I clearly saw this demonstrated two weeks ago when I visited some remote island chars in Borgra and Tangail.
The Chars, is an ever shifting fragile environment, which changes daily as the rivers change their course. In this remote location people survive. The work of the Chars Livelihoods Programme funded by the UK and Australian Government proves that through partnership great things can happen.
The project is creating opportunity and making a real and sustainable difference to poor people's lives.
It proves that poor people have ability to progress if necessary assistance can be provided.
It can then give them their own freedom to develop and build their own future.
It is a clear example of a development success and one I urge you take inspiration from.
The UK government believes strongly in the capability of the private sector to improve the prosperity and well-being of poor people.
That's why we have designated around a quarter of a billion dollars of investment across Sub Saharan Africa and South Asia over the next ten years. This will be used to develop prosperity and sustainability through social business.
In Bangladesh our ongoing programmes like Making Markets Work for the Poor, has been improving productivities and competitiveness of small farmers and enterprises.
It's not about Aid.
An economy needs trade.
Bangladesh needs trade, especially if it wants to grow 7% as outlined in the recent budget last week.
And the UK wants to do business with Bangladesh.
In 2013 the UK was Bangladesh's 23rd largest supplier with 1% of total imports.
10% of Bangladesh's total exports went to the UK with 93% of that in the garment sector alone.
To date nearly three billion dollars worth of trade has taken place between our two countries.
But that does not mean trade can take place without consideration of human capital and sustainability.
We all saw the tragic consequences of where fairness and rules were not applied in the collapse of Rana Plaza.
The UK has recognised this and is currently providing a total of £7.4m to improve garment factor safety and working conditions, empowering workers and urging buyers to take responsibility for the supply chain.
We all have an important role to play in promoting labour rights, decent working conditions and environmental protection in global supply chains.
The UK strives for better application of internationally recognized labour, social and environmental standards, principles and commitments.
We strongly support the UN Guiding Principles on Business and Human Rights and welcome the efforts to set up substantive National Action Plans.
In line with the UN Guiding Principles, we urge private sector implementation of human rights due diligence. It is the joint responsibility of governments and business to foster sustainable supply chains and encourage best practices.
There are many other issues I could reference: such as climate change and post 2015 development goals. But time is too short.
The world is changing at probably a faster rate than ever in its history. With that change comes new obstacles, new paradigms.
For a country to compete on the international stage, it has to accept that traditional views or ways of doing business will not be acceptable. That change can only start from within. That duty is with us all.
To succeed people must embrace change and innovation. People need the freedom to express or believe in what they want. For a country to thrive and prosper they need vision.
Our present model of growth, while it has served us well for a long time, certainly has enormous shortcomings which are increasingly transparent. Many of the structural changes that need to be made for society still haven't been made.
We are sitting on an enormous time bomb of shifting populations and shifting perception.
Complacency is neither sufficient nor the answer.
Companies that don't invest, won't survive
Country's that ignore education and development will go backwards.
The future is about change, sustainability, compliance, and innovation.
My final word is to urge Bangladesh not to be left behind.
Not to wallow in the past to much, nor to accept tradition unquestionably.
But to innovate and prosper.
And uphold the values which I, as the British High Commissioner, hold dear.
Published 11 June 2015