Speech
Danny Alexander tells Road Haulage Association: 'You are the ones literally driving our recovery'
Chief Secretary to the Treasury speaks at the Road Haulage Association's annual lunch.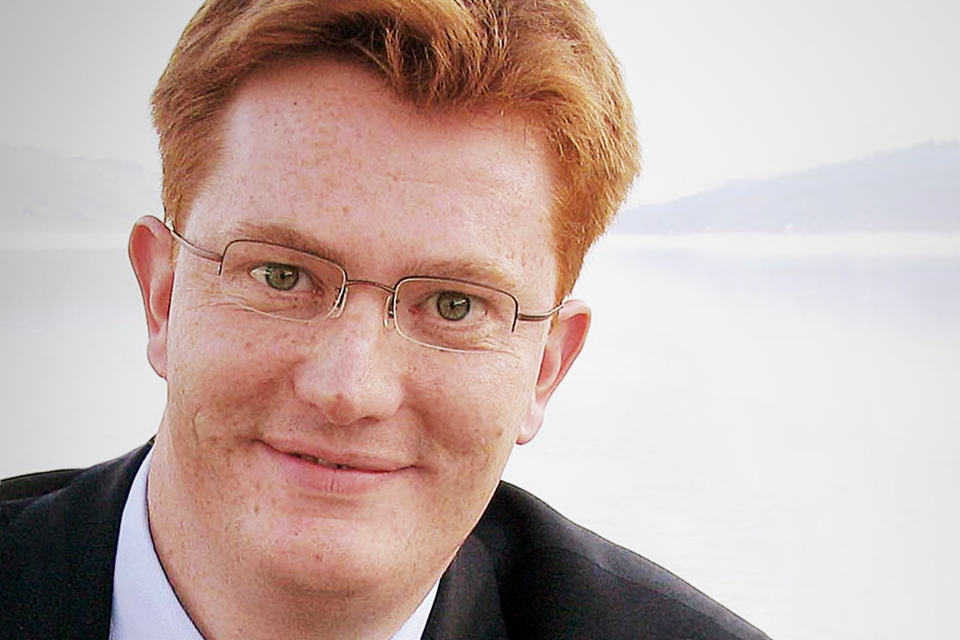 Good afternoon.
I'm very pleased to be here today.
Now, some of you might have noticed that its four years to the week since the coalition government was formed.
Being forced to take tough decisions to fix our economy has not been easy for anyone.
Back then our economy wasn't working for your sector, with high prices at the pump and roads in disrepair…
And it wasn't working for the British people…
With growth weak, employment low and – most devastatingly – confidence low, affecting investment and trade.
But – 4 years on – it's safe to say that I enjoy coming to these events a lot more.
Because there are real signs the UK economy is recovering.
We're by no means there yet, and we've still got a hell of a lot of work to do…
But both unemployment and inflation are down.
Manufacturing output has gone up for four successive months.
Business investment has gone up for four successive quarters.
And most importantly – for you, and for millions of British people – economic growth is up.
Now – as I always say at events like this…
Government doesn't create that growth. Businesses do.
And it's your members – and many besides you – that are literally driving our recovery.
If I were to drive the 500 miles from my office in Westminster to my constituency in the Highlands…
Or if I were to walk the 500 miles – which seems more befitting of a Scot!…
I would pass thousands of goods vehicles…
Carrying materials for construction…
Or machinery for manufacturing…
Or cars or clothes or cans – cows even – for export or for retail.
So this recovery is your recovery…
And I'd like to begin today – on behalf of the UK government – by saying a huge thank you to all of your members for the crucial work you do.
I'd like to use the rest of my time with you to talk about:
the work the government has done to support you
the work we're still doing, to help you further
And finally, the work that we believe you can do, and where we can work together
I'd like to believe that the government has already made great progress in helping you to go about your daily work.
In fact – one of the first priorities of the government…
Written into our coalition agreement 4 years ago…
Was to ensure a fairer arrangement for UK-hauliers via a road user levy…
And to do as much as possible to remove the inequality, whereby UK hauliers would pay to use many roads abroad…
But foreign-hauliers wouldn't expect the same treatment here.
I'm delighted that those changes came into effect last month…
And they will be – I hope – go towards levelling the playing field for British companies.
But we've gone a lot further in our support for your sector than that initial promise…
And for much of that, you have to thank Geoff Dunning and his team for their hard work in bringing your issues to our attention.
Now Geoff and his team made absolutely sure that…
When I came into this role…
I was under no illusion about just how important fuel price and fuel price stability is to your industry.
And I understand that the RHA – alongside the Freight Transport Association – were the first two backers of the FairFuelUK campaign?
Indeed, I've met Quentin Wilson and Howard Cox on a number of occasions.
That campaign has made – and continues to make – a very significant impact in Parliament, in Whitehall and in the Treasury.
As many of you will know, since 2011 the government has:
abolished the fuel duty escalator
cut fuel duty by 1 penny per litre
and scrapped 4 planned increases.
Meaning that, by the end of this parliament…
Fuel duty will have been frozen for nearly four and half years.
That's the longest duty freeze in over 20 years.
In fact, the government will have eased the burden on motorists and hauliers by £22.5bn over the parliament to 2015-16.
So – by 2015-16 – a typical haulier will have saved a total of £21,000.
It's worth bearing in mind that these decisions – while important – haven't been easy to make.
That £22.5bn would have come to Treasury coffers…
And when you're trying to reduce a deficit as large as the one we inherited…
You have to make sure that every pound lost is a pound that makes sense.
But Geoff and his team made very clear to me…
With passion and evidence…
Occasionally by force of email!…
Just how vital a role logistics vehicles play in our economy.
Many of you in this room will know that FairFuelUK challenged the Treasury with some modelling work about how Fuel Duty affects the overall economy.
And I can confirm that the Treasury has now undertaken some modelling of our own.
And I'm inviting Quentin and the FairFuelUK team to come in and discuss that modelling in the coming weeks.
The fact that Quentin is coming in soon shows – I hope – something very important.
That just because fuel duty has frozen…
It doesn't mean that our relationship will!
We want to maintain a high level of dialogue with you…
And we want to keep working, to support the work that you do.
I know that this might sound minor – but one of the biggest areas that you can be of use…
Is by continuing to make us aware of those parts of the motorway network where you experience the biggest problems.
We need to hear about those issues, because…
Where traffic slows down –
Where your work slows down –
Our economy slows down.
We have big ambitions when it comes to investing in the UK's road network…
And making sure it's fit to support 21st century businesses.
Just last June, I stood at the despatch box of the House of Commons and announced the biggest programme of road investment since the 1970s…
With £28bn due to be invested by 2021…
And this investment – alongside all the other investment from this Parliament – will include:
over 50 major road projects, which will add over 750 miles of capacity
over £12bn for maintenance, including the resurfacing of over 80% of the Highways Agency road network
Now I know it's one thing for a Minister to stand and announce a project…
And it's quite another thing to deliver them…
But let me reassure you that we have completed a large number of key projects.
Just last month in fact…
We opened the new – widened – M25 which will run as a smart motorway between Kent and Surrey.
And we completed a similar smart motorway project on the M6 around Birmingham.
And there will be more to come:
upgrading the A11 to dual carriageway, to improve access to and from East Anglia
improving the A14 – with no toll! – to provide links to the ports at Ipswich and Harwich and Felixstowe
and upgrading parts of the A1, to ensure that the whole of the route from London to Newcastle will be the required standard
So we will continue to work hard for you at a national level…
And we'll continue to make sure that the road network you have to rely on…
Is a road network you can rely on.
So I hope that when you tuck into your lunches shortly…
You'll do so safe in the knowledge that I personally – and we as government collectively…
Have worked hard…
And will continue to work hard…
To support your sector.
But – in return – I would ask that there are two things you can do for us.
First, just as you've challenged the Treasury on fuel duty…
And just as we've listened and responded to your arguments…
I'm keen to challenge hauliers on making further improvements to the industry's performance on carbon.
This isn't an issue we should take lightly.
Just this March, the IPCC reported that climate change projections in Europe…
pose an increased risk of flooding…
an increased risk of heat waves…
an increased risk of drought…
and an increased risk of wildfires.
And the potential impact beyond our continent could be even more devastating…
With greater risk of displacement, and – indirectly – a greater risk of conflict.
In short, climate change remains the biggest long-term issue facing our planet…
And we need to make sure that here in the UK we create a green, sustainable economy that can power our countries' future.
At present, HGVs contribute something in the region of 20% of greenhouse gas emissions from UK domestic transport…
And that figure has been rising as other forms of transport have become more efficient.
I know that costs and technical challenges mean that electricity may be unable to replace diesel for large HGVs anytime in the foreseeable future…
But that makes measures to further improve and exploit fuel efficiency all the more important.
Yes, efficiency measures have up-front costs…
But typically, efficiency gains can repay on that investment in under 18 months.
And we're supporting the industry to do this by:
Match-funding the Low Carbon Vehicle Partnership accreditation scheme for fuel-saving technologies…
And – of course – working alongside the RHA and others as part of the HGV Task Force.
So I want you to match our effort…
And I'll look forward to discussing ideas like:
driver fuel-efficiency training.
and improvements to vehicle performance …
With the RHA soon.
My other challenge to you is this.
We are now – as many of you will know – only 125 days away from the biggest vote in this country's history.
This September, the people of Scotland will go to the polls to decide whether or not to remain part of the UK…
And to me, this is an absolute no-brainer of a question.
We are better off as a United Kingdom.
A United Kingdom, with a shared currency, supported by a full monetary, fiscal and political union.
A United Kingdom without borders which allows workers to move freely, and businesses to trade freely.
A United Kingdom where our broad shoulders help to keep the economy stable and taxes low.
And a United Kingdom, where our global clout allows us to stand up for the businesses that operate here, especially in big trade negotiations.
All of those factors feed into the work your companies do.
Now, you probably wouldn't have to drive through international check points every time you entered an independent Scotland…
But even without a physical barrier…
The prospect of a trade barrier, or a currency barrier, could have a completely devastating – and a completely unneeded – impact on your industry.
So between now and September…
I want you to think carefully – and most importantly, I want you to shout loudly – in the referendum debate.
And make the case for the most successful political, economic and fiscal union that has ever existed…
To remain a successful union in future.
As I said at the outset, being with you here today has been an even more pleasurable experience than it would have been four years ago.
But we're only half-way there…
And if we can continue to work together…
And to be honest with each other…
Occasionally challenging to one another…
Then whichever Minister is stood here with you in four years can have an even better experience.
She or he can talk about a UK where the economy is still growing.
Where fuel prices are still low.
Where the road network is more reliable.
Where the industry is greener.
And where the UK is still together.
That's what I'm absolutely desperate to see…
And I'll look forward to working with you over the next year…
And – I hope – beyond, to make it happen.
Thank you.
Published 15 May 2014