Speech
Consul General's speech at the Queen's Birthday Party in Macao
British Consul General to Hong Kong and Macao Caroline Wilson's speech at the Queen's Birthday Party in Macao.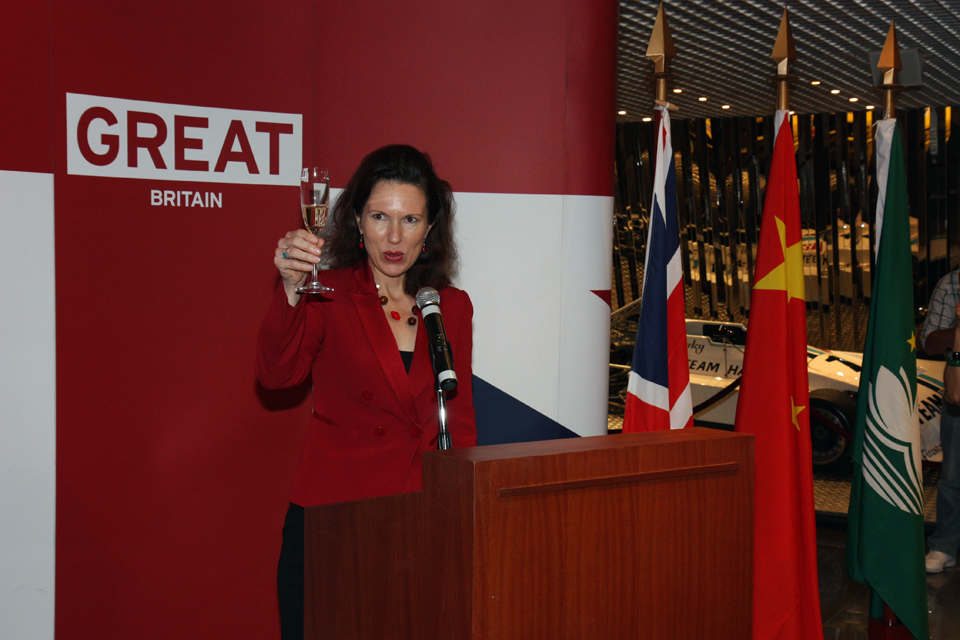 Secretary for Administration and Justice of the Macao SAR Government, distinguished guests, ladies and gentlemen, welcome to the Queen's Birthday Party in Macao. I would like to extend a special thank you to our sponsors Menzies, Arup and Jaguar Land Rover and others whose names you will see in your programmes and around the Museum.
Before proceeding any further, may I invite you Ladies and gentlemen to raise your glasses in the first toast of the evening to Her Majesty ["The Queen"].
The past twelve months have been eye-catching and important ones for the UK with the hugely successful Olympic and Paralympic Games in London last summer. And I know this was celebrated here in Macao.
Friends from around the world also joined in celebrating Her Majesty The Queen's Diamond Jubilee following 60 years on the throne and the Macao/BBAM street party made it onto the BBC website!
The UK-Macao relationship continues to evolve. In 2012 UK exports in goods to Macao were up 37%, with more in services, but I would like us to do better. UK trade with Hong Kong was £5 billion in 2012 for the second year running, and trade through Hong Kong to mainland China and vice versa continue to grow. Overall trade with the region from UK will increase and we want this to include Macao.
The 2012 Olympics highlighted UK capability in Delivering World Class Infrastructure. We want to share our experience in delivering the world's most sustainable Games. UK firms can make a major contribution to some of the landmark infrastructure developments in Hong Kong and Macao including the West Kowloon Cultural District, the redevelopment of Kai Tak, and the Hong Kong-Zhuhai-Macao Bridge.
We are focusing on the next phase of developments in the integrated resorts in Cotai. It is in the UK Government's list of 100 top global projects. I have held important meetings today with those working on these developments. We are determined to work closely with you and to get more British companies doing business in Macao and more goods and services being supplied by them.
Other important sectors in the trade relationship include education, financial services and retail and luxury goods. In November last year we welcomed our biggest ever trade mission of 50 companies to Hong Kong from the design, creative and fashion sectors and we will welcome such a mission again this year. Next week we have an even bigger mission in the food and drink sector. And we are extremely keen to encourage companies to come to Macao.
British PM David Cameron wants at least to double the investment from China each year and aims two-way trade to grow to USD150 billion by 2015. The UK Government is serious about retaining our standing as number one investment destination in Europe and a preferred destination for Chinese investors.
As part of this, UKTI is to have a major involvement in the Macao Infrastructure Investment Conference in June. A UK delegation will be led by the former Lord Mayor, Sir Michael Bear and I am hoping that a UK Minister will also be available to attend. And we see this as an important activity to encourage investment in UK infrastructure but also to encourage UK and Mainland Chinese companies to work together in 3rd markets.
Both Macao and Hong Kong have a unique role to play. Hong Kong is a connector to the mainland. But the renewed focus on the PRD means that Macao, and developments in the region such as Hengqin are an important part of this connectivity.
Next year you will be hearing more about the GREAT campaign – the British government's biggest marketing campaign ever. This evening we are showcasing British cheese and drink from the UK and thanks to Lax Cafe for the splendid catering. It marks the start of a month of GREAT Taste of Britain events in Hong Kong. We will be planning GREAT activities in Macao later in the year and would welcome your involvement.
The highlight of this year's summer calendar for many will be the arrival of a Royal baby. Whether he or she will be subject to a two can limit on baby formula remains to be seen.
It is an important sporting year too Hong Kong with the British and Irish Lions tour to Hong Kong, the Barclays Asia trophy featuring Premiership sides Manchester City, Tottenham Hotspur and Sunderland and a pre-season friendly by Manchester United.
It is also the 60th year of the Macao Grand Prix in November and it is no coincidence therefore that we are holding the QBP in the Grand Prix Museum with so many British cars from the past and also the Land Rover from the present as a brilliant example of advanced engineering, and craftsmanship. Britain has a fantastic heritage in automotive, and none more so than in F1 with practically every team either being based in the UK or having British involvement.
So, there has been a lot to celebrate, and a lot to look forward to.
I would like to pay a particular tribute to my colleagues at the Consulate-General, to our Honorary Consul, Glenn, and to our partners in BBAM and IPIM.
Also of course a big thank you to our Macao partners and friends here. I am very grateful to you all for your support and look forward to working closely with you over the coming years.
On that note, I ask you to join me in a toast, 'to the people of the People's Republic of China and of the Macao Special Administrative Region'.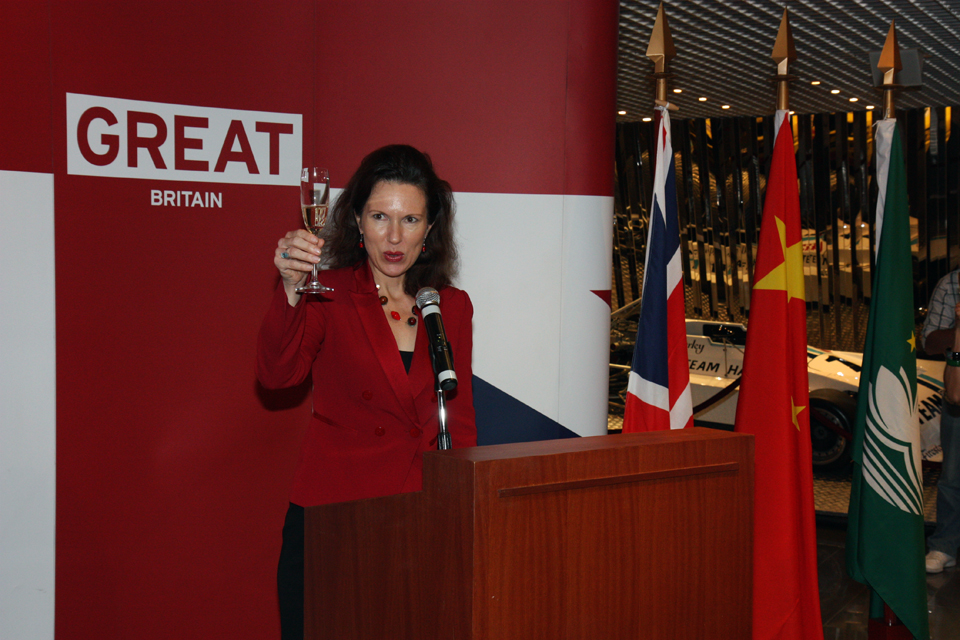 Published 30 April 2013