Speech
Childcare Minister speaks about more pre-schools in schools
Sam Gyimah's speech at Policy Exchange on giving the most disadvantaged children the best start in life.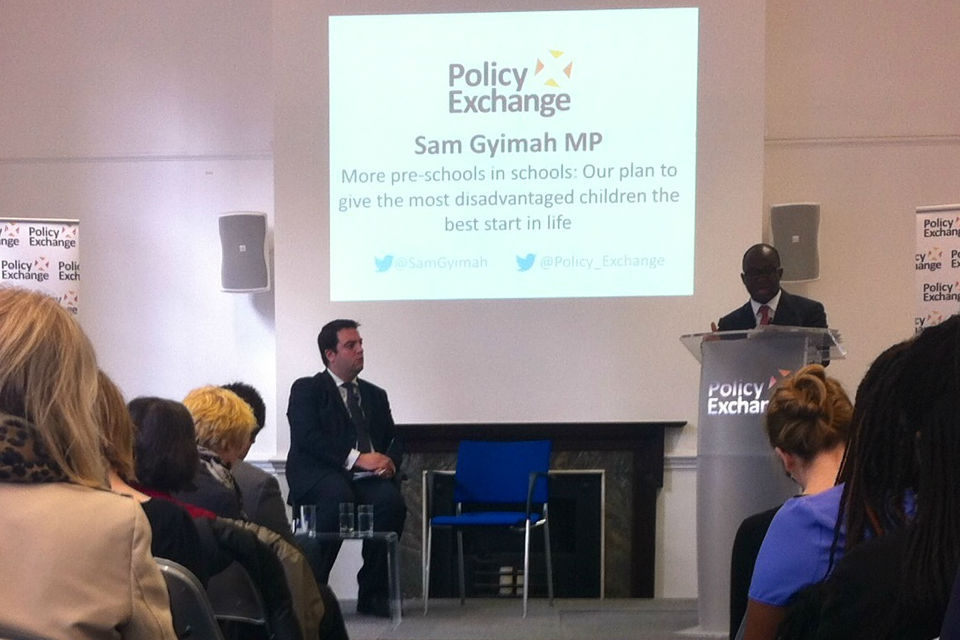 It is a pleasure to be here at Policy Exchange to speak to you as the first male childcare minister, something I only became aware of when an official drafted some copy in my name, and in it was a line that read, 'I may be a man but I understand childcare'.
I smiled when I read the line because I genuinely believe that childcare is an issue for 'parents' not just mothers. Childcare for me is also a personal issue. As new parent with a 6-month-old, I can honestly say I am living the early years. As I said to the Prime Minister - I am living inside the childcare model.
Brought up by a single mother, a nurse who had to juggle her shifts with looking after 3 children under the age of 6 at one point, I saw from a very early age, the agonising decisions parents have to find a safe, secure and happy environment for their kids.
I also remember my mother reading to me late into the night, sometimes against my will, because she believed that education, the only inheritance she could leave us, would take care of us and so she had to start early. So when I say, my mission as the new childcare minister is to help parents give their children the best start in life, I mean it, because I know the difference a good education can make to one's life.
My constituency has a high proportion of single earner families and so-called stay at home mothers - and I understand how hard they work. And I want parents to have a choice. Some families choose to look after children in the early years at home and we want them to have the widest choice possible. After all, when it comes to childcare, no one-size fits all.
In my first few months in this new role, I found myself with my nose buried in Nursery World and Children and Young People Now magazines that are relatively new to me. At every site, I've been hugely impressed by the commitment and dedication of the people who work there.
That hard work and dedication means we're helping to ensure every child gets the best chance in life. But we can do more to help them improve young people's life chances even further.
And today I want to talk about our plan to give every parent the choice of a good school nursery. We will ensure that every parent who wants to can access a school nursery, and choose the provision that works for them.
We don't expect schools to have to do this alone. We can help. And we want to see schools teaming up with private, voluntary and independent nurseries, sharing the best ways to work between themselves. That way, families can have the flexibility of private nurseries and the expertise of schools. The best of both worlds.
The benefits for children and parents
Because we know that before they have knotted their school tie, fastened the laces on their shoes and headed off for their first day at school, a child's life chances are already being decided. That's how important early education is. It not only sets a child off on the right foot at school, but gives them a boost right throughout their life.
Evidence shows that children who go to pre-school are projected to earn a staggering £27,000 more during their career than those who don't.
And they are more likely to get better GCSE results - the equivalent of getting 7 Bs instead of 7 Cs. On the other hand, we also know that the most disadvantaged 4-year-olds start primary school up to a year behind their peers from wealthier backgrounds.
That's why we are doing everything we can to give parents the choice of school nurseries alongside private ones. And it's why we want more schools to step up to the plate and offer nursery provision. We want them to be innovative, curious and rise to the challenge.
At the moment, 44% of primary and infant schools have nursery classes, yet only a few hundred take funded 2-year-olds. And those schools who do offer nursery provision are seeing some big benefits. Children's behaviour and attainment improves, schools get to know children and their parents earlier on, offering them the tailored support they need, sooner. Rather than having to play catch-up when children from the most disadvantaged backgrounds arrive age 4, they can help these children before they fall behind.
It means the transition to reception year is easier for everyone. And schools can strengthen the links they already have with the communities they serve. It's not just the schools. Parents are seeing big benefits to this too.
Parents like me who work, and parents who want to work but struggle due to the lack of suitable, flexible childcare. Offering flexible provision at a school is also appealing to those parents who are already dropping off their children at that school. What could be more convenient?
All of these mean the most disadvantaged children also get a great start in life.
Joined up nursery provision means parents may well be able to go back to work and children can access the help they need earlier on in life.
Many schools already have most of the skills, the resources and the buildings they need to do this. And as we know, parents trust schools.
Some schools are already doing it. Some have started bringing together nursery and reception into a single 'foundation village' to make it as easy as possible when children start school. So I want to see more schools making this offer. We know they want to support the children in their communities. This is one of the best ways of supporting them.
And of course, schools can always team up with local nurseries, again strengthening those community links, to offer more nursery provision.
Myth-busting and making the process easier
I know there are some barriers to this. But these can be overcome. Schools might say it would be distracting to their core purpose, but the opposite is true. As I said earlier, it makes the move up to reception year much smoother and makes it easier to close the attainment gap between rich and poor pupils.
Sometimes space can be a barrier. But this too can be overcome. I have heard of councils spending the £100 million of capital funding we gave them 2 years ago, to create tens of thousands of new places, many of them in school nurseries.
And some have turned to more innovative methods to get past the space issue. Schools like Shortbrook Primary School in Sheffield, which successfully mixes its nursery age groups. They have dedicated areas for younger children to nap and so on, but by mixing, they can help those children develop and instil a caring attitude in the older children.
But the area of greatest potential is in partnerships with onsite and nearby providers. This can save schools the need to develop and manage provision, or solve the problem of space, and it means that parents get the flexibility of private, voluntary and independent nurseries, with the expertise of schools.
And so I want to see schools looking at ways they can offer high-quality, flexible nursery provision. We're committed to helping schools do this - which is why we are cutting red tape and have made it easier for schools to lower their age ranges, and we are taking away the need for them to register separately to take 2-year-olds.
And we are sharing knowledge and experience through our 'two-year-olds in schools demonstrations project', so we can draw out the best ways of opening schools up to 2-year-olds. Twenty six of the 49 schools that took part in the project are going on to champion 2-year-old provision, and helping other schools to step up and develop their own provision.
And parents whose 2-year-olds took part in the project were overwhelmingly positive about it. Some said how drop-off and pick-up times had become easier as all their children were in the same place - and as a result have been able to go back to work.
And the children enjoyed attending, their speech improved, and their social development was also boosted as a result. So there has been some great feedback already.
To help more schools to be able to offer nursery provision, we are working with a number of schools in London as they develop their early years offer. We're helping them stay open from 8am to 6pm in a way that parents can use their funded hours across the whole of the day.
And a move from 9am to 3pm provision to 8am to 6pm is a 60% increase in hours. It means they can offer more part-time places for children, or enable children to stay all day, which helps working parents. In fact it will be transformative if we can move away from the situation we have at the moment, where office hours and school hours don't match.
This full-day care will make a huge difference to hardworking families. Not only will this increase the number of schools in the capital offering this sort of care, but also enables them to act as trailblazers who can share their knowledge and experience with others.
Some schools say there is no demand for nursery provision among parents. If they really think that's the case I challenge schools to check their assumption. Are parents just assuming the school would not offer places, so they are not asking?
And I know some people say we are 'schoolifying' the early years, and that it is too much too soon. I don't agree. Listening to some of the criticisms, you would imagine rows of small children lined up in classrooms, sitting in silence and learning about quadratic equations from a teacher.
But I've seen school nurseries and I've seen the way they are run. They're bright and cheerful. Children take part in messy play; they read together, sing and recite rhymes. Parents can still talk to a nursery worker and not book a meeting with a teacher, which is what happens at schools.
At a nursery I visited last week, the children had a water fountain to float boats in. So it's not about being taught in the same way as school kids. It's about teaching children to socialise; to play together and to behave. It's learning, but in an age-appropriate way.
And the care is also of a high standard and appropriate for the children's age. It has to be. School nurseries, of course, have to meet the same high standards as any other provider.
Collaboration and partnership
I hope one of the things you take from today is that we need to see more schools working with PVIs so they can learn from each other. We know there are great private, voluntary and independent providers out there and there is enough room for everyone.
4Children are piloting a series of hubs around the country, and with our support, they are bringing together all types of early years providers to work with schools. It means they are offering a range of options for parents that are flexible, co-ordinated and high quality. Effectively, they're one-stop shops which are making information more available and up to-date for parents in one easy to access place.
How we are helping
Of course we want to help schools develop this provision. That's why, today I want to tell you about the £5 million fund for Teaching Schools Alliances to bid into, that we have just launched.
This will enable them to work with early years providers, both in schools and the PVI sector, to help drive up quality for parents, especially in disadvantaged areas. As I have already said, schools with great early years provision should be sharing their practice with others and offering support to those who are struggling.
But this isn't just about school-led support. Schools can also learn from the very best PVI providers, particularly when it comes to disadvantaged 2-year-olds. And a condition for bids was that the teaching school should show how the PVI sector will be involved in the project.
When we announced this fund, we were very aware of the differences between the 2 types of provider. But I'm delighted to tell you that there have been 144 expressions of interest from across the country. We are looking at those bids now, and I look forward to telling you more soon.
What this shows once again is that school and PVI collaboration and partnership is not only possible, but is already is happening in the early years. For example, St Bede Primary Academy in Bolton has its own on-site nursery. But they also have a subsidiary-run PVI on site too, and they now run a number of nurseries in the local area.
And in Plymouth, schools there - helped by the local authority - have worked out several ways to work in partnership, both with each other and with PVIs. The same is happening in Blackburn, and I'm sure other areas will be able to learn from this. I want to see more schools being creative on how they deliver early years.
Conclusion
Because we know, providing high-quality, flexible childcare isn't just important for children and their parents, but it benefits the whole of society. And of course we want parents to be confident that the childcare being provided is the very best for their child, preparing them for life in modern Britain.
Which is why today, I want all schools to consider the nursery provision they can offer, and why this government wants to work with them to make it happen. As I said earlier, there are so many benefits to doing this, from making parents lives easier, to smoothing the transition to reception, to helping schools close the gap earlier.
It's why I'm proud to say that going forward, school-led nurseries will be at the heart of our plan for education. Once again, I want to thank all of you who have helped improve the life chances of our young children, and we need to keep up this momentum to benefit them and their families.
Thank you.
Published 21 October 2014