Speech
Chief Secretary announces government's new approach to PF2 infrastructure investment
Chief Secretary to the Treasury, Danny Alexander speaks to an audience of industry and business representatives, at a Centre Forum infrastructure event.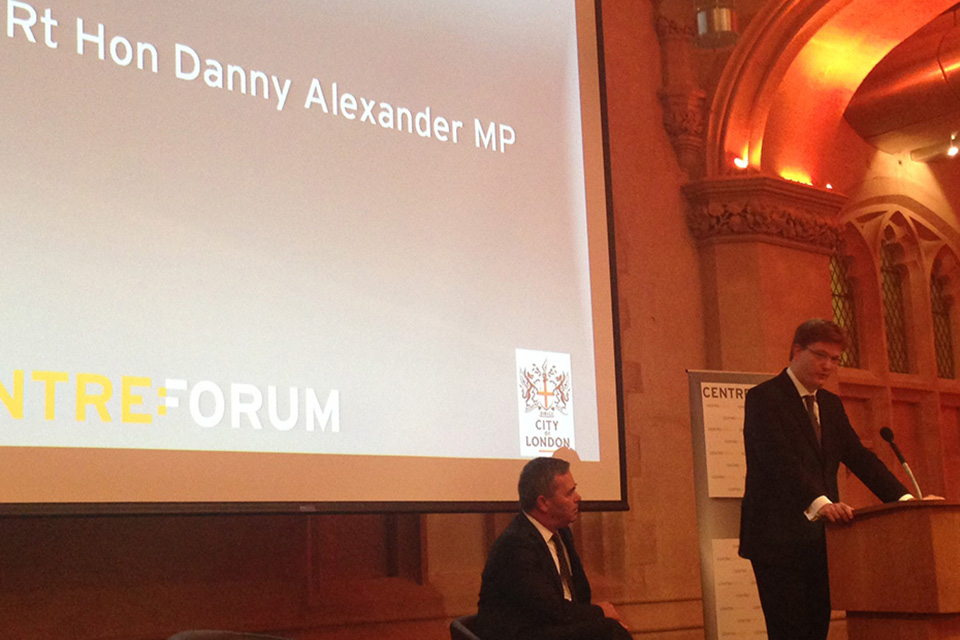 Thank you Stephen.
And thank you everyone for making it along to this event.
I've been coming to speak at events here in the City for three and a half years now as Chief Secretary.
But it's only recently that I've been able to come to these events and say – with some confidence – that the British economy is on the mend.
By no means fully recovered, but it's on the way back.
Last week, the IMF revised UK growth up by more than any other G7 economy.
It has been a long, hard road.
And there's a long long way to go yet.
But I'm sure that everyone in this room…
Everyone in the City of London…
Will recognise that if we want to deliver long term growth.
Then we also have to deliver a long term infrastructure plan for this country.
This is a city that wouldn't be as successful as it is today…
If people hadn't invested in its infrastructure in the past.
If the Victorians hadn't decided to engineer an underground railway line 150 years ago…
Or indeed if the Romans hadn't thought to build a bridge here centuries previously…
This city – and this country – can't be expected to maintain that success in the future, unless we invest in its infrastructure today.
For too long under the previous government, and governments before that, we seemed to only look towards one city, and one industry, for economic growth.
Between 1997 and 2010, the north-south economic gap widened…
To the point where – by 2006 – the output of just the financial services sector in London had overtaken the entire economy of the North East of England.
But growth is happening now across all sectors.
In the second quarter of this year – for the first time in nearly three years – all four output sectors…
Manufacturing, services, construction and agriculture…
Grew in the same quarter.
And growth is happening across the country.
We need to work hard to continue this trend.
So, that should one sector – or one region – experience a sudden decline or shock…
As happened in the financial crisis…
Our economy will be in a much stronger position to absorb it.
The United Kingdom has always been known as a country that has led the way in infrastructure.
And our bravest and best remembered politicians have always supported the right projects.
One of my political heroes – William Gladstone – opened the Metropolitan Line in 1863.
And even had his coffin carried on the tube en route to his funeral.
[But] In the last few decades the reputation of our infrastructure has slipped.
And that was because our political leaders too often prioritised short-term wins, over long-term investment and growth.
That's something this government is changing…
And that's why – back in June this year –as part of the Spending Round, I announced the most comprehensive, ambitious and long-lasting capital investment plans this country has seen.
Laying out £100bn of investment right through to the end of the next parliament.
Finding the funds for these projects:
largest programme of rail investment since Victorian times
greatest investment in our road network since the 1970s
fast online access for the whole country
Hasn't been easy, and we've have had to take hard decisions to find savings elsewhere, moving funds from resource to capital.
Now that sentence - 'moving funds from resource to capital' – sounds quite dry…
But in practise, it means making decisions that affect the amount of money Departments can spend on day to day activities and services.
So that the savings we've made can be reinvested in our infrastructure.
We're doing this because – as a coalition – we are certain that this is the investment our country needs.
Infrastructure projects
To give businesses – like many of you here today – certainty that this isn't jam tomorrow…
That we will deliver these projects…
We've created a long term pipeline of investment, which we'll be publishing updates on at the Autumn Statement.
By publishing this pipeline, we're aiming to provide industry with the certainty and transparency it needs…
And a greater understanding of forthcoming government funded projects, as well as private sector infrastructure.
And we've ensured that public investment – as a share of GDP – will be higher on average from 2010 to 2020 then under the whole period of the last Government.
We're also making sure that this investment results in projects being delivered.
And since we came into office we've already seen a number of projects delivered.
Over 30 transport schemes have been completed…
And 150 railway stations have been upgraded.
Now that 150 includes the new development at Kings Cross…
Where £500 million of public investment attracted £2.2 billion from the private sector, and has led to complete regeneration of that area of London.
Which now houses a student campus, and will shortly house Google.
In fact, of the 40m visitors each year, a quarter are not planning to travel at all.
They come just for the facilities at the station.
So we are delivering.
But we've got a long way to go.
UK guarantees
As many businesses here in the City will know, the government's action on the deficit has secured historically low interest rates for the UK.
Our tough action has helped to keep our balance sheet strong.
And we're now using that strength in the best possible way…
To enable privately funded infrastructure projects to go ahead.
The UK government now provides guarantees on the principal and interest of loans to certain infrastructure projects…
And when I say it's a government guarantee – that is exactly what I mean.
If the borrower can't pay, the terms of the guarantee mean that the UK government will, without question or negotiation, stand behind it.
Which in practise, means that lenders worry less about the risks of projects.
They know that – through the UK Guarantee Schemes – they will have the strength of our balance sheet supporting those projects to raise money.
The first of our guarantees was signed in April, which unlocked finance for the conversion of Drax power station to biomass.
And we're providing further guarantees to the Northern Line Extension, which could support 25 000 jobs in South West London.
The Mersey Gateway Bridge project, which will help to boost localised growth for Liverpool.
And we've also offered a multi billion pound guarantee to advance the new nuclear power station at Hinkley Point…
…a project that has potential to provide power for 7% of the UK's homes as and when negotiations conclude.
A number of other projects have prequalified for the scheme and are working with Infrastructure UK – a dedicated team within the Treasury, that report to me – on the details of their guarantees.
There is a huge variety of projects among them, including power generation, transportation, waste management, housing…
And this not only demonstrates the flexibility of the scheme…
It also shows the potential for further growth and further projects across different infrastructure strands.
Of course, some of these projects may well find finance without our help.
That is a good thing – but the main thing is that industry knows that we are there to stand behind them if they need support and we've got legislative authority for projects up to £50bn.
So any project developers here today who are interested should get in touch with Infrastructure UK.
You'll be able to have a confidential discussion about how a guarantee could help with your financing plans…
And – I hope – it could offer you a new way of making sure your projects are delivered on the timescale you want.
PIP
But the UK Guarantee Scheme isn't the only way that we're helping projects to access the right levels of financing.
We're also supporting models that enable institutional investors to provide capital to projects.
So we encouraged the foundation – by the pensions industry – of the Pensions Infrastructure Platform, or PIP…
Which has been designed to provide pension schemes with the expertise and the tools they need to make long-term investments in the UK's infrastructure, in the interests of their members.
And it has reached its first milestone, with £1bn of commitments from its founding investors.
High Speed 2
Of course, given some of the media coverage of recent weeks, you'd be forgiven for thinking that the Government were – in fact – only looking to finance and deliver one infrastructure project.
Just as the Olympic Park was – understandably – the most heavily scrutinised project of the last decade.
The North South rail link, HS2 seems set to be the most heavily scrutinised of the next.
But just as the Olympics was delivered successfully, and within budget.
So will High Speed 2.
As with the Olympics, we've got Paul Deighton and David Higgins overseeing progress.
As with the Olympics we have set a maximum funding envelope for the project – of £42.6 billion, plus additional funding for the rolling stock.
And as with the Olympics, I'm certain that some of that investment will be returned to the Treasury.
I can understand why there have been some dissenting voices of the scheme…
This is a huge investment at any time, let alone when we are coming out of a difficult financial period.
But this is an investment that is geared for steady, long term growth for the country.
It will increase capacity on the crowded West Coast Main Line by 143%…
And bring two-thirds of people in northern England within 2 hours of the capital.
As well as dealing with a long term problem of congestion on one of our most crowded rail routes.
Those who doubt HS2 – and indeed other major projects for that matter – need to think hard about what we would lose if we didn't go ahead with it…
Like the 100,000 jobs it will support - 70% of which will be outside of London….
…and the £60 billion plus of benefits it will deliver to the UK economy.
If we'd have listened to the critics of the past:
We wouldn't have built the M1 in the 60s,
The M25
We wouldn't have gone ahead with the channel tunnel
And we would have lost all the huge economic and social benefits that these projects have offered our country since their construction.
PF2 Reforms
It's absolutely right though, that where we do invest in our country's infrastructure, we also look to secure the best value for money.
And in that light, we've learned from the mistakes of our predecessors…
And in particular, recognised the need to change the old, outdated PFI model.
Previously, we had a system which – at its worst – seemed to privatise the profit…
And socialise the risk…
With schools, hospitals and government buildings locked into poor value contracts.
But through our new approach we are:
implementing measures to speed up and reduce the cost of procuring projects
including a maximum time limit of 18 months from issuing the tender document to the appointment of the preferred bidder
increasing flexibility, by making sure that services – such as cleaning, catering and security – are removed from contracts
In the future, the government will invest a share of the equity of all PF2 projects…
We've consulted extensively to make sure we get a workable model that services both the public and private sector as it should.
Because this is all about partnership.
And I'm pleased to tell you that from today these changes take effect.
We've published the legal documents and the Priority Schools Building Programme is already using the model.
As a shareholder, the public sector will have a stronger voice in the management of the PF2 project company and receive a share of the financial returns.
We've also introduced a new control total in the public finances for off-balance sheet PF2 contracts to ensure that no current government can put excessive fiscal burdens on future Governments.
This is a fundamental reassessment of the old PFI…
And it will provide better value for the taxpayer, better public services, and a better infrastructure too.
Conclusion
And we need that better infrastructure.
As I said at the beginning, our economy – our businesses – needs an infrastructure that can help us compete internationally.
We need fast transport links.
We need superfast broadband.
We need clean, sustainable energy to serve our public.
People and businesses should be able to do what they need to do, without worrying that communications and transportation will let them down.
And that's what I'm keen that we make sure happens.
An infrastructure to suit the needs of future generations.
That runs smoothly, and efficiently, and cost-effectively….
And helps our economy to grow.
It is the role of government to deliver that infrastructure…
And with the help of private investors, and the private sector…
Published 16 October 2013