Charles Hendry speech at All Energy Aberdeen
Delighted to be back here in Aberdeen. There could be nowhere more appropriate for this conference to be held. It was here that the UK&rsquo…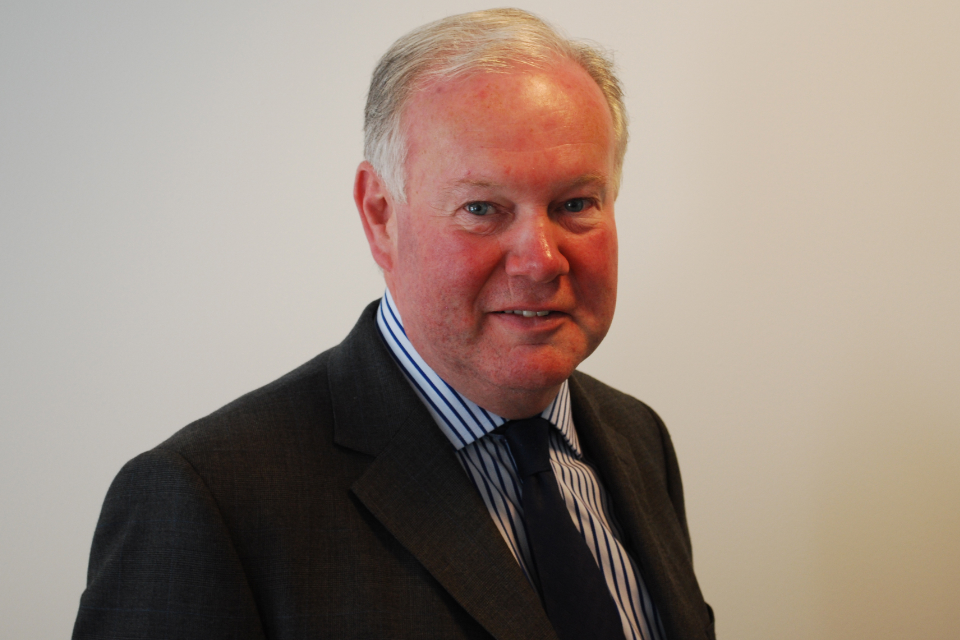 Delighted to be back here in Aberdeen. There could be nowhere more appropriate for this conference to be held. It was here that the UK's journey to energy independence started 40 years' ago; and even as those resources start to dwindle, many of the world's leading specialist energy companies are based here and it is that heritage which makes this such an outstanding centre for the next energy revolution.
And let me say too that I am delighted to share the platform with the First Minister. Whilst we have different views about the future of the United Kingdom, we are absolutely united in wanting the brightest energy future for Scotland and to see that result in great economic growth and job opportunities. And for you as investors, that means we work closely together to create the best investment environment.
At the heart of our energy policy is energy security - and, as a result of a long-term failure to invest in our energy infrastructure, our energy security is at risk as never before. So we are taking action to put that right. Our electricity plant is old and needs replacing. One third of our coal plant closes within five years. Much more will have to close by the end of the decade. Almost all of our existing nuclear plant is due to close by 2023. Yet even knowing these timescales, in recent years we simply did not see the levels of investment necessary and for the first time in a generation, we faced the prospect that, around the end of this decade, there would simply not have been enough electricity to meet demand.
So our priority is to rebuild our power sector; to guarantee our energy security; to do it in a way that is genuinely low-carbon; and to do it at the lowest possible costs to consumers. To put it bluntly, we need twice as much investment every year of this decade, as in the last decade. To put it in numbers, we need £200 billion to be invested in our energy infrastructure over the next 10 years or so. That's not going to happen by chance. So reforming our electricity market is one of the most important pieces of work in this whole Parliament, creating the structure which will attract into the UK those billions of pounds of investment. To deliver that, yesterday we published our draft Energy Bill, providing Parliament and industry with the opportunity to see the detail of our reforms.
The key market reform elements included in the Bill are:
a system of low-carbon generation revenue support. Contracts for Difference will provide long term support for all forms of low carbon generation. This will enable more investment to come forward, sooner, and at a lower cost of capital - allowing us to meet our decarbonisation goals while reducing consumer bills in the medium and longer term.
an Emissions Performance Standard (EPS) to provide a regulatory backstop to prevent construction of the most carbon-intensive form of electricity generation;
a capacity mechanism to ensure security of supply, ensuring there is sufficient reliable and diverse capacity to meet demand.
We listened to what the renewables industry said following the publication of the consultation document in December 2010 and ensured that the CfD was tailored for different forms of low-carbon generation. We have also set out comprehensive arrangements for the transition from the Renewables Obligation to CfDs, including dual running of the schemes from 2014 to 2017 - precisely to deal with the certainty issues the First Minister was raising.
The reforms will be:
better for the environment
better for consumers
better for our energy security
But they will also be better for the economy - that investment of £110 billion over the coming decade could lead to as many as 250,000 jobs in the energy sector.
Of course Scotland has a key role to play in decarbonising electricity and ensuring security of supply with its huge renewables and CCS potential. We are already witnessing significant deployment and Scotland is establishing itself as a leading hub of renewables expertise. We welcome this and believe it will be strengthened further through our reforms.
We have been grateful for the constructive input from the Scottish government in taking the EMR reforms proposals forward and it will have an important role in ensuring the reforms are a great success and delivers the deployment we all want to see.
I welcome the First Minister's words about Electricity Market Reform. Our two governments have been working closely together and the UK Government is committed to involving the Scottish Government and Scottish Parliament as we finalise these reforms later in the year, to ensure we have a consistent approach across the UK.
Whilst our country's energy security is a huge challenge, it is also an incredible opportunity for growth and new jobs. Our security depends on a sensible mix of different technologies. No source of power is completely reliable - the sun doesn't always shine, the wind doesn't always blow, we are increasingly dependent on imported fossil fuels and a nuclear plant out of operation, as happened for seven months a year or so ago, doesn't produce a single unit of electricity.
So a balanced policy means using the range of technologies available to us. And that also means extending the life of the resources here in the UK Continental Shelf. So Aberdeen should be both a centre for an oil and gas industry and also for a 21st Century renewable industry.
This government is absolutely committed to maximising our UK oil and gas resources and we are working on a number of fronts with the industry to ensure we continue to attract the necessary levels of investment. And it's clear that the industry is still showing very strong interest. We've had a fantastic response to our latest, 27th, offshore licensing round. A total of 224 applications have been submitted covering 418 blocks.
It is the largest number of applications since offshore licensing began in 1964 and is 37 more than the previous high total received in the last licensing round. I'm sure you will agree with me that this is welcome news indeed.
And to make absolutely certain that government has the right policy framework in place to ensure appropriate investment in UK gas generation, we have committed to publish a gas generation strategy in the Autumn. We are conducting a Call for Evidence now and I want you in the low carbon sector to contribute to that process too.
To the UK government, a balanced policy for energy security also means new nuclear, which is one of the cheapest low-carbon source of electricity, and we have taken the steps to make other parts of the UK one of most promising place in Europe for nuclear new build. And that balanced policy also means Carbon Capture and Storage, using our world-class expertise in the oil and gas sector, to bring forward the technologies which will enable coal and gas to be sources of electricity in a low-carbon world for decades to come. But the earliest date we can have a new nuclear power station or a new commercial plant with CCS open is towards the end of the decade, so we need other plants and facilities to fill the gap.
So, harnessing our own resources must be an integral part of our energy security. It is shameful that with some of the strongest winds and highest tidal reaches in Europe, the UK is currently third from bottom in the whole of the EU in its use of renewables.
When we look around us, we can see some of the most energy-rich countries in the world developing their renewables alongside their oil and gas resources - be that solar in Saudi Arabia, hydro in Norway or wind in Kazakhstan. They know that if you have a natural resource, it makes sense to use it. Just as they do in China too, with their constant focus on efficiency. And that means it's just as true here, so we support the growth of renewables, not just because it is good in carbon terms, but because it is good for our energy security, and what is good for our security is ultimately good for consumers. But we all recognise that we haven't completely won hearts and minds on this debate, and public acceptance should be an important objective too.
I recognise that people want a number of outcomes from our policies. They need to know that our decisions are based on hard-evidence and not on emotion or some arbitrary target. They need to know that we have their financial interests at heart, and that the costs they pay are fully justified. They must be confident that they have a full say in the way their communities are developed and that they see real benefits from the facilities they host. And they need to see the wider gain for our economy and our environment as a whole.
As a country, we face challenging targets for 2020. But we have always been clear that we will be more concerned with actually delivering than posturing on targets set for years ahead. Targets are important for raising ambitions and aspirations, but they need to be realistic. The starting point is to be clear about what our energy mix in eight years time will look like. We expect that, with some life extensions of our existing nuclear fleet and the first new build plants just coming though, nuclear will still account for around 20% of our electricity generation as it does today.
To meet our renewables targets with 30% of our electricity from renewables as set out in the Renewables Roadmap, one scenario breaks down into around 8% from on-shore wind, 12% from offshore wind and the rest from biomass and other technologies. And we expect around half of our electricity still to be from coal and gas, down from around 80% today. That shows an ambition to go for an indigenous, low-carbon supply, coupled with a genuine realism about the physical and financial constraints involved. It also points up what that means in practical terms.
In terms of onshore wind, it means moving from the installed capacity today of 5 gigawatts to around 13 GW. As turbine sizes and efficiency have increased, we could see - if planners are willing to consent these larger sizes - that around half the numbers of turbines we need to meet that 2020 scenario are already in place. It means that the onshore turbines that have been built, consented or are in planning can deliver most of that picture, though we must and do recognise that not everything that is consented will be built, and not everything in the planning system deserves to be consented.
And we are already delivering on our pledge to give greater say to local communities on how they evolve. In the Localism Act, we are taking steps to sweep away the regional energy targets in England, so local plans, produced by local people in line with their own aspirations, really mean something. And with the localisation of business rates, as we have proposed in England, we will bring lasting financial benefits to those communities which decide to host them.
But I recognise for many people, their concerns are not just about the process but about the cost as well. And that's scarcely surprising when we have seen energy bills rising. So we need to give reassurance on this too.
Some people say there should be no subsidy for these emerging technologies. Yet there has probably never been an energy technology which has not been subsidised to help it reach the stage where it can be commercially viable. We recognise that industry must have the confidence and support to invest. But we need to be clearer about what the subsidies are for. They can support a new technology, but they must help that technology to survive over time without subsidy, by driving down costs.
We are already reviewing the subsidy mechanism from next year to make sure it continues genuinely to reflect actual costs. And because it is based on how much electricity is actually produced, the Renewables Obligation will help to ensure that wind developments go where the wind resource is best.
And just as subsidy comes down where the costs are coming down, so too it is right to put it up to encourage the fledgling industries which have the potential to be huge in the future; that's why we are proposing such a substantial increase the level of support for marine renewables, so we can make the UK the unquestioned leader in this sector.
We are also right to be exploring how much we can achieve to 2020 and beyond through closer international cooperation - and have recently published a Call for Evidence to better understand both the potential and the barriers. Some countries have electricity demand they cannot meet from their own resources, yet others have resources they cannot use.
There are wind resources in Ireland which cannot be harnessed into their own grid but which could potentially provide a more cost-effective way of generating renewable electricity than using some of our own resources. We have been hearing from the First Minister about the opportunities in Norway. Similarly, the links to Iceland to potentially harness the power from geothermal are something we should be looking at.
Of course these schemes can only go forward with the active consent of the people of Norway, Iceland and Ireland, but we are convinced that a more interconnected world could be more secure, lower-carbon and more affordable than just trying to do it on our own. And we need to see if we can do all of this in a way that brings lasting benefits to the UK. Too much of the work in building our renewable infrastructure has gone overseas. And we want to see more of those design, construction and support jobs coming to the UK.
In offshore wind, we have set business a challenge - to bring down the cost of offshore wind by almost half by the end of the decade, so Britain can be the undisputed global leader in this 21st century industry. And in return, industry has set itself the challenge of at least half the supply chain being local UK content. And that matters. Because we want to be the country where the technology is developed and the parts are made - not just importing them from abroad.
The offshore wind industry - building on the world-class skills of our oil and gas sector - offers the prospect of tens of thousands of high-quality well-paid jobs, and often in those areas which have struggled for so long from industrial decline.
And energy policy is right at the core of our commitment to rebalance the economy - because the towns and cities I've just mentioned, and others, have the manufacturing heritage, the skilled and committed people, and the facilities, to be at the very heart of this new and growing industry.
This is not just about an energy policy, it is about an industrial policy as well. One of the greatest successes today is that we are seeing a real upturn in activity in the old fabrication yards here in Scotland and in the North east of England. I want to see those yards full to capacity again, still making the jackets and topsides for the oil and gas sector, but also making the turbines and infrastructure for the new offshore industries as well.
Looking forward to future industries, the Energy Technologies Institute, a public private organisation between global industries and the UK government, is today launching phase one of a project worth up to £3.2 million to identify ways of providing a cost effective deployment of tidal stream technologies at commercial scale in UK waters. Reducing costs to levels comparable to other low carbon systems is critical in accelerating the development and commercialisation of Tidal Energy Converter device arrays. This is part of a co-ordinated programme of public sector support to innovation in marine energy which is expected to exceed £80m over the next few years.
But we need to recognise the incredible job opportunities that this brings right now here and in the future. Oil and gas is currently the biggest sector of industrial investment in the UK. It supports about 400,000 jobs. And the move to a low carbon future is seeing a growth of investments and job opportunities in sustainable industries. In one year, from April last year to March this year, we have captured announcements of planned and confirmed renewable energy investments totalling around £7bn, with the potential to support over nearly 21,000 jobs across technologies such as offshore wind, biomass and onshore wind.
Last year alone, onshore wind supported around 8,600 jobs and was worth £548m to the UK economy. Looking ahead the construction of each new nuclear power plant supports around 5,000 jobs whilst CCS could be as much as 6 figures.
The energy sector cannot thrive without the talent of engineers and scientists and achieving an industrial re-birth will require bringing in new talent. So let's send out a clear message that if you are a good engineer or scientist, there is simply no other sector which offers the same prospects for high-quality, well-paid, long-term employment. The industry needs you and you'll never regret a decision to work in the sector.
Further information
Published 23 May 2012