Speech
Chancellor's speech at the Institute of Directors' annual convention
Chancellor of the Exchequer's speech at the Institute of Directors' 2013 annual convention.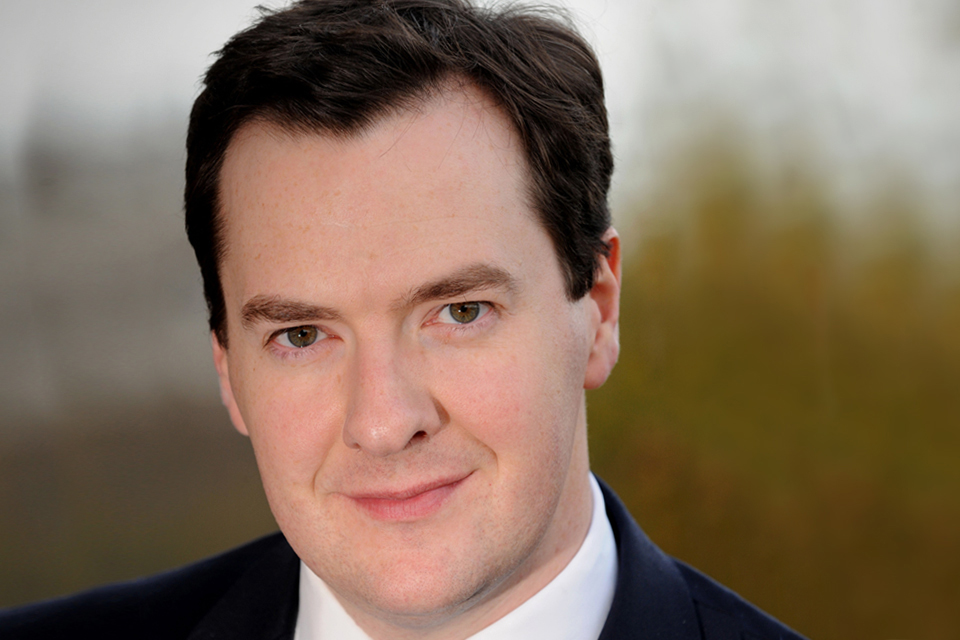 Good morning, ladies and gentlemen.
It's good to be here with you.
It's good to be back here in the Albert Hall, where I spoke to you three and a half years ago.
Then, there was at this gathering, a palpable sense of fear that Britain was on the brink of a full scale economic crisis.
Markets questioned our country's ability to pay its way and people wondered whether, as a nation, we had the resilience and resolve to turn it around.
It turned out that we did have that resilience and resolve.
We confronted the crisis head on.
Took the difficult decisions needed to restore credibility.
And today, I detect here a different mood.
One of cautious optimism – but with an emphasis on cautious as well as optimism.
Your campaigns on issues such as shale gas, employment regulation, and corporation tax have shaped the public debate for the better.
And the British economy is looking better.
The economy is growing, in all sectors.
British businesses have now created 1.4 new million jobs.
And almost five years to the day after the near collapse of the British banking system, we have started to sell of our shares in the banks and get taxpayers' money back.
Britain is turning a corner – but we have a long way to go.
At home, our economy is still in the early stages of recovery, unemployment and our deficit are both still too high.
Abroad, while the extreme risks in the euro area have been reduced, they do remain, and emerging market economies have slowed as capital flows back to recovering advanced economies.
And so my message to you today is that it would be a mistake to think we can ease up in repairing our economy and fixing what went wrong.
Quite the opposite.
I am more determined than ever to see through our economic plan.
That plan consists of:
An activist monetary policy that supports demand
Supported by credible public finances that ensure stability
All giving us space to improve Britain's competitiveness through lasting structural reform
Let me start with monetary policy.
The government has deliberately pursued a strategy of tight fiscal policy and activist monetary policy.
That's the best way to support a private sector led recovery.
Take the Funding for Lending scheme we launched with the Bank of England last year.
The evidence is now unequivocal that the scheme has had a dramatic impact on financial conditions.
The latest data shows gross lending to small businesses is up 14 per cent in the year to July.
In the Budget this year, I updated the remit of the Monetary Policy Committee and asked them to look at the use of forward guidance.
In response, the Bank of England adopted explicit guidance that means interest rates won't go up until jobs, income and spending are recovering at a sustainable pace.
This will give greater confidence to businesses to grow and invest.
None of these monetary interventions would have been possible if the government hadn't taken tough action to get the deficit down.
The credibility of our economic plan has helped keep market interest rates low – providing the Bank of England with the space it needed to act.
So that's why our comprehensive deficit reduction plan is the second part of our economic plan.
When I became Chancellor, our deficit was forecast to be the highest of any major economy in the entire world.
We were borrowing one pound for every four we spent.
Since then, we have reduced our structural deficit more than any other major advanced economy.
The budget deficit is down by a third.
But at over seven per cent, it remains far too high.
We need to keep on reducing the deficit – and the plans we have set out do that primarily through reducing public spending.
Because I have always been clear that Britain's problem has been that its government spends too much, not that it taxes too little.
That means tough choices – to reduce departmental spending and cut welfare bills.
The job is far from finished.
That's why we're about to introduce a new cap on overall welfare spending and why earlier this year we successfully concluded another round of savings in the cost of government.
Further such tough decisions remain ahead.
Now there has been over the last few years intense pressure to change course.
Intense pressure to spend and borrow even more, to take the easy way out.
But you in the IOD didn't buckle in pushing for the right thing.
You held your nerve.
And so did we - and together we are staying the course.
And I want to thank you.
Plan B would have been a disaster then and remains a disaster now.
For yes, some are still calling for more borrowing and spending.
But British business understands that Britain needs to live within our means – and you have my unwavering commitment to see our plan through.
We need to live within our means – but we also need to be able to earn our way in the world. That's the third part of our economic plan.
Because the fact is, over the last decade our economy lost ground compared to our competitors.
Our tax system became uncompetitive; businesses were increasingly constrained by red tape, and our infrastructure was ageing.
Over the past three years, the government has pursued far-reaching structural reform – because that's the only lasting way to raise our nation's living standards and succeed in the global race.
At successive Budgets, I have cut corporation tax.
It is has already fallen from 28% to 23% - and will reach a historically low rate of 20 per cent by 2015.
The result is surveys say we now have the most competitive business tax system in the world – and the international firms that were once queuing up to leave, are now coming back.
From April, the new Employment Allowance will take the first two thousand pounds off the employer National Insurance bill of every company – a third of all companies will be taken out of this tax altogether.
Our patent box is attracting knowledge industries from around the world - and we're providing tax breaks for our research and creative endeavours too.
And we've reduced the costs of doing business – with the longest duty freeze in fuel duty for over 20 years – the number one demand not just of motorists in this country, but small businesses too.
More than any of our reforms to business tax – my decision to abolish the 50p rate faced fierce opposition.
It was not a popular move, but I did it because I don't want Britain to send a message to the world that we are closed to business and enterprise.
I want the opposite to be true.
Let me also say something today about tax avoidance.
In the past, we had the worst of both worlds – high taxes that weren't paid.
I want competitive taxes that are paid.
Ultimately, a system where some businesses can avoid paying tax creates an unlevel playing field - which is bad for businesses as well as for taxpayers.
What I am also clear about is the limits of acting alone.
Clamp down too hard in one country and it is all too easy for those companies to move elsewhere.
That's why Britain will continue to make the case for new international tax rules that ensure everyone pays their fair share – but without pricing ourselves out of the global market.
And we're now making huge progress on our agenda at forums like the G20.
Our reforms to the tax system are just one part of our plan to free the entrepreneurial forces in our society.
We are fighting the forces of stagnation on every front.
We are pressing ahead with privatisation of Royal Mail.
It won't be easy – there will be fierce opposition – but we are determined to see it through because, as the IOD have said – its "good for customers, businesses and employees".
We're supporting the largest programme of investment in our railways since Victorian times – and spending more on new roads than in a generation.
And that includes High Speed 2.
It would have been so easy to scrap the project when I came into government – with a massive deficit to cut.
After all, the benefits will not be realised in the Parliament or even the next.
But I don't want to make the same mistakes that – frankly - governments of all colours have made over the past 50 years – of failing to make the big investments in infrastructure that are needed for our country to compete.
Our rail system is already full and we know it will get worse without HS2.
Last week, a report by KPMG showed HS2 could provide a boost to the economy of £15 billion pounds a year.
And funding for HS2 isn't instead of other transport investment – it's on top.
Projects like these take decades to build.
You can't go back and fix the mistakes you made if you don't invest when you wished you had.
I passionately believe that if we don't invest now we will regret it.
It's the same reason the government is backing Shale - despite significant opposition.
It is never easy getting public support for a new source of energy – the public need to be convinced it can be done in a way that is safe, avoids environmental damage and that they will see the benefits.
But there are few things more fundamental to business than secure and affordable energy supply.
And shale – alongside oil and gas, nuclear, and renewable energy – has the potential to be a vital part of our energy future.
And with your support, I'm determined it will be.
Because I'm not prepared to saddle this country with energy bills far higher than our competition. That means higher costs for families, lost jobs and less investment.
That cannot be Britain's future.
Reforming the European Union is another hugely controversial and complex task.
But it's the right thing to do for business and jobs.
I absolutely agree with you, Simon, "Europe has lost its way and is in need of fundamental reform".
That's the view of British businesses.
That's the view of the British people.
And that is what we intend to deliver, with a plan for renegotiation and a referendum.
And I thank you, British businesses, for standing in your words "four-square behind the Prime Minister in his bid to renegotiate the terms of UK membership".
While Britain is restoring its competitiveness, and Europe must, other countries are not standing still. We are in a global race.
Today, let me set out a single challenge that could transform Britain's fortunes.
China.
China is a massive opportunity for UK businesses.
Ten years ago, China's GDP was a little less than the UK's.
By 2020, it will be five times as big.
Let's not see that as a threat to Britain – let's see it as a huge opportunity.
China's middle class is on course to be over three times the size of Western Europe's by 2030 – and as China gets richer, they will want more of what the UK does best – our high skilled, high value knowledge economy, our financial services, our healthcare, luxury and creative industries.
We have pursued a deliberate strategy to help British business to take advantage of the opportunities that China presents.
And the latest data released on Monday shows that it has made a difference.
Chinese investment to the UK is up 95 per cent since 2011 – to 4th in the world.
Goods exports to China are up too – they've doubled since 2009, growing faster than France and Germany for a third year running.
There are fantastic British success stories.
Like Unilever – who launched their 3rd manufacturing base in China last week.
Like Penguin – who have launched the "ladybird" brand in China.
And Jaguar Land Rover who are exporting more to China than to any other country in the world.
But the fact is we're starting from a very low base.
British small businesses are less likely to export than their European competitors – the Germans goods exports to China are five times ours.
In just a few weeks time, I'm visiting China for the economy and financial dialogue – talking to my counterpart the Vice Premier and Chinese investors about how we can increase trade between our countries.
The government will do everything it can to support you – from promoting free trade, focussing our diplomatic services on emerging markets and providing more support to business through UKTI.
Let me know what more we can do to help.
So whether it's helping keep interest rates low; repairing our banks; dealing with the deficit, or lasting structural reforms to make Britain more competitive – the government is backing British business.
As we move from rescue to recovery the siren voices of those who want quick fixes are getting louder.
The same people who said we should abandon our plan now say that because things are looking up we can let up.
Well your voice, the voice of business, needs to heard in the battle.
I need British business – you here in this room – to stand with me and say we cannot let up.
If we want a better future for Britain and better living standards for our people, then we've got to go on taking the tough choices to invest and grow.
With your help we will do just that.
Thank you.
Published 18 September 2013