Speech
Chancellor: our Long Term Economic Plan for Yorkshire
'The economy of Yorkshire is not just growing and creating jobs, but on many measures it is leading the country', George Osborne explains.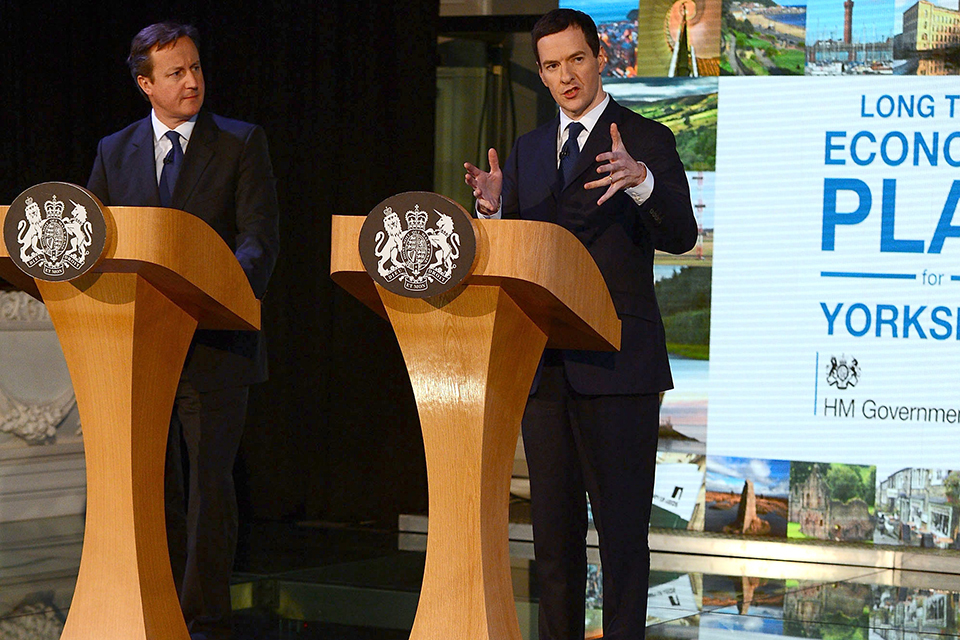 As the Prime Minister says – the economy of Yorkshire is not just growing and creating jobs, but on many measures it is leading the country.
Since 2010 our economic plan has seen…
Unemployment falling here – faster than the UK average.
Private sector employment rising here – faster than any region outside London.
Average earnings increasing here – faster than the national average.
And now, in the most recent data – the fastest productivity growth in the UK.
Our Long Term Economic Plan for Yorkshire seeks to build on this.
It sets as our goal the rebalancing of our national economy, ensuring that the economic future of the north is as bright, if not brighter, than other parts of the UK.
We achieve that not by pulling down our capital city. It is a huge asset to have one of the greatest global cities on earth located two hundred miles to our south.
No, we need to pull the north of England up.
We will do that by building our Northern Powerhouse and the Long Term Economic Plan for Yorkshire is part of delivering that.
Let me take you through each of the components of our plan in more detail.
First, our ambition should be to increase the long term growth rate of Yorkshire and northern Lincolnshire to at least the expected growth rate of the whole UK. Over the last four decades, the growth rate has lagged behind the UK as a whole.
What has been lacking is a broader, coherent strategy that covers the whole of the north of England, and is rooted in the knowledge that to have a strong economy we must have a strong, dynamic private sector, thriving alongside our public sector.
That is what our commitment to a Northern Powerhouse is all about.
It is based on solid economic theory that says the city areas of the North are collectively stronger than their individual parts, and that connected together they can rival any global city. It is the thinking of Jim O'Neill's City Growth Commission.
And it is an idea that has driven our vision for the north of England.
And it is this idea that provides the means of reaching our first ambition. If the region was to grow as fast as the forecast for the UK, we could add over £13 billion in real terms to the Yorkshire economy by 2030, than if the region continues to grow at its long-term average.
That's equivalent to an increase of over £2,000 per person.
The second part of our Long Term Economic Plan for Yorkshire is about jobs.
I want to maintain the current high rate of job creation and ensure we have over 100,000 more people employed in Yorkshire and the Humber during the course of the next Parliament.
We do that by identifying and then backing the strengths you have here in Yorkshire in the private sector.
Advanced manufacturing in south Yorkshire, like Boeing and Rolls Royce in Rotherham.
Renewable energy industries, including Siemens in Hull and the Humber Gateway wind farm.
Farming and tourism in beautiful north Yorkshire.
And the creative industries – Yorkshire is fast becoming a centre for film and television production and is home to the fastest growing digital sector outside London.
What all of these industries need to succeed is better transport links – and that's the third component of our plan.
I am not alone in believing that stronger agglomeration is a key driver of economic performance – as an economy becomes more knowledge based, proximity becomes more important.
It is central theme of our plan to create a Northern Powerhouse, and the third point of our Long Term Economic Plan for Yorkshire. Today we commit to delivering £6.4 billion in new transport connections across the region.
This amounts to the largest investment in transport here in Yorkshire in our country's modern history.
This is not some vague promise.
We are committing specific sums to road and rail investment here in Yorkshire.
HS2 – providing a high speed rail service to Leeds and Sheffield, halving journey times between Birmingham and Leeds, and cutting nearly an hour off journey times to London.
Supporting £2.7 billion investment in brand new trains for the East Coast Main Line.
Major upgrade works to expand the M62 between Leeds and Manchester, and the M1 between Sheffield and Leeds.
Taking the first steps towards a transpennine road tunnel between Sheffield and Manchester.
Fixing the worst bottlenecks on the roads in Yorkshire, with 15 road projects worth over £50 million in total, benefitting Wakefield, Doncaster, Sheffield, Rothwell, Normanton, Castleford, Sheffield, Goole and Leeds.
Today I can announce that we are going further.
HS2, and now delivering a plan for HS3, will revolutionise connections across the north of England.
This in turn will deliver a major boost to the economies of our great northern cities, and I want to make sure we seize every benefit of these once-in-a-generation infrastructure projects.
We're going to do that here in Leeds. Already one of the busiest rail stations in the country, with the arrival of high speed rail, this city could be transformed. A Leeds station regeneration board has already been established to look at how to maximise the benefit to the whole city.
Today I can announce that I have asked Sir David Higgins to produce an interim report, to present to me in the Autumn. I want this report to explore the options for a major redevelopment of Leeds station to prepare for the arrival of high speed rail.
I want us to make sure we are getting maximum benefit from the investment in the East Coast Main Line too. To use that capability, work needs to be done to upgrade the infrastructure.
Today, I can confirm that the Department for Transport and Network Rail have begun talks to develop a business case for the infrastructure improvements to make 140mph running on the East Coast a reality.
This scheme could give towns and cities up and down the East Coast the fastest intercity train service yet.
I want to see the East-West rail links here improved too – that's why we're looking at the electrification of the historic trade route between Liverpool and Hull through the long awaited electrification of the Selby to Hull line.
So investment in major transport infrastructure is central to our plan for Yorkshire – and we've committed real investment to make that a reality.
But so too is backing the core strengths of the region's economy – advanced manufacturing, technology, food, energy and science.
There are already many areas of scientific and industrial innovation here in Yorkshire, where you are leading the way for the rest of the country.
Now we commit to centres of the new Royce Institute for Advanced Materials coming to Leeds and Sheffield, and new quantum computing facilities at York University.
But we need to unlock the other great ideas for scientific innovation starting to form in this part of the country.
We've set aside £900 million over the next Parliament to fund new science investments.
Today I am asking Mark Walport, the Government's Chief Scientific Advisor, to work with local universities and businesses to make sure we have strong proposals coming forward for major science investments here in Yorkshire.
I know there are already ideas here from Leeds University for example, for a new Institute for Data Analytics. I want to see this exciting idea and others developed the coming months.
And I want to make sure we're backing one of the industries that so often people think doesn't exist outside London, but actually has a real strength in this part of the country – tech.
We created Tech Nation to help promote the UK tech industry outside London, and I'm pleased to launch their new report which highlights the strength of the tech industry across Yorkshire, and outside London.
There are now nearly 45,000 people working in tech here in West Yorkshire. Before this speech I met with some of the leaders of the tech industry here, and you can feel the excitement.
Yorkshire also has a growing financial technology centre.
So today I have asked Claire Cockerton, the head of Innovate Finance, to look at building the opportunities for new financial technology – or Fin Tech as it's called – across Yorkshire and the case for establishing a new Fintech incubator in Leeds later this year.
Yorkshire has great strengths in finance and technology, but also in energy.
I want East Yorkshire and Northern Lincolnshire to be the national centre for off-shore wind.
People talk about the Humber now as the Energy Estuary.
We will continue to do everything we can to support that at a national level.
The huge investment by Siemens in Hull is really exciting.
The Humber Enterprise Zone is a huge success.
So today I can confirm that we are going to consider seriously the case for expanding it and I will report back by the Budget.
The clean tech sector that is growing on the coast is going to need a lot of engineers.
Today I can announce that we are approving plans for a new University Technical College in Hull, to train engineers for the renewables industry.
The Ron Dearing UTC is sponsored by the University of Hull and The Spencer Group, and, in partnership with employers such as Siemens, will provide up to 600 students with skills in digital technology and mechatronics.
And today I am also delighted to announce a further £17.5 million government investment in skills, alongside contributions of £22m from employers themselves, here in West Yorkshire.
The funding will be awarded to local businesses to allow them to invest in the skills of their workforce, and to grow.
Great transport, world-leading science and industries, and skills to secure those industries for the future – these are crucial ingredients to the success of the Yorkshire economy.
So too is a great quality of life.
So the fifth part of our long term plan sets our sights on raising the quality of life in Yorkshire and encouraging more people to visit.
Tourism is a big and growing business. Each year now, 10 million people visit Yorkshire overnight and over 130 million visit for the day.
And none of us will forget the Tour de France coming to Yorkshire. 3.3 million people lined the route. It was a wonderful advert for Yorkshire, seen over the world.
The man who made it happen – Gary Verity, from Welcome to Yorkshire – is here today.
Gary – let's set a target to increase overseas visits to Yorkshire by 25% by 2020. I know that's consistent with the level of your aspirations.
As part of this we'll support your plans to boost rural tourism and to hold another great Yorkshire Festival in 2016.
We'll get behind the Tour de Yorkshire in May and back a Yorkshire bid for the World Road Championships.
I believe we should cement Yorkshire's reputation as the home of cycling in Britain.
Yorkshire is also home to fantastic cultural facilities like the Hepworth, Yorkshire Sculpture Park, the Henry Moore Institute and Leeds Gallery, fantastic literary heritage from the Brontes to James Herriot, and it is an increasingly popular place to film too: the Kings Speech, Harry Potter, the History Boys and the forthcoming Dad's Army movie have all been shot here.
And we will do everything we can to support Hull too as it prepares to host the UK City of Culture in 2017.
Today I can announce that we are providing £1.5 million to the Ferens Gallery in Hull, to help it to bring the Turner Prize to Hull.
Central to achieving a good quality of life is ensuring there is good quality housing available to all.
Today I can announce that we will support the construction of up to 20,000 new, quality homes in Yorkshire and the Humber, through investing in infrastructure to unblock large stalled sites, helping developers access finance, and investing in new affordable housing.
As part of this, we have already shortlisted 5 bids for Housing Zones in Yorkshire and the Humber, including Aire River in Wakefield, which is proposing to build over 1,000 new homes on the vacant Nestle factory site, and York Central Housing Zone, on the city's largest brownfield regeneration site.
Since 2010 we have opened 450 academies and 20 free schools in Yorkshire and northern Lincolnshire – with more in the pipeline.
And there are over 12,000 more children in good or outstanding schools here than five years ago.
But if we increase education performance here to the very best in the country, we'd have 95,000 more children in outstanding schools. We must keep going.
The final part of our plan to build a Northern Powerhouse is to give the north a stronger voice.
A powerhouse needs power.
So I can announce today that by the Budget I hope to agree a devolution deal to give West Yorkshire Combined Authority the same devolved powers as the recent Sheffield City region devolution deal, including powers over skills and support for businesses.
And my door is always open to cities who want to take even greater control over their own affairs.
So let me be clear. We have a long term economic plan for Yorkshire and northern Lincolnshire.
It is part of building a Northern Powerhouse.
It aims to add £13 billion to the local economy and 100,000 jobs.
It's the biggest investment in transport in Yorkshire in modern history.
It backs industry, science and skills.
It raises quality of life through new housing and supporting Yorkshire's unique culture and sporting strengths.
It's a prize worth having and with your help we will deliver it.
Published 5 February 2015