Speech
CBI Wales Annual Dinner Speech
Speech by David Davis, Secretary of State for Exiting the European Union.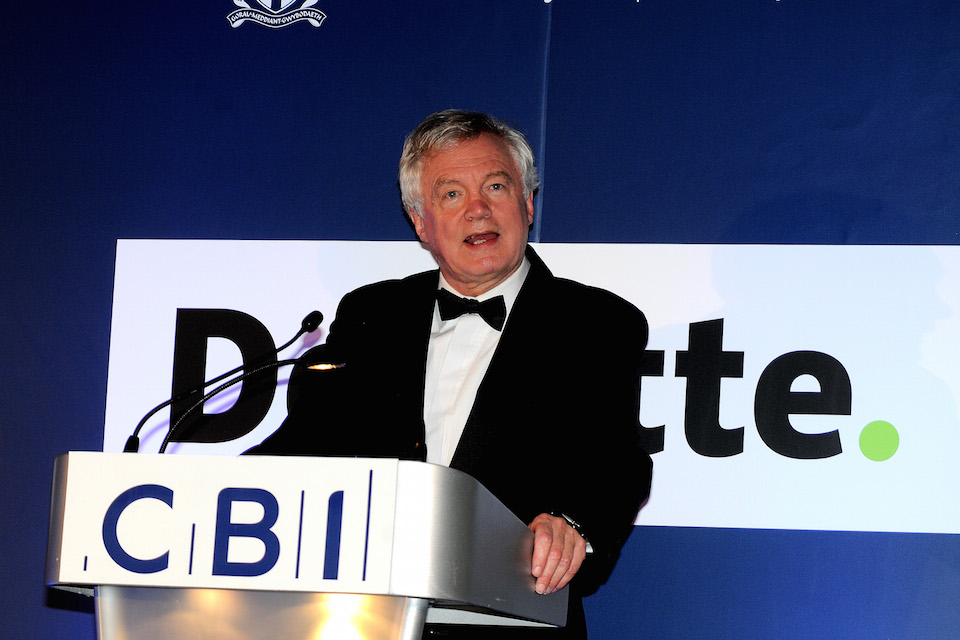 Thank you for inviting me to speak here this evening, and for that warm introduction.
This is my second visit to Cardiff in my new role, and what a brilliant city it is. It's been a pleasure to have been visiting Welsh business today - I got to sample some excellent Welsh cakes in Cowbridge - and now to be joining you tonight.
The CBI is Britain's leading business organisation, bringing together some of the brightest and best in our country.
Your membership has a vital role in feeding in to the work my Department is doing, engaging with the Secretary of State for Wales Alun Cairns, informing the Government's broader approach as we prepare to leave the European Union.
The history of the CBI dates back to 1965, when I was a teenager. It was the year that the Beatles concluded their last ever UK tour right here in this city.
And Tom Jones was riding high the charts with What's New Pussycat? You'll be relieved to hear that I'll resist any temptation to give you a rendition tonight. But to answer his question, 'what's new?', the answer is, today, quite a lot.
The decision by the people of the UK that we should leave the European Union is certainly the most significant political event since 1965, and probably of my lifetime.
The turnout was high - more than 33 million people had their say - and 52 per cent voted in favour of exit. It was a majority of 1.3 million and a bigger mandate than that achieved by any government in our history.
Wales, of course, voted to leave. Having done so myself, I am confident that the people voted for a better, brighter future for Wales and the whole UK.
But I understand how disappointed many were at the result in June, and I know many of you here tonight campaigned to Remain.
I'm encouraged that most of those I meet who were for Remain accept the result, and now want to get on with exit and to make a success of it.
And to anyone still seeking to find ways to thwart the result, I say: we have received our instructions from the electorate. Nothing could be clearer.
Our challenge is to navigate a period of inevitable uncertainty with cool heads and a united sense of purpose and confidence.
Suggestions that the UK might somehow reverse its decision aren't just misleading, they risk undermining our negotiating position and adding to uncertainty.
And a second referendum would give those on the other side in the negotiations an incentive to give us the worst possible deal to try to force the British people to change their minds. So it's not going to happen.
The Prime Minister has been clear that we will leave the EU, and deliver the will of the people of the UK. It would be wrong to suggest that the process of exit won't create challenges.
Of course it will, and addressing them is a big part of the work of my department. But there will also be enormous opportunities for our economy.
As we address the challenges and seize new opportunities, we intend to work closely with organisations like the CBI as well as with individual firms, big and small, across the whole of the UK.
Because we have been clear that we need a deal that works in the interest of every part of the country - the national mandate for exit delivered in the national interest.
To those who suggest that there is no plan for Brexit, I say this: we have set out very clearly our strategic aims for the negotiation.
They are these: to bring back control of our laws to Parliament; to bring back control of decisions over immigration to the United Kingdom; to maintain the strong security co-operation we have with the EU; and to establish the freest possible market in goods and services with the EU and the rest of the world.
Simply, we will do what independent, sovereign countries do. It will be a negotiation, and it will require some give and take, but we want a deal that reflects the kind of mature, cooperative relationship that close friends and allies enjoy.
I have been clear to my European counterparts that we approach the negotiation in a spirit of goodwill and a desire to see the EU succeed politically and economically. In exit we are not seeking a bitter divorce, but a better relationship.
That's the Government's ambition. The outcome will shape the future of our great country for generations to come.
So my request to you, leaders of industry here in Wales, and across the whole of the UK, is a straightforward one.
Help us to write this new and exciting chapter in the country's history. I've said that it won't be plain sailing and that there will be some uncertainty in the months ahead. But we need to navigate the course together and do all we can to limit that.
And do so not wringing our hands about what is changing, but projecting confidence about what lies ahead.
Our economy is fundamentally strong. We are growing faster than any major advanced economy in the world. Unemployment is at its lowest rate in 11 years.
And there are more people in work than ever before. We're seeing many companies taking positive decisions for the long-term.
Take Nissan's decision to build two next-generation models at its plant in the North East, securing 7,000 jobs and with a direct positive impact on the supply chain here in Wales.
A record £24 billion investment from Softbank in Britain's future; a £500 million expansion and 3,000 jobs from Jaguar Land Rover, and an announcement that it wants to work with government to double production in the longer term; a £200 million investment from Honda, £275 million from GlaxoSmithKline.
Apple is investing in a new headquarters; an estimated £1 billion investment and 3,000 new jobs have been announced by Google; and Facebook expects a 50% increase in its workforce in the UK by the end of 2017.
In Wales, there are nearly 1.5 million people in work, a record high, exports are worth almost £13 billion a year and the local economy is strong in many key sectors. So we embark on negotiations from a position of strength.
And now the EU referendum has opened the door to a new way of thinking and a new way to do business. Of course, trade with the EU is important to many businesses, and we are clear that we want to maintain the freest possible terms once we leave.
But while 55 per cent of exports of goods and services went to the EU in 1999, that proportion fell to 44 per cent last year.
The European Commission itself says that over the next ten to 15 years, 90 per cent of world demand will be generated outside Europe. So our new position will give the UK an opportunity to be the world leader in trade.
That's hugely exciting. It is clear other countries have confidence in the UK. Many have already indicated their desire to deepen trade ties with us after we leave the EU.
In recent days senior Republicans in the US like Paul Ryan have indicated that they see opportunities to strengthen what he rightly calls the 'indispensable relationship' between our two countries.
The Prime Minister has embarked on a trade mission to India, resulting in £1.2 billion worth of business being confirmed.
And the Chancellor has hosted the Chinese Finance Minister here in London to further what will be a golden decade for UK-China relations.
Britain is seen as one of the best places to do business in the world. We are determined not just that it remains so but that we make it even more attractive.
That is why my department has been looking in detail at over 50 sectors across the economy, working closely with other departments to identify the impact of withdrawal from the EU and the new opportunities that will arise.
Some of you will have already fed into that work and I ask others to do the same. For our part, as I have said, we will provide as much certainty as we can.
We are determined that the UK should be match fit for whatever Brexit brings. The Prime Minister has already made two important commitments.
First, that we will invoke Article 50 by the end of March 2017. I know that the verdict by the High Court has raised questions. But we have been clear that whatever the outcome of the Supreme Court appeal, which starts next week, we intend to stick to the existing timetable.
Second, we have announced that next year we will put before Parliament a bill to repeal from the Statute Book, the UK's European Communities Act 1972. A Great Repeal Bill will convert the body of existing EU law into British law.
This not only provides certainty for consumers, workers and businesses but also ensures that, on the day we leave the EU, we will have identical regulations and standards.
It will also mean that the negotiation with the EU on our future relationship will be unlike any before, since both sides will start from a point of exact equivalence - an enormous advantage.
It means we should steer clear of protectionist measures that would damage both the UK and Europe. Because it's in all of our interests to avoid barriers to trade.
The Government has already guaranteed funding for projects receiving European funding that meet the national interest and provided value for money. And we are shaping a modern, ambitious industrial strategy that will leave us even better placed to take advantage of our position outside the EU.
That will mean a boost to government investment in research and development worth £2bn a year by 2020, and a new Industrial Strategy Challenge Fund to back priority technologies, such as robotics and biotechnology.
And our aim is for the UK to have the lowest corporation tax in the G20, but also a tax system that is at its heart pro-innovation. This doesn't mean a return to the days of picking winners, or the state propping up failing industries.
Instead, as we leave the EU, we can take advantage of our freedom to create the conditions where winners can flourish.
We all want education to raise rigour and expectations for our young people, and improve skills that businesses need.
We want an open trading economy - with higher skills and higher wages - that fosters innovation. So as we go through the process of exit, and after it, this Government will unequivocally back business and enterprise.
We have also made clear that until the point of our final withdrawal, we remain full members of the EU with all of the rights and obligations that come with it.
That of course includes the status of EU nationals already here in the UK, and of British citizens in the EU.
Resolving that issue for the long-term is something I know is of concern to many business leaders - and something we have been clear that we want to reach reciprocal agreement on.
And as we take back control of immigration by ending free movement as it has operated before, let me also say this: we won't do so in a way that it is contrary to the national and economic interest.
Because as the Chancellor has said, Britain must win the global battle for talent. Noone wants to see labour shortages in key sectors.
That wouldn't be in anybody's interest. To conclude, while we are leaving the European Union, we are not leaving Europe. Brexit should not be a barrier to continued cooperation and collaboration.
Working together, we can forge a new path - cultivating new relationships, a new position for Britain, both within Europe and internationally.
As we do so, Britain will back business unequivocally. And I know business will back Britain.
Thank you Diolch yn fawr.
Published 2 December 2016