Speech
Britain and the Philippines: Partners for Prosperity
Foreign Office Minister Hugo Swire has given a speech about the growing trade partnership between the UK and the Philippines.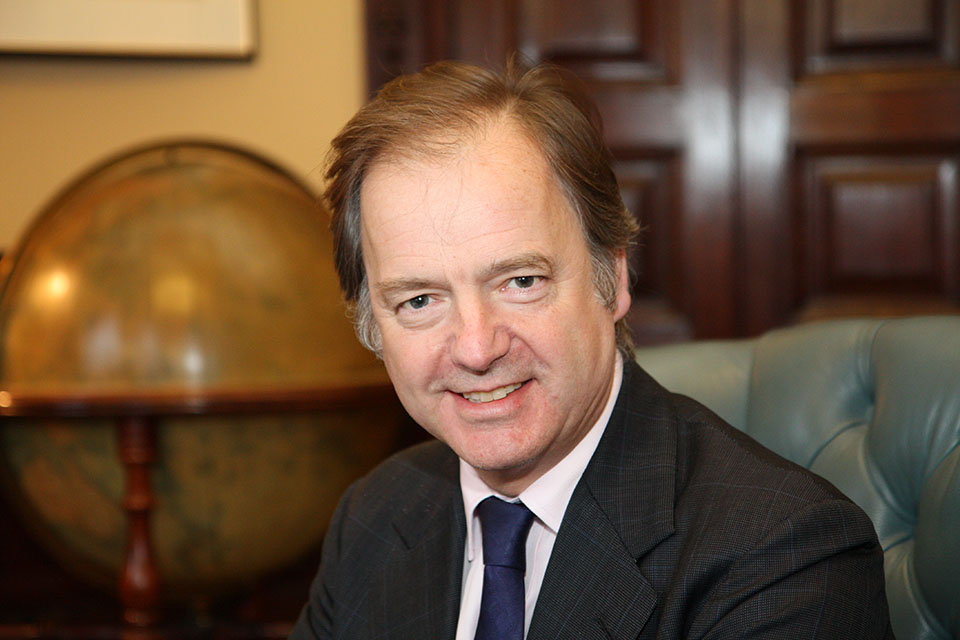 CHECK AGAINST DELIVERY.
I am delighted to be here today, and especially pleased that we are in the company of Foreign Secretary del Rosario. I would like to thank the Makati Business Club, the Management Association of the Philippines and the British Chamber of Commerce for inviting me to speak.
It is a real thrill to be in the Philippines, on my first official visit to this beautiful country. It is almost 30 years since I was last here, in a personal capacity.
I have a busy two days ahead and have just come from a very productive meeting with President Aquino, during which we discussed how Britain and the Philippines can work together to tackle today's global challenges and support each other's prosperity.
It is on the latter that I will focus today. I will talk first about the United Kingdom's role in today's changing world, before setting out why I think Britain and the Philippines can be powerful partners for prosperity.
The United Kingdom, like the Philippines, is an island nation – a characteristic which, unsurprisingly, has shaped how we view ourselves and the world around us. Britain is a relatively small place. We had enough but not bountiful natural resources. Combine that with a predisposition towards adventure and discovery, and it led us to build truly global networks and trade links. One thinks of names like Drake, Raleigh and Shackleton.
No market was too far or too difficult; no peak too high. Indeed, the globalisation that people tend to view today as a very modern phenomenon has roots that go much deeper. The world in which the Victorians lived was far more integrated in some ways, with Britain sitting at the heart of a global economic system, including a de facto single currency – the Gold Standard.
All of this brought us to South-East Asia. Our ties to countries like Malaysia and Singapore are perhaps best known and are still extremely strong. However, Britain's links to the Philippines stretch back just as far. The first British Consul arrived as early as 1844. And I am reminded of one of your most famous national heroes, José Rizal, who lived in London's Primrose Hill in the 1880s. Visitors today will find a blue plaque on the house in which he lived.
Since then, and particularly in the last couple of decades, I have heard some say that Britain lost sight of the importance of South-East Asia; that our attention was diverted elsewhere.
It is certainly true that relationships changed. But while it may have felt to some as if Britain had lost focus, we never went away. The commercial figures alone bear this out. UK trade and investment with South-East Asia today is still far higher than it is with China, despite the exceptional levels of growth and development that China has seen over the past 15 years. That said, the Foreign and Commonwealth Office has under the current Government significantly strengthened this focus, placing an even greater emphasis on our engagement with South-East Asia.
We have rebalanced our foreign policy and diplomatic network. On a practical level, that means opening new missions, sending more diplomats to places like the Philippines. We are creating around 50 new jobs across the region. And I am sure many of you will have taken note of last month's visit to Laos by the Foreign Secretary, William Hague, to reopen the British Embassy there. The UK is now represented in all ten ASEAN countries.
We are taking this new approach because we see the emergence and re-emergence of economies across the world – not least the growth and development in Asia – as an opportunity. I believe there is much that we can achieve if we work together.
This shift in focus is a key element of my Government's efforts to deliver sustainable economic growth.
We need to move away from an unbalanced growth model, reliant on government spending, to one based on expanding trade, encouraging inward investment, increasing the share of our economy that comes from exports, and manufacturing the goods that today's consumers want to buy.
If we are to meet our ambitious target to double exports to £1 trillion a year by 2020, we need to grow our exports by eight percent a year. Some of these will go to traditional markets like the European Union, but we are looking increasingly to fast-growing economies in places like South-East Asia.
Within Europe, the UK is leading the efforts to open up the EU market to trade with other nations. Growth may be slow in Europe – the forecasts suggest we can expect only 0.4 per cent next year – but it is still the biggest marketplace in the world, doing £11 trillion of business every year and encompassing 500 million consumers and 21 million companies.
Driving our prosperity agenda forward won't be easy – the global economic environment clearly remains a challenge. But it is a challenge I am confident Britain can respond to.
The work we are doing within the Foreign and Commonwealth Office to embed commercial thinking should help. We are now training our diplomats in commercial as well as foreign affairs, and deploying new commercial staff across our diplomatic network. Our Ambassadors increasingly undertake secondments to companies before taking up their postings to gain firsthand commercial experience.
And despite the often bleak commentary from elements of the media, the British economy has real strengths. Just think of the London 2012 Olympic and Paralympic Games held earlier this year. The Games followed hot on the heels of Her Majesty The Queen's Diamond Jubilee, and showcased to the world Britain's diversity, openness, creativity and dynamism – politically, culturally and economically.
The UK is renowned for its excellence in financial services, the creative industries and, of course, in education. But as anyone who visited the British Business Embassy at Lancaster House in London during the Olympics would have noticed, we also remain one of the world's most important manufacturers.
Britain's car industry, currently undergoing a renaissance, is one such example. We are home to seven global car manufacturers. Ford, General Motors, Jaguar Land Rover and Mini you will know, but we also have big investments from Honda, Toyota and Nissan too, who produced over 480,000 vehicles in Britain last year. In total, more than one million vehicles and two million engines are produced in the UK each year, and over three-quarters of the vehicles we manufacture are exported. And enthusiasts of faster cars will know that eight Formula One teams have their headquarters in Britain.
I believe the UK's expertise across this and many other sectors makes us a highly compatible partner for the Philippines. I would point, for instance, to finance, where our ICT specialists are helping the Philippine Stock Exchange expand their optic fibre network across the ASEAN region; and to healthcare, where our extensive experience in Public-Private Partnerships is helping the Philippines in their plans to develop a centre of excellence in orthopaedic medicine, modelled on the Royal National Orthopaedic Hospital in London.
But our sectoral expertise is certainly not the only reason. What makes Britain a particularly attractive partner is, I think, the openness of our economy, our transparency and adherence to the rule of law and our firm belief in the rules-based system.
At this time of economic uncertainty, some are inevitably tempted to close ranks and protect domestic industries and markets. But protectionism is a short-term measure with long-term consequences, and in Britain we are taking the opposite approach. History has taught us that more trade, more competitiveness and making the UK open for business and open for investment are what will steer us towards sustainable economic growth.
The Philippines is heading down the same path, and I would highlight four areas that point towards this.
The first is corruption, which remains a scourge on the global economy. It adds as much as 10 percent to the total cost of doing business globally, and up to 25 percent of the cost of procurement contracts in developing countries. Those who are hardest hit are often the poorest and most vulnerable in society. That is why we are proud to have introduced the Bribery Act in the UK to address this all-too-common problem.
President Aquino's anti-corruption efforts and business-friendly policies such as the Integrity Initiative and the decision to join the Extractive Industries Transparency Initiative are exactly the right thing to be doing – particularly now, during this period of global economic recovery.
The second area is building the infrastructure needed to provide the foundations for long-term prosperity. Modern economies need roads, digital and cellular communications, public transport, schools and hospitals. Without them, we cannot deliver the skilled and trained workforce required to compete in the 21st Century.
The third area is ensuring peace and stability. This is perhaps the most crucial platform for prosperity. I am proud that the UK played a small but important role in the framework agreement in Mindanao as a member of the international contact group. And I would like to take this opportunity to repeat our deepest condolences for the terrible devastation caused there by Typhoon Pablo. Successful implementation of the framework agreement will unlock the economic potential of that area. We are also working closely with Secretary del Rosario and his team to bring about a peaceful resolution of the claims in the South China Sea.
Connected to international peace and stability is the fourth area: shunning protectionism and embracing free trade.
The Philippines' future will not be shaped by growth in the archipelago alone. Whether it is through its overseas workers, the foreign investment that can create jobs, or its export markets abroad, it is clear that future prosperity here will be based on partnerships. This agenda is moving in the right direction. But I think we can go further and faster. Agreeing a free trade agreement between the EU and the Philippines would be a valuable step.
I believe that this policy prescription is good for your economy. But it is also vital for your broader development. International trade and investment is not just the best route to development; history tells us it is the only one.
I am speaking to you here today because I think – in fact I am certain – that the relationship between Britain and the Philippines can play an important part in promoting our mutual prosperity. We have much in common, and economies that rely on a strong and open global economy. We are democracies, with a strong attachment to human rights and the rule of law.
Earlier today Secretary del Rosario marked this growth by signing a joint plan of action that will take our relationship to a new level. This is a genuinely exciting proposition. Our partnership will help to shape the business environment – working together on issues like anti-corruption, competitiveness, economic reform, a low-carbon economy and building awareness about the opportunities for trade and investment.
Trade between our countries currently stands at around £1.1 billion. That is impressive, but is I think a fraction of what it can be, particularly when you consider just how fast your country is growing. In this year's third quarter, growth in the Philippines reached 7.1 percent.
The joint action plan should help us to realise this potential. But we as governments can only do so much. Ultimately, it is businesses that will drive growth. We need your help to generate interest, build awareness and deliver projects.
I am therefore pleased that we have with us today some excellent examples of successful companies operating here –like Standard Chartered Bank, Marks and Spencer and Debenhams.
On visas – not always an easy subject – I know that we have a fast, fair and efficient service here, and that we are opening new services to facilitate quick and easy travel for business via Saturday openings, a premium service and a new visa application centre in Cebu.
One sign that we are indeed open to business is the large number of Filipino overseas workers that are employed in the UK, who are making a valuable contribution to our economy but also sending back remittances to family in the Philippines. Their contribution cuts across many sectors, but is particularly evident in health and care work.
I expect that our new visa services will lead to many more visitors travelling between our countries.
To help bring this about, I will sign a new air services agreement later today with Secretary Abaya, and meet Ramon Ang and Philippines Airlines, who hope to start direct flights to London soon. And, incidentally, their passengers will probably be arriving on new aircraft made partly in Britain, following the announcement by Philippines Airlines in August of a $7 billion order from Airbus for over 50 new aircraft.
We also want to share our policy experience in infrastructure development, energy and Public-Private Partnerships so you can learn from our experiences, our successes and, occasionally, our mistakes. When President Aquino visited London in the summer, he went to St Pancras Station, a successful example of how well Public-Private Partnerships can work.
I hope what you have heard today is a clear indication of the UK's role in today's global economy, of what is happening here in the Philippines and, most importantly, a compelling vision for how Britain and the Philippines can be partners for prosperity, looking to the future with confidence and optimism.
My visit is just one of what I am confident will be many high-level visits in the coming months. I know that my colleague, the Foreign Secretary William Hague, is keen to visit in the near future.
I look forward to the rest of my programme, and – with your agreement – I will not leave it another 30 years before I return.
Published 11 December 2012