Britain and Florida: Open for business
Speech by Foreign Office Minister Alastair Burt MP on the dynamic trade and investment relationship shared by Florida and the UK.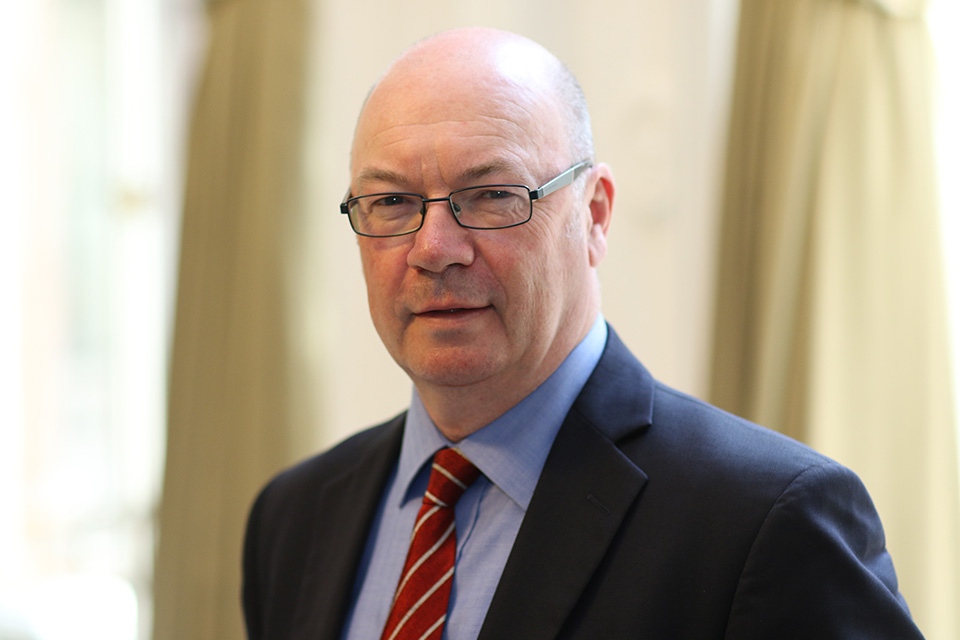 Thank you all for turning up for the first event at this new Consulate-General.
It is a great pleasure to be here today. Sadly I am here for just over 24 hours. But from my brief conversations with some of you this morning and yesterday's tour of the city, I can see the promise present in this dynamic city of enterprise and diversity.
I say this is a new Consulate-General. However those of you with long memories will know that the British Government has had a small Miami presence since the 1980s.
Since then, the city of Miami, Florida and the regional economy have all grown in importance for the UK. I am proud to say that these new offices you sit in today represent not only an expanded commitment to Florida, but also a concrete example we have reshaped our overseas network to deliver for Britain in the most important places of the global century.
The Consulate-General is now our 3rd largest in the US (after New York and Los Angeles) with over 40 staff covering the full spectrum of British Government interests: from political and policy advice to law enforcement co-operation. Think of them as our contribution to Governor Scott's job creation efforts.
Of particular interest for you will be their work on trade and investment. Miami is now the UK's South East regional hub promoting and expanding trade and investment between Britain and Florida, the Southern States of Georgia, Alabama, Tennessee, and Mississippi, and Puerto Rico.
Most of you will already know UK Trade and Investment but for those of you who don't, UKTI is the British Government Department responsible for attracting high quality foreign investors into the UK and for helping British exporters do business across the world.
It is something they do well to ensure that the UK remains competitive and among the top three destinations in the world for overseas investors. If you don't know them, please make sure you meet Nick McInnes, Rebecca Mowat and members of their team during the course of this session.
Please also introduce yourself to Carlos Gonzalez. Carlos is the current President of the British American Business Council of Miami. Carlos and his team work closely with UKTI and under his leadership, the Council has expanded its membership and the range of services it offers.
I wanted to comment on three things before Q and A.
First. An overview of the current state of bilateral British-American economic relations and what that means in Florida.
Second. Later today I meet Governor Rick Scott, the new Miami-Dade Mayor, Carlos Gimenez and Jim Cason Mayor of Coral Gables. I will be asking them: What UK/Florida economic strengths we should build on in 2011/2012 and what new opportunities should we exploit. I'll set out what I think some of those areas might be and welcome your feedback during the Q and A.
Third. I want to say a few words about the UK's new Bribery Act.
The bilateral economic relationship
Of course the world is changing. Economic power is moving eastwards and, in this region, southwards. But Britain and America possess one of the most substantial trade and investment relationships in the world.
Around a million jobs in each country depend on the others' companies. . A UKTI report published this morning shows that the US accounted for 27% of inward investment projects in the UK in 2010/2011.
We remain each other's single largest investors. UK investment in the US currently stands US$432.5 bn: US investment stock in UK stands at $508.4bn.
Let me put that another way for you. The UK investment in the US is nearly 140 times more than China's investment; US investment stock in the UK is currently 8 times larger than current US investment stock in China
The strength of our relationship stems from several factors.
First. We share common values such as flexibility, openness, a spirit of entrepreneurism and a commitment to the rule of law.
Second. There is our level of competitiveness and skills. The US and UK continue to compete at the top of the value chain. One of our common strengths is in services, which make up 70% of our economies, and is a sector well represented in Miami.
But there is also advanced manufacturing and engineering, which we rightly continue to invest heavily in. We both value, and need, our skilled workforces if we are going to stay at the top end of that value chain. That is why my Government has made a commitment to double the number of apprenticeships currently offered in the UK to 75000 during the next four years.
Fourth. Our shared culture of research and innovation. The top ten universities in the world are either in Britain or America. This translates into world-leading research and collaboration and eventually business opportunities.
These are just some of our shared strengths. And this dynamism is felt right here in Florida.
We're both trade-dependent economies - the UK an island nation and Florida, surrounded on three sides by water. Florida's exports to the UK last year totaled $1 billion. Florida is also an attractive location for UK companies looking to expand. Just as we offer a gateway to Europe, you offer a gateway to Latin America. Miami, for example, is the second largest banking centre in the US and therefore home to the regional banking operations of such British firms as HSBC, Lloyds TSB, Standard Chartered and Barclays.
But British investment in this State extends beyond just banking. Today, 45,000 Floridians depend on UK investment for their jobs in a wide range of industries and we're building on this relationship. While the Space Shuttle programme may have finished, last July, UKTI signed an MOU with Space Florida to promote commercial space opportunities between Florida's and the UK's aerospace and commercial space industries.
So what next? British Government plans for growth
Delivering prosperity for Britain is at the centre of UK foreign policy and is driving forward a new commercial diplomacy. I suspect, indeed know, it is the same for the US.
So plans are in place. But just as significant is the progress we have already made, much if it focussed on our commitment to reduce our national debt.
First, as part of the government's "Plan for Growth" we remain committed to having the lowest rate of corporation tax rate in any major world economy, with a progressive reduction to 23% by 2014.
Second. In this year's budget, we have taken steps to simplify tax across the board, increase tax credits for small and medium sized enterprises pursuing research and development. We have also reformed our visa system to introduce a new Entrepreneur Visa to encourage investor-backed businesspeople to come to the UK to set up their companies. Entrepreneurs will be able to come to the UK if they have £200,000 to invest in a business as now, or with £50,000 if it is from a venture capitalist or other prescribed source.
Third. 21 new Enterprise Zones to be set up benefitting from 100% business rate discount, simplified planning approaches, and government support for rolling out superfast broadband. The first 10 zones have been selected for the North, North East, North West and the Midlands. The remainder will be announced in the summer.
These steps are aimed at ensuring the UK remains one of the top destinations for foreign direct investment. This is something recognised by the World Bank, which currently rates the UK as the easiest place to do business in Europe and fourth easiest place in the world.
Florida, under Governor Scott and supported by Enterprise Florida, are pursuing similar policies and Manny Mencia will be able to tell you about those.
While British and Floridian economic relations are mature, let me set out three areas for potential new opportunities for the next 12-18 months.
First. The Olympics: With little over a year to go until the opening ceremony, we anticipate eagerly the arrival of the world's greatest sporting event to Britain. The Olympics has a unique inspirational power that we hope will be felt not just in Britain, but across the world, including Florida.
The games bring immense commercial potential. Lloyds TSB has forecast that they will generate more than £20 bn for the UK economy alone. The Games will provide a catalyst for the development of new businesses, inspiring existing businesses to grow and internationalise and acting as a magnet for increasing foreign investment.
Naturally we want to make the most of it. But so should Florida. Florida should think about the opportunity to use London 2012 as a place to brand itself to the world. Florida should think about how those Olympians who come here for their winter training - such as the UK sailing and windsurfing teams and those of other nations - can promote Florida business in Britain and across the world.
Second. Technology. There are exciting opportunities for investment in the cluster of technology, digital and creative companies that are now concentrated in East London, on the doorstep of the City. It is the fastest growing tech hub in Europe and we are determined to ensure that it becomes the digital capital of Europe.
To support this aim, we formed The Tech City Investment Organisation (TCIO) in February 2011 to accelerate and nurture the growth of this sector in this part of London. The TCIO has been concentrating on nurturing start-ups and encouraging inward investment. Google, Cisco and Vodafone are among the major companies that have already committed to establishing links or a presence in the area. But we also encourage smaller companies and entrepreneurs to look to Tech City as an innovative, supportive and affordable environment in which to grow their businesses.
One Florida organisation is already looking closely at new technologies and how they can be brought to the US. In June, the Knight Foundation awarded UK software developer ScraperWiki $280,000 in the Knight News Challenge to develop its "data mining" platform that makes it easier to find, store and analyse data online. In turn, ScraperWiki plans to expand into the US market.
I am sure there are more stories like this.
Third. Global, as well as bilateral agreements in trade and services, that take advantage of hub locations, like Miami.
Like Florida, the UK is committed to free trade and open markets. We'll pursue bilateral trade deals through the EU and are currently negotiating with Canada, India and Mercosur in South America.
But the biggest and most sustainable gains will come from multilateral deals. Earlier this year, the British Embassy in Washington published a study earlier which showed that the US share of a new world trade deal could be worth almost $38 billion a year, and create over 390,000 net new jobs. Florida's share would be $2.9 billion and nearly 27,000 net jobs - far more than could be delivered under bilateral trade agreements.
The Doha trade round is still our top trade policy priority. If we don't conclude it this year, it will have a negative impact on the multilateral rules-based trading system that protected us from protectionism during the global economic crisis.
That makes sense for Miami and South Florida. You have a strategic regional location at the cross roads of North and South America. Your East seaboard location gives you access to Europe and Africa. While Asia, mainly in the shape of China, increasingly comes here to negotiate deals with South American companies.
Before I finish I would like to say a few words about the UK Bribery Act which entered into force on 1 July 2011. The Bribery Act will introduce a new offence of failure to prevent bribery on a company's behalf. However, companies which have in place adequate procedures to prevent bribery on their behalf can use this as a full defence to the charge of failure to prevent bribery.
Some of you may consider this new Act will prove onerous on companies looking to do business with and in the UK. I believe such concerns are misplaced. I want to reassure you that the government's aim with the Bribery Act is to protect and support business, not to - in some way- constrain it.
Foreign bribery is a business risk that needs to be actively managed, like fraud or embezzlement. Corruption adds up to 10% to the total cost of doing business globally, and up to 25% to the cost of procurement contracts in developing countries.
So bribery is bad for business. It distorts free markets and causes immense damage in developing and emerging economies. The Bribery Act will benefit businesses by reducing costs incurred. In designing the act, we have worked closely with the private sector to ensure it does not impose unnecessary costs and the guidance has been extensively revised in light of feedback so that outlines clearly what procedures companies need to have.
Conclusion
Thank you very much for the opportunity to say a few words today. Let me conclude by saying that I'm confident in the UK-US relationship and its influential role in the world. I'm also confident that the UK and Florida relationship will grow stronger still. Everyone present here, has a central role to play in that and the Consulate-General team look forward to working with you to deliver our prosperity in this global century
Thank you very much.
Published 11 July 2011