Speech
Brandon Lewis's speech to the Asian Fire Service Association
Minister of State for Policing and the Fire Service speaks on diversity in the fire service.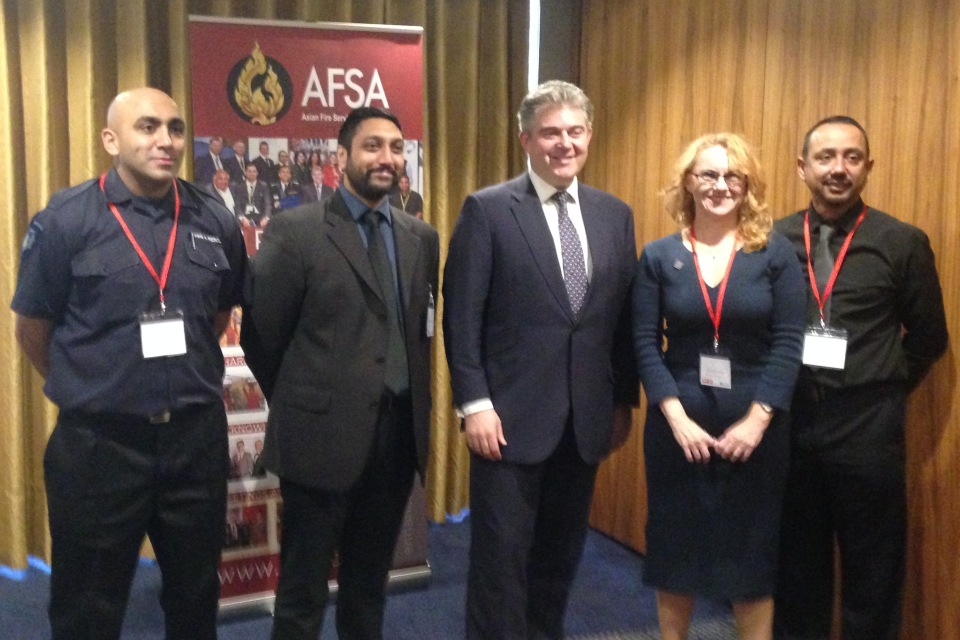 Good morning. First of all I'd like to thank you for inviting me to address your annual conference. It's fantastic to be back. I spoke at this conference a few years ago and actually what struck me as I came in at the back of the room is the increase in the number of people here to when I last came and spoke when the conference was in the West Midlands. So I think that is a great credit to everybody who is looking to be involved in it. And actually, just picking up on the point Diane just made and the conversation I had with her before coming in, I think it is clear that we need to recognise that passion that Diane has and that we all need to have about moving this agenda forward and being honest about where we are.
What I wanted to do this morning is go through with you this particular agenda of diversity and where I think we are and what we need to be doing, but also then to talk a little bit about the future of reforms of what we need to see more widely across the fire service. So I am delighted to not just be here this morning but to be back as fire minister and to be back with this portfolio at a time when there really are exciting opportunities and change and reform going forward. That's a really good opportunity for us and part of shaping what the fire service becomes in the future. Particularly on the outline, as Diane mentioned, of the work that was set in train by the Prime Minister when she was Home Secretary and the speeches and the comments she made and the plans and desires for reform just a few months ago.
But before I go into more detail about where we are and what the journey of travel should be, I need to start actually be expressing my disappointment. I am sure it is a disappointment shared by everyone here this morning - that little has changed since I was last responsible for the fire service.
The service is a workforce that should represent the community it serves and, despite this association's continuous hard work in this area, this is not the case for most of our services.
Fire operational statistics
Last month's publication of the latest fire operational statistics made unacceptable reading, reporting a continued lack of diversity across the service. The service still remains overwhelmingly white and male: 95% of firefighters in England are male and 96% white.
The proportion of female firefighters has slowly increased year on year, from a paltry 1.7% in 2002 to a still too low 5% now. However, this improvement is mainly down in reality to more men leaving the service, than women joining it.
While policing still has a way to go itself, there has been far more significant improvements and their forces now have a greater proportion of female officers than ever before, working in a diverse range of roles right across policing, and forces now employ 5 times the proportion of female officers than the fire and rescue services does itself.
On ethnic diversity in the fire service, black and minority ethnic (BME) groups are shockingly under-represented compared with the population of England.
The largest difference was for 'Asian or Asian British' firefighters which comprise 0.6% of firefighters compared with 7.1% of our population in England.
Again, policing has some way to go here too, but policing has shown that improvements can be made as the rate of police joiners from a BME background was over 12% in 2015 to 2016 and as high as one in 4 new recruits in the Metropolitan Police serving as it does a multicultural metropolis.
This is the result of determined action across police forces, using targeted attraction strategies and redesigned recruitment practices, and the sector leadership of the College of Policing which has published advice on the use of lawful positive action, as well as case studies from forces showing what can be achieved.
I do note that the proportion of all fire and rescue staff from an ethnic minority group has slowly increased since 2003, from a shocking 2.2% to its current level of 4.4%.
But these are woeful statistics. They are shockingly embarrassingly bad. And this issue must be addressed by the sector's leaders and recruiting teams and I want to empower you to stand up and challenge them to make a meaningful difference.
And talking is not enough. It is time now for effective action. To do that we need to understand why the service is not an attractive profession and what barriers exist for those coming in.
The need for change
You and I both know that a modern fire and rescue service needs to be much more reflective of today's diverse communities and our culture. I appreciate that the fact you are here means that I am preaching to the converted. I want us all to take this message out and spread it more widely. But where organisations or their people are not prepared to change and adapt, they will get left behind and overtaken by those who are prepared to embrace change and look upon it as an opportunity rather than a threat. If there is no variety of ideas and opinions there will be a natural inbuilt resistance to adapt or accept new ideas and indeed new opportunities.
At a few speeches, I know as I have left that room that I have been criticised by some in the fire service for being repetitive in the messages that I give to the sector and that they are the same messages I was saying a few years ago. I make no apologies for doing so and I will continue to repeat key messages until I see tangible change.
So let me be clear that until I can see some real change and improvement not only on the diversity agenda but on other key fire policy reforms, I will continue to reiterate my arguments on a regular basis, especially to those empowered and who have the opportunity and responsibility to drive change.
The solution - of course - rests in the fire and rescue service itself and its leaders. The whole service must understand that real and purposeful change comes from within and is not imposed externally. Also, be rest assured, if change does not happen from the service I will consider what action I can take from Whitehall to make sure it happens.
Taking action
I know a common excuse to explain the lack of diversity is that services are not recruiting and so have not had the opportunity to take action to address this. I have also been told that the issue is not that simple.
Recruitment is now underway across a range of services and I hope our fire reform agenda will help you attract a diverse workforce to the service, and that this diverse workforce can in turn help drive our reform agenda.
I have had constructive discussions with the Local Government Association and the Chief Fire Officers' Association who have both committed to identify what action can be taken to diversify the workforce. Especially as we bear in mind that almost a third of the workforce are due to retire soon and therefore the opportunity for change and reform is there.
But alongside this, retention, leadership, succession planning and the talent pipeline all need to be considered and I hope this association can input into their thinking to identify workable solutions, whether it be nationally or indeed what we can do locally.
Where I can, I am happy to tackle and unblock any barriers that exist. I look to you in this room to help identify these barriers and suggest ways to make the service more attractive to all communities.
Reform of the Fire and Rescue Service
Now, let me touch on the wider fire reform agenda.
I am resolute in my ambition to see change happen sooner rather than later and I am committed to delivering the agenda the Prime Minister set out earlier this year when she was Home Secretary.
I'm sure you're all aware of the reforms that have already been made to the police service which provides us with the evidence that reform of a great public service is possible.
In the last 6 years the Home Office has systematically reformed the institutions of policing - bringing real accountability for local people; modernising pay and conditions; transforming the approach to procurement and collaboration; and abolishing the system of targets and bureaucracy which undermined productivity and drove centralisation.
We now have a framework of institutions and processes that works properly to ensure accountability and operational integrity. Policing is more diverse, more professional, and better qualified than ever before. Public confidence has been maintained and the proportion of officers on the frontline is up. And crime is down by well over a quarter, according to the independent Crime Survey for England and Wales, even as police budgets have fallen.
The challenges affecting fire and rescue services are similar to what we experienced in policing and so we can learn from these reforms to deliver a fire and rescue reform agenda which is ambitious yet deliverable.
Now, of course, fire reform has already begun with many services beginning the process of change through greater local collaboration, not least the expansion in co-responding with the ambulance service. The last annual statistics reported an 83% rise in medical co-responding incidents in 2015 to 2016 resulting in the proportion of non-fire incidents attended by the service being the highest we've ever recorded. As a result, roles across the service are changing, providing a range of new opportunities for people in it.
The fire and rescue service has achieved so much and you should be proud of the long term downward trend of fire incidents and fatalities over the last decade with the number of fires and fire fatalities recently reaching historically low levels. Your work on prevention deserves a special mention as it directly impacts on the most vulnerable in society such as the elderly and the disabled that we serve.
While it is right that I acknowledge all that the service has achieved so far, it is equally wrong of me not to tell you that I believe you can go much further.
Our reform agenda is based around three distinct pillars: efficiency and collaboration, accountability and transparency and workforce reform.
This includes driving commercial transformation across the sector, achieving efficiencies and maximizing collaboration opportunities.
We are strengthening local governance including enabling police and crime commissioners to take on fire and rescue authorities functions should there be a strong local business case.
Our transparency ambition is to enable the public and others to hold their service to account by publishing comparable performance information. We will continue to publish workforce data and shine a light on the inclusivity of the service.
We are also creating a new inspection regime. This regime will consider a range of indicators to make a comparable judgement about the performance of that service.
I expect the inspectorate to consider a range of issues that will interest you, especially around culture and inclusion including service leadership. It will identify barriers to diversity across each service and I expect each service to respond positively to the issues as they are identified. If not, the inspectorate will return and the public will be kept informed of the performance of that service.
The final element of reform is about strengthening and modernising our workforce.
A key element of this is the creation of a new independent standards body to build a coherent, comprehensive professional framework for fire. This new body needs to be 'of and for the sector' and be able to systematically build the evidence base and promulgate 'what works', as well as set standards across the service on a range of issues including leadership, workforce development and equality and diversity as well.
The role of culture and inclusion
The role of culture and inclusion is key to making real positive transformational change in the fire and rescue service. I want services to consider and address any cultural problems now; otherwise they will be identified by the new inspectorate.
I cannot begin to understand the discrimination and experiences that some of you have dealt with over the years and I am glad that you have continued to pursue the diversity agenda regardless. You, more than I, are in a far better position to identify what barriers and challenges exist that prevent increasing the diversity of every workforce and I certainly won't be telling services how they should be run to attract and retain a more diverse workforce.
But with one third of the workforce due to retire over the next 5 years, the service now has a wonderful opportunity to take a fresh look at how it can improve diversity.
Thomas review
Earlier this month I published the Thomas Review which was an independent review of conditions of service for fire and rescue staff in England.
The Thomas Review is central to our fire reform agenda providing the hard evidence, some of which is hard to read, gathered from and verified by people from within the fire and rescue service, of where change is needed. Indeed, the wider reform agenda already underpins many of the changes which are highlighted in the review, for example, the planned introduction of a fire inspectorate, professional standards and the ability of police and crime commissioners to take responsibility for fire.
The review itself makes 45 recommendations, the vast majority of which are not actually directed at government but at the Local Government Association, the National Joint Council and fire and rescue authorities themselves to take onboard.
If implemented, these recommendations will help to secure the future of the service for years to come. It will create a working environment free from bullying and harassment, stronger leadership, better engagement, and more flexible working conditions.
The review itself addressed the issue of culture and trust and suggested that the failure to attract a diverse work was partly attributable to non-supportive working environments where intolerant behaviours were evident and actually seems to be accepted.
As a result, the review recommends that a change in the culture is needed and an acceptance that women, ethnic minorities together with all groups that make up the diversity of the working population must have a place in the fire and rescue service. Something that I fully agree with and from the fact that you are here today, I have no doubt you do too.
But words are meaningless without action. I expect the LGA and the service to rise to the challenge and deliver the review's recommendations and I will be closely monitoring their delivery.
The general public hold the fire and rescue service in the highest regard and rightly so, but if the service refuses to adapt and modernise, to be ready for the next century ahead, otherwise this will ultimately end up undermining and damaging its reputation in the long term.
Conclusion
Over the coming few months we will be giving the service the framework for reform and the autonomy to control its future. The question is whether the sector and its leaders are up for the challenge.
I want to see a progressive fire and rescue service that is forward thinking and inclusive. This is definitely achievable if the desire for change is there and if we all play our part. It is up to service leaders to make this a reality and now is the time for action to make these changes at pace. I want this association and all of you here today, to be confident to stand up and challenge negative behaviours wherever we find them and ensure action and change is happening.
The fire and rescue service recently marked the 350th anniversary of the Great Fire of London and celebrated the 150th year of the London Fire Brigade. This is a great achievement and rightly something to be proud of. Looking to the future, it will be a tremendous legacy if we make the service representative of the communities it serves, enabling it to be a modern, diverse and inclusive service and one that is fully equipped to meet new challenges not just for today but for tomorrow as well.
Published 24 November 2016