Speech
Baroness Anelay: address to the UN Human Rights Council
Baroness Anelay gave a speech to the UN Human Rights Council in Geneva, coinciding with the 800th anniversary of the sealing of Magna Carta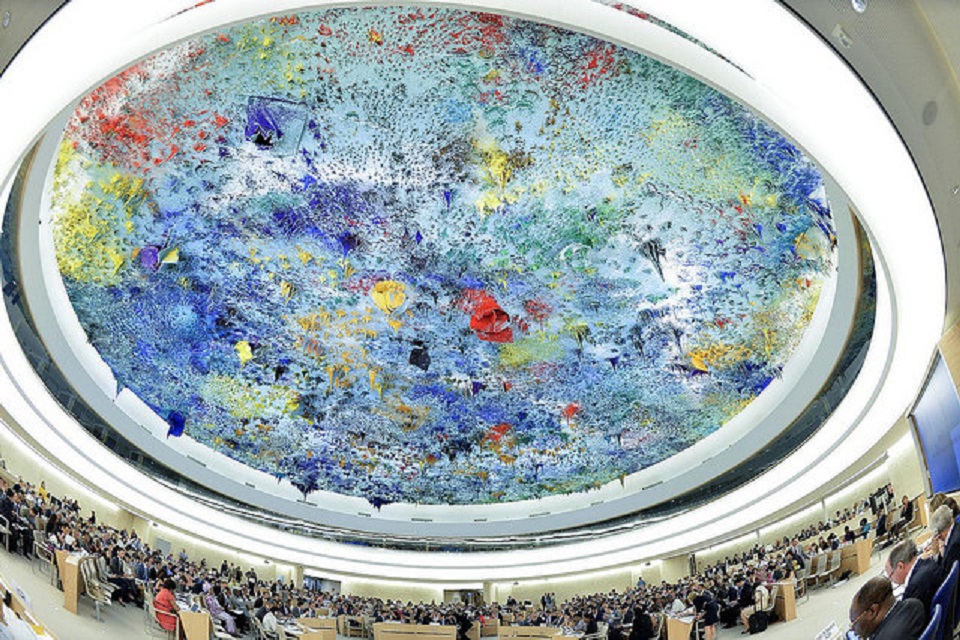 Baroness Anelay said:
Introduction
Mr President, High Commissioner, Excellencies.
It is an honour to address the Human Rights Council on a day that holds a deep significance for the people of the United Kingdom – but also carries resonance for human rights around the world.
800 years ago today, King John of England sealed the Magna Carta - and so began the United Kingdom's journey towards parliamentary democracy and the rule of law. A journey that this Parliament will take forward by consulting on a British Bill of Rights, a process that I expect will strengthen not weaken the protection of human rights.
As the British Minister for International Human Rights, there can be no more fitting place to mark this anniversary than here in Geneva - the home of the UN's Universal Values.
The principles influenced by Magna Carta –
Equality before the law;
Limits to the arbitrary exercise of power and;
Due and fair process for citizens…
All are more relevant than ever in today's troubled world.
A world witnessing the erosion of human rights in too many of its countries.
Once again, we are called in this session to stand up for the protection and promotion of universal human rights – collectively. For the UK, the rules based international system is a hallmark we must promote. For it imprints rights and responsibilities on us all, and gives impetus for action.
It is our solemn duty to give voice to those whose rights have been violated and abused…
…to call for accountability…
…and to work with those who want a different future.
A future where universal values are not simply words in a UN treaty - but a reality of everyday life.
Syria
Nowhere does that future seem more distant than in Syria:
The world's most serious humanitarian and security crisis;
Appalling violations and abuses of human rights committed daily;
The Assad regime's indiscriminate attacks on civilians continuing unabated.
With over 6000 people reportedly killed in May, last month was the bloodiest of the year - and one of the worst yet during the four year conflict.
We must ensure that those guilty of such acts are held to account. We must show the Syrian people that they have not been forgotten. That is why the role of the UN Commission of Inquiry in documenting evidence of war crimes and the use of chemical weapons is so important. I call on members of the Council to support the resolution on Syria at this session.
South Sudan, Ukraine, Belarus
Lasting peace needs to be anchored by accountability. That is as true in Syria as it is true anywhere else.
So, in South Sudan we must commend regional efforts to end that devastating conflict. The Human Rights Council too must play its part - together with the UN Mission in South Sudan and the African Union's Commission of Inquiry, whose report we hope will be published soon. The Human Rights Council must be clear. We must send a resounding message. This suffering cannot go on. Now is the time for action.
…and in eastern Ukraine - where the Office of the High Commissioner for Human Rights has documented summary executions, torture and illegal detentions by armed groups from both sides – we urge the Government of Ukraine to extend the vital mandate of the UN Human Rights Monitoring Mission mandate throughout 2015.
In Crimea too, we must do all we can to help end the arrests, ill-treatment, torture and intimidation of political opponents, particularly in the Crimean Tatar community.
And we also remain concerned about the situation in Belarus. In this important election year, we fully support the renewal of the Special Rapporteur in order to provide much needed monitoring of the human rights situation in the country…
Discrimination and Women's Rights
The Office of the High Commissioner for Human Rights continues to work tirelessly to highlight discrimination and I would like to welcome its latest report on Discrimination & Violence against Individuals Based on their Sexual Orientation & Gender Identity.
2015 is also a landmark year for women's rights. A subject very close to my heart.
This year is the 20th anniversary of the Beijing Declaration and Programme for Action…
…15 years since the adoption of Security Council resolution 1325 on women, peace and security…
… one year since the Girl Summit to end Female Genital Mutilation and child, early and forced marriage…
… and one year on from the London Global Summit to End Sexual Violence in Conflict, I urge you to join me in renewing your commitment to preventing sexual violence.
As the Prime Minister's Special Representative on Preventing Sexual Violence in Conflict, I am proud of what we have achieved, but this Council and its member states must do even more to ensure that the voices of women, men, girls and boys - who are subjected to appalling sexual violence in conflict - do not go unheard.
I urge you all to do everything in your power to tackle this issue and look forward to working with you to remove the culture of impunity and see an end to the use of sexual violence in conflict once and for all. Now is the time to accelerate our efforts here and also across the range of women's rights. We cannot afford to look back in another 20 years and see this year as a missed opportunity.
That is why the British Government will renew our commitment to women's rights at home and overseas. We will work to ensure that women participate fully in every aspect of society from representing their communities in local and national bodies to resolving conflict…
…that women are able to exercise their free choice over all aspects of their lives, without the threat of violence…
…and that women play a central role as the world unites to agree new sustainable development goals.
Conclusion
So in this year of anniversaries, eight centuries after Magna Carta… Let us give a voice to all those whose views and fears are not heard.
Let us ensure that our voice goes beyond words to action.
Let us remember that Universal Values need to be truly universal…
…for everyone…
…everywhere.
Thank you, Mr President
Published 15 June 2015