Speech
Airport Operators Association conference
Explains what DfT is doing to ensure a successful aviation sector and growing UK economy.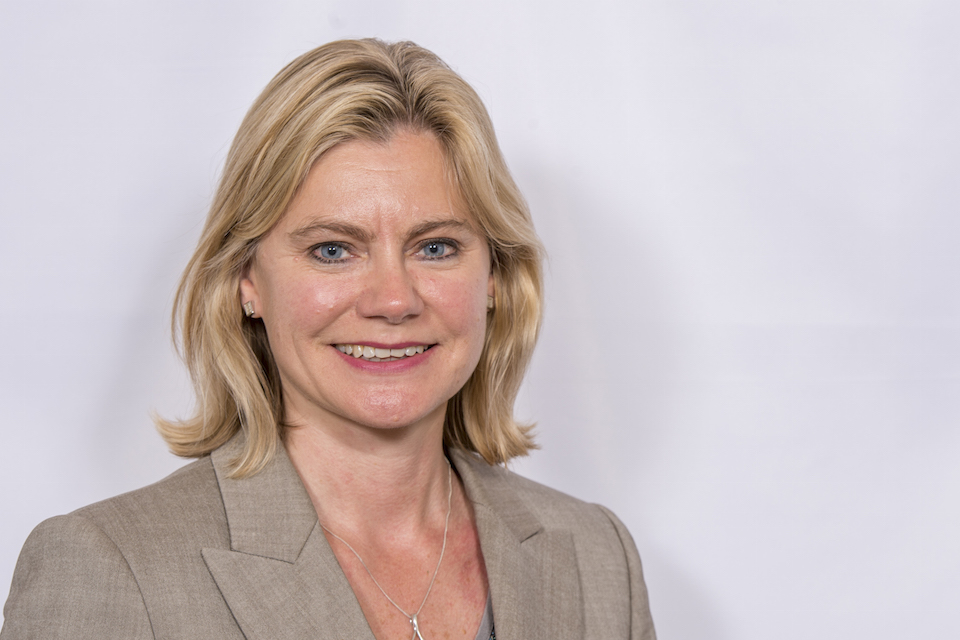 Thank you for that warm welcome.
And thank you Ed [Ed Anderson, Chairman of the Airport Operators Association (AOA)] - both for the kind words wishing me well in my new job and for inviting me along, it's a real pleasure to be with you all today.
Thanks also to Andrew for playing his part in the proceedings as conference moderator [Andrew Neil]
Actually, the next 20 minutes or so will be a rare and treasured moment for me.
And that's because I'll be able to speak safe in the knowledge that, just for once, Andrew can't interrupt me before I'm finished.
It's a great honour for me to be speaking to such a distinguished and expert audience as the new Transport Secretary.
I've certainly had a whirlwind 2 weeks since taking up my job. Getting to grips with my new brief.
Getting out and about too. Nobody ever learned anything stuck to a chair in Whitehall.
And that's very much part and parcel of who I am and the way I want to do business.
Coming to events like this.
Engaging with, and listening to, people across our transport sectors and networks.
Now, like any politician, I hate to disappoint an audience.
But, as tempting as it may be, at this stage it's probably a bit early to be laying out my entire transport blueprint.
That said, I will at least make this iron-clad commitment: my focus in the coming weeks and months will be on making sure that transport remains right where it should be - at the top of this government's agenda.
A successful aviation sector, a growing economy
I have to say that I'm especially pleased my first keynote conference speech is to an aviation audience.
One reason is because I had the pleasure of working with many of you during my time as Economic Secretary to the Treasury - and I can see some familiar faces in the audience.
But the second reason is that I recognise, and value, your crucial contribution to UK plc.
The members of the AOA, the people in this audience and the range of aviation companies you represent… you are all key players in a key sector.
And, in his speech, Ed rightly underlined the massive difference that sector makes to all of our lives.
Not least, the jobs it creates and supports
The way it gives British business a gateway to the global marketplace
And yes - the taxes it pays to the public purse that keep our public services going.
It's no exaggeration to say that a successful aviation sector goes hand-in-hand with a growing UK economy. For me, they really are 2 sides of the same coin.
Heathrow - time to turn the page and write the next chapter
When I think about our shared challenges I couldn't put it any better than the theme of your conference - these are "tough economic times".
So our task as a government is to do everything we can to ensure that businesses take root, people find good jobs and Britain's competitive edge is razor sharp.
And, as I've said, I'm with Ed and the AOA on this one - aviation has a front and centre role in helping us deliver those key economic objectives.
Now, I know that some people might say "well what about expansion at Heathrow?"
And yes, I accept that the government's decision on Heathrow's third runway has had its share of critics - not least among this audience.
But we need to be honest with ourselves - because all sides in this debate inhabit the same world of political reality.
And the political reality is that the runway decision has been made, it's done.
But I want to emphasise that the decision we took does not mean we are anti-aviation.
This Transport Secretary and this government are anything but.
I know just how many people rely on an efficient, effective and successful Heathrow - for work and for travel.
I get just how crucial aviation is to our national well being - economically, socially and environmentally.
And I recognise that the industry needs certainty and decision making in the long-term national interest - not chopping and changing for reasons of short-term political advantage.
So I would simply say this to you - it's time to turn the page and write a new chapter in the story of aviation.
Prominent in that new chapter will be a credible, workable aviation strategy.
And the industry is absolutely right to stress just how much strategy matters
But sometimes it's easy to fall into the trap of thinking that strategy is all about dealing with single issues, such as capacity for example.
I believe our aviation strategy for our country has to be far broader-based than just the capacity question, though I recognise the importance of that question.
Actually, the best strategies cover all the bases.
They're focused on the short term and the long term; the economic and the environmental; the local and the global; the needs of the sector and the needs of the passenger.
So, in what remains of my speech, I want to walk you through what we're doing already, as well as talk about where I want to get to as we move forward.
What we're doing already - improving the passenger experience
So what are we doing right here and now?
Well, the AOA has been working closely with my ministerial colleague Theresa Villiers, as part of the South East Airports Task Force.
So, with your help and input, we are already engaged in the process of improving our airports and, by doing so, improving the passenger experience.
And that passenger experience has to inform everything we do. Satisfied customers - as I know from my time in industry, before becoming an MP - are the life-blood of every successful business.
That's why we're working with the UK Borders Agency to reduce queues at border checks, while maintaining the highest levels of security. Let me be clear that passenger safety and security will always be a top priority.
To also benefit passengers, we're reforming ATOL.
Updating it. Bringing it into the 21st century in a way that enhances consumer protection.
The AOA will know better than anyone that we've been cracking on with the business of modernising the 25-year-old framework for the economic regulation of our main airports.
And, in the spring of next year, we will legislate for a new regime to boost the quality of service that airlines and passengers receive.
We are also developing a new regulatory system on aviation security - one where government will set the security outcomes to be achieved, freeing up operators to devise best ways of delivering them. Tailored better to the security needs of airports to maintain and enhance passenger safety and security.
What we're doing already - improving resilience
Another immediate step we're taking is to trial the use of operational freedoms at Heathrow.
In fact, this starts tomorrow.
And it's an innovation that could help reduce the number of late departures, particularly unscheduled night flights, and allow the airport to recover more effectively on days when poor weather, or other problems, disrupt flights and delay passengers.
In short, it could help to improve resilience. However, it's a pilot and we'll make sure we find out how it works with practice.
Challenges with "ash clouds" and "snow falls" are reminders of just how importance improving resilience is.
I know that lessons have been learned, work undertaken, investments made and resilience measures put in place since we all experienced the disruption caused by erupting volcanoes and freezing winter.
We do need to be prepared. The better the preparation, the better resilience.
And so I'm ready to work with the industry to make sure that prepared is exactly what we are.
I am determined to invest both time and effort where I can help make the difference.
That's why I am pleased that Colin Matthews welcomed my suggestion that I visit Heathrow to hear directly from their leadership group about the steps they've taken to improve their winter resilience.
And I didn't suggest an early trip to Heathrow because other operators aren't on my resilience radar. They are, and I, of course, want to engage with them.
But, ultimately, I recognise Heathrow is our busiest airport and a vital international hub, whether you are a passenger or a business operator.
Their preparations are crucial to the economic interests of our country-not to mention the travel plans of passengers.
So naturally, I am keen to hear about the progress they are making and whether there is best practice that can be more widely shared and adopted.
Moving forward - sustainability (the environmental challenge)
If that's just some of what we're doing already, where is it that I would like us to get to as we move forward?
Well, in a nutshell, the long-term vision is for an aviation sector that is successful because it is sustainable.
In other words, an aviation sector that can grow and help our economy to grow too. But also an aviation sector that achieves these goals while addressing its local and global environmental impacts.
Ed himself spoke about environmental sustainability.
And he reminded us of the real progress being made to cut emissions and combat the industry's contribution to our carbon foot print.
New technologies and new designs, lightweight materials and new fuel efficient aircraft - all making a positive difference.
I very much welcome that progress. And I understand that maintaining it, pushing on, isn't always easy.
But, I also believe there's something that aviation has in common with every other sector of our economy: namely that, just like the resilience challenge, the environmental challenge is one we simply have to meet.
Every industry, every business faces that self-same challenge. As does the government.
And that's why we ask no more of 1 sector than we do of another. The journey towards a cleaner, greener future is one we all ultimately have to go along together.
Moving forward - new framework
To help us move forward strategically we have taken a fresh look at the structure of aviation policy with our sustainable framework.
And I'd like to thank the AOA, and the many others gathered here today, for submitting their response.
That framework - and the process of engagement that accompanied it - was a recognition that the government does not claim to have a monopoly of wisdom about the best way to build a successful future for aviation.
We wanted, we needed, your input and your views. Your answers to a range of questions on key issues - from the economic benefits of aviation and the role of a UK hub airport, to how we accommodate growth in a genuinely sustainable way.
Coming out of this exercise I honestly believe that we can - and I think we have to - leave behind the polarised opinions that have dominated the discussion in the past.
And I think we can develop a common sense path forward and some common ground. This is vital to make progress.
Moving forward - strategy is a two-way street
And that brings me to the final point I want to make about moving forward and where I want us to get to.
Because, for me, the way we've gone about the sustainable framework demonstrates an inescapable truth- that strategy is a two-way street.
Yes of course, government has a responsibility to map out a route to a successful and sustainable aviation future.
But the industry itself must also step up to the plate.
How do you want to move forward?
What are your ideas for change and progress?
How do you think we can meet the challenges that are out there?
For all those of you who worked with me in the Treasury, you will know that I am open and willing to listen to the views of industry - and I will have exactly the same approach here in Transport.
Perhaps in this industry more than most, different players have a very different view of what "good" looks like.
For my part, I am convinced that the best solutions emerge when all sides are fully engaged and properly involved.
Now, that doesn't mean setting up a talking shop. Many people would say there's enough hot air in the world, we don't need to add to it.
Instead, it means both sides committing themselves to a can-do process.
A better way to do strategy. One that empowers us to develop real world solutions to the real world challenges facing aviation.
It's an approach I adopted at the Treasury, working successfully with the oil industry to deliver investment in North Sea exploration.
And, building on our work with the sustainable framework, it's an approach I intend to maintain now that I am Transport Secretary.
So, what I want is engagement that is organised and structured.
It must also be regular. That's essential.
Sitting down together. Meeting on regular occasions throughout the entire year - spring and summer, autumn and winter.
And that will be my approach to working with the industry - a structured and constructive approach so you know what our timeframes are for looking at the key issues.
Concluding remarks
Before I conclude, I want to briefly return to those key words in to your conference theme - that these are tough times.
It is true.
The inherited debt and the state of the global economy perhaps means they are the most testing for a generation or more.
And, yes, I know that the task we have set ourselves - to ensure the long-term success and sustainability of aviation against this economic backdrop - that task is incredibly hard.
But it's possible.
With the help and partnership of people like you - the members of the AOA, indeed all the women, men and companies of our aviation sector - I believe it can be done.
So, before I conclude, if there's 1 message I'd really like you to take away today then it is this:
If the government and the aviation industry come together and act together then, not only will we be better placed to see the challenges coming, we'll be ready, and able, to meet them head-on.
So I thank you for your time and your hospitality and I look forward to working incredibly closely with you all in the months and years ahead.
Published 31 October 2011