Andrew Mitchell: Putting women at the heart of development
International Development Secretary Andrew Mitchell's keynote speech at the UK launch of World Development Report on Gender Equality.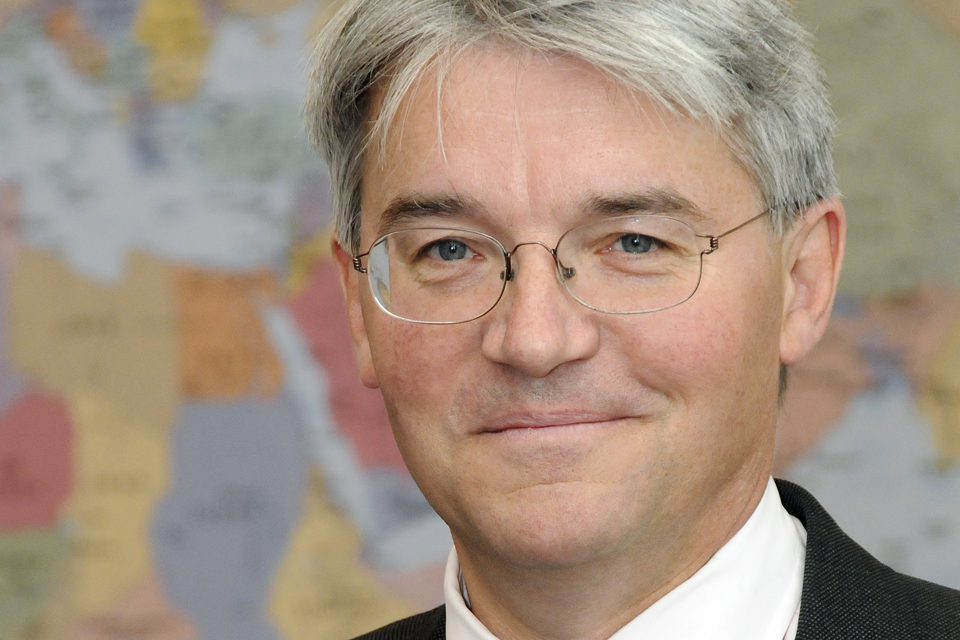 Good morning everyone and thank you very much for this opportunity. I particularly wanted to have the chance to come along and say a few words on this.
I always enjoy coming to Chatham House. Chatham House always makes a big contribution to our thinking, we always listen very carefully to what you say.
I think the most important thing I can start by saying is just to emphasise the way in which the Coalition Government have built on the past and changed the direction of development.
What we try to do is to focus on three key points. They are first and foremost that it is conflict at the end of the day which condemns people to remain in deep poverty. And therefore tackling conflicts, stopping it starting and once it's started stopping it, and once it's over reconciling people, should be at the heart of any government's development policy.
Secondly, just as it is conflict that condemns people to remain poor, it is wealth creation, entrepreneurialism, economic growth which helps people to lift themselves out of poverty.
Thirdly, if you are able to sustain support for a significant and growing development budget then you must be able to demonstrate to hard pressed tax payers and those you're seeking to help, precisely why for every pound you spend you really are getting 100 pence of development value on the ground.
Those are the three key things that inform Britain's development policy but in all of this you cannot begin to understand development unless you place the position girls and women in the poorest parts of the world right at the heart and centre of everything you do.
And, in a sense, that is the thought process we've brought to bear in our role at the World Bank on these World Development reports.
Since the Coalition Government came to power we've had WDR's on conflict, we've had a WDR on jobs which is coming up next year, and on the role of women which is the subject of your discussion today.
Britain, which is one of the most significant funders of the World Bank, which exercises a lot of effort and thought process on what the World Bank is doing, the objectives which it is pursuing, the results it is securing. I hope you will feel that in those three WDR's, most especially the one today, Britain has exerted its influence in getting the results from the World Bank that we need to see.
Putting women at the heart of development
Why do we say that women should be at the centre of everything we do? This is above all, and I don't think you can understand development in any way at all, unless you are clear about the way in which women bear the brunt of international poverty.
I think particularly about the young girl I met in South Sudan, just before that nation was born, who was more likely to die when she had a baby than she was to complete primary school education. For me she is a symbol of what we are trying to improve.
Women bear the brunt because they so often do not manage to go to school, they often do not have access to contraception so they can choose whether and when they have children. They are often locked out of economic of opportunity which is so important, and perhaps worst of all, women are absolutely in the frontline when violence and conflict and dysfunctional societies affect them very directly.
So what is the Government trying to do about this, let me just mention three or four things.
First of all, we were one of the strongest supporters of the setting up UN Women. I saw Michelle Bachelet on her first day in office, indeed before she had an office and was operating out of a small room at the United Nations headquarters.
We have offered support, we have helped them with their strategic plan, and we have been a very strong funder of UN Women.
Choices for women 
We are absolutely committed to ensuring the 215 million women who do not have access to contraception have that access. We are in the immediate future trying to ensure that 10 million couples who have not had access in the past have access to it.
After all, these are very important issues of population and poverty. Large families and extreme poverty tend to go together and we want to extend to women choice, over whether and when they have children.
That is something we take for granted in this country, but it is the very reverse in the poorest part of the world. And we think it is outrageous that over 70% of women have no proper access to contraception at all in sub-Saharan Africa.
The British government over the next two years will seek to develop a wider strategy, which engages everyone else of good will who wants to pursue this strategy, in the wider world to try and make sure that all the women in the world have access to contraception.
Secondly, we are seeking to tackle the scourge of maternal mortality. Our Prime Minister at his first G8 announced that this would be a particular target for the Government.
It is terrible statistic that a thousand women die every day, mostly in the poor world, when they are giving birth. And what should be one of the happiest days of their life. For so many it is the most dangerous day of their life. That is why as part of Britain's contribution to this, we said we would seek to save the lives of 50,000 women in childbirth and 250,000 children at the time of their birth. So a very significant effort on maternal mortality secondly, as the task of this Government.
Girls education
Thirdly, on education, we are absolutely determined to ensure we get as many girls as we possibly can into school. Educating girls, along with vaccinating children, are two of the most decisive interventions you can make in development.
Educating girls has a chance over a generation to completely transform societies. There are nearly three million girls in school in Afghanistan today, and there were no girls in school ten years ago.
We have committed to securing education for 11 million children over the next four years in the poorest parts of the world. Nine million to primary school, two million to secondary school at just two and a half per cent of the cost of educating a British child.
And, I have recently launched the Girls Education Challenge Fund which will invite offers from all comers to try and get up to a million girls into school in some of the most difficult parts of the world. And indeed, we have conducted a pilot in Amhara in Ethiopia which has been extraordinarily successful at trying to hinder and stop child brides, child marriage, taking place. We will make sure the lessons from that pilot are rolled out to all of the British development programmes in the world.
I think particularly of education, when I met a young girl in Uganda called Immaculate, whose father had died and she had to leave school. As a result of a British programme, she walked three days to seek to win financial support - a scholarship - to go back into school. She had won that support, she'd gone back into school.
I met her at the age of 16, highly articulate, determined to become a teacher, to put back into society what she herself had been able to draw from it.
It brought tears to my eyes when I met her and I could not have been more proud of the effort that Britain was making to help girls like her in one of the most challenged parts of the world.
Getting women into the economy
The fourth area is trying to get women and girls into the economy, to boost microfinance.
It's a point Aung San Suu Kyi made to me last week when I saw her in Burma, saying that support for microfinance to enable women to take part in the ecomony was right at the top of her list of things that we could do to help.
All around the world we are trying to boost the sinuse of microfinance so that it can have that beneficial effect.
And of course, 70% of farmers in the poorest parts of the world are women, and enabling them to do more to feed their own families in their communities is essential as well.
Again, if you look at the way in which women bear the brunt of food insecurity, where they seek to feed their families. I remember very well in Burma when the demonstrations took place some four years ago, that the people leading those demonstrations were not the usual suspects, students and others, they were middle aged women demonstrating because their children and their families were starving and they were bearing the brunt of that. So we are very conscious too of tackling food insecurity and starvation which is directly linked to this agenda.
Violence against women
Two final points on what we are seeking to do. We accept absolutely that women are in the front line when violence and conflict takes place. We want to do everything we can to make sure security and justice are built into our programmes that we conduct.
As part of our commitments over the next four years we're determined to secure for 10 million additional women access to justice and we are well on track to achieve that.
And also, in promoting justice and security it is about ensuring that women have a voice and are able to project their aims and aspirations in a new political system.
I think particularly of what is happening in Libya and meeting, when I visited Benghazi, a group of women who had organised a civil society organisation to assist their agenda, who made it very clear to me that they had been in the frontline during the Arab Spring of demonstrating for change and for an end of oppression and a growth in democracy.
They expected to have a key and leading role in the new political systems that resulted from the changes. And I completely agree with them and Britain is supporting those women and others in a similar position through the Arab Partnership Funds where the Foreign Office and my Department are strongly engaged in precisely that agenda.
Conclusion
Perhaps I can just end on this note, in supporting this agenda we have also put our money where our mouth is by an absolutely splendid new collaboration with the Nike Foundation on the Girl Hub which is now housed in the basement of my Department.
It is making a huge difference not only through their programmes around the poorest parts of the world, but also in reforming our thinking in driving forward this agenda.
For those who haven't seen the workings of the Girl Hub and the Nike Foundation in this very important and innovative way, I strongly suggest you have a look at it and its huge and highly beneficial impact.
So that was really why I wanted to come along. To wish you every success and a good session today, and in all the work you are doing. And to ensure that we have the closest possible contact together as we drive forward this vital agenda in the interest of international development, and in particular, in the interest in the centrality of women in that agenda.
Thank you very much indeed.
Published 25 November 2011