"An important year for UK-China relations"
Foreign Secretary William Hague spoke at the China Business summit at the British Business Embassy in Lancaster House on 27 July.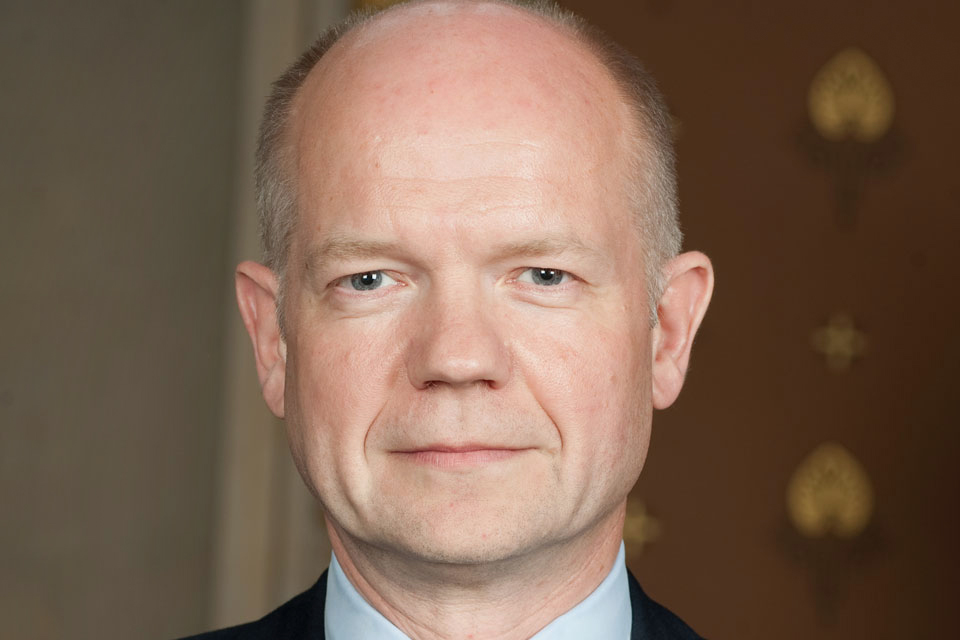 It gives me great pleasure to welcome you all here just a few short hours before the opening of the London Olympic Games.
This is the first time I have ever visited a British Embassy without having to leave the country. This historic building was where the independence of Zimbabwe was signed and two G8 summits have been hosted. However today and for the duration of these Games it has been transformed into an Embassy for British Business.
We are holding 17 business summits over the course of the Olympics, but this is one of only two dedicated to a specific country. This is a signal of the importance we attach to our relationship with China, and the enormous potential that our economic and commercial ties have to benefit the citizens of both our countries.
Today you can all consider yourselves ambassadors; whether you are visitors, eager to learn more about business in Britain, or representatives of British industry, envoys for
the commercial sectors of which we are so justifiably proud.
This is an opportunity to learn more about what you can offer one another. We hope you will develop relationships that stand you in good stead for the future and are part of the economic legacy of London 2012.
This year is an important year for UK-China relations. We are celebrating the 40th anniversary of ambassadorial-level diplomatic relations between our countries.
You could not be here at a more exciting time for London and the United Kingdom as a whole. It marks the culmination of all our efforts since 6th July 2005 when we were successful in our bid for these Olympics; and the years of preparation not just by our organisers and by British governments but by athletes around the world.
Tonight, at the opening ceremony, we will have the opportunity to share with the world everything that is great about Britain, following the standard that was so impressively set at the Games in Beijing four years ago.
China has brought hundreds of athletes, coaches and support staff to the UK, who have been based in Leeds for the last four weeks in my native Yorkshire as they prepare for the Games.
It is an honour to welcome them, and all of you, to Britain.
Whilst the attention of the world is currently on London, in our international relations Britain is looking East as never before.
Asia is the engine of the world's growth and we want to be part of that success, and we have spent our two years in office strengthening our ties with China and many other countries in Asia; opening new diplomatic posts, despatching more diplomats, and making a huge number of visits as Ministers.
The growth in the Chinese economy is one of the most remarkable achievements in modern history. The Chinese economy is fifteen times larger than it was two decades ago and growth is expected to be around 8% this year. That is an increase in GDP of $580bn.
Trade between the UK and China is also growing. Last year total exports in goods and services to China increased by 18%. In the first quarter of 2012 in comparison to the same period in 2011 they have increased by a further 12%.
While those increases are impressive, there is opportunity to do much more. The share of the UK's total exports that go to China has increased to 3%, but there is considerable scope for more growth; particularly in services, where the UK excels. It is clear that growth will not come from spending by the government or domestic consumers alone. Instead we must look outwards and to the expansion of globe trade as the engine of sustainable global growth.
In 2010 the Prime Minister and Premier Wen agreed a bilateral trade target of $100 billion, and a goal of 250 more Chinese investment projects in the UK, by 2015 and we must make sure those targets are reached, if not exceeded.
We want companies from China and across the world to thrive in the UK market. And we want our companies to do the same in China.
We must continue to build a strong and transparent partnership between our two countries. Our shared interests outweigh our differences and they are growing all the time. We have much to learn from each other and it is a relationship that is mutually beneficial. I am pleased that China has pledged to open up more areas of its economy and encourage foreign investment.
China's Five Year Plan outlines some ambitious goals to turn China into an innovative knowledge economy. I hope that policy makers will find ideas to support their goal from within the UK.
The British Government understands the needs of both our domestic business and those of other nations overseas. That is why we are putting a huge amount of energy, across the whole of Government, in to making the most of the opportunities in a world-wide economy.
The United Kingdom is already a world-class location for international business. It is a global economic hub, and the most attractive destination for inward investment in Europe.
But we want to make it an even better proposition for international investors which is why we are aiming to create the most competitive tax system in the G20, with lower corporation tax and no withholding tax, credits for research and development investment and 'Patent Box' measures to benefit the most innovative and high-tech firms.
It is also why we will continue to support open and fair markets, resist protectionism, battle bribery and corruption and take a firm stance in enforcing intellectual property rights to support innovation and growth.
We foster an open society, where debate and freedom have enabled innovation and creativity to flourish. This has made our creative industries world leaders. Our private sector is open and businesses from all over the world can invest and operate with confidence on a fair and equal basis with all competitors. This transparency is essential for business to thrive and inward investment to grow.
We have a sound legal system for enforcing contracts, and our infrastructure investment systems should be encouraged and replicated in other developed countries.
Britain is open for business and this Government is committed to removing the hurdles to trade. That is why we want to ensure that there are fewer barriers to business, less onerous regulation and more free trade. These are the crucial conditions in which a global economy can flourish.
We are also identifying what the Foreign Office and UKTI can do to support this endeavour. In a time of economic uncertainty we are one of the few nations that are looking to expand their diplomatic network. We are opening eight new British diplomatic Posts in Asia by 2015, building stronger trade and investment, economic, scientific, political and cultural links across the whole of the region.
We have already seen the gains that that these approaches have made. April saw the launch of the first Renminbi bond outside China here in London. China Investment Corporation recently made a successful investment in Thames Water, and the Agricultural Bank of China formally launched its London subsidiary in February. This is good news for both of our countries.
As the relationship between our economies grows, Britain can be a springboard for China into European markets, and China's appetite for British goods and services will only grow.
At the Olympics in Beijing four years ago China won an impressive 51 gold medals. I am certain that the competition for medals at the Games in London will be fierce. Unlike the pursuit for sporting gold, the pursuit of global economic success is not a zero-sum game but an undertaking where both our nations can win. I hope that we can look forward to achieving that mutual success in the coming years, and may today's event be both enjoyable and rewarding for you all.
I hope that you enjoy the games and you have the strongest and warmest welcome possible from the government of the United Kingdom
Published 27 July 2012