Amanda Spielman speech to the SCHOOLS NorthEast summit
Ofsted's Chief Inspector discussed the reasoning behind our proposals for the 2019 education inspection framework.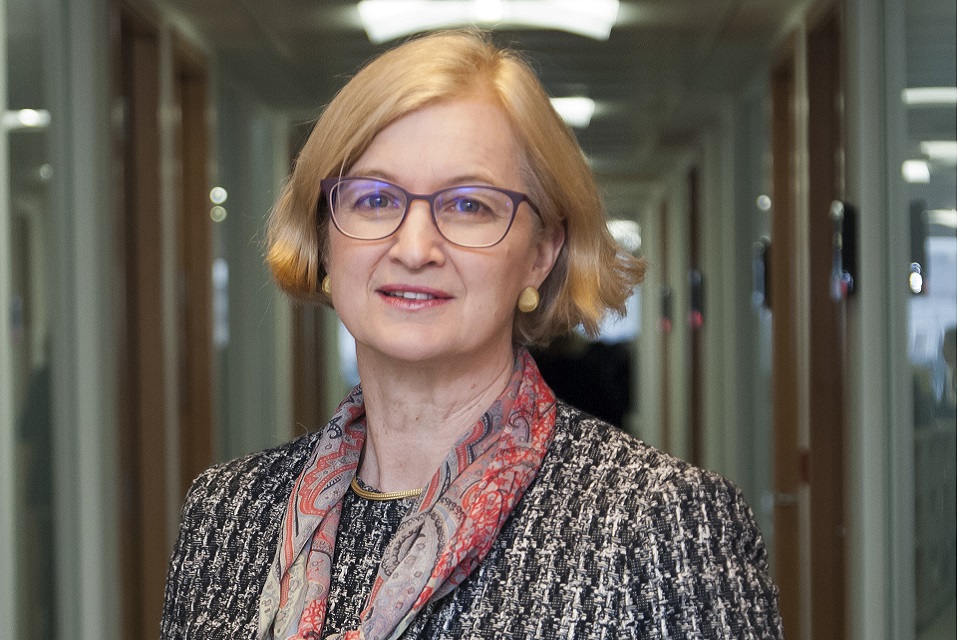 Good morning and thank you for inviting me to be here today.
I always like getting to the north of England – being from Scotland myself, it's not quite all the way home, but it's good to be here.
And this isn't my first time with you here. I came to speak to SCHOOLS NE as Chair of Ofqual, back in 2015, when we had what I remember being an interesting and challenging morning – with a good discussion with Mike and several of you over lunch afterwards.
And it is always good to be out talking to a dedicated group of professionals. I know that in recent years, the collective efforts of schools in the North East have made a real difference to children's education. And as I hope I said back in 2015, I am greatly impressed by the SCHOOLS NorthEast model. The level of engagement and support for local schools is clearly very high, and it is great to see how this group is promoting constructive discussion and acting as a catalyst for change.
I suspect a number of you were in the audience last month, when our Regional Director, Cathy Kirby, and her team were presenting an Ofsted update.
I am going to expand on Cathy's presentation and share more of the reasoning and thinking behind the changes we are planning for inspection. And I will explain how I see these changes being particularly helpful for schools and colleges and other providers that serve more disadvantaged areas. I know this is a real concern for many in the Schools NorthEast family.
And I should make clear at this point, I do not subscribe to the view that schools in the North East are somehow disproportionately failing their students. There is lots of talk of a north/south divide in educational standards, that I believe is massively over-simplified and misunderstood.
The Secretary of State's announcement earlier this week, of an Opportunity North East programme, seems to me to recognise the complexities, providing for a series of actions to help address some of the challenges you face.
I know that you all work extremely hard to give your pupils the best possible education and my great hope is that the plans in our new framework will help make sure this is more clearly recognised.
So, let me start by setting out our underlying thinking: the principles behind this iteration of inspection. As I have made clear since I started this job, my commitment for Ofsted is that, in everything we do, we should be a force for improvement. Inspection and regulation are essential to well-run public services. But if they are done in the wrong way, they can do more harm than good. That is why the test of being a force for improvement is so important.
This time last year, in our corporate strategy, we expanded on that commitment to make clear that everything we do will be intelligent, responsible and focused. But how does that translate into our framework development work?
We will be intelligent by basing the framework on research from inspection and other wider research. We have already undertaken and published 2 substantial pieces of work on the curriculum, with more to come.
We will be responsible by being clear about our expectations and debunking misconceptions. Events like the one with Cathy and her team last month are being repeated around the country, setting out our direction. And, of course, we will consult widely on the draft framework and handbooks when we start the full consultation early in the new year.
And we are being focused, by removing any measures that do not genuinely assess quality of education and by doing so, making sure that inspectors' and your time is used to best effect.
To understand the thinking behind some of our proposed changes, it is useful to reflect briefly on the recent history of inspection.
Inspection activity
It's easy to forget how different the Ofsted of today is from the inspectorate that existed just 15 years ago. From the 1990s through to the mid-noughties, inspections consisted of large teams of inspectors visiting schools for a full week, with a full range of subject expertise, making it possible to review individual subjects in depth.
All this changed in 2005, when the scale of inspection was greatly reduced – shrinking the number of inspectors in a team and the number of days they spent in schools. The focus of inspection shifted to the leadership team's own evaluation of the state of the school. Fast forward another 10 years and a further refinement led to the introduction of short inspections for most schools already judged good. To appreciate the scale of the change, it is worth remembering that most primary school inspections today are a one-day visit by a single inspector, approximately every 4 years.
This model places a premium on us taking real care about what we cover on inspection. So, for example, short inspections focus on key lines of inquiry. This necessarily means that inspectors look at different things, and ask different questions, depending on the strengths and weaknesses of the school they are visiting. This has, I believe, driven some of the things that I hear about inconsistency between inspections, because of course different schools will have different areas of strength and weakness. It also means that we cannot report on all aspects of a school.
Now don't misunderstand me – I am not standing here thinking that hordes of schools are lining up at our door, demanding the return of week-long inspections. But we do need to acknowledge that there are downsides to the current approach. Not least, schools inevitably feel they must do a ton of recording and collating of information to present during the inspection. And we all know that, in reality, much more of this kind of data gets produced than inspectors can use: just in case.
Clearly the original rationale for this model is hard to fault. It reflects trust in school leaders to tell their own story. But, as others have pointed out, the consequence is increased school workload.
Originally, this manifested itself in the monster of the dreaded Ofsted 'SEF', that near standard self-evaluation form, now happily consigned to history. But unfortunately, even after we have been absolutely clear, for quite a few years, that Ofsted doesn't impose any requirements for how or what schools show, it is increasingly apparent that the current model is driving too much workload and much of it falls on the shoulders of classroom teachers.
Another element of inspection that has changed considerably over the years, mainly because less inspector time is spent in schools, is the extent to which classroom teachers are involved in the process. Inspection has become a leadership-framed conversation, with much less dialogue between classroom teachers and inspectors.
Most teacher–inspector interaction now comes through a sample of lesson observations, which are not themselves about assessing the quality of the individual teachers. And, believe it or not, our research indicates that classroom teachers mostly would like to have more involvement in inspection, because they feel the loss of that dialogue and professional development.
As I have said, I do not think there is appetite to revive the inspection model of 20 years ago. But as we develop the new framework, I want to consider how we can build on the strengths of what we currently have – especially letting leaders tell their own story. I also want to rebalance inspector time usage so that more time is spent on site, having those professional conversations with leaders and teachers, with less time away from schools and colleges in pre- and post- inspection activity.
Broad and balanced curriculum
So how will inspectors use the extra time on site? Well, I think this is how we can get that handle on the real substance of education.
While I think that current performance measures are as good as they have ever been in capturing outcomes, I want to make sure that at Ofsted, we focus on the 'how' and the 'what': the essence of what performance tables cannot capture. This will let us reward schools for doing the right thing by their pupils.
That doesn't mean there will be no link between what we find about the quality of education, and what the published data says. They are, one hopes, somewhat correlated. But inspection should be a slightly different conversation. It should ask a different question. We want to know what is being taught and how schools are achieving a good education, not just what the results are looking like.
As my recently published commentary on the curriculum reiterated: the curriculum is not the timetable, nor is it what we think might come up in the exam. We all have to ask ourselves how we have created a situation where second-guessing the test can so often trump the pursuit of real, deep, knowledge and understanding.
It is clear that, for some time, Ofsted hasn't placed enough emphasis on the curriculum. For a long time, our inspections have looked hardest at outcomes, placing too much weight on test and exam results when we consider the overall effectiveness of schools. The cumulative impact of performance tables and inspections and the consequences that are hung on them has increased the pressure on school leaders, teachers and indirectly on pupils to deliver perfect data above all else.
But we know that focusing too narrowly on test and exam results can often leave little time or energy for hard thinking about the curriculum, and in fact can sometimes end up making a casualty of it.
The bottom line is that we must make sure that we, as an inspectorate, complement rather than intensify performance data, because our curriculum research and a vast amount of sector feedback have told us that a focus on performance data is coming at the expense of what is taught in schools.
A new focus on substance should change that, bringing the inspection conversation back to the substance of young people's learning and treating teachers like the experts in their field, not just data managers. I don't know a single teacher who went into teaching to get the perfect progress 8 score. They go into it because they love what they teach and want children to love it too. That is where the inspection conversation should start and with the new framework, we have an opportunity to do just that.
This is why we will be proposing a new judgement of quality of education as one of 4 judgements in our new framework.
Proposed changes
In fact at the top level, there are 3 main proposed changes. The first change is losing outcomes as a standalone judgement. The second change is broadening the existing quality of teaching, learning and assessment judgement into a quality of education judgement. This one should include curriculum alongside teaching, learning and assessment, and will also reflect outcomes. Then third, we propose splitting the current judgement of personal development, behaviour and welfare into 2 separate judgements: one for behaviour and attitudes and the other for personal development.
Under quality of education, we intend to look at 3 distinct aspects. First the intent – what is it that schools want for all their children? Then the implementation – how is teaching and assessment fulfilling the intent? Finally, the impact – that is the results and wider outcomes that children achieve and the destinations that they go on to.
We believe that this new judgement will allow Ofsted to recognise primary schools that, for example, prioritise phonics and the transition into early reading, and which encourage older pupils to read widely and deeply. And it will make it easier for secondary schools to do the right thing, offering children a broad range of subjects and encouraging the take-up of core EBacc subjects such as the humanities and languages at GCSE, alongside the arts and creative subjects.
At the same time, Ofsted will challenge those schools where too much time is spent on preparation for tests at the expense of teaching, where pupils' choices are narrowed or, as mentioned above, where children are pushed into less rigorous qualifications mainly to boost league table positions.
By separating 'personal development, welfare and behaviour' into 2 judgements, we are recognising the very different elements at stake here. We believe that the tough business of behaviour and the attitudes pupils bring to learning and a school's approach to things like attendance, bullying and exclusions are best considered separately from the question of pupils' wider personal development, such as the opportunities they have to learn about being active, healthy and engaged citizens. And as I said, leadership and management is also expected to remain a key area of consideration.
Impact in terms of disadvantage
I suggested at the outset that our proposed changes should be especially welcome for schools with more disadvantaged intakes.
Let me explain a bit more. As I have said, I believe that one of the limitations of the current accountability system is the incentive, perhaps even pressure, for schools to put overall results ahead of individual children's needs. Our changes should help this.
Few schools don't feel that pervasive undercurrent and for schools serving disadvantaged children, the pull can be stronger. We know that is what drove the popularity of the ECDL [European Computer Driving Licence] qualification. Just the other week, I read of a company marketing its vocational qualifications as 'a means to boost league table results'. Don't get me wrong, I'm a huge supporter of vocational education when a vocational course is right for the pupil and the qualification will genuinely lead to the prospect of a job, or higher-level training. But not when it is simply designed to push a school up the performance tables.
We also know that these undesirable incentives sometimes lie behind pupils coming off school rolls. And, sadly, it is disproportionately the more disadvantaged children who are affected.
And I would like to give credit to Cathy here for the resolute way she has focused on the problems of fixed-term exclusion. This is about fairness, not just to pupils but between schools. Cathy told me just the other day of a local head calling her in exasperation about the fact that they'd had 8 requests in one week to take children excluded from other schools.
We are already increasing the focus on off-rolling under our existing framework. Inspectors are now being given information flagging schools with unusually high pupil movement, so that they can ask the right questions of school leaders.
I do believe the changes we are proposing for inspection will make it easier to recognise and reward good work done by schools in areas of high disadvantage. By shifting our focus away from outcomes in isolation, we should empower schools to put the child first and make teaching in high disadvantage schools even more rewarding.
This can help redress the so-called Matthew effect, where all of the incentives push our best teachers away from the schools that need them most and towards those schools, often in affluent areas, where their career may feel safer – something that the government's plans for a Teacher Development Premium should also help address.
Don't fear change
I realise that any change of emphasis from Ofsted will get a lot of attention and a degree of apprehension. We have an absolute obligation, which we take very seriously, to make sure that the changes we make are fair, valid and, as much as possible, without side effects. We also have to make sure we put plenty of time and resource into developing changes.
So, let me reassure you and perhaps gently push back on those who say we should delay. We've been taking our time. There will be more than 2 years between starting our development work on this framework and its implementation.
We are not talking here about an Ofsted-approved approach. We are talking about an approach that leaves plenty of space for diversity, but nevertheless makes it possible to recognise and discourage things that just aren't good enough. That second phase of our curriculum research showed quite clearly that it's possible to acknowledge a range of successful curricular approaches – approaches that cross any perceived ideological divide.
We have already carried out a thorough, research-based curriculum review, publishing 2 reports, with a third installment to come. We have researched both primary and secondary curriculum and will shortly publish our study on level 2 study programmes in FE. We've held workshops with schools to develop the curriculum thinking further. There have also been separate projects on educational effectiveness, on what happens on inspection, on lesson observation, on teacher workload and on book scrutiny. In fact, I am confident that this will be the most researched and evidence-based framework in Ofsted's history.
We are piloting options for the new framework this term, so that anything that doesn't work can be changed well in advance. Initially, this will involve 'soft pilots' with schools who have volunteered for the experience, helping our inspectors test the new methodology in a consequence-free way.
Alongside this, we've revamped inspector training, putting in place a long lead-in programme to get our inspectors up to speed on what they need to know and look at in this new model. We'll also be running similar training sessions for schools and colleges, so you can be clear about our expectations.
Finally, from January we'll be consulting on the inspection framework and on the individual inspection handbooks as well. That means we'll be able to capture your views earlier, and where there are problems we'll be able to make changes, just like we did with our short inspection model last year. When we consult we listen.
With teacher workload and retention such pressing issues, I am firmly of the view that a focus on substance will help to tackle excessive workload. It will move inspection more towards being a conversation about what actually happens in schools. Those who are bold and ambitious and run their schools with integrity will be rewarded as a result.
And we know from talking to you, as well as from our research, that this is the right way to go. One year of delay in this framework is the equivalent of more than 8 million child years of delay and half a million teacher years of delay. In the middle of a teacher recruitment crisis, the changes to inspection simply can't wait.
Conclusion
So to conclude: I've used the word 'conversation' a number of times in this speech. The nature and impact of the conversations in an inspection are fundamental. As we shape the new framework, with your help, we really are thinking about how each inspection can be the most productive exchange between a school and its inspection team: how we can make it about substance, more than about numbers.
After all, there are 2 distinct elements of inspection. One is as a simple means to gather the necessary information to make a judgement about a school. The other is as a means to help schools to do their job to the very best of their capabilities: to ask the valued questions, to pull out what's distinctive, to prompt the closer analysis, to open a new line of thinking. It absolutely should not just be about putting a judgement sticker on a school. What we are about is making sure that, in the process of coming to that judgement, we are supporting schools – that we are being that force for improvement.
By all of us working together, in the spirit of collaboration that SCHOOLS NorthEast embodies, I know we can achieve this.
Thank you.
Published 11 October 2018