Speech
Acting High Commissioner's speech at the handover of equipment from PhysioNet UK
The Spinal Injuries Association received its fourth shipment of paediatric physiotherapy equipment, mobility items, wheelchairs and ancillary items from PhysioNet UK.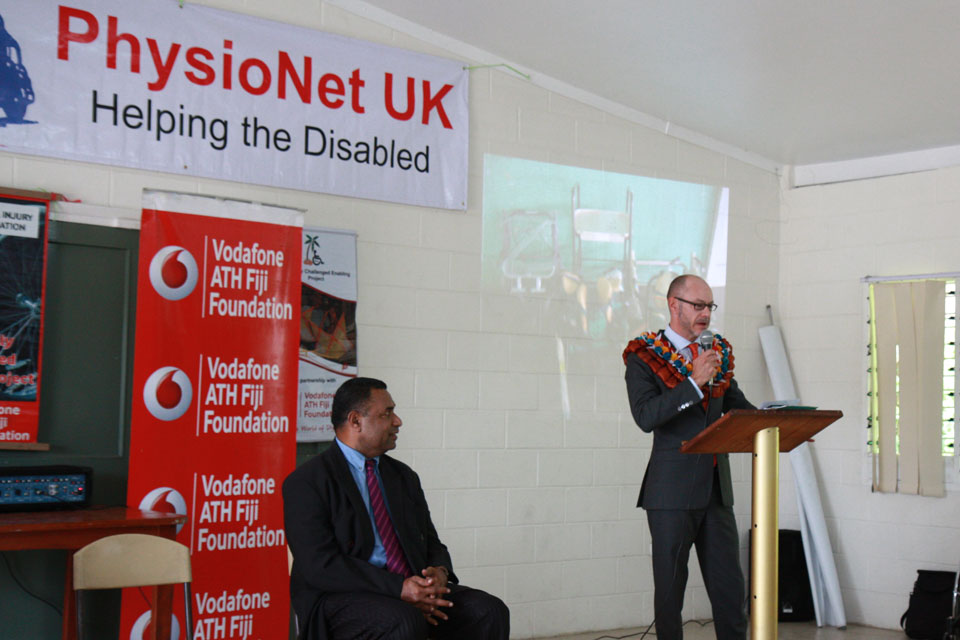 Dr Sitiveni Yanuyanutawa (Executive Director-Fiji National Council for Disabled Persons), Joshko Wakaniyasi (Executive Officer-Spinal Injuries Association), representatives of the Vodafone ATH Foundation, ladies and gentlemen, I am delighted and honoured to have been asked to attend this handover ceremony for paediatric physiotherapy equipment, mobility items, wheelchairs and ancillary items received from the British charity PhysioNet UK.
PhysioNet is a charity based in Yorkshire, England and was set up in 2005 after one man's visit to a children's home in Sarajevo, in Bosnia Herzegovina in 2004 and his efforts to meet a request from that children's home for sorely needed special needs equipment. That man is called Peter Thompson and I know he is well known to many of you. Since 2004, Peter's tremendous efforts and those of the PhysioNet team of volunteers have helped provide physiotherapy equipment to disabled children in Eastern & Central Europe and in developing countries round the world.
Physiotherapists, occupational therapists and other professionals in the UK provide PhysioNet with equipment that is no longer needed or requires minor repair. Prisoners in British jails together with PhysioNet volunteers repair and refurbish the equipment which is then distributed to countries around the world where there is greatest need. This is PhysioNet's fourth shipment in four years to Fiji, and Fiji easily qualifies as PhysioNet's most regular recipient of equipment out of the 15+ countries the charity has supplied to date. You only have to look at PhysioNet's website to read about the inspirational work it does. As the charity has grown and become better known it has become even more efficient in the collection, storage, refurbishment and packing of equipment. In the last year alone, 40 foot shipping containers have been dispatched not only to Fiji but also to Democratic Republic of Congo, Samoa, India and South Africa.
Last year London played host to the inspirational Olympic and Paralympic Games – hailed by many as the greatest Games ever. But we will also remember London 2012 as the games when Fiji took home the Pacific's first Olympic gold medal. Iliesa Delana's triumph in the Paralympics men's high jump is an inspiration to us all.
But for every medal-winning para athlete, there are millions more in the world who are often hidden from view and forgotten. The British Minister for International Development Lynn Featherstone wrote recently that "the awful truth is the aid community has also in large part forgotten disabled people. I do not know whether it is because it is too hard or other priorities win the day. But we all must do as we would be done by. Over one billion people – 15% of the global population – have a disability and there is a direct link between disability and poverty. Indeed, disability has a greater impact on access to education than gender or household economic status".
She went on to write "….what is abundantly clear is we can do more. Otherwise our proud Paralympic legacy is under threat. Last summer the Paralympics captivated this country and the world, and we cannot let that spirit fade away". And this is why the British government has invited organisations which have experience in development for the disabled to advise DFID, our Department for International Development on how it could improve its aid programmes and consider disability more systemically. And PhysioNet UK is also grabbing this opportunity by exploring what DFID might be able to do to help PhysioNet's valuable work, including encouraging the British National Health Service to pass on more of their redundant wheelchairs to PhysioNet so they can be refurbished and used again in deserving countries like Fiji.
I am very proud to be supporting in a small way PhysioNet's work in Fiji, and am honoured on behalf of PhysioNet UK to formally hand over this latest consignment of equipment to help improve the lives of people living with disabilities in Fiji.
Thank you.
See photos
Published 30 July 2013
Last updated 30 July 2013
+ show all updates
Included photos.
First published.