60 years of the Refugee Council: speech by the Deputy Prime Minister
Speech marks 60th anniversary of the United Nations Convention Relating to the Status of Refugees and formation of the Refugee Council in the UK.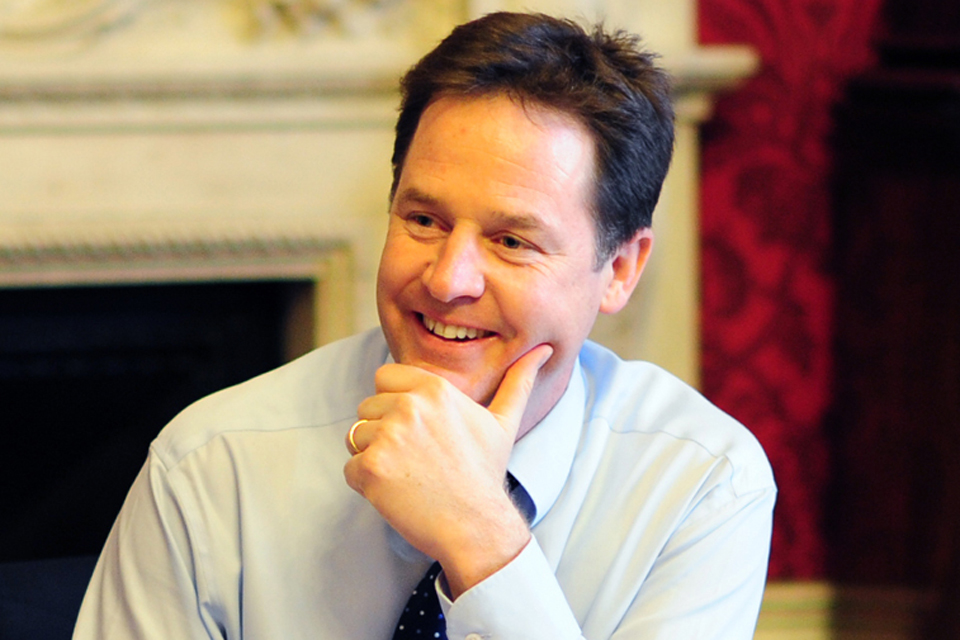 Check against delivery
The UN Convention on Refugees marked a turning point in the international community's attitude towards the plight of displaced peoples.
A recognition of our collective duty towards innocent civilians forced to flee their homes to escape disaster and persecution.
60 years on and there is, of course, still more progress to be made.
But it is right that we pause to celebrate what has been achieved.
Thanks to the work of organisations like the Refugee Council the change brought about in 1951 has been crystallized, built upon.
Millions of lives have been saved. And now citizens worldwide feel a responsibility towards people they have never met, from faraway places, who have had to give up everything, go somewhere new, and start again.
That is profoundly important.
The measure of any civilised society is how it treats the voiceless.
There is another anniversary to mention today. Not quite six decades, but as of this week the Coalition is one year old.
And I would like to talk about how we have used that first year to adapt the government's approach to asylum.
First, think back to the situation we inherited.
A system in chaos.
Innocent children behind bars.
Asylum seekers sent back to countries where they would have to hide their sexuality to avoid the risk of harm.
Many individuals seeking asylum lost in limbo, with no decision over their application for five, seven, ten years;
Many of them forced into the shadows; part of a forgotten underclass.
Communities already afflicted by deprivation expected to simply absorb these problems; to pick up the pieces of an incompetent system.
And as a backdrop to it all a constant hum of cheap populism, from those people who sought to lump everyone who comes to the UK into the same category…
And then paint those people as a threat to our country.
But are refugees a threat to Britain?
Of course, Britain, like all countries, has a duty to examine asylum claims and refuse those which are not justified.
But you know better than anyone that the refugees who get through all the checks and are granted refugee status are invariably honest, hardworking men and women who go on to contribute to their communities and enrich our national tapestry.
It is precisely our openness to their contribution, and to those in need of our help, that makes us British.
It was British lawyers that played a key role in drafting the UN Convention.
Britain that took in refugees from Hungary in the 1950s. Czechoslovakia in the 60s. Uganda, Chile and Vietnam in the 70s. Iran in the 80s. Iraq, Bosnia and Kosovo in the 90s. And more recently from Afghanistan, Sri Lanka and Eritrea.
Through the UK Gateway protection programme we are providing a safe route to some of the world's most vulnerable refugees.
Since it's inception in 2002 over 3000 refugees have been resettled here.
And I'm proud that Sheffield, the City where I am an MP, was the first to sign up.
I believe Akoi will tell us more about his experiences in Sheffield; his very moving story.
And I know from the experiences of my own family the openness at the heart of this nation.
My Dutch mother spent part of her childhood in a prisoner of war camp in Indonesia.
My father's mother fled the Russian Revolution and made her way across Europe.
Neither had to seek refuge here - they were luckier than that, and both ended up marrying British husbands…
But they nonetheless made their homes and built their lives in a welcoming Britain.
We must not surrender the meaning of Britishness to bigots, xenophobes, organisations like the BNP.
Liberals, progressives, true patriots must reclaim this ground.
So the Coalition Government is trying to unwind the damage of years of mismanagement.
We want to do everything we can to make sure refugees get the help they need.
That is not without challenges.
Sensible debate on these issues has been hampered by myths and misconceptions.
And we now face unprecedented pressure on the public finances, with all government departments, including the UK Border Agency, facing savings.
I know that has real consequences for people in this room.
We have no choice but to take the difficult decisions to get the deficit under control.
That has piled pressure on charities and third sector organisations and I want to acknowledge your tremendous efforts in dealing with that.
In the current financial climate we all need to find ways of doing things differently to reduce costs, and I want to take this opportunity to pay tribute to the work you do.
I know from the community organisations I meet in Sheffield the difference you make to the lives of people who have already been through so much.
And I am confident that, even in these financially testing times, there are things we can do to put right the mistakes of the past.
I would like to pay tribute to Damian Green for his leadership in what is not an easy area.
For my part, we have never shied away from taking the right stance on asylum, even when it has been controversial to do so.
Now, in Government, our approach has three key strands:
One, sorting out the inefficiency in the system.
Two, ending the unfair practices that remain.
Three, acting internationally to help as many refugees as we can.
First, greater efficiency.
In 2006 John Reid admitted that 450,000 historic asylum cases had not been dealt with. Some dating back to the 1990s. Behind that statistic lies real people.
Some of whom will have travelled huge distances, after suffering unimaginable traumas, only to then be subjected to years of uncertainty, hardship, fear.
That's not right. And it costs money; that inefficiency prevents us from targeting limited resources to the people who need it most.
So we have focused our energies on continuing to deal with that legacy. 
And we're looking across the board to see how we can improve decision-making: better decisions, made first time, and made faster.
Through the Asylum Improvement Project we have been testing new ways of doing that.
Like making more of specialist case owners, and a more structured approach to interviews and decisions. Changes that might sound small and technocratic, but that are already making a difference.
Over half of all asylum cases are decided on within in a month; very few go beyond six; so we are getting quicker, but we know we need to do more.
Two: making sure the system is fair even as it becomes faster. Ensuring the legitimate needs of anyone seeking refuge in the UK are upheld to the highest standards, at all times.
Starting with children.
Under previous arrangements thousands of children were locked up for immigration purposes every year. 7000 between 2005 and May 2010.
Children - some of whom will have travelled from war torn, devastated nations - literally taken from their homes, without warning, and placed behind bars.
Sometimes for weeks, sometimes for months, in one case for 190 days; something no innocent child should ever have to endure.
It was a scandal the Coalition Government has now stopped.
And there are other groups who need better protection too.
Like people who - under the previous rules - could be removed to countries where they feared persecution for their sexual orientation. Again, a practice we have stopped.
And why do far more women have their case overturned at appeal? Is there an inherent unfairness built into the system?
That is something we are looking at very carefully; and we're ensuring the process is sensitive to the needs of women and girls.
For example by making their interviews less intrusive; and making it possible for them to have a companion with them to provide emotional support.
A country like the UK should be aiming for nothing less than the most compassionate, efficient, dignified asylum system in the world.
That cannot happen until we're sure no single group is being singled out.
Finally, playing our part internationally.
We have a good record here, and one the Government wants to keep up.
Even in these straitened times we continue to be a major contributor to the UNHCR.
Money that goes towards food and shelter for thousands of refugees in Liberia, medical treatment in the Ivory Coast; relocating over 160,000 Burundians displaced in Tanzania.
But helping refugees isn't just about aid.
It is just as important - more important - that we take a stand against those regimes that pose a threat to peace; who ride roughshod over the liberty of their people.
I spoke to the UN General Assembly last year and explained that we will not be passive in our defence of human rights.
Our role in the current military action in Libya, sanctioned by the UN, and aimed at the protection of civilians, makes the reality of that commitment clear.
You won't see the same unilateral military adventurism from this Government that you saw from our predecessors.
I opposed the war in Iraq. It didn't have international support; and a very shaky legal justification too.
But we should not allow the legacy of Iraq to lead to timidity in the face of violence and brutality.
And we will use our power in the world to put pressure on cruel regimes - Burma, North Korea, Syria. People in these countries need our help.
So, to conclude: I hope our first year shows that we, like you, want to reaffirm the UK's place as a caring and compassionate nation.
No one should ever be forced from their home.
But when it happens they must know that nations like ours will provide the safety and security all people deserve.
That's a promise we made 60 years ago. It is important today as it was then.
Working with the people in this room, I know we can honour it.
Published 10 May 2011