Soldiers Sailors Airmen and Families Association annual defence industry dinner
Speech by Phillip Hammond, Secretary of State for Defence.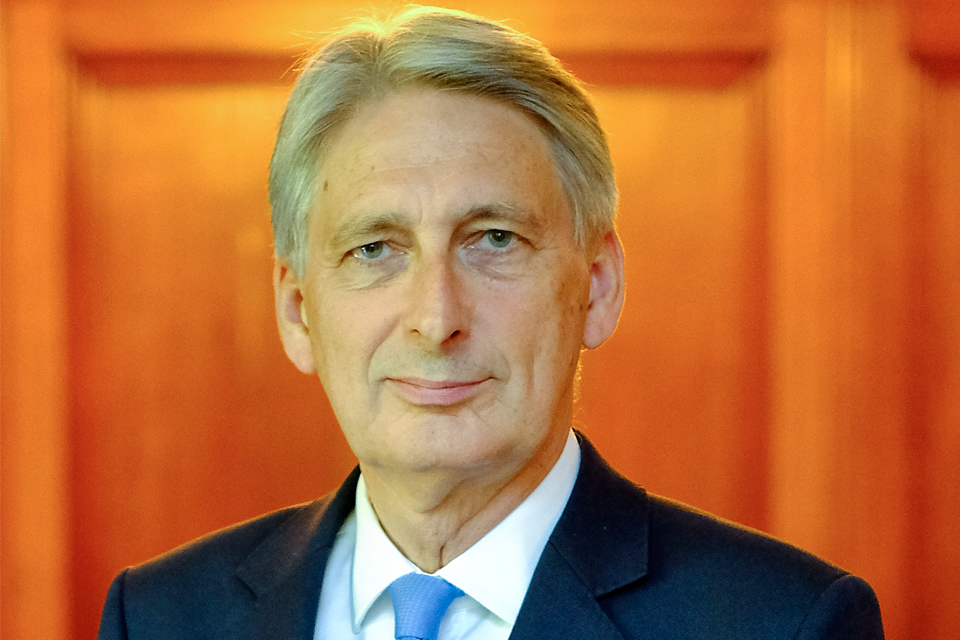 Introduction
It is a great pleasure to be with you here today and be offered my first opportunity as Secretary of State to speak to the wider defence community.
I am honoured that the Prime Minister has asked me to serve in this role.
It has been my good fortune to do so in time to witness the final end of Gaddafi's brutal 40 year rule.
I want to pay tribute to the role our armed forces played in the liberation of Libya.
They have done a magnificent job.
Libya has also shown the utility of the high-tech platforms, such as Typhoon, and high precision weaponry, such as Brimstone.
The ability to hit targets, from distance, with high-impact but low risk of collateral damage was incredibly important in an operation where the aim was not the destruction of a country but the protection of the population.
I also want to pay tribute to my predecessor, Liam Fox, for the decisive leadership he showed as Secretary of State - not just in relation to Libya but also in taking many of the tough decisions required to put our armed forces on the road to a sustainable future.
I worked with Liam closely both in opposition and in government.
He has always been a passionate and intelligent advocate for the armed forces and for the robust defence of our national security.
I look forward to the challenge of completing what he started.
People matter
The Ministry of Defence is one of the most important departments of government.
And it is also one of the most complex and challenging.
But I know I will be working with the bravest, most selfless and professional people the country has to offer, the men and women of our armed forces.
And they are supported by some of the most dedicated people in the public service, the most highly skilled workforces in British industry and some of the most committed people in the charitable sector.
I am grateful to have the opportunity so early on to thank SSAFA for all the hard work that is done day in, day out, week in, week out to support serving personnel, their families and the veterans community.
My first official engagement was to accompany the Prime Minister to the ceremony conferring Royal status on Wootton Bassett.
This reinforced for me just how important the armed forces are to the British public.
But I also saw something else, I saw just how important public support is to the men and women of our armed forces.
Knowing they have such high levels of public approval helps them stand tall as they deal with the daily challenges they face.
That is part of the reason why organisations like SSAFA are so important, not only providing practical help, but providing the public with a meaningful way to express their respect and admiration.
A challenging environment
As all of us in this room know, this is a difficult time for the country, and for defence in particular.
We are dealing with the toughest economic climate in a generation and the biggest budget deficit in our peacetime history.
Against that backdrop, in defence, we have also to deal with the legacy of an unaffordable equipment programme and a decade of operations at a continuously high tempo.
We do so at a time when the threats to our national security and our national interests are evolving fast, and by no means diminishing.
And at a time when our armed forces, including a substantial number of reservists, remain engaged in a dangerous and enduring mission in Afghanistan.
This is a vital operation to protect our national security by ensuring that Afghanistan does not again become a safe haven for international terrorism.
I will make it a priority to get out to theatre to visit our troops as soon as possible, so I can see at first hand the superb job we all know they are doing.
Formidable armed forces
The first focus of defence must be the delivery of success on operations.
The projection of military power is, after all, the raison d'etre of the armed forces and the MOD: everything else is a supporting role.
And it is my firm belief that when the government asks the men and women of our armed forces to put themselves in danger in pursuit of our national security, we owe it to them to make sure they are properly supported and have the best tools we can give them to do the job.
In defence, we now have a clear programme to deliver on this pledge.
The armed forces that will emerge from the implementation of the Strategic Defence and Security Review (SDSR) will be formidable, flexible and adaptable, structured to defend the country and project power abroad, equipped with some of the best and most advanced technology in the world.
Astute Class Submarines, Type 45 Destroyers, Global Combat Ship, Queen Elizabeth Class Carriers, Joint Strike Fighter, Typhoon, Voyager, Foxhound, Warrior, Watchkeeper.
This is not a vision of retrenchment; it is an ambitious programme of renewal after a decade of continuous operations - a blueprint for a sustainable future as one of the world's most capable fighting forces.
Strong economy, strong defence
It is now a year since the publication of the SDSR.
I know that it has been a year of difficult decisions.
I know that the changes being made are directly affecting people's lives and livelihoods.
And I have already, in my first week, heard something of the many valid and finely balanced arguments about the utility and necessity of this capability or that capability.
So let me be clear about my approach.
I am determined that we neither compromise current operations nor constrain future Defence capability, that we do not remove critical skills and capabilities that are irrecoverable, and that we retain the ability to scale up in the future if our national security demands it.
I intend to be a strong and passionate advocate for our armed forces and the Ministry of Defence both within government and with the public.
I will advance the interests of defence and national security at every opportunity.
But let's be under no illusions, if you want first class armed forces you need a first class economy.
There is no future for a big military supported by a small economy.
History is littered with examples showing that to be a fast track way to a collapse in global influence and military capability.
That was one of the central lessons of the Cold War.
Future Force 2020 must be built on firm foundations.
First, with a force structure that is fit for the challenges of future warfare and the real world risks we are likely to face.
Second, with a Defence programme that is affordable now and sustainable into the future.
Unpicking the SDSR piece by piece is simply not an option.
The transformation programme is essential to balance our books and modernise our organisation.
I am clear that this is the only way to ensure success on operations and the continued ability to project military power.
Conclusion
So let me end where I began, with the men and women of our armed forces.
Military effectiveness is built not only on economic success; it is built on people.
The men and women of our armed forces are the greatest asset we have.
Defence is a very human endeavour, and the consequences of service life are very human too.
That is why the work of SSAFA and other service charities is so important.
I can assure you that, during my tenure in office, the commitment to rebuild the armed forces covenant will continue.
This will mean all of us working together, government at all levels, working together with charities and the private sector, to look after our serving personnel and their families, and our veterans.
We have a big challenge ahead.
Succeeding on operations.
Looking after our people.
Building the adaptable armed forces this country needs
And balancing the books in the process.
I've only been in this job for a week but already I can be confident that working together we can deliver.
Our armed forces deserve no less.
Thank you.
Published 24 October 2011