HMS Anson keel laying ceremony
Speech by Gerald Howarth Minister for International Security Strategy.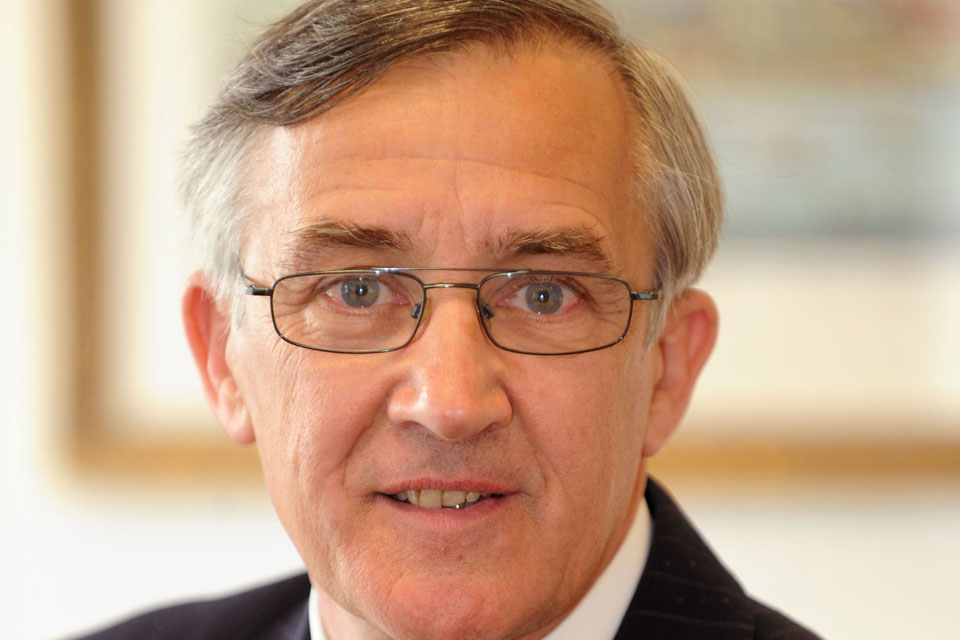 Ladies and Gentlemen, it is a great pleasure to be here today to lay the keel of the fifth Astute class submarine, Anson.
The submarine is the seventh British warship and the first submarine to bear this title, and is being named after the Admiral of the Fleet George Anson, who was one of our greatest First Lords of the Admiralty and noted for his circumnavigation of the globe, as well as his role overseeing the Royal Navy during the 7 Years War. During Anson's time in the Admiralty, his reforms reached into every aspect of the navy, from shipbuilding and technological developments, to training and discipline, and command and control. His work transformed our naval power into a global asset, and it laid the foundations for the naval victories of his era and the generation that followed.
It is fitting that we lay the keel for boat 5 of our new attack submarine flotilla as we ourselves continue through a planned course of Defence Reforms.
Last October, we confirmed our commitment to build a class of seven Astute Submarines. Anson will now join her sister boats, 'Ambush', 'Artful' and 'Audacious' in construction here at Barrow. Indeed, behind me you can see the great progress being made with 'Artful' and 'Audacious' as they are welded together, fitted out and tested, and in essence 'brought to life'.
Of course, many of you here today will recall the rather wet and blustery November day in 2009 when the first of class, HMS Astute, sailed from Barrow to begin a programme of extensive and rigorous sea trials and training, which are demonstrating the boat's capability. I am pleased to report that Astute is on track to begin her operational service around the end of 2012. I was also delighted to learn that, the second of the Astute class, Ambush, has successfully completed her first dive in the shipyard's basin. This is a critical milestone ahead of the boat's planned exit from Barrow early next year.
We are clear that the Royal Navy has a requirement for nuclear powered submarines. Royal Navy submarines have made, and will continue to make, a vital contribution to the defence of the UK and interests overseas. What many people do not appreciate is that they are perform a wide range of unique and essential military tasks, including global reach and endurance, and conduct unsupported operations in hostile environments whether operating close to the coast or deep in the oceans.
I'm sure I don't need to tell you that the Astute class provides a step change in anti-submarine and anti-surface warfare, protecting our nuclear deterrent, land attack, and intelligence gathering. They have an improved capability for world-wide operations, much greater firepower, better communications, and crew accommodation than in-service submarines. With advanced stealth technology, the Astute class has been designed to be quieter than any of her predecessors and thus very hard to detect.
Constructing nuclear submarines is one of the most complex projects that our maritime industry, indeed any industry, undertakes. The Royal Navy often say that the Astute class is more sophisticated than the space shuttle and, for this reason alone, I pay tribute to the thousands of skilled people at BAE Systems Submarine Solutions and in the supply chain, as well as in the Royal Navy and the Ministry of Defence, who will be involved not just in Anson's construction journey but who have been and will be involved in the production of the Astute class of submarines as a whole. Being here today, in the very heart of the UK's centre for excellence for submarine design and building, I can clearly see why each and every one of you are rightly proud of the contribution you are making in building the most powerful and advanced attack submarines ever delivered to the Royal Navy.
This government has provided assurances for the Astute programme and also confirmed the long term future of the submarine programme with a commitment to continuous at sea deterrence and the successor SSBN programme. However, given the challenges faced in balancing the defence budget, such a commitment is predicated on the delivery of significant future efficiencies, in fact £900 million worth of efficiencies over the next 10 years.
This work strand is known as the Submarine Enterprise Performance Programme (or SEPP), and we are engaged with the British submarine industry to improve efficiency and optimise to expected demand its capacity to build and support submarines
Since last year, the Ministry of Defence has been working collaboratively with BAE Systems Submarine Solutions, Babcock Marine, and Rolls Royce to transform the way the submarine programme is delivered and managed. We want a submarine enterprise that is efficient and effective, and that offers sustainability in terms of skills, facilities and infrastructure. I believe that we can deliver the SEPP objective of: "Performance up, cost out, and sustainability in" by developing a value for money submarine enterprise, built on long term commercial arrangements, that recognises the contribution of each of the key industrial participants and provides the necessary programme stability for benefits of long term partnering to be realised. Through SEPP, the Ministry of Defence has established new collaborative ways of working in which joint MOD/Industry project teams have been pooling skills and expertise to ensure that the submarine programme is managed effectively; this unprecedented level of collaboration can only be good for all of us committed to the delivery of these fine boats.
SEPP is the key to transformation in the submarine enterprise and I have every confidence in the joint team to deliver what we expect. As you heard John Hudson say a few minutes ago, BAE Systems Submarine Solutions believe they will deliver ANSON in twenty percent less time than Astute. With SEPP at the helm of the Astute submarine programme, and indeed the defence submarine programme as a whole, this is a transformation promise of which Admiral Anson himself would be proud.
To conclude, let me say again how pleased I am to be here today. Together we are witnessing the next step in this important programme that will deliver defence capability and help ensure security for us all for many years to come.
Published 13 October 2011