2011/02/19 - Gulf Defence Conference
Speech delivered by Minister for International Security Strategy at the Gulf Defence Conference, Armed Forces Officers' Club, Abu Dhabi, United Arab Emirates on Saturday 19 February 2011.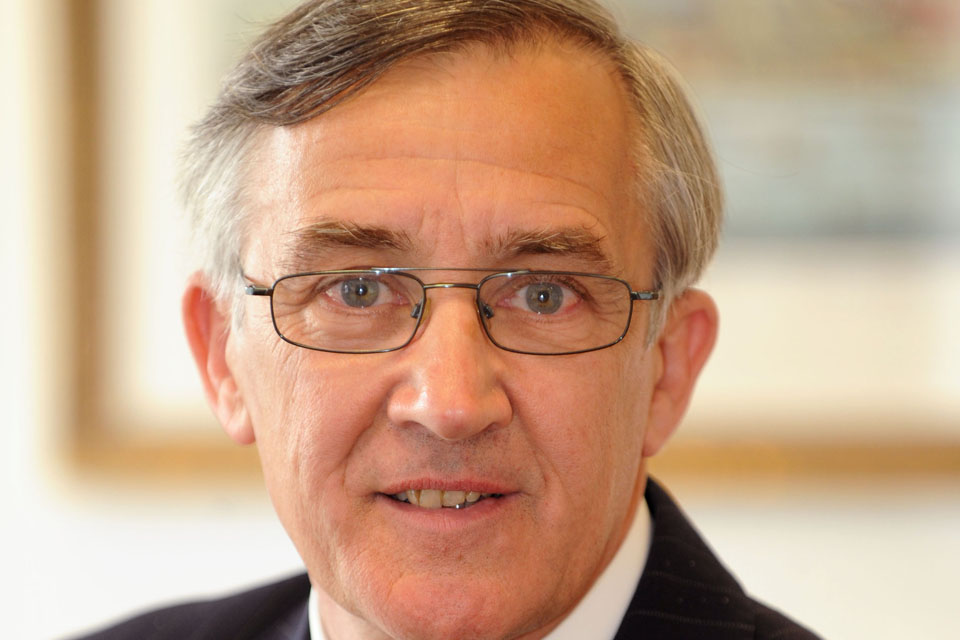 Your Highness [HH Sheikh Hazza bin Zayed Al Nahyan, National Security Advisor and Vice Chairman of the Abu Dhabi Executive Council].
Your Excellency [Major General Essa Saif Mohammed Al Mazrouei, Deputy Chief of Staff of the UAE Armed Forces, and previous speaker].
It is a pleasure to be here in Abu Dhabi at the centre of this important regional conference - and I am most grateful for the exceptional hospitality which my team and I have been shown.
It was a particular pleasure to be greeted at the airport by Brigadier General Jamal Mohammad Al Kaabi, Commander of Minhad Air Base.
We found that we both learned to fly at the same airfield on the same aircraft…!
It is an honour to represent Her Majesty The Queen at this conference.
I am delighted that Her Majesty had such a successful and memorable visit last autumn, and that the Royal Air Force was able to attend with our magnificent Typhoon aircraft.
And it is a privilege to lead the largest ever British Defence and Security industry delegation to this the 10th IDEX, and to the inaugural Naval Defence Exhibition - NAVDEX.
This has tripled the number of companies represented.
In a region where naval spending alone is forecast to reach $76.4 billion over the next 10 years, it's clear that this region understands the continuing relevance of naval power in today's world; and we're delighted that HMS PEMBROKE could join us in Abu Dhabi.
IDEX is as integral to the international Defence and Security calendar as DSEi in London later this year or the Farnborough Air Show in my own constituency in the UK, and I am sure NAVDEX will only add to that reputation.
We're excited to have the opportunity to show where Britain leads the way in Defence and Security capabilities.
But today I want to delve a little bit deeper.
Because trade, though essential, is just one part of a far greater goal.
We want the UK to be your partner of choice, at all levels.
We want to build truly strong, reliable, and enduring strategic partnerships, throughout the Gulf region.
Of course, this conference comes at a critical time for the region.
It is a moment of opportunity in the Middle East, with calls for greater economic and political development, and a renewed focus on the needs and aspirations of all the people in the region.
The UK will support all those working to respond to these calls, while respecting the different cultures, histories, and traditions of each nation.
I'm also conscious of Oscar Wilde's comment that: "appearance blinds whereas words reveal".
Perception does indeed matter.
So I want to use this opportunity to set out as clearly as I can what true friendship, partnership, and co-operation with Britain looks like in the 21st century.
To do that, let us first reflect on our past.
Britain has stood firm in the face of aggression on many occasions - in both 1914 and 1939, for example, we stood by our treaty obligations.
But you do not need to look that far back either.
Just 20 years ago, Saddam Hussein committed an act of naked aggression against Kuwait.
Our then Prime Minister, Margaret Thatcher, whom I was pleased to serve as Parliamentary Private Secretary, along with the international community, did not hesitate to stand by Kuwait.
Kuwait was liberated, an event which will be marked next week.
It is inconceivable that any British government faced with an act of external aggression against one of our Gulf allies would act differently.
And our success, as part of NATO - one of the strongest military alliances in history - in winning the Cold War tells you that we work with our friends and allies to see it through when faced by shared challenges.
Today, when Iran's pursuit of nuclear weapons threatens not only regional security but the international community, too, you can be assured that we will not look away or back down.
While we can learn much from history, however, we must not be selective.
Britain enjoys a long historical connection with the UAE, and with the Gulf more generally.
Over many years, our bonds of friendship, understanding, and respect have grown.
But we in Britain should also acknowledge that the decision to withdraw from East of Suez in the 1960s and 70s was not without its complications - as our hosts here today know only too well - nor indeed without impact on how you perceived us.
This government does not take our historical links or your continued friendship for granted.
But, equally, we must not be shackled by history.
The Gulf is a region of enormous opportunity and promise.
Nearly 200,000 British people now live and work in the Gulf. Our ties stretch across education, commerce, and culture.
And as it's always been, the Gulf is a region of strategic importance.
Our 1996 Defence Co-operation Accord with the UAE, for example, remains an agreement of which we feel proud.
Yet, for too long, we failed to capitalise on the extraordinary breadth of Britain's historic relationships.
Some of those have been neglected; others have been taken for granted.
On top of this, we arrived in Government last year to be faced with the biggest crisis in the international financial system for decades, and at home a budget deficit out of control.
The timid but perfectly reasonable option would have been to accept a diminished role in the world.
Forgive me, but this Government rejects the notion of "strategic shrinkage".
Demanding operations in Afghanistan, where I was last weekend, and a tough financial climate force us to prioritise.
But our recent Strategic Defence and Security Review was designed to ensure that we maintain our place among the very top rank of military powers supported by the fourth largest Defence budget in the world.
Nor did we come into Government to preside over the closure of Great Britain plc - the sixth largest economy in the world - particularly when we have some of the world's leading authorities and institutions in the fields of science, technology, and innovation; and cutting-edge Defence and Security industrial sectors, as we will see at IDEX this week.
And while we work to achieve multilateral solutions to the pressing problems of our time, we should not neglect the need for strong bilateral relations.
That's why, since the formation of the new Coalition Government in Britain last May, there has been an unprecedented amount of energy - and a renewed sense of determination - to deepen our engagement across the region.
I can sum up the reaction in the words of one Ambassador I met at a reception in London a few months ago who simply looked at me and said: "Where have you been? Welcome back!"
As I've said, perception matters.
And building and strengthening strategic partnerships with some of Britain's closest allies, in one of the world's most important strategic areas, is what the Americans would call a "no brainer".
But it's also important to back your words with deeds.
Because with our economies, people, and interests linked as never before, threats originating in one part of the globe can become threats in all parts of the globe - and very quickly.
Addressing them frequently requires an equally rapid and co-ordinated global response.
Many of the threats we face are shared: trans-national terrorism, border protection, and drugs are obvious examples.
Some threats are new, such as cyber warfare, and one of the up arrows of our Defence Review, one of the new priority areas identified, was £650m of new investment over the next four years in a new National Cyber Security Programme.
We all need to understand the significant of Cyber attacks.
Everyone in this audience has mobile phones, i-Pads, and so on, and most people rely on electronic systems to receive pay.
Just imagine the impact of bringing down the banking system.
Britain still packs a mighty military punch.
And we continue to make a significant military contribution to security in the Gulf.
Most notably, we maintain a sizeable naval presence in the region, including a permanent task group of mine counter measure vessels to assist in the free movement of international shipping up and down the Gulf.
Partnership is more than friendship - even the best friendships need to be supported by mutual self-interest.
And this extends to industrial co-operation.
It is an integral component of any strong, reliable, and enduring strategic partnership.
This means collaborating on research, development and production of high technology equipment.
This means technology sharing and transfer.
This means offset.
The results are there for all to see.
In the UAE alone, there have already been several examples of British and Emirati companies co-operating in areas such as propulsion systems for Baynunah corvettes; on power systems; and on security training.
Our relationship with the UAE continues to deepen.
And it's the same story elsewhere in the Gulf, and I'm confident that this week will produce many more similar successes.
So, in conclusion, Britain will continue to be a global player.
But we can only do so by building solid strategic partnerships, particularly in those parts of the world where our strategic interests clearly coincide.
Much has changed here since my first visit to the Gulf region as a manager at European Arab Bank in the 1970s.
Your people have benefited hugely from the extraordinary advances made possible by the benign use of your oil wealth.
However, one thing has certainly remained the same in this region: alliances are not established overnight.
Personal relationships underpin our shared interests, and this requires trust, honesty, and friendship.
We are fortunate: there is a long and deep relationship upon which we can continue to build - in the interests of our two countries, but even more importantly, in the interests of security in a region vital to both East and West.
Thank you.
Published 19 February 2011