£10 million Sainsbury's investment to inspire a new sporting generation
Sainsbury's Plc, London Tuesday 10 January 2012 Just before Christmas Seb Coe and I visited the Medway Park Sports Centre in Gillingham to …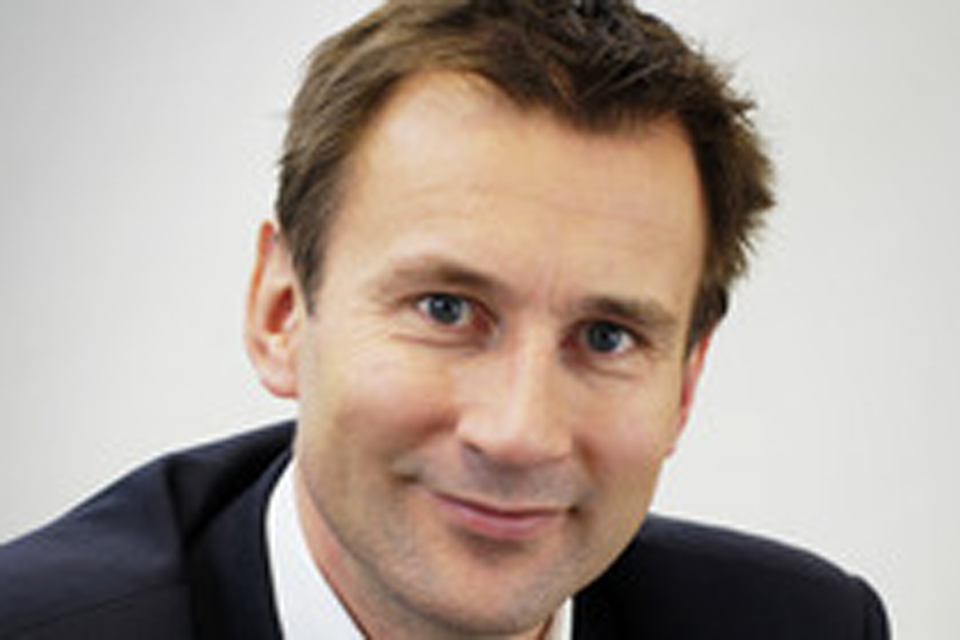 Sainsbury's Plc, London
Tuesday 10 January 2012
Just before Christmas Seb Coe and I visited the Medway Park Sports Centre in Gillingham to see how London 2012 is encouraging young people in the area to take up sport.
We were both tremendously impressed by what we saw. But one thing that Seb said really stood out for me. He talked about sitting cross-legged in his school hall as a boy, watching the 1968 Olympics.
Bob Beamon practically jumping out of the pit. Dick Fosbury literally raising the bar with his revolutionary 'Fosbury Flop'. Two athletes from Seb's home town representing their country in front of the whole world.
"By the time I was back in my classroom," he said, "I knew what I wanted to be."
In 1984 he became the first person ever to win Olympic gold in the 1500 metres twice in a row - a historic moment for British sport.
But just as historic was what was happening at home, where a 14-year old Kelly Holmes watched Seb's win on TV and decided that she too wanted to be a 1500 metres Olympic Champion.
And when she won double gold in Athens in 2004, it was 14-year old Stacey Smith looking on, deciding that she wanted to follow in Kelly's footsteps.
Now she is one of this country's finest young middle-distance talents, and even now she says she still watches the video of Kelly's wins for inspiration.
But Olympic inspiration is not just for future champions. For every Seb, Kelly or Stacey there are thousands more young people who have been inspired into sport for the sheer pleasure of taking part.
So when we talk about the "once in a generation opportunity" of hosting the Games at home, this is what we mean.
A priceless chance to catch young people at the crucial moment and set them on the path to sport for life.
This was what Seb recognised when he promised that we would use the Games to "inspire a generation". 
And, as we enter our Olympic year, this is the moment that we need to make good on that promise and secure the sporting legacy of 2012.
Recognising the challenges
In order to succeed we need to be absolutely clear about the challenges we face and the things that - too often - we have got wrong.
We need to face up to the fact that links between schools and sports clubs are not strong enough. That we are still seeing an alarming drop-off in sports participation in school leavers.
We need to recognise the essential role that physical education has to play within the National Curriculum - in boosting academic achievement, in combating the obesity epidemic, in battling social breakdown.
We need to understand that it is not a choice between competition or participation, but both: competitive sport that includes as many people as possible.
And - of course - we need to value and respect the extraordinary professionalism of those who have been leading and teaching school sport through a period of great upheaval.
**Securing the sporting legacy
**
So, once we recognise all these factors, what are the tangible things we are doing to secure this sporting legacy?
First, I realise that legacy is not always an easy word to define. So let me let me be absolutely clear about my definition.
It does not mean taking funding and programmes that were happening anyway and re-badging them. 
Instead it means creating new opportunities and long-lasting benefits that simply would not have happened without the Games.
Here it is important to point to what previous governments of all colours have achieved:
The founding of the National Lottery by John Major, which secured investment in elite and grassroots sport for a generation;
The UK's world-class performance system, set up by the last government and run so superbly by UK Sport;
The world class sporting venues on the Olympic Park and beyond - designed right from the start to ensure that both elite athletes and local communities can benefit from cutting edge facilities after the Games;
And the Inspire programme, which now boasts more than 2,000 community projects up and down the country, helping 2012-inspired sports initiatives to boost participation and benefit from the excitement of the Games.
And I'm pleased to able to say that, following the general election, this government wasted no time in demonstrating our own commitment to sporting legacy.
Securing the funding
Firstly, we secured the funding for the 2012 Games in the face of an extraordinarily difficult financial environment. 
In my very first speech as Culture Secretary I announced that we would be restoring the lottery to its original four pillars, increasing the share of funding going to grassroots sport to 20%. 
This equates to an extra £36 million per annum going to local communities in England to help more people play sport.
Then, as part of the spending review, we reached a settlement which - when coupled with UK Sport's additional lottery funds - will preserve unprecedented funding for our elite sports system and National Governing Bodies after London 2012.
That means that UK Sport's annual income will continue to be around £120 million a year at the start of the Rio cycle, the same as in the run up to London 2012.
Meanwhile the Department of Health committed nearly £6.5 million to embed Change4Life sports clubs in secondary schools and reach out to a further 4,500 primary schools.
Already 10,000 more young people are playing badminton as a result of these clubs, with 45,000 more playing handball. And many of these are the least active in their schools, trying out sport for the first time and discovering untapped talent.
**Creating new legacy programmes
**
Secondly, we put new programmes in place to deliver on our legacy ambition.
The changes that we made to the lottery have allowed us to invest £135 million in our community sports legacy programme: Places People Play.
I would like to pay tribute to Hugh Robertson, as well as Jennie Price and her team at Sport England, for their help in delivering this programme, which will see: hundreds of playing fields protected and improved; more than 1,000 local sports facilities upgraded; 40,000 new community sports volunteers; and 300,000 young people given the chance to get coached in a sport of their choice.
Already around 50 playing fields around the country have had their futures secured by the first wave of investment, with upgrades to 350 local sports facilities now approved.
With the help of Sport England and the Youth Sport Trust, we have also established the new School Games - inspired by the London 2012 Olympics and Paralympics - as part of a brand new approach to competitive sport.
I would like to thank Sue Campbell in particular for the way she has helped pilot school sport through a difficult period.  Thanks to her efforts and those of many others, we now have over 11,000 schools signed up to the School Games; that's nearly 50 per cent of all schools in England.
I am especially pleased that, drawing on the inspiration of the Paralympics, this is a scheme that will offer disabled children as many opportunities as non-disabled children - meaning that thousands of schools across the country will be offering competitive disability sport for the first time.
And today the School Games programme has taken another major step forward.
I am delighted to be able to announce Sainsbury's as the official sponsor of the School Games, in a deal worth £10 million over four years.
That includes:
A £2 million cash investment in the School Games programme;
£250,000 per year to help more disabled children experience structured activity and sport;
A 50% discount on Active Kids equipment for schools who are signed up to School Games;
And a new Active Kids Ambassador promoting the School Games that some of you may have heard of: David Beckham.
With Adidas now signed up as the official kit supplier for the  School Games finals in 2012, our young athletes will be stepping out into the Olympic Stadium, the Velodrome, and the Aquatics Centre feeling very much a part of TeamGB.
I can also announce today that the Department of Health has now pledged an extra £14 million to support the programme, meaning that we can secure the funding for the School Games Organisers right up to 2015.
Added to the £14 million they have already committed, it is another clear signal that the Government understands the vital role that school sport has to play in bringing down obesity  levels and boosting young people's confidence and well-being;
That increasing participation levels in sport and physical activity is essential to our vision for public health.
The fact that we have, in many cases, been able to build on the best of the School Sports Partnerships has been a major factor in the success we have had so far.
In getting the programme up and running; in signing up almost half of all schools in our first year; and - with today's announcements - helping to secure the future of the programme longer term.
Because the true test of success is not what happens this year, but what will still be happening in 2013, 2014, 2015 and beyond.
**Designing a new strategy for youth sport
**
Despite this progress, more needs to be done if we are to deliver a permanent sporting legacy from London 2012.
I do not need to tell you that the latest figures for sports participation are disappointing, to say the least.
The proportion of 16 to 25 year olds playing sports once a week has fallen almost 2 percentage points since we won the bid, while the number of 16 to 19 year olds doing sport three times a week has fallen by more than 100,000 since 2008.
The numbers doing sport in that age range fall by a third as compared with the 11 to 15 age group, while for young women the drop-out rate is even higher.
We have to accept that the system that is currently in place is not working.
Major sports like football, swimming, and tennis have all seen a fall in the number of youngsters taking part.
Too often the sporting passions of the next generation are confined solely to playstations instead of playgrounds, sofas instead of sports centres. 
We need a new approach. One that can throw this trend into reverse and help young people develop a sporting habit for life.
That's why I am today announcing a new strategy to boost sports participation. One that focuses far more on young people.
Not because, in Shakespeare's words: "Youth is full of sport, / Age's breath is short".*
But because, in the current spending environment more than ever, we need to target our efforts where they can make the biggest difference - the age range which sees the biggest drop off in participation as people move from school to adulthood.
As the recent Taking Part survey shows, getting young people active is the key to building an active nation - with adults who played sports as a child being significantly more likely to be doing sport later in life than those with no sporting background.
So, from today, Sport England will be focusing its investment on a new youth and community strategy.
We will learn from the success of UK Sport's athlete funding by adopting a "no compromise" approach to performance management and a strict culture of payment-by-results.
No longer can we be expected to dish out public funding to sports that fail to deliver and are not able to demonstrate in a fully transparent way - real value for taxpayers' money.
For each sport we will negotiate agreements with tight deadlines and tough measures.
So while bodies which perform well will be able to access more funds in order to expand their good work, there will be clear financial sanctions for those who don't meet their objectives.
Should bodies fail, the funding will be withheld and made accessible - again, on a payment-by-results basis - to others who are able to make a sufficiently strong business case.
And that doesn't just mean National Governing Bodies. This is a call-to-arms for anyone who is passionate about sport and has a creative idea to raise participation. While Lottery rules mean that we can't give funding to profit-making companies, we welcome any and all creative partnerships between the public and private sectors.
We want to make sure that any non-profit making community group or organisation which can help young people to build a sporting habit for life has the chance to bid for funding.
That's why this strategy will be making more than £50 million available to voluntary groups and sports clubs - regardless of whether they are connected to an NGB - to help ensure that we can make the broadest possible sporting offer for young people.
When the sports governing bodies next bid for Whole Sport Plan funding they will be required to demonstrate how they can attract and retain those in the 14 to 25 age range.
For those which have young people as their main participants, I expect them to spend at least 60 per cent of their funding on this age group, with the rest going to schemes that can demonstrate a clear track record of success in delivering increases in adult participation.
Gone will be the '3 times 30' target. Imposing a top down, one-size-fits-all approach that fails to recognise the differences between sports is the wrong approach.
Instead we will treat each sport separately, negotiating wriggle-free measures to raise participation that are specific to each.
**Forging links between schools and clubs
**
We will also learn another lesson. At its heart, this is a strategy designed to forge far closer links between schools and community sports clubs.
We are going to ensure that every one of the 4,000 secondary schools in England has the chance to connect with one or more community sport clubs which have direct links to sport National Governing Bodies.
Already, we have received strong backing for this plan from NGBs.
By 2017, Football has pledged that 2,000 of their clubs will be linked to secondary schools. For cricket, the figure is 1,250. For rugby union, it's 1,300, while rugby league and tennis have pledged 1,000 each.
Tremendous support from some of our biggest sports.
And it won't stop at schools.  At least 150 Further Education colleges will have a full-time sports professional who will act as a College Sport maker, while £25 million will mean that three quarters of university students aged 18-24 will have the chance to keep up a sport they have played before or take up a new one.
Finally, I am pleased to be able to announce that, as part of this strategy, we are taking action to address the problem of underused sporting facilities.
Three quarters of sports halls and artificial pitches in England are located in schools, along with a third of our swimming pools. Yet too often they are left empty during the holidays or in the evenings.
That's why Sport England is making £10 million of Lottery funding available to help schools open up their sports facilities for local use and make the most of some of our most valuable sporting assets.
Full details of this new youth and community sport strategy are laid out in the document that we have published today - a document that shows how we will be investing more than £1 billion in this plan between now and 2017.
**Conclusion
**
Once again, I would like to thank Sport England for all the work that they have done in the design and delivery of this strategy, as well as for - together with the Youth Sport Trust and our new sponsor, Sainsbury's -the remarkable progress we have made with the School Games.
And I want to finish today with something else that Seb said on our visit to Medway in December.
He said: "I know that the Games are already having a major impact on sports participation. I see it every day.  I'm seeing things that would not have happened if it weren't for London 2012."
That is what we mean by sporting legacy. But - by definition - the true test of legacy is not in what is happening today, but in what will happen in 2013, 2014 and beyond.
When it comes to delivering the sporting legacy we want, I believe that this new strategy for youth sport is the final piece of the jigsaw.
Our School Games will start people on their sporting journey - get them excited and playing competitive sport at a young age.
Our links between schools and clubs will help stop the drop off and ensure that young people keep up sport after they leave education.
And our investment in community facilities will ensure that they are able to keep up sport at every stage of their lives. 
The framework is now in place. So when, this summer, athletes like Mo Farah, Jessica Ennis, Ellie Simmonds and Tom Daley provide the country with our golden moments, we will be all set to turn inspiration into participation.
To activate the ambition of young people around the country, draw them into sport, and set them firmly on the path to a sporting habit for life. 
[Ends] 
*****From The Passionate Pilgrim, attributed to Shakespeare
Published 10 January 2012