Nuclear Provision: the cost of cleaning up Britain's historic nuclear sites
Updated 4 July 2019
© Crown copyright 2019
This publication is licensed under the terms of the Open Government Licence v3.0 except where otherwise stated. To view this licence, visit nationalarchives.gov.uk/doc/open-government-licence/version/3 or write to the Information Policy Team, The National Archives, Kew, London TW9 4DU, or email: psi@nationalarchives.gov.uk.
Where we have identified any third party copyright information you will need to obtain permission from the copyright holders concerned.
This publication is available at https://www.gov.uk/government/publications/nuclear-provision-explaining-the-cost-of-cleaning-up-britains-nuclear-legacy/nuclear-provision-explaining-the-cost-of-cleaning-up-britains-nuclear-legacy
1.

What is the "Nuclear Provision"?

The Nuclear Provision is the best estimate of how much it will cost to clean up 17 of the UK's earliest nuclear sites over a programme lasting around 120 years.

The estimate is based on the expected costs of:
decommissioning
dismantling and demolishing the buildings
managing and disposing of all waste
remediation of land
The Nuclear Provision also includes the costs of running more modern plants that are still operational, in particular Sellafield's reprocessing facilities.
Decommissioning many of these facilities will continue well into the 22nd century. Over this timescale, plans and forecasts will be affected by technology improvements, changes in government policy, economic circumstances and environmental issues.
The figure is updated annually but should be regarded as an informed estimate that depends on assumptions about future developments and lies within a range of possible figures.
2.

The historic UK nuclear legacy (1940s to 1970s)

Some of the sites date from the very earliest days of the post-war 1940s nuclear industry and include:
research sites used during the development of the nuclear industry
facilities that once produced nuclear materials for weapons
the UK's first generation of nuclear power stations, the Magnox fleet
nuclear fuel reprocessing facilities and fuel fabrication plants
2.1

Weapons legacy

The focus during the Cold War arms race was on producing material for nuclear weapons.

This programme accounts for a substantial component of the costs to clean up Sellafield, where facilities were built in the 1940s to provide material for weapons.

They include the 2 Windscale pile reactors, a nuclear fuel storage pond and a waste storage silo. Other facilities were used for both military and civil purposes.

The NDA estimates that at least one third of today's costs for the environmental restoration of Sellafield could be attributed to the site's military objectives, with the remaining proportion associated with the civil energy programme.
2.2

UK nuclear power

From 1956 onwards, the UK's first nuclear power stations began generating electricity for homes and businesses. Fuel fabrication and reprocessing plants were built from the 1970s to 1990s and are still operating today.

In a heady atmosphere of scientific discovery, plans for future dismantling were barely considered.

Many facilities, especially some very early reactors, were scientific experiments that never entered commercial production but left a legacy of engineering one-offs and non-standard waste types.

Like all other industrial plants, nuclear facilities are subject to wear and tear, declining efficiency and competition from newer technologies.

The first generation of nuclear reactors continued generating electricity for up to 45 years. After operations end, the radioactive material must be removed before the nuclear facilities are taken apart. Following this, the site can be cleared and the land is returned for future use. This is decommissioning.
2.3

Sellafield is unique

There is no other site like Sellafield in the world. It is where many major developments in the 20th century nuclear industry were pioneered.

It is home to:
the Windscale Piles, which were used to create material for weapons
the world's first commercial-scale nuclear power station – Calder Hall, opened in 1956
the world's first large-scale advanced gas-cooled reactor, opened in 1963
nuclear fuel storage ponds and waste silos, built in the 1940s and 1950s
nuclear fuel fabrication plants
nuclear fuel reprocessing plants
a fleet of nuclear waste storage facilities
Sellafield is a densely packed site of just 6sq km housing thousands of buildings. Many of them store highly hazardous waste.
Its oldest facilities were built in great haste during the early years of the Cold War with no plans for how they would be decommissioned.
Record-keeping in the early days was poor by modern standards, meaning much work has had to be carried out to confirm the nature and state of the material kept in these facilities.
There is no blueprint for decommissioning Sellafield's oldest facilities. Staff and contractors had to come up with ground-breaking engineering projects in order to decommission these one-of-a-kind facilities.
And these highly complex projects have to be done on small parcels of land, often just feet away from buildings containing highly hazardous material, with all of the safety constraints this presents.
When an uncertain challenge is combined with highly constrained working conditions and a series of never-done-before projects, the result is a long, complex and costly decommissioning programme.
Huge strides have already been made at Sellafield, but it is fair to say the site will continue to test ingenuity in construction, engineering, nuclear science and project management for decades to come.
3.

Explained: who pays and who does the work

The Nuclear Decommissioning Authority (NDA) owns the 17 historic sites on the government's behalf and is responsible for deciding how they should be decommissioned.

Decommissioning work is carried out by Site Licence Companies (SLCs), working for the NDA.

Costs are currently around £3 billion annually. Approximately two-thirds is met by the government and the remainder from revenue earned through the NDA's commercial activities. This includes contracts with UK and overseas customers for the reprocessing and management of spent nuclear fuels.

At Sellafield, operational plants are forecast to generate approximately approximately £5.7 billion of income between 2018 and 2028.
4.

Latest estimate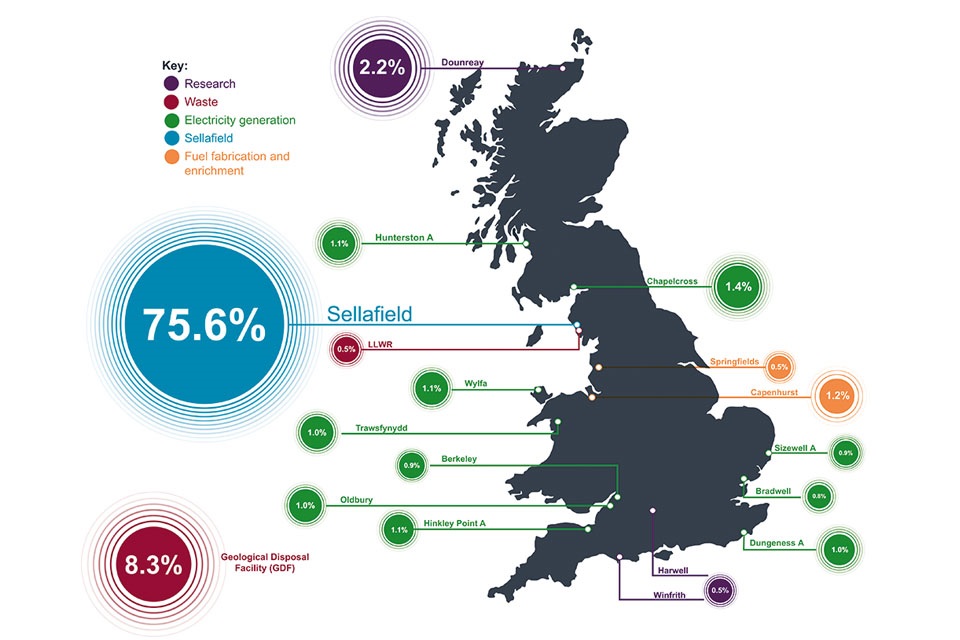 The 2019 forecast is that future clean-up across the UK will cost around £124 billion spread across the next 120 years or so, a slight increase on the previous year's estimate.
However, forecasts for work that will be carried over the next century are inevitably uncertain: the future is impossible to predict. It will be a number of years, for example, before many site programmes resolve exactly how the work will be delivered and identify suitable technologies.
In recognition of this uncertainty, the NDA publishes a range of estimates that could potentially be realistic. Based on the best data now available, different assumptions could produce figures somewhere between between £99 billion and £232 billion.
In fact, even these estimates will be subject to variation depending on emerging technological developments, as well as political changes and global economics.
When publishing its accounts, the NDA is however required to provide a single figure. In line with other public bodies that fund activities over many decades, the provision must be discounted to a 'today' value using rates laid down by HM Treasury and linked to government borrowing costs (adjusted for inflation).
This results in a discounted provision of £131 billion.
The National Audit Office have produced a report on government provisions which includes commentary on the Nuclear Provision: National Audit Office: Evaluating the government balance sheet: provisions, contingent liabilities and guarantees.
4.1

2018/19 Estimated Discounted Lifetime Plan
| Sites | Decomm & Clean-up Costs ++ (A) | Total Operations Costs +++ (Running cost B) | Commercial Revenue +++ (C) | Net Running Cost (D=(B-C) | Government Funding (E=(A+D)) |
| --- | --- | --- | --- | --- | --- |
| Magnox Support | 1,371 | - | - | 0 | 1,371 |
| Berkeley | 1,228 | - | - | 0 | 1,128 |
| Bradwell | 1,075 | - | - | 0 | 1,075 |
| Dungeness A | 1,307 | - | - | - | 1,307 |
| Hinkley Point A | 1,422 | - | - | - | 1,422 |
| Sizewell A | 1,256 | - | - | 0 | 1,256 |
| Chapelcross | 1,856 | - | - | 0 | 1,856 |
| Hunterston A | 1,446 | - | - | 0 | 1,446 |
| Oldbury | 1,287 | - | - | 0 | 1,287 |
| Trawsfynydd | 1,335 | - | - | 0 | 1,335 |
| Wylfa | 1,433 | - | - | - | 1,443 |
| Harwell and Winfrith | 667 | - | - | 0 | 667 |
| Dounreay | 2,793 | - | - | 0 | 2,793 |
| Sellafield ++++ | 96,969 | 1,560 | -7,477 | -5,917 | 91,052 |
| Capenhurst | 1,573 | - | - | 0 | 1,573 |
| LLWR | 598 | 4,806 | -4,806 | 0 | 598 |
| Springfields | 678 | - | - | 0 | 678 |
| Geological Disposal Facility | 10,856 | - | - | 0 | 10,856 |
| NDA Central & Group | 106 | 2,879 | -166 | 2,713 | 2,819 |
| TOTAL | 129,156 | 9,245 | -12,449 | -3,205 | 125,951 |
++ Figures from 2018/19 Annual Report and Accounts
+++ From Site Lifetime Plans or NDA Corporate Plan
++++ includes Calder Hall and Windscale, and Energy Trading
5.

Dealing with uncertainty

The decommissioning mission is scheduled for completion in 2120, more than a century after the creation of the NDA.

The precision of any cost forecast over such long timescales is clearly open to question.

Calculating the total decommissioning bill is extremely difficult. In the short term, where there is greater certainty about the nature of the work to be completed, costs can be forecast with more accuracy.

At sites where a decommissioning programme is relatively straightforward and the challenges well understood, costs can be calculated with relative confidence and ultimately driven down.

This is already happening at the sites of 11 Magnox nuclear power stations, first built during the 1950s to 1970s, as well as the former nuclear research sites at Dounreay, Harwell and Winfrith. At these sites, cost estimates are being reduced by billions of pounds and work accelerated.

The chart below shows where there is greater certainty in the estate, the costs are now coming down.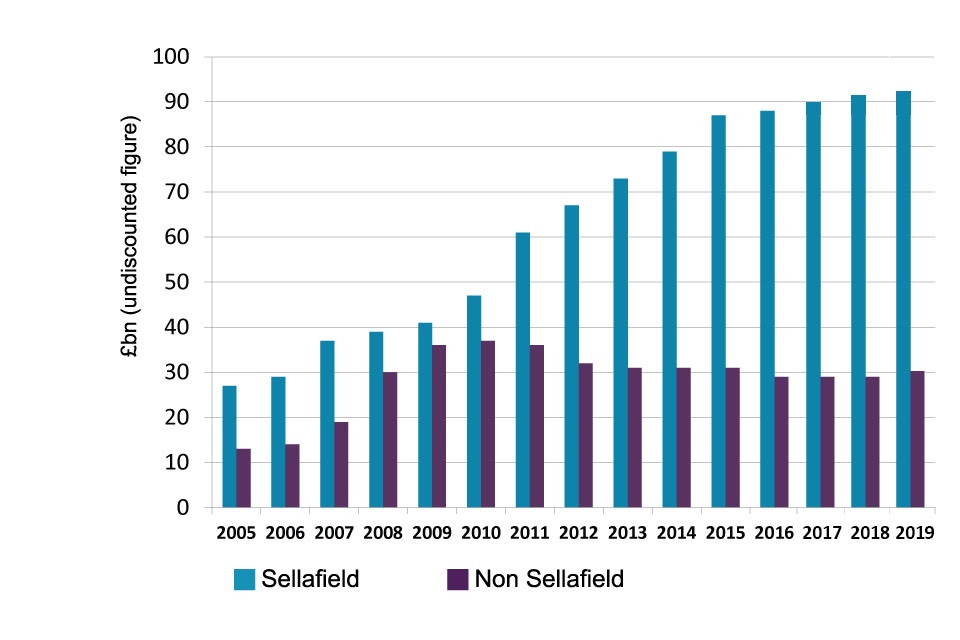 However, the NDA's largest site, Sellafield, poses levels of complexity and uncertainty that are unique in the global nuclear sector.
The plan to decommission Sellafield will be regularly revised as new information is discovered and new challenges unearthed.
Increases in the estimate for Sellafield generally result from an improved understanding of the complex task, which enables plans to be refined and may require additional work.
As understanding develops at Sellafield, it is expected that the estimate will peak and then begin to drop, following a similar pattern to other NDA sites. However, significant uncertainties remain and further unforeseen increases cannot be ruled out.
Longer-term estimates have to make numerous assumptions, based on the best available data. The only certainty is that any such estimate will have to be revised in the future.
As the timeline graphic shows, technological advances during the 120 years up to 2018 were huge and profound.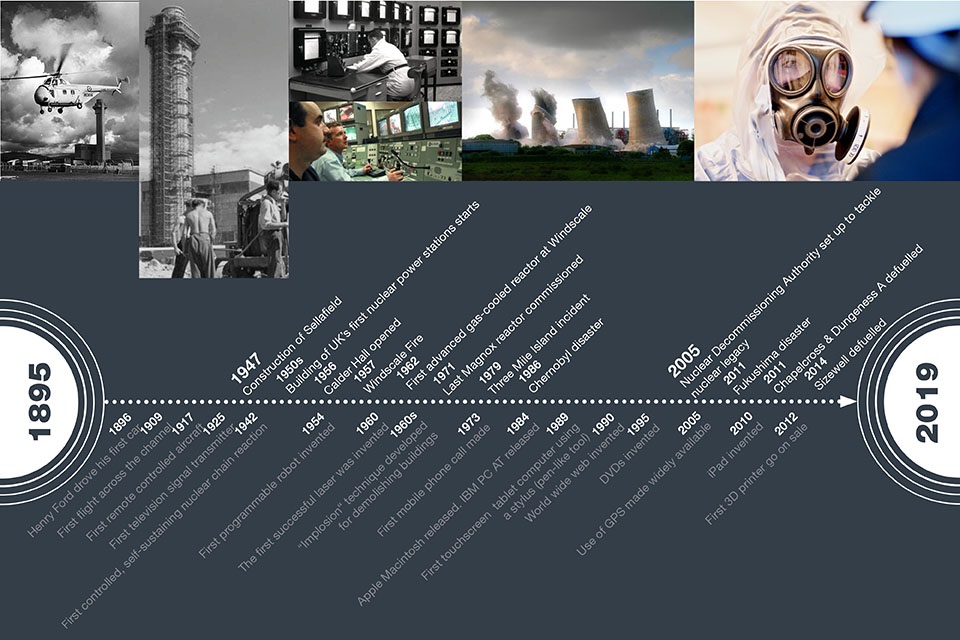 Mobile phones, computers, air travel, robotics, even modern safety legislation, are all 'new' and would have carried major implications for any long-term projects costed in the 1890s.
The next century will also bring significant advances. Today's estimates are based on the best information available now. Forecasts for many years into the future must inevitably be very uncertain.
6.

Costs for decommissioning other UK nuclear sites

The private-sector operator EDF Energy will fund decommissioning for the second generation of nuclear power stations, the Advanced Gas-Cooled Reactor (AGR) fleet. Funds for the future decommissioning programme are set aside via the Nuclear Liabilities Fund.

The next generation of nuclear power stations will be built by the private sector, with decommissioning plans and cost forecasts in place at the outset.

The latest generation of reactors are vastly more efficient than the early designs. They will produce far less waste and are expected to be cheaper to dismantle.