Maternity certificate (form MAT B1) – guidance on completion
Published 23 October 2012
© Crown copyright 2012
This publication is licensed under the terms of the Open Government Licence v3.0 except where otherwise stated. To view this licence, visit nationalarchives.gov.uk/doc/open-government-licence/version/3 or write to the Information Policy Team, The National Archives, Kew, London TW9 4DU, or email: psi@nationalarchives.gov.uk.
Where we have identified any third party copyright information you will need to obtain permission from the copyright holders concerned.
This publication is available at https://www.gov.uk/government/publications/maternity-certificate-mat-b1-guidance-for-health-professionals/maternity-certificate-form-mat-b1-guidance-on-completion
1.

About the Maternity Certificate (form MAT B1)

The Maternity Certificate (MAT B1) enables a pregnant woman to claim:
Statutory Maternity Pay (SMP) from her employer
Maternity Allowance (MA) from Jobcentre Plus
The certificate:
verifies the pregnancy
confirms the date of the expected week of confinement (EWC)
confirms the actual date of birth when completed after confinement
Doctors or registered midwives must issue form MAT B1 free of charge to their pregnant patients for whom they provide clinical care.
2.

MAT B1 specimen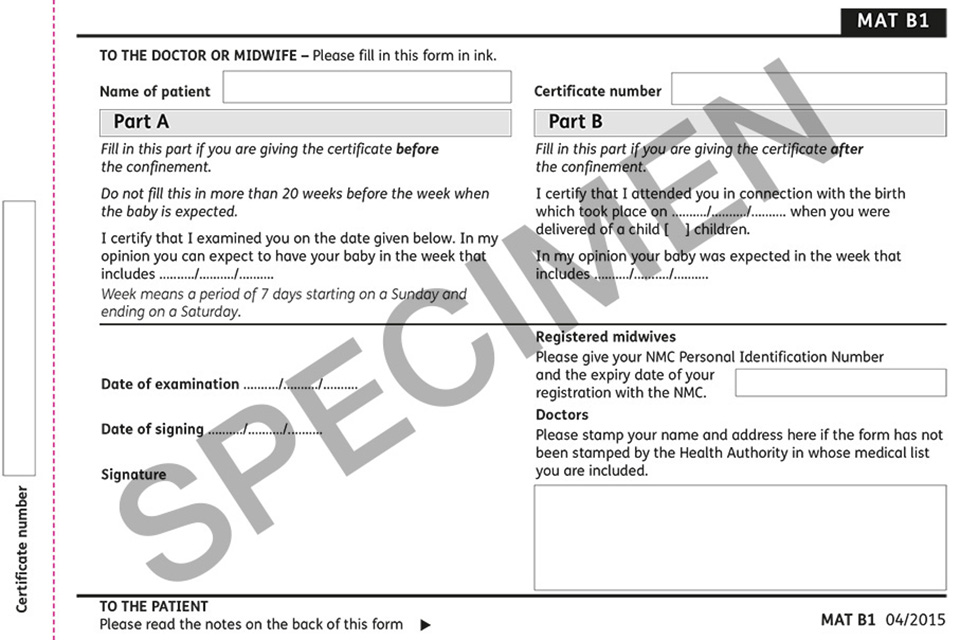 3.

How to order a MAT B1

See DWP leaflets and how to order them for information on how to order a MAT B1.
4.

How to complete a MAT B1

It's important that MAT B1s are issued:
only when you are satisfied your patient is pregnant
not more than 20 weeks before the EWC
Complete the MAT B1 in ink. Use only MAT B1s that contain a unique certificate number.
4.1

Patient's name

Include your patient's name above Part A on the front page.
4.2

Part A

Complete Part A if you issue the MAT B1 before confinement.

Estimate the date your patient is expected to be confined as accurately as possible. Enter this date in Part A. The qualifying conditions and payment periods of both SMP and MA are based on this date.
4.3

Part B

Complete Part B if you issue the MAT B1 after confinement.

Enter the baby's date of birth and the date the patient was expected to be confined in all cases.

Your patient may not have applied for SMP or MA before confinement but her entitlement will still depend on the EWC.

The MAT B1 may be issued by a doctor or registered midwife who attended the patient in connection with her confinement.
4.4

Validate the form

For the MAT B1 to be valid, registered midwifes must include:
their Nursing and Midwifery Council (NMC) personal identification number
the expiry date of their registration with NMC
Doctors must use their name and address stamp.
5.

Duplicate MAT B1s

After a MAT B1 has been issued, only issue another based on the same examination if you need to:
replace an original lost MAT B1
replace an incomplete MAT B1
Clearly mark the replacement "DUPLICATE".