Promotional material
HS2 Phase 2b: Manchester Airport station factsheet 2013
Information regarding the HS2 Phase 2b station proposed at Manchester Airport.
Documents
Details
The proposed station would be located alongside Manchester Airport and would have 2 platforms, including 2 through tracks for non-stopping trains below surface level.
The station would be parallel to the M56 around halfway between junctions 5 and 6, and linked to the M56 by a new road. There are a number of options to link the station to the airport terminals and adjacent transport interchange, including the potential for extending the Manchester metrolink.
Creating jobs, houses and accessibility
HS2 Ltd's analysis suggests that a station at Manchester Airport could support between 300 and 700 jobs, in addition to those generated by the existing Enterprise Zone development. Journey times to London will be 63 minutes.
Connecting with the region
Given the potential for significant development around a HS2 station at this location, the government conditionally supports the airport station subject to agreeing a suitable funding package with the airport and the wider region in order to deliver a fair deal for the taxpayer.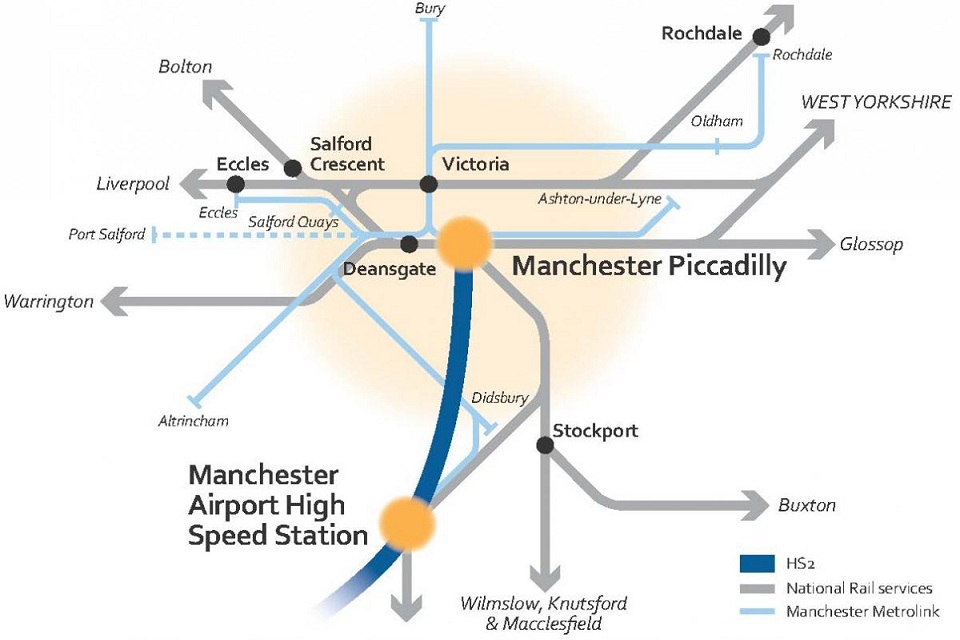 Published 28 May 2014