DVLA fleet scheme: information and benefits
Updated 11 December 2019
© Crown copyright 2019
This publication is licensed under the terms of the Open Government Licence v3.0 except where otherwise stated. To view this licence, visit nationalarchives.gov.uk/doc/open-government-licence/version/3 or write to the Information Policy Team, The National Archives, Kew, London TW9 4DU, or email: psi@nationalarchives.gsi.gov.uk.
Where we have identified any third party copyright information you will need to obtain permission from the copyright holders concerned.
This publication is available at https://www.gov.uk/government/publications/inf269-dvla-fleet-scheme-information-and-benefits/dvla-fleet-scheme-information-and-benefits
0.1

Introduction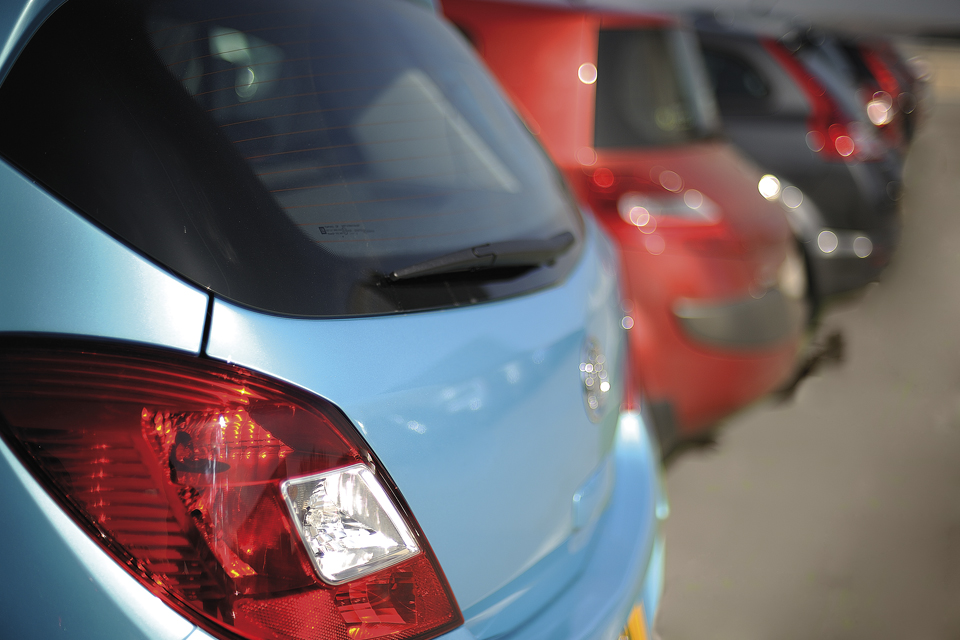 We introduced the DVLA fleets scheme to help companies deal with the administrative burden that accompanies maintaining a large number of vehicles. The scheme is free to join.
If you have a fleet of 50 or more vehicles you could benefit from:
a dedicated helpdesk – you get direct access to a dedicated fleet helpdesk by telephone and email
bulk despatch – all registration certificates (V5Cs) and tax reminders processed on any single day will be combined and sent to you in bulk
bulk processing – notification of changes to multiple vehicles can be submitted without the need to fill in each V5C
bulk taxing – tax multiple vehicles in one transaction
View Vehicle Record (VVR) – quick and easy online access to view information relating to any vehicle registered to your fleet
V5C On Demand – a service that allows you to suppress your V5Cs and save you from incurring any unnecessary storage and distribution costs
online services – you can now tell DVLA online when you sell a vehicle and/or want to take a registration number off or put a registration number on a vehicle.
1.

Helpdesk
1.1

Fleets helpdesk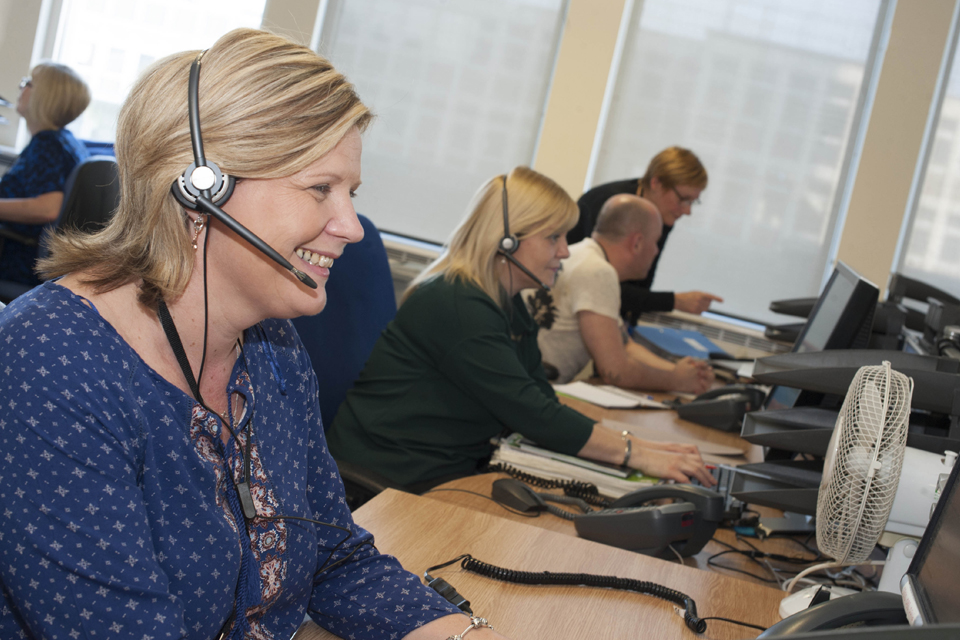 Once you have joined the fleet scheme you will have direct access to our helpdesk.
We have a dedicated Commercial Vehicles Team (CVT) that will deal with your fleet queries that can be accessed via our helpdesk phone number 0300 083 0016 (phone lines are open Monday to Friday, 8am to 4.30pm) and email: fleetshd@dvla.gov.uk.
You will also be able to send all of your V5Cs directly to the CVT section in bulk with a covering letter advising of any necessary changes. You will not need to complete every document. Any V5C, V11 or V85 documents that are processed with your fleet number on any single day will be dispatched to you in bulk.
Important – communication is key. We need up to date contact details. It is your responsibility to let us know if any contact details change.
1.2

What you need to do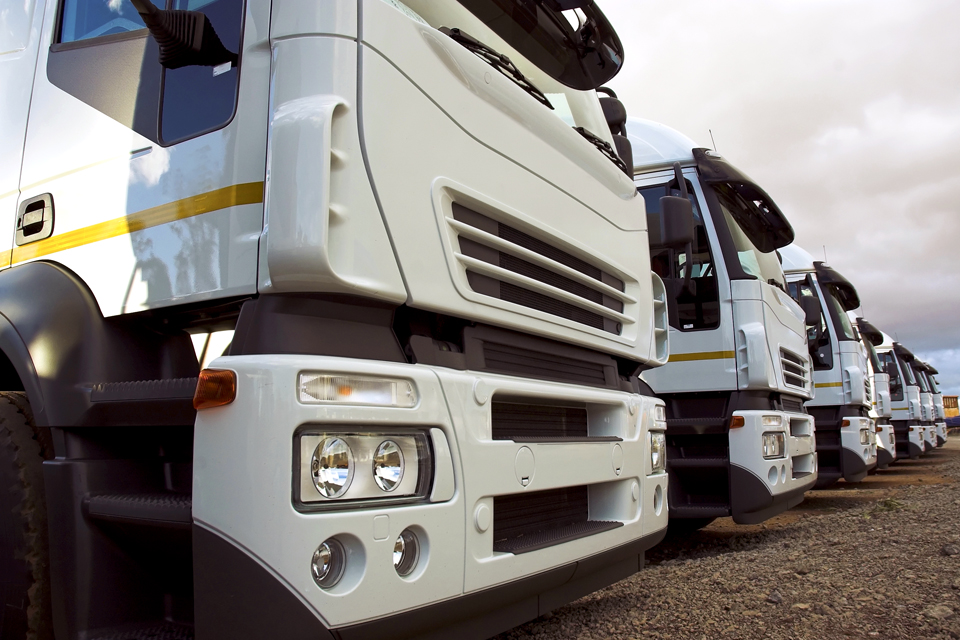 If you have 50 or more vehicles in your fleet and you decide to join the fleet scheme you will need to contact the Commercial Vehicles Team (CVT) by emailing fleetshd@dvla.gov.uk or phone 0300 083 0016 (phone lines are open Monday to Friday, 8am to 4.30pm).
When you contact us please indicate which of our services you are interested in so we can provide you with all the information you need. You will then need to collate all of your existing V5Cs into batches of 100 or less and send them to the following address:
Commercial Vehicles Team (CVT)
DVLA
Swansea
SA99 1BG

You should attach a covering letter on headed paper to each batch of V5Cs you send to us. You should state your request and include your company name and address, a contact name, a contact phone number and a contact email address.
Once you have been registered as a fleet we will provide you with a six digit fleet code which is unique to the postcode of your premises (if you have more than one address you will need a separate fleet code for each address and if you require more than one fleet code, you will need to provide a different address for each code requested).
Once we have given you a fleet code you will need to include this on all newly registered vehicles. You should make any dealerships you deal with aware of this as any vehicles registered without the code will not be eligible for the services that we offer to fleet vehicles.
2.

Taxing your vehicles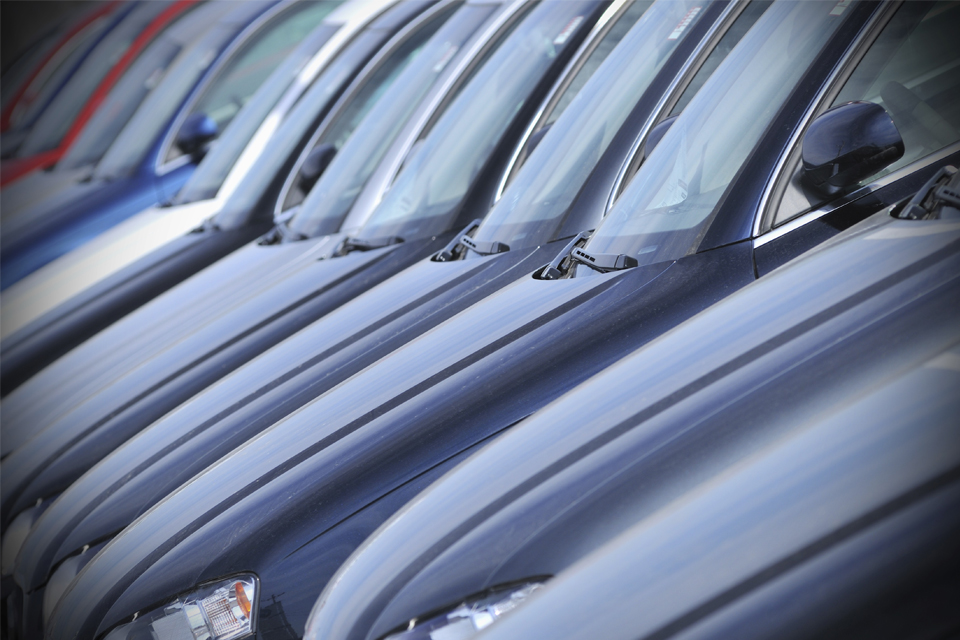 2.1

Getting to know POL and BERT

Once registered on the fleet scheme you can apply to use the Post Office Licensing (POL) scheme and Bulk Electronic Relicensing Transaction (BERT). These services let you tax all of your vehicles due for renewal in one transaction every month.
2.2

Post Office Licensing (POL)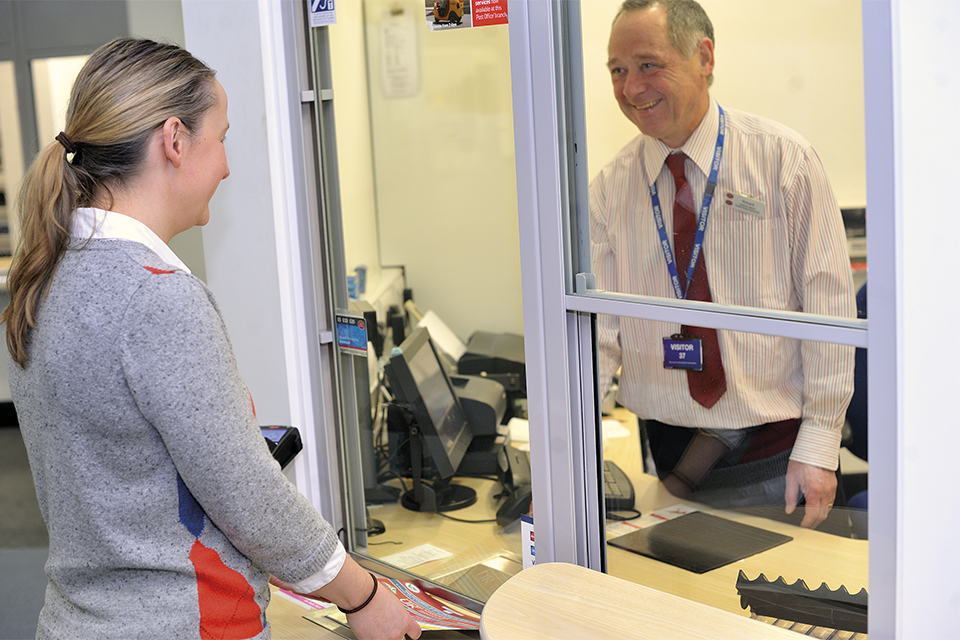 This service is free to join and offers fleet companies the ability to tax all vehicles due for renewal either using an emailed spreadsheet or at your local Post Office® branch. Payments for the vehicle tax are then taken from a Post Office pre-funded account.
Once you are registered to the fleet scheme and have received your fleet number, you must email the fleets helpdesk fleetshd@dvla.gov.uk to confirm you would like to join up to the scheme and confirm which of the options you would like to take up.
The in-branch option requires you to nominate your preferred Post Office branches that you wish to use. You will also need to confirm your fleet number, your fleet size, and the potential timescale for wanting to use the scheme (such as month of taxing).
When we receive this information from you, we will forward it to the Post Office team in Chesterfield who will liaise with you directly and set up your pre-funded account. After this you will be able to take all of your documents into your nominated Post Office branch and pay using your pre-funded account rather than any other method of payment. The spreadsheet option allows you to submit a spreadsheet of your monthly tax renewals between the 4th and 14th of the month to the following email address: fleetrelicensing@dvla.gov.uk.
The spreadsheet will then be forwarded on to the Post Office for processing. This service is limited to vehicles that are only due their tax to be renewed, and any ad-hoc taxing would need to be completed at your local Post Office branch. Any vehicles that are not due for taxing may be rejected. Also any Heavy Goods Vehicles (HGV) that previously required a Reduced Pollution Certificate (RPC) will not be accepted via the spreadsheet service until the tax class is changed to a non RPC equivalent. You must have fleet insurance in place at the date of liability to be able to use this scheme.
2.3

Bulk Electronic Relicensing Transaction (BERT)

The agency operates a BERT scheme where fleet operators are sent electronic taxing reminders each month.

You will get the reminders approximately six weeks before the tax is due and you will need to return these electronically within seven working days, notifying us of which vehicles require taxing. We take payments by variable Direct Debit on the first working day of the month prior to the date the tax starts.

This service is limited to vehicles that are no more than three years old and to the following tax classes:
private light goods (PLG)
diesel car
petrol car
alternative fuel
disabled.
There are certain technical requirements and costs associated with this option. For more information please contact bulkfleetrelicensing@dvla.gov.uk.
3.

Bulk processing and despatching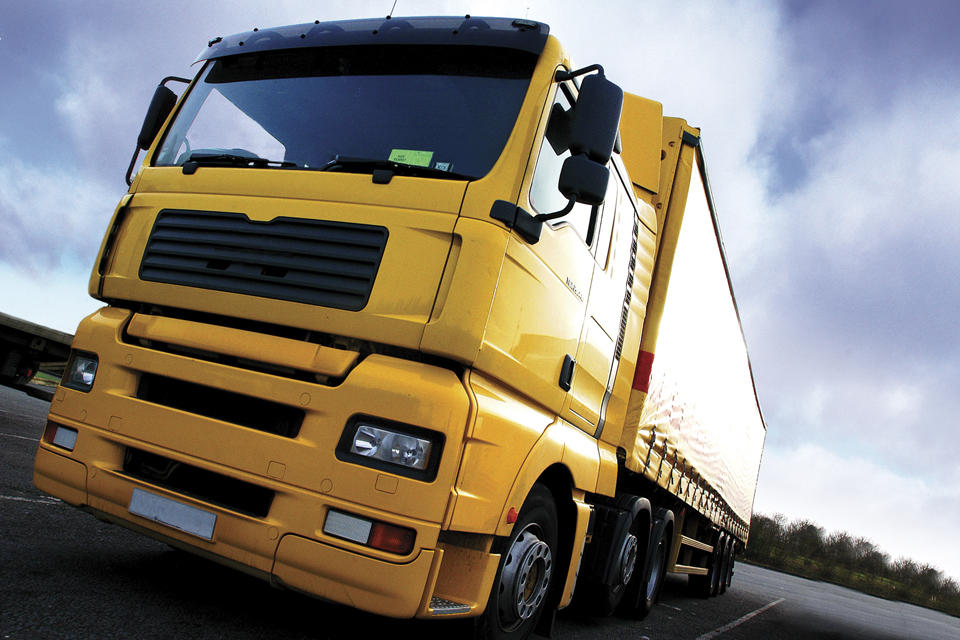 Being part of the fleet scheme allows you to send in your V5Cs directly to the Commercial Vehicle Team (CVT). If all of the changes to the V5Cs are identical and they are accompanied by a supporting document on headed paper, then we can process these in bulk. This would also eliminate the need to complete every document.
Once processed, we will issue your V5Cs and dispatch them to you the next day. We will send them in envelopes containing a maximum of 400 documents. The minimum number of documents that will be sent together in an envelope is three and anything below this will be sent individually.
All V11 and V85 taxing renewal reminders displaying your fleet number that we process on any given day will also be combined and dispatched to you in bulk.
4.

View Vehicle Record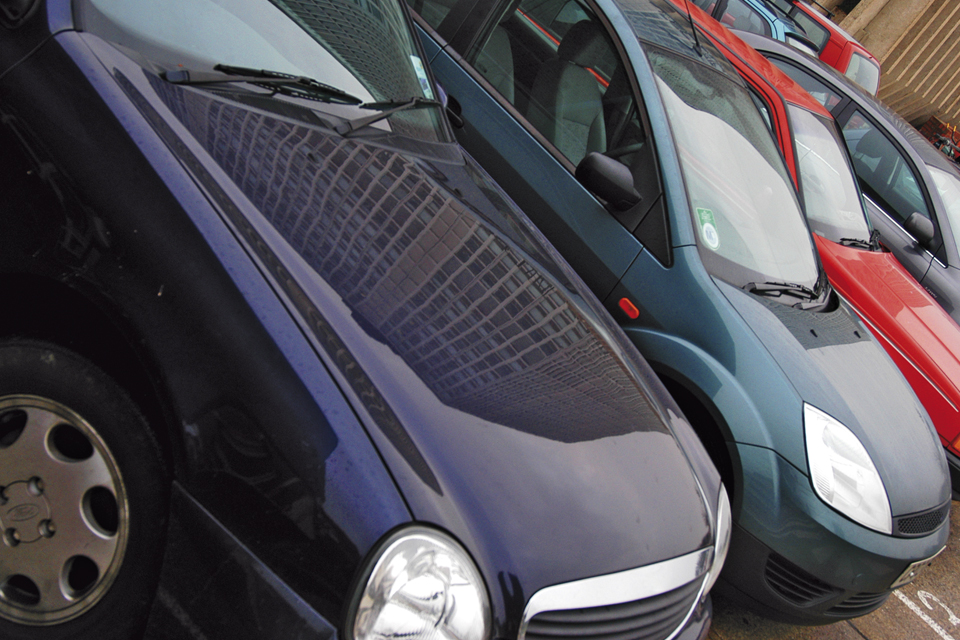 The View Vehicle Record (VVR) service lets you view details of all vehicles within your fleet using a secure login process. You can view your fleet and access information on your vehicles from any location at any time.
The VVR service will display vehicles registered with DVLA under your fleet number.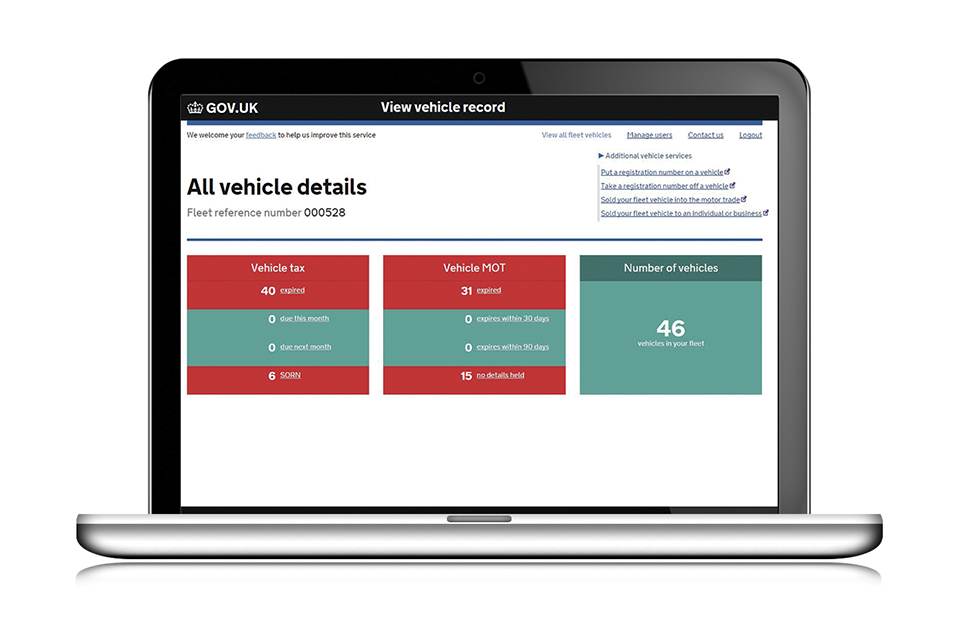 We developed it to support the roll out of V5C suppression (see section 5), working towards a paperless operation. It allows you to view single and multiple vehicles and apply a range of filters to narrow down your search results. It also highlights the vehicles in your fleet that need taxing or are due an MOT.
The service offers benefits to your business. If you want to use it, we will need details of a system administrator (name and email address). We will process your request, and when you get access to the VVR service, we will send you two separate emails containing the following:
1 - Login details and data cleansing spreadsheets
The exercise will bring your fleet information and DVLA records up to date. You can use these spreadsheets to tell us:
any vehicles you no longer have
any vehicles you have acquired but do not appear on the VVR service.
2 - Instructions on how to obtain a password for your login process
This email will be sent indicating the next steps.
5.

V5C suppression and V5C on demand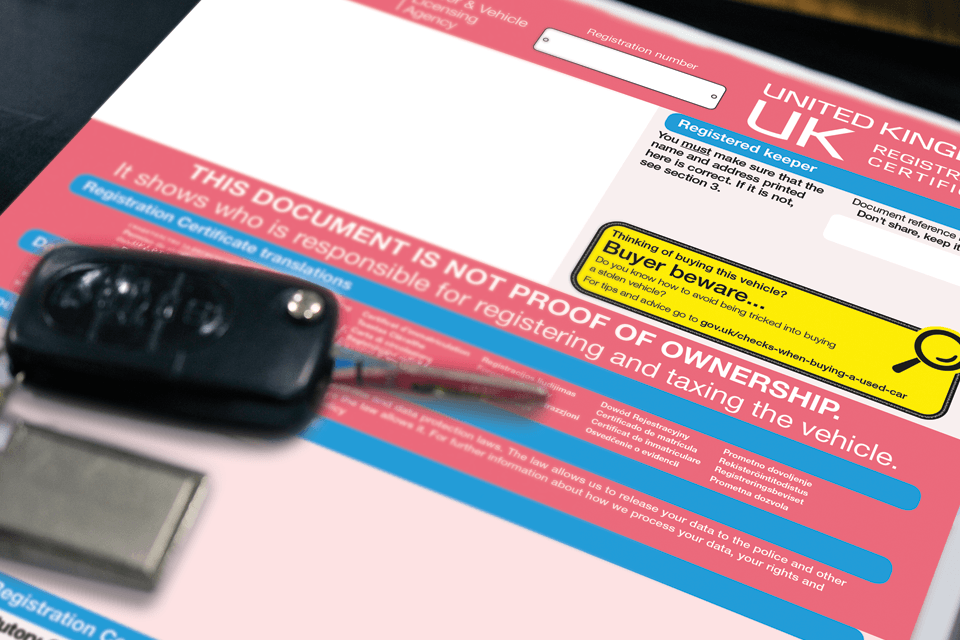 If you incur unnecessary costs by having to store and distribute vehicle registration certificates (V5Cs) you might be interested in suppressing them. If you sign up to view your vehicles through the VVR service you will also be eligible for this scheme.
Once you have confirmed your interest we will make the necessary arrangements so that when you return your V5Cs to us to get your unique fleet code added, we will not return them to you. From that point on you will need to access VVR to manage your vehicles.
For existing fleet operators, any current V5Cs that you have must be retained and cannot be sent to DVLA to become suppressed unless there are changes required. We will suppress the issue of any V5Cs for any newly registered vehicles.
When you decide to sell or transfer a vehicle you will need to request the V5C before you notify DVLA of the change. You will be able to request a V5C at any time for any of your vehicles through the VVR service. You should receive it in 3 to 5 working days.
There may be circumstances where you need to present a V5C, such as to local authorities or when obtaining number plates. VVR enables you to print a PDF of vehicle details that should be accepted in place of a V5C. If however, you have vehicles that travel abroad, we advise you request a V5C for these as the PDF will not be acceptable in different countries.
We have a Frequently Asked Questions (FAQ) that you can get from the fleets helpdesk.
6.

Online services and data protection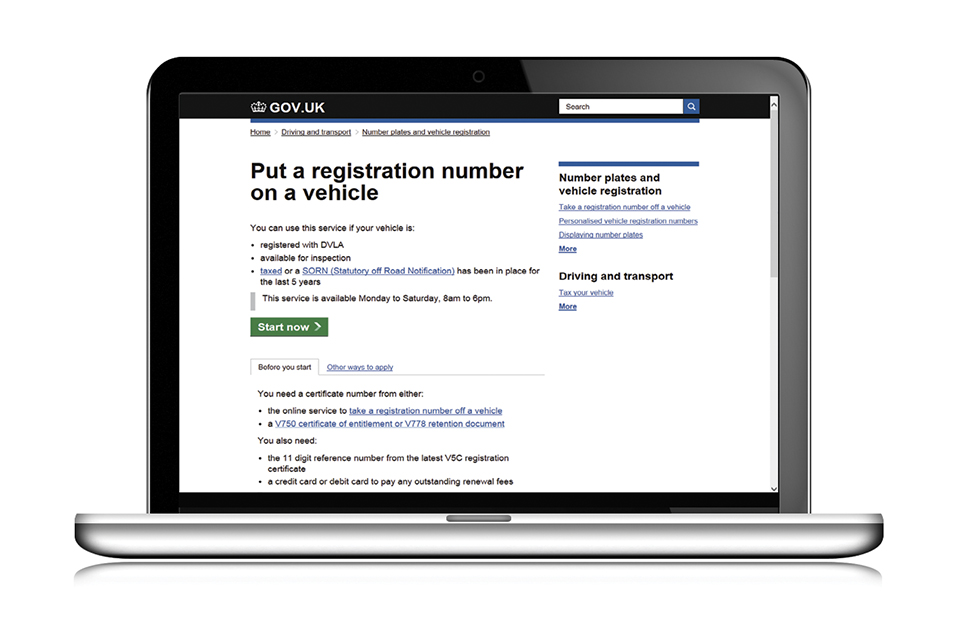 6.1

Transact online

Did you know about our new online services?

This is now the quickest and easiest way to tell the DVLA. If you are selling vehicles (to the motor trade or privately) you no longer need to send paperwork to DVLA. You can tell DVLA you've sold, transferred or bought a vehicle online.

You can also take a registration number off a vehicle (retain) and put a registration number on a vehicle (assign) online.
6.2

Data protection

DVLA handles your personal data in accordance with road vehicle law and data protection laws. The law allows us to release your data to the police and other enforcement bodies. We also provide data to other parties where the law allows it. For further information about how we process your data, your rights and who to contact, see our privacy notice or request a written copy by phoning 0300 790 6106.