Corporate report
Annual report of HM Land Registry 2016 to 2017: performance report
Updated 12 September 2017
© Crown copyright 2017
This publication is licensed under the terms of the Open Government Licence v3.0 except where otherwise stated. To view this licence, visit nationalarchives.gov.uk/doc/open-government-licence/version/3 or write to the Information Policy Team, The National Archives, Kew, London TW9 4DU, or email: psi@nationalarchives.gsi.gov.uk.
Where we have identified any third party copyright information you will need to obtain permission from the copyright holders concerned.
This publication is available at https://www.gov.uk/government/publications/hm-land-registry-annual-report-and-accounts-2016-to-2017/annual-report-of-hm-land-registry-2016-to-2017-performance-report
1.

HM Land Registry's pivotal role in the property and financial markets
What our customers ask
Looking for a property:
what's available close to home?
how big is the garden?
how big is the office car park?
Arranging a mortgage:
how much can I borrow?
what 's the property worth?
Before the exchange:
is the land registered?
who owns the property?
is there an outstanding mortgage?
Exchange of contract:
is my customer's offer protected?
has the seller's conveyancer searched the register?
Completion:
has my loan been registered?
has the sale of the property been completed?
Living and working in the property:
are my details up to date?
how can I stop myself being a victim of property fraud?
How HM Land Registry helps at every stage
Looking for a property:
property search
flood risk
price paid
Arranging a mortgage:
land charges search
house price index
bankruptcy search
Before the exchange:
official copy
search of the index map
document view
Exchange of contract:
official search of the register
Completion:
register new property
transfer of title
Living and working in the property:
Property Alert
update the register
discharge of mortgage
Since 1862 we have provided confidence to the property market of England and Wales by safeguarding ownership and interests in land and property currently worth more than £4 trillion. Not only do we protect ownership through an unlimited state guarantee but we also underpin the financial sector. Registration of mortgages and loans enables financial institutions to provide secure personal and commercial lending against property, which supports economic growth and prosperity.
Our involvement goes well beyond simply registering the final transaction. We provide much of the information that influences the decisions of property buyers and sellers and financial institutions.
We also offer a range of services that help smooth the path towards a deal being completed. These range from our official search which protects transactions while the transfer is completed through to our commercial services which help lenders verify their mortgage portfolio.
Solicitors and conveyancers come to us on behalf of their clients to search our records to find out as much as possible about the property. Our data, available directly from us or via third-party innovators, helps enable proptech entrepreneurs to create new products, buyers and lenders to make more informed decisions and facilitates transparency to combat fraud and corruption.
2.

Our digital transformation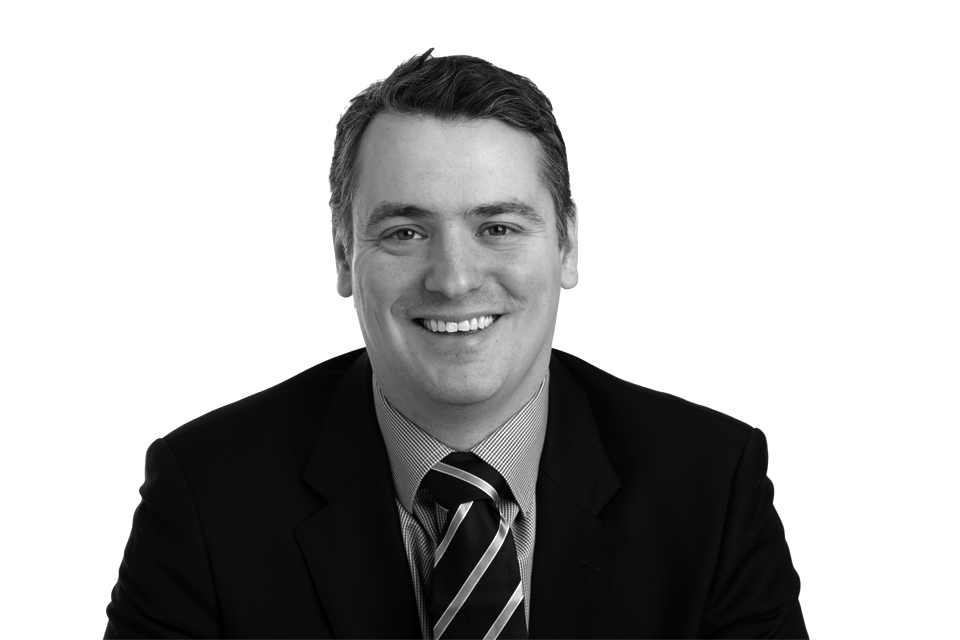 Digital transformation is at the heart of the changes we want to make. By putting the user at the centre of our approach we will continue to deliver an increasingly broad range of digital services which will make the conveyancing process simpler, faster and cheaper.
Our focus for next year (and beyond) will be to digitise the majority of HM Land Registry services. We have already made significant progress over the last year in preparing for the future and introducing new and improved services which will make both conveyancers' and citizens' lives easier.
Not only will we be digitising our existing services but we will also be testing the future of digital conveyancing through our "Digital Street" pilot which will allow us to safely explore the use of new technologies such as Blockchain and Artificial Intelligence.
Preparing for a digital future
Our common technology platform was short-listed for a UK IT Industry award in 2016. The platform enables our technology teams to improve our IT infrastructure quickly, easily and reliably as part of a future strategy to replace our current IT systems over the next five years. It will underpin all of our new digital services and makes best use of cloud and open source technologies.
For our customers, government partners and the wider public, it will mean easier access to our services and data, including the 24.8 million property titles in the Land Register. For anyone involved in buying and selling property, it will mean a faster, smoother conveyancing system thanks to the new digital land registration services the platform will provide.
Developing new services
In June 2016 we began operating a pilot version of our digital mortgage service. As it does not yet create a legal deed, borrowers still need to sign a paper deed, but the pilot service has allowed us to check that what we have built will work in the real world. The feedback from borrowers who have tested the service has been positive, and we have made improvements based on this feedback. We are now using the GOV.UK Verify service to provide us with an appropriate level of ID assurance before the borrower digitally signs their mortgage deed. The service is still in private beta but we intend to open it up to more users in 2017.
This will be one of the first of a new breed of digital services which enable customers and citizens to update the register digitally. The first truly digital mortgage can be created, signed and registered without the need for any paperwork or emailing and without the need for our colleagues to be involved in the process.
We developed our Find Property Information service over 2016/17 so citizen customers can access a title summary which provides information from the full register in a simpler, clearer format. We have adopted a user-centred design approach which has helped build simplicity into the service from the start. We've conducted more than 100 user research sessions taking feedback and improving the service to make it more user-friendly.
Enhancing existing services
Our award-winning MapSearch service gives our customers self-service access to an online mapping tool for free, allowing them to quickly establish whether land and property in England or Wales is registered. Through MapSearch customers have saved themselves well in excess of one million searches of the index map since the service was launched, saving themselves time and money.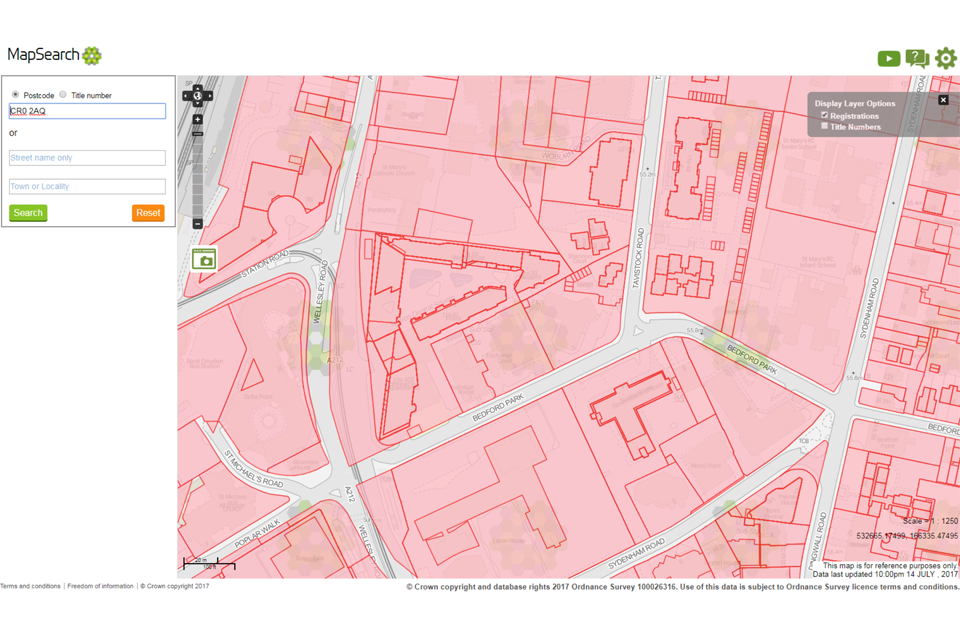 Since its launch in 2014, the service has gone from strength to strength, winning the Civil Service Digital Award in 2015 and we've continued to enhance and improve it.
MapSearch passed the milestone of 10 million searches in October 2016. We want the success of MapSearch to be our blueprint for how we develop and deploy new digital services in the future.
Our free Application Enquiry service allows customers to check the progress of any application and find a wealth of information via the Business e-services portal – our online transactional channel for our professional customers.
This new service has now been live for a year and the number of calls and emails we receive has fallen as a result, meaning our caseworkers can focus on offering a faster service overall.
This year we added a number of new features that customers asked for, such as sending email notifications when a customer's application results are ready for download. We've also added information about mortgages that have been repaid, and the ability to contact us directly from the service. Customer feedback is that the service is simple and easy to use.
Ensuring our services are meeting our customers' needs and getting their feedback will be central to the new digital services we will deliver in the future.
HM Land Registry data becomes a national statistic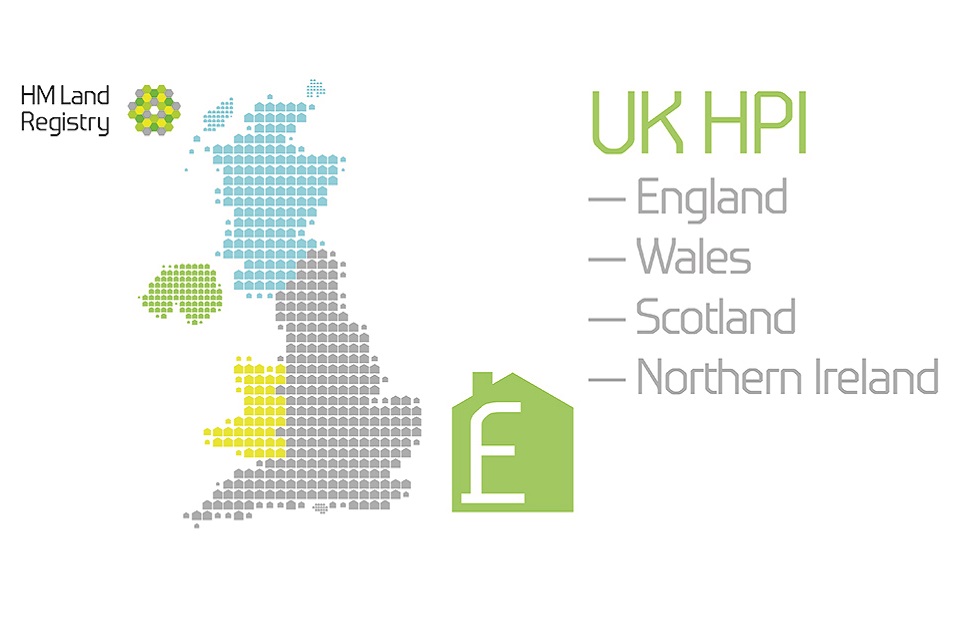 The first UK House Price Index (HPI) was launched on 14 June 2016. Published by HM Land Registry in conjunction with the Office for National Statistics, Registers of Scotland and Land & Property Services Northern Ireland, the index replaced the previous indices separately published by those organisations.
The single UK HPI ends the confusion previously caused by multiple government indices and the new methodology now includes more information in calculations such as cash sales new dwellings and type of buyer (first-time buyer or existing owner) to provide full coverage of the housing market. Each month users can make use of detailed reports, downloadable data and an interactive search tool.
3.

Smart working in HM Land Registry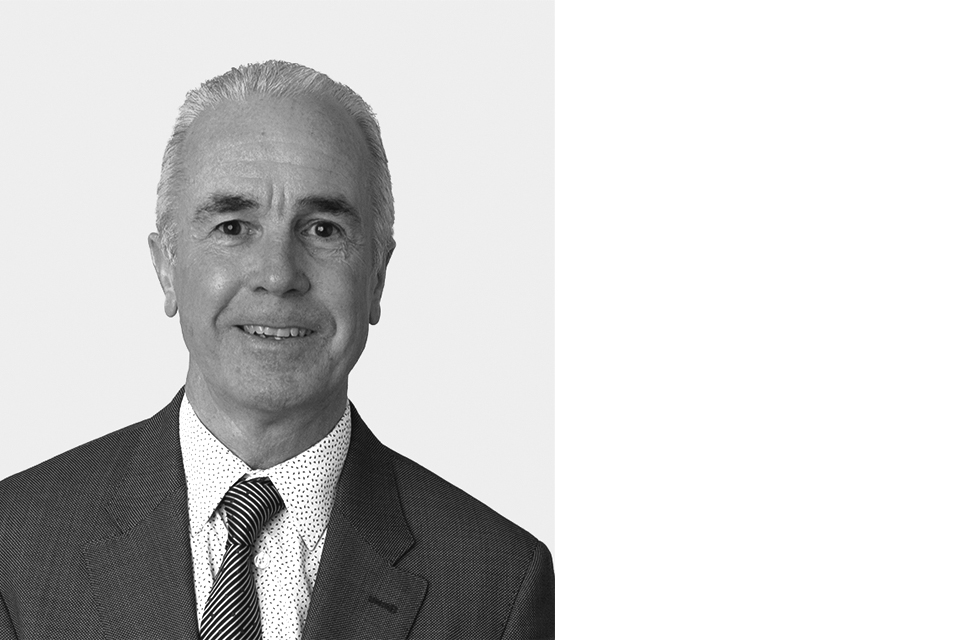 As Director of Operations I support more than 3,500 expert caseworkers who process applications and answer enquiries on land registration matters every day.
On an average day HM Land Registry processes around 120,000 different transactions covering a range of services and enquiries. Servicing these is not only critical to our business but more importantly they are vital to the smooth functioning of the property and financial services markets.
Therefore, for us, finding ways to be more efficient not only improves our productivity but makes the whole conveyancing process in England and Wales quicker, cheaper and simpler, which was the original intention of creating HM Land Registry all those years ago.
While our digital transformation will be key to this we also want to ensure that we can maximise the output of our expert people and improve the experience for our customers.
Talk us through some of the highlights and challenges of the year…
The biggest challenge was dealing with volumes that continued to rise. We received over a million more applications than the year before. Quite often the more straightforward applications are the most time critical which, in the past, meant having to divert expert caseworkers from complex applications to handle more straightforward applications.
The highlights for me were how we responded to those challenges.
Our new starters included a new role created specifically to deal with the more straightforward applications, allowing our experienced caseworkers to concentrate on the more complex work such as registering major new developments or infrastructure projects.
Several rounds of recruitment have brought more than 500 new people into operations, from a wide variety of backgrounds. Those that joined on temporary contracts had their term extended as soon as their contribution to speed and efficiency of our casework processes became clear.
Our pioneering apprentices were described as "professional, innovative, enthusiastic and positive" at their graduation ceremony which marked the completion of our first two-year apprenticeship programme in our Leicester, Nottingham and Telford offices. We now have 261 apprentices in operations and more to come with a rolling annual programme of apprentice recruitment across all of our locations. Many of our first tranches of apprentices have secured permanent jobs at the end of their apprenticeship and are the pool from which the next generation of land registration experts will be selected and developed.
We took a significant step forward in the way we map our casework by developing and introducing 'geo-referencing' software.
The software provides a way for scanned or paper deed plans to be intelligently overlaid onto our digital mapping system so that title boundaries can then be electronically traced. This has eliminated the need to print off plans and plot boundaries using traditional mapping methods, significantly reducing the time taken to complete the mapping or remapping of a registered title.
Some jobs that could have previously taken many hours of laborious manual plotting can now be done in less than 30 minutes, such is the power of new technology. Twenty caseworkers were involved in the trial phase; they thoroughly tested the software and identified enhanced features and functionality. All of our caseworkers agreed that the new system was more efficient and much easier to use than the previous process, and are using it to benefit our customers.
Our people submitted more than 1,300 ideas for technical and system improvements through a new staff suggestion scheme, 10% of which have either been implemented, or are in the process.
How do you think operations will change in the future?
For me one of the central elements of how operations will improve is through digital transformation, which is why it is a key element of our future direction.
Completely new interfaces and channels for both our online customer services and our case-working systems will replace paper applications, capturing and validating data directly. Our professional caseworkers will become experts in digital land registration as the tools and systems they use are transformed by technology. The Land Register will be a transparent source of accessible data with uses that may not yet have been conceived even by proptech firms.
Our digital services will be designed and developed by actively involving end users, to ensure that take-up of these new services will be driven by a great customer experience. MapSearch and Property Alert, our award-winning digital services, were delivered with customers at the heart.
Alongside that I see continuous improvement teams and modern ways of working embedded across the operations function of the future. We have already had some successes from continuous improvement practices but I believe we can become more efficient by working even smarter.
What will you be focusing on for 2017?
A key commitment in the Housing White Paper is for us to aim to achieve "comprehensive registration" by 2030. Roughly 16% of the land mass of England and Wales remains unregistered, and we have a prioritised programme of work that will seek to reduce this as much as possible, and unify conveyancing processes. The creation of a new registered title is much more complex and time consuming than amending an existing one – we will therefore need to ensure we have experienced and technically-proficient caseworker teams prepared to register new titles as applications come in. Supporting public sector land owners will be our initial focus. Some of that land may include prime building sites for new homes.
We will also continue to support major infrastructure and development projects by creating bespoke and dedicated service teams to work across varied stakeholder groups to support the registration of some of the largest and most complex property projects in the UK.
Our next stage of transformation will start by focusing on new services that digitise the greatest volumes of our work so that we can be more resilient to market fluctuations but also enhancing our existing online services to improve the experience for our customers and create ongoing efficiencies.
We are testing the concept of routing complex, commercial and infrastructure work to dedicated teams. Other teams are investigating how best to improve the processes associated with applications for new build properties submitted by developers. We already recognise the advantages of early collaboration with developers, as the speedy resolution of any site issues can cause delays further down the line. The members of these test teams have a high level of technical knowledge to match the complex nature of the work.
We are also extending these trials by making two of our locations 'Model Offices'. We'll use these offices to test, evaluate, and roll out best practices as 'standard operating procedures' so that all of HM Land Registry, and ultimately our customers, benefit from efficiency, practice and policy improvements. The Model Offices will be very 'agile' in approach; if new ideas fail, they will quickly move on and try something else. Our people have loads of great ideas and by empowering them to identify, test and shape how we process our work we will not only improve our productivity, but also to help promote a culture of positive disruption and innovation.
Infrastructure and development projects
Colindale Gardens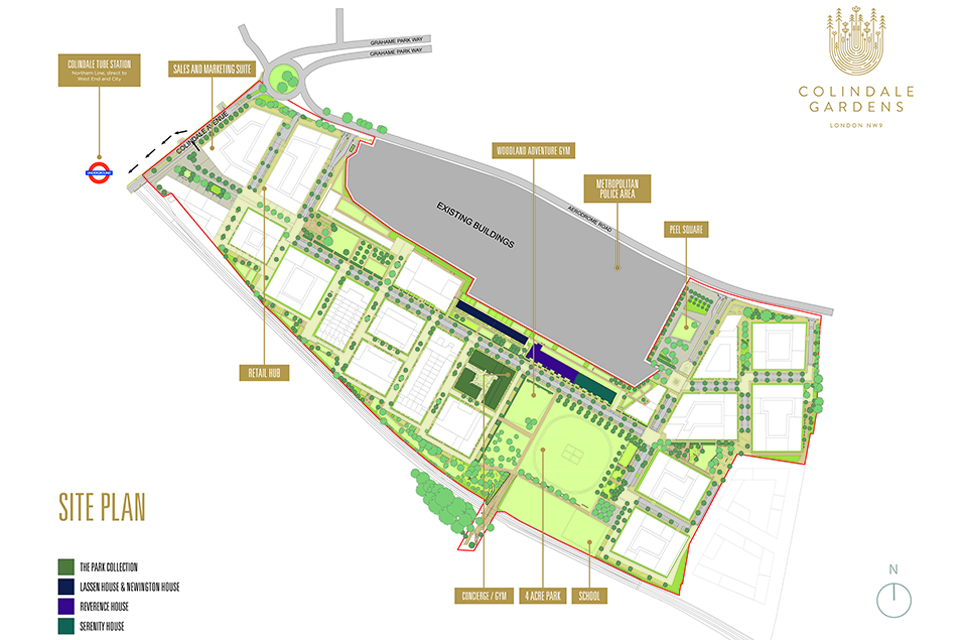 Colindale Gardens is a mixed use development in the heart of north west London which will create 2,900 new homes plus cafés, restaurants and retail facilities including nine acres of landscaped garden on the former site of the Metropolitan Police Training School. HM Land Registry is working with the developers to register all the homes and commercial properties well in advance of project launch.
High Speed 2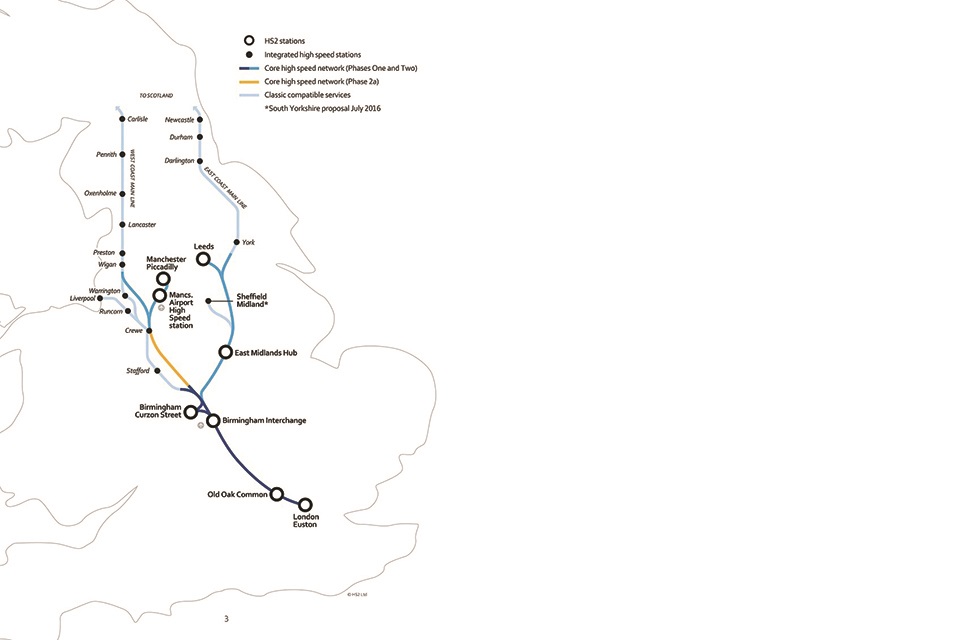 Building on relationships developed during registration of High Speed 1 and Crossrail we are currently working closely with Land Referencers for High Speed 2, helping identify ownership and property details for the almost 200 miles of route, connections and depots. It is anticipated a four-year registration programme of upwards of 20,000 interests will commence in late autumn 2017.
Sherford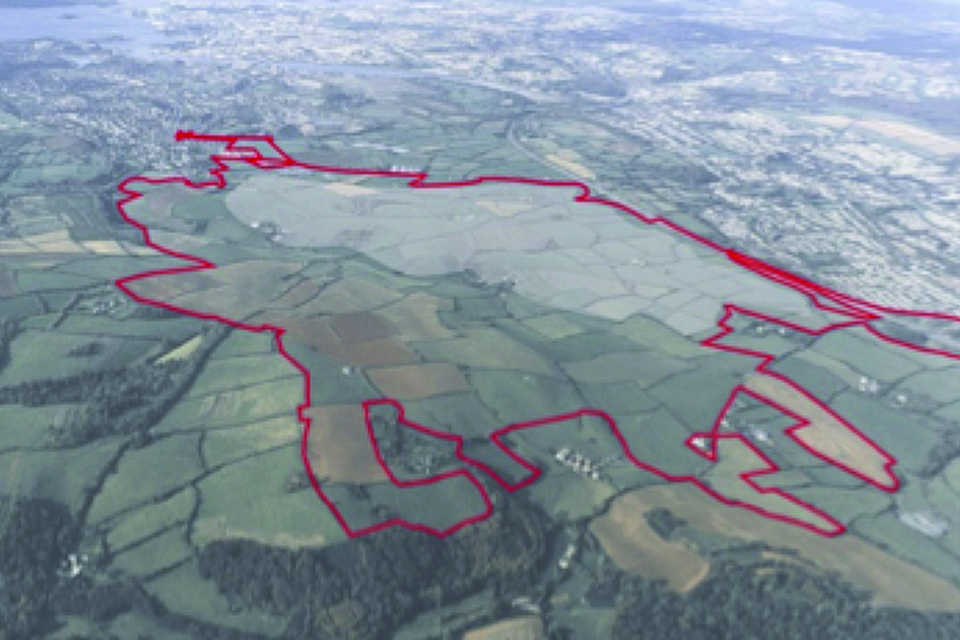 Sherford will be a new town in Devon which will have 5,500 new homes and over 80,000m2 of employment and retail space. It will include four schools and a variety of community facilities such a town hall, youth centre, theatre and a community park. As well as registering the residential properties, we will separately register communal facilities, making their ownership clear.
UK Gas Distribution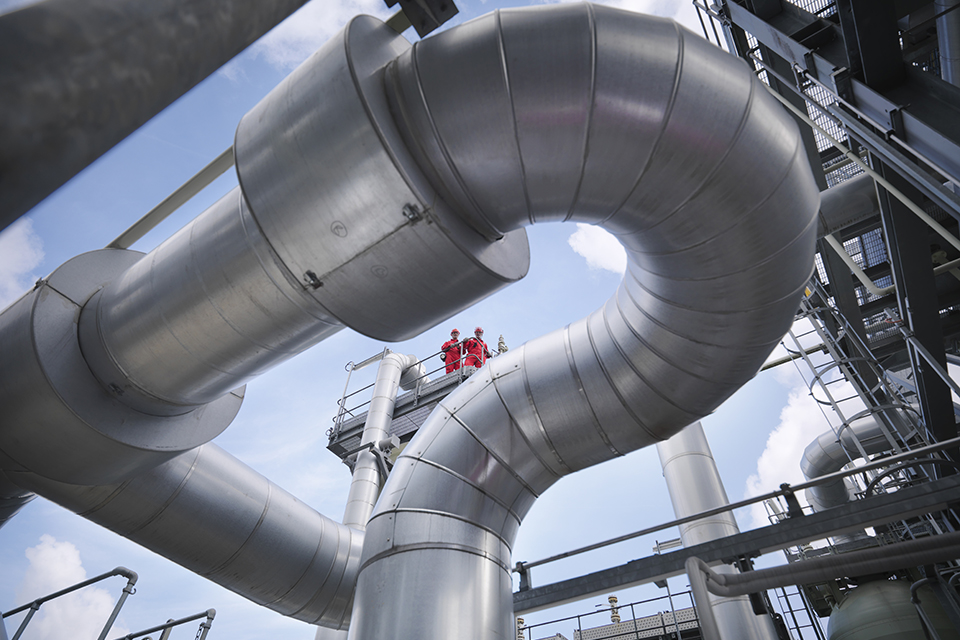 We are working closely with a range of stakeholders on the National Grid's sale of the majority stake of its UK Gas Distribution business. This involves the transfer of over 10,000 properties and the first registration of sites acquired over more than 200 years by the UK gas industry.
4.

Our values in action
We give assurance: we guarantee our services and provide confidence to the property market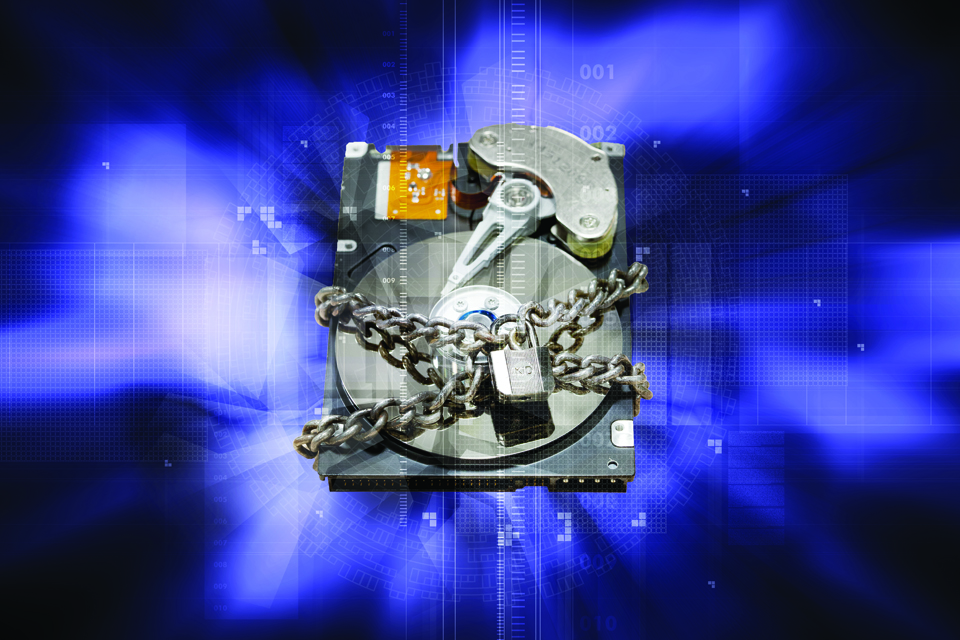 Cyber-attacks are becoming part of our everyday lives and the recent high profile incidents of organisations being attacked through out of date computer systems, rendering critical services such as the NHS crippled, demonstrates why we have to continually work to keep our systems protected to stay one step ahead of increasingly sophisticated hackers and cyber criminals.
HM Land Registry's technology platforms are subject to over 860 changes each month so keeping our systems secure alongside that level of change is no simple task. Over the past year we have further improved our critical security processes and during the weekend of the large scale attacks our own security teams were able to quickly confirm that all of our systems had already been inoculated to prevent them being infected with the worldwide ransomware programme known as WannaCry.
In addition we were also able to quickly verify that all our data was successfully backed up and had been tested to confirm it could be recovered so that, even in the worst case, our data wouldn't be lost.
Andrew Radmore, Head of IS Assurance
We have integrity: we value honesty, trust and doing the right thing in the right way
We are committed to combating fraud. Our multi award-winning Property Alert online service offers a free and easy way for owners to monitor activity on their property. Last year we increased the number of subscribers from around 37,000 to nearly 70,000 including a spike in January following a high profile fraud case involving a mother and daughter who attempted to illegally obtain a £3 million Kensington house. Their efforts to transfer the property were thwarted thanks to our counter-fraud measures.
We have encouraged take up of our Property Alert service by promoting it both to our business customers as well as directly to citizens. We have also worked with the media to raise awareness of the issue of property fraud and our advice to reduce the risk of becoming a victim. This has resulted in regional and national coverage, including a front page feature in the Financial Times and even a slot on the BBC's One Show.
We drive innovation: we are forward thinking, embrace change and are continually improving our processes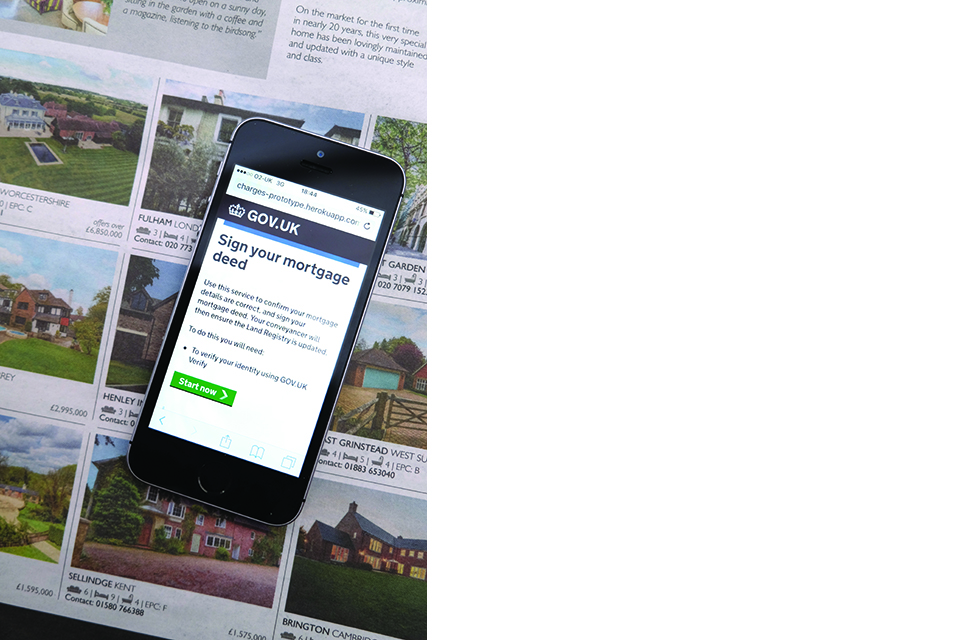 It was very clear that our digital mortgage trial participants were leading very busy lives and most people much preferred the speed and convenience of doing things online, as opposed to paper.
People described the various challenges that they'd had in their paper mortgage process. One man told me how his mortgage documents got lost in the post twice, while another told me of the issues he'd had in finding a witness for his signature. Both of these issues are things that wouldn't happen with our new digital service."
Shaun Ewings, Product Manager, Digital Mortgage
We are professional: we value and grow our knowledge and professional expertise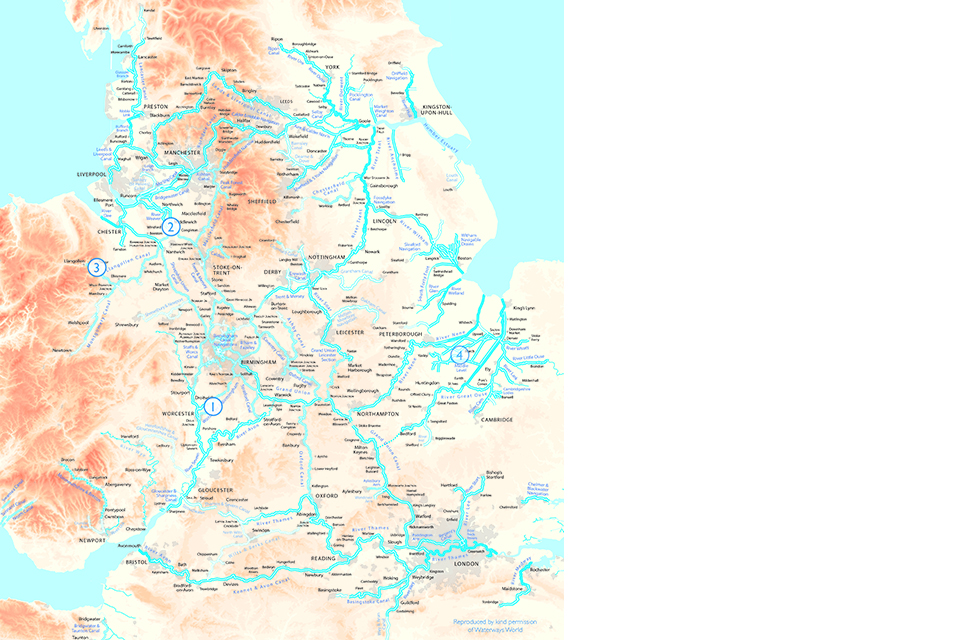 Our drive to aim to achieve comprehensive land registration by 2030 will draw on all our experience in the complex task of registering land and property for the first time. Nothing better illustrates the tenacity and resourcefulness of our first registration experts than the inland waterways project, which was finally completed after 11 years of meticulous casework.
Our team at our Birkenhead Office registered almost 2,000 miles of canals, tow-paths, wharves, weirs, locks and lock houses, docks, dams and reservoirs, mills and boatyards, underground tunnels and feeders for the British Waterways Board initially and then its successor the Canal & River Trust. Each application was based on deeds, documents and statutory declarations representing a pictorial potted history of 100 years-plus of transactions for that particular stretch of canal. This demonstrates our unique geospatial capability.
5.

The law firm inside HM Land Registry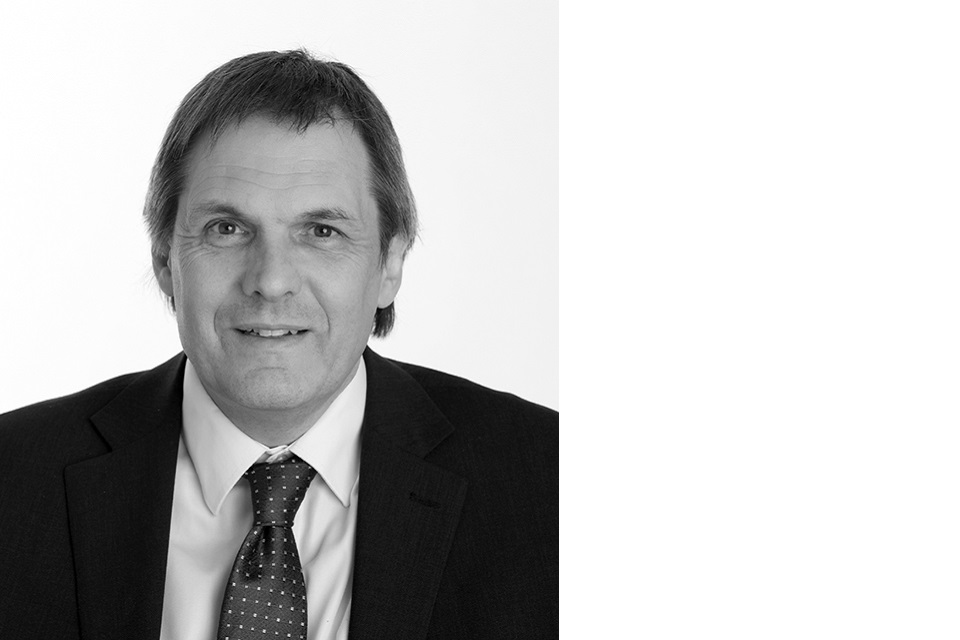 Land registration law is highly complex and technical, routinely throwing up difficult and sometimes novel legal issues. In many ways our legal function is like a specialised law firm inside HM Land Registry providing caseworkers with access to a unique pool of land registration and land law expertise and advice.
We have a sizeable in-house legal team that employs more than 100 lawyers spread across our offices, all experts in property and registration law, who supplement the skills of our experienced caseworkers and provide legal advice whenever it is needed. Five new lawyers started with HM Land Registry during the course of last year and a further nine joined us in April 2017.
During the last year, our lawyers dealt with nearly 100,000 legal queries raised by our caseworkers, a 13% increase on the year before
The "state guarantee" provided by the Land Registration Act 2002 ensures that anyone who suffers loss as a result of a mistake in the register will be compensated by HM Land Registry.
Every indemnity claim is carefully considered. Last year our lawyers rejected more than 400 claims because they were found to be spurious or ill-founded. In other cases our lawyers were able to argue sizable reductions in the amounts originally claimed. In total they saved more than £11.3m.
Many of our largest indemnity claims result from the registration of fraudulent applications and fraud continues to be one of our biggest risks.
During the last year alone our counter-fraud measures stopped 50 fraudulent applications from being registered. However we can never be complacent as the fraud risk continually evolves and so does our ongoing Counter-Fraud Strategy. Of course we continue to develop the capabilities of our systems and our experts who can detect and eliminate fraud before it can even happen. The wording of one of our core values describes it best: We give assurance!
Alongside the delivery of HM Land Registry's core business and protecting the integrity of the register our lawyers have also been actively involved in the evolution and reform of land registration law for the future.
In February we consulted on proposed changes to the Land Registration Rules 2003 to allow us to introduce digital transactions that are electronically signed, a critical legal step to enable our digital transformation plans to become a reality.
6.

Our experts – HM Land Registry's people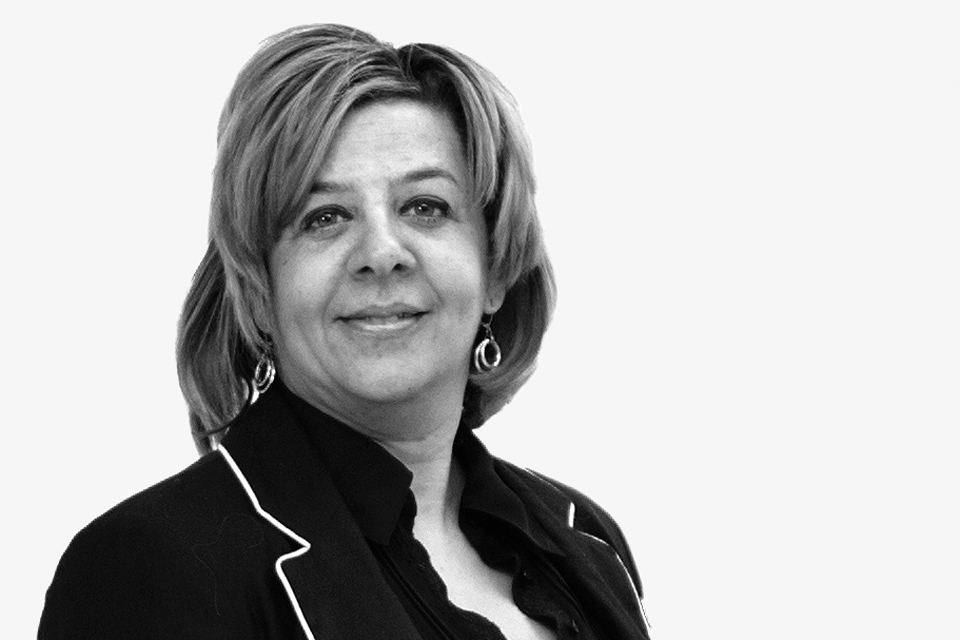 As our Chair says in his statement, our people have always been one of HM Land Registry's most valuable assets. Land registration work is varied and complex requiring experience, training, technical knowledge and judgement. Its delivery is supported by high level professional expertise across all parts of the organisation to ensure we meet our statutory duties and help our customers as effectively and efficiently as possible.
HM Land Registry has a longstanding and loyal workforce whose passion and pride in their work is key to our ability to deliver, something we both value and rely on and is reflected in our values. We have much to be proud of, with a history and heritage which is reflected in our people, who not only value our customers but are committed to giving an excellent service, as evidenced by our customer satisfaction scores. Protecting that commitment is key to the success of our organisation.
However the delivery of our transformation programme will need not only inspiring leadership but also a well-managed and engaged workforce. In addition it will also require investment to build capacity and capability and the modernisation of the organisation to ensure we have right structures and capabilities to deliver, supported by modern work policies and practice and a culture that promotes excellence, drives high performance and rewards achievement. This process has commenced with a review of directorate portfolios, recruitment at all levels and across all functions and investment in skills and training. We are now well positioned to take forward this exciting program of work.
Empowering our people
After the upheaval of the past 10 years, colleague engagement has been a challenge for HM Land Registry. There has been significant investment over the last year in communication, engagement and providing an employee voice. Colleague engagement is now steadily improving and at a rate faster than any other part of government.
A programme of monthly Chief Executive and director visits as well as non-executive visits is supported by regular and open interactive digital communications with weekly blogs and bulletins which allow colleagues to post comments and debate issues directly with the Chief Executive and his fellow board members, creating a forum for digital dialogue with readership and engagement levels well above industry benchmarks. Our new intranet, as shown below, which launched at the end of the year gives us the platform to take this approach even further.
Engagement champions in every office promote these opportunities and keep senior staff in touch with colleague opinion. The group developed the corporate engagement action plan presenting it for Executive Board sign-off, ensuring it was focused on the things that really matter. This has contributed to our engagement score increasing to 59% in our February internal survey, the highest in the organisation's history.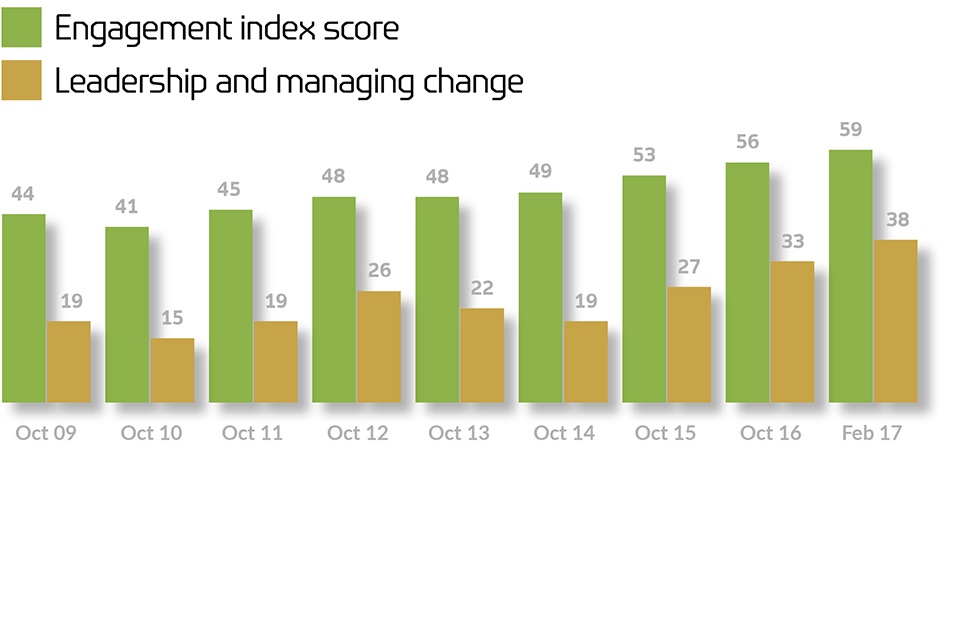 Approval in the leadership and managing change category increased to 38% from a starting position of 19% in 2014 which would have beaten our target for the year and was another record high for the organisation. However, our scores still have room for improvement as survey results shown demonstrate.
Our People Strategy will therefore be refreshed to align it with our new ambition and sets out our plans to modernise our organisation with a programme of work which will build capacity, develop capability, modernise and reshape our organisation and empower our people.
Building capacity and capability
We have already started to build capacity through recruitment and the establishment of a new senior leadership structure. We recruited 587 new colleagues in 2016/17, a net gain of 276 people with applicants from across a range of backgrounds.
Our recruitment has been focused on:
addressing front-line needs to meet and maintain service delivery standards and to address future workforce sustainability
enhancing specific capability areas, particularly in commercial, digital transformation and agile development skills
delivering key programmes of work including new digital services and the Local Land Charges Programme
We place a strong emphasis on developing the skills of our people. During 2016/17 an average of 5.9 internal training days was provided to all employees, including technical/casework-based and Information Systems training as well as in soft skill and personal development including over 2,600 days of leadership and management training. Investment in the training of newly appointed line managers, accounted for 100 training days in the last quarter of the year. In addition £564k was spent on external training upskilling across a range of work areas and disciplines.
Our ambition is to create the most digitally proficient workforce of any land registry in the world and become a beacon for digital skills in the UK.
Reshaping and modernising the organisation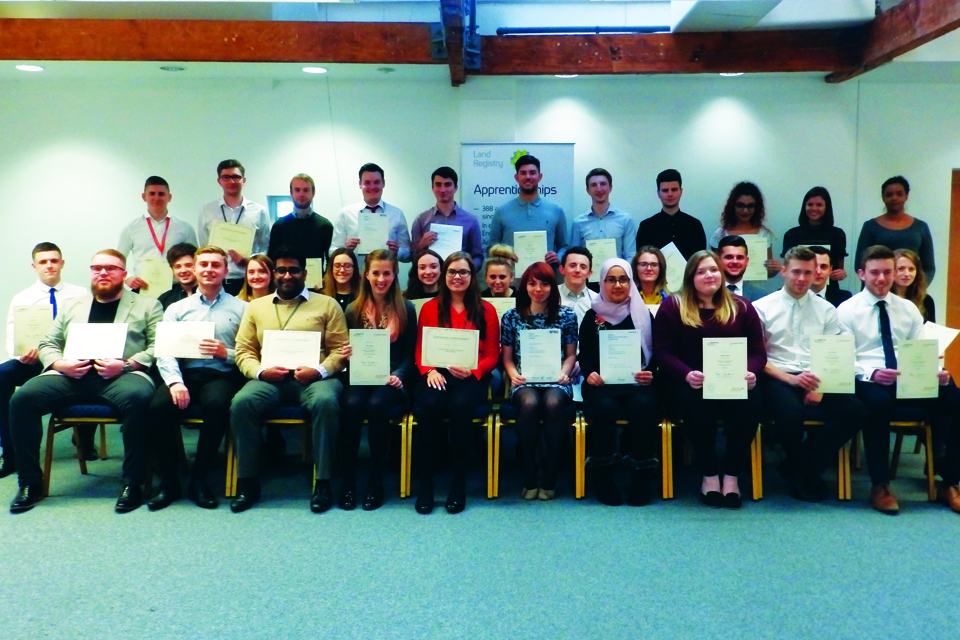 We have continued to expand our apprenticeship programme in our Operations Directorate and delivered new apprenticeships in Information Systems, Human Resources and Finance. Since 2014 we have recruited 388 apprentices from a diverse range of backgrounds.
Almost 70% of the first cohort who completed their apprenticeship last year were offered permanent roles in HM Land Registry. We also hosted graduate placements from the Civil Service Fast-stream programme in Finance and Commercial Services and Cyber Security plus we have recently launched a pilot trailblazer apprenticeship for paralegals developed with the Chartered Institute of Legal Executives (CILEx) which establishes a career path from the core Operations function to our legal profession.
A better place to work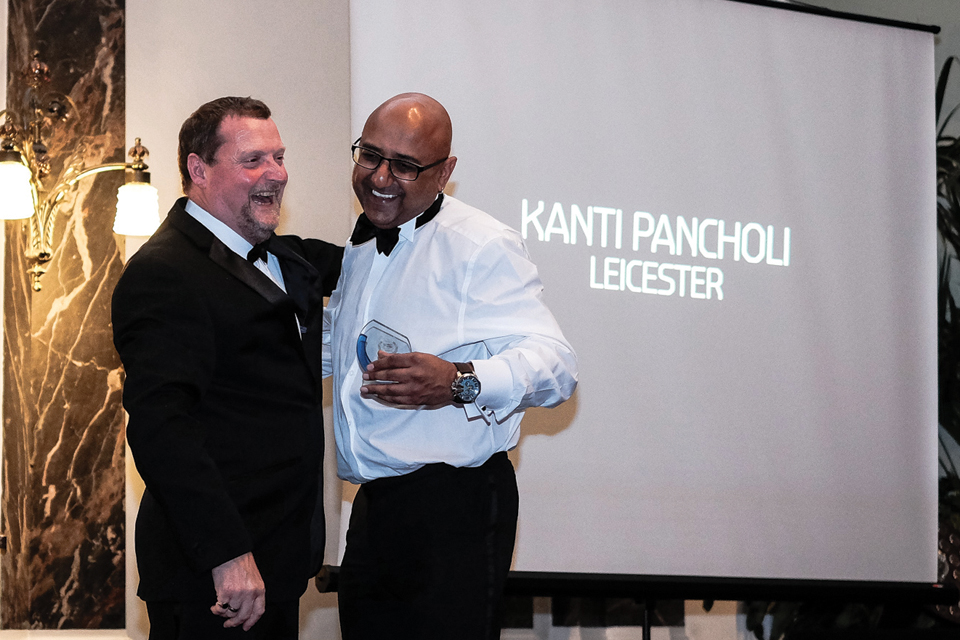 We are passionate about providing and promoting an inclusive culture and were immensely proud to be placed among Stonewall's Top 100 Employers for the second successive year. Our LGBT & Allies Network was also recognised as the Employee Network Group of the Year in the Employers Network for Equality & Inclusion Awards 2016.
We are committed to maintaining and promoting the health and wellbeing of our people. Through the sponsorship of LR Leisure and with a range of health and wellbeing, leisure and charity committees in each office, colleagues are involved in a wide range of activities, which promote not only health and wellbeing but also colleague engagement, social interaction and corporate social responsibility as well as being fun!
This year the Executive Board agreed an attendance, health and wellbeing framework and associated delivery plan. The framework provides an integrated approach to health and wellbeing with a focus on culture, prevention, intervention, and post absence return to work, recognising priority areas of mental wellbeing, musculoskeletal issues, and general wellbeing.
Our first trainee solicitor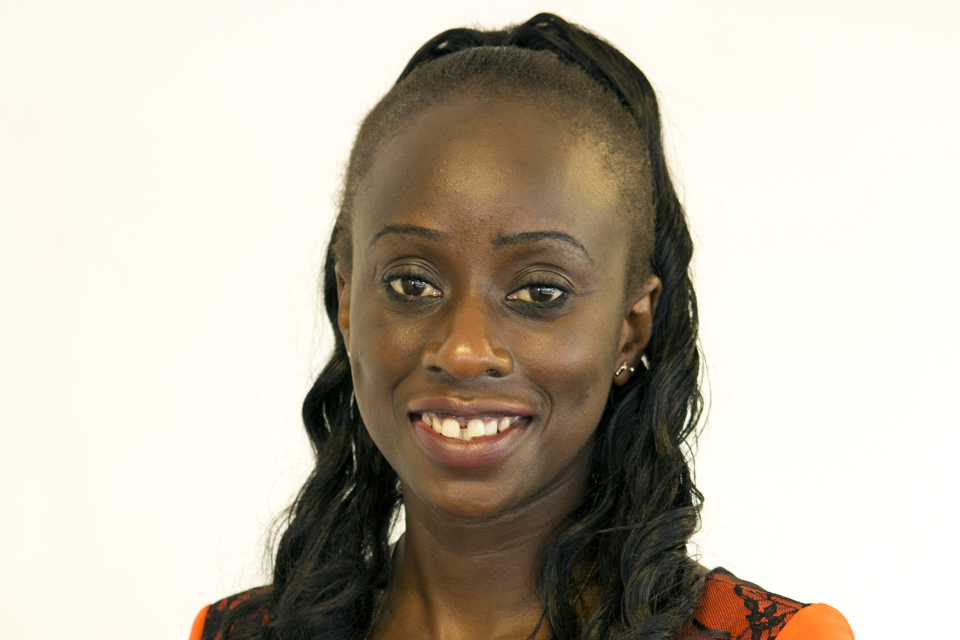 In 2016 HM Land Registry celebrated an important milestone as our first trainee solicitor, Carol Gurajena, was enrolled as a solicitor at the Law Society.
This process began in 2013 when HM Land Registry was accredited by the Solicitors Regulation Authority as a recognised provider for trainee solicitors. Carol, who worked in Registration and Legal Services Group, one of our head office legal teams, became our first trainee. This followed our successful challenge, on equality grounds, to gain recognition of her qualifications which were stated to be time expired. This challenge opens the door to others in a similar position to Carol across England and Wales, particularly parents who have spent time out of work bringing up children.
The training gave Carol the opportunity to work within other HM Land Registry groups, including Indemnity and Litigation Group and Corporate Legal and Assurance Services as well as an external secondment to the Government Legal Department. Carol says the placements have enabled her to take a more holistic approach to her work with a good understanding of the common challenges facing government departments.
This level of training represents a sizeable investment in one person; however we are already seeing the benefits. Carol has joined our team of qualified lawyers and is putting into practice the expertise she gained in training. We intend to extend this successful pilot by providing the opportunity for two further trainee solicitors in 2017/18.
Mike Westcott Rudd, Board Legal Adviser
7.

Why sustainability matters

With more than 150 years of history and a core purpose that is intrinsically linked to the land in England and Wales we care about the environment and our communities.

We are committed to performing as a responsible business, contributing to wider community activities and delivering our environmental targets.
Beating our environmental targets
We are exceeding and well on course to meet all of the Greening Government Commitments (GGC) draft targets for 2020:
paper consumption – 56% reduction*
carbon – 49% reduction*
waste generated – 47% reduction*
water consumption – 39% reduction*
*against 2009/10 baseline
save@work
Twelve of our 14 offices took part in the European save@work initiative with SevernWye Energy Agency. Behavioural change was at the heart of the programme and all our offices, even the two offices not participating in the actual competition, set up a team of people to take develop an action plan and set about implementing it.
The overall result was a reduction in gas and electricity consumption of 5% and 2% respectively for the 12 offices in the competition. Telford, Weymouth and Birkenhead offices excelled by achieving a reduction in gas and electricity consumption of 18.3%, 15.3% and 7.1% respectively.
An innovative approach from Fylde Office saw the introduction of a milk club. Purchasing milk in cartons from a local farm has resulted in the near elimination of plastic milk bottles from the office.
I have worked on a number of energy saving initiatives during my seven years at Severn Wye and never have I had a project with such a committed, organised and game-on group of people than I have with HM Land Registry.
Severn Wye Agency on the save@work campaign
Freeing up land for redevelopment
We have been disposing of parts of our estate to make way for new houses and even schools to better support the local community:
the northern part of our former Chalfont Drive site in Nottingham was sold to developer Bellway Homes and many new homes have already been constructed. The southern part of the site is expected to be transferred to the Homes & Communities Agency imminently, also for the development of new homes
our former childcare nursery site at Leicester is also to be transferred to the Homes & Communities Agency
our surplus property Old Market House in Birkenhead has been marketed for sale and is now under offer and due to be sold for alternative use
we relocated our Coventry Office allowing a new school to use the vacated site with previous HM Land Registry facilities already benefiting the local community. Surplus furniture was donated to the school and charities
Volunteering and charity in the community
Over the last year a total of 775 days was spent volunteering by 293 colleagues which included a scheme supporting homeless people, sports coaching and environmental initiatives.
Toni Cray of our Peterborough Office won our Lucy Mason Award for volunteering. By supporting victims of crime Toni has turned her own experience of a serious crime which deeply affected her family into something positive to benefit others. She also helps with training police liaison officers by sharing her own experience and providing insight into the feelings of someone who has had the support of a liaison officer. Toni also facilitates meetings between victims and the perpetrators to enable the victims to overcome the impact crime has had upon them.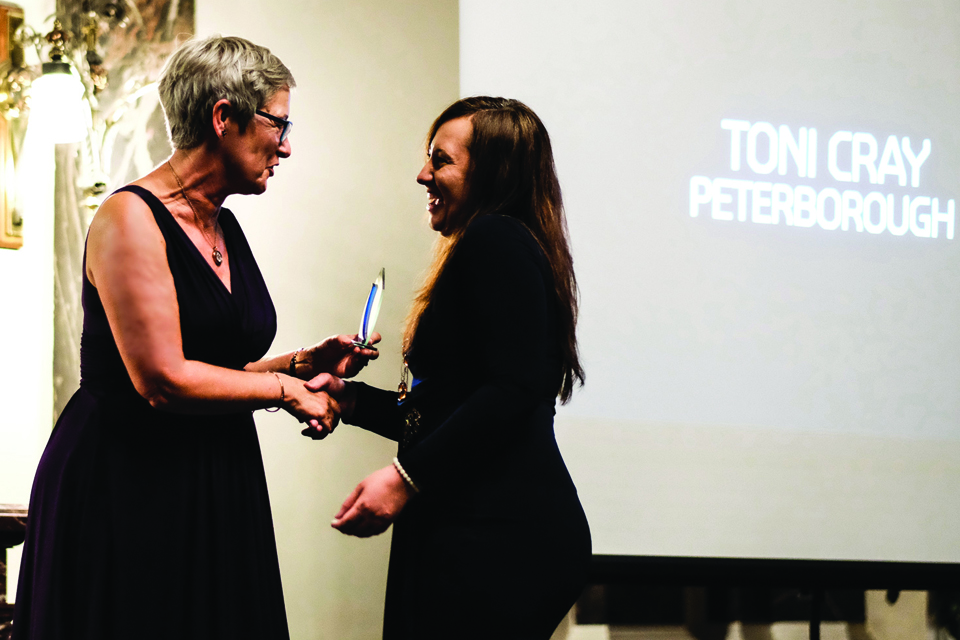 Charitable fundraising plays a key role in our commitment as a socially responsible business.
Local office charity committees have undertaken a variety of events including sponsored head shaves, cake sales, cycle rides and quizzes which have collectively raised almost £72,500. Along with local causes, our offices also supported national charities, raising more than £4,400 for World Cancer Day, and sponsoring guide dogs.
Birkenhead Office held a special collection to help some local children to remain in their family home following the death of both of their parents from cancer within two weeks of each other.
8.

Performance analysis: Director of Finance's report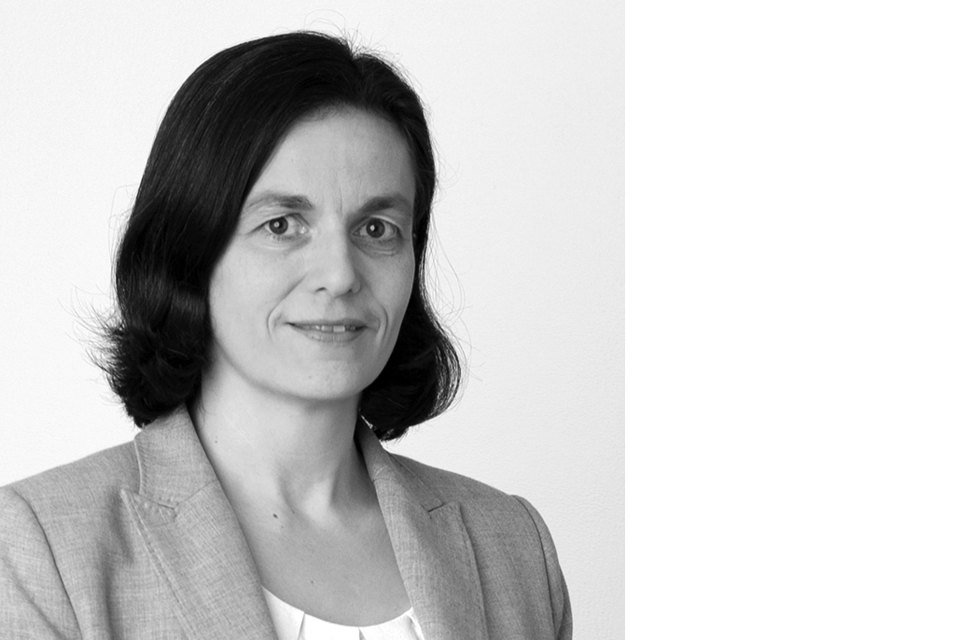 Our Finance function has continued to improve the quality of information and analysis provided to support effective decision making.
During 2016/17 we also developed our Medium Term Financial Strategy, underpinned by a new financial modelling tool to support long-term planning.
We invested heavily in our finance business partnering function, and reviewed our forecasting skills.
An independent assessment of our financial management capability conducted by CIPFA (Chartered Institute of Public Finance and Accountancy) endorsed the significant progress made. Our plans for 2017/18 include the replacement of our legacy Finance and HR systems and to improve the financial and commercial skills of key colleagues across the organisation.
Financial summary
 
2016/17
£m
2015/16
£m
Variance
%
Income
311.4
295.4
5
Operating costs
241.9
254.2
-5
Surplus before dividend
64.6
34.6
87
Capital expenditure
10.6
5.6
91
Net assets
422.2
373.6
13
Cash
489.9
443.9
10
Retained surplus
45.7
21.1
117
Dividend
18.9
13.6
39
Return on capital employed (%)
15.1
8.6
76
Revenue
Changes in the property market, including the volume, type and value of the work received, have a strong direct impact on HM Land Registry's financial position. The incoming workload generates revenue and drives the cost of processing applications.
Total revenue, which is comprised of statutory and non-statutory revenue, was £311.4m. This represents a 5% increase compared with 2015/16 and was generated from a combination of increased volumes of registration service applications leading to higher revenue and deferred income adjustments.
A number of datasets were made available for free or as a paid for service to meet demand for property-related information and support economic growth. We plan to expand that offer further, with an open approach to data to support our ambition.
We deferred £8.2m income in 2015/16 as a result of backlogs rising. There was no significant movement in backlog levels over the course of 2016/17 which has meant that we have recognised the majority of our revenue received in year.
Transformation
The revenue from statutory services needs to be sufficient to sustain our investment in transformation as well as delivering our day-to-day operations and managing the risk associated with unpredictable volumes of work. Therefore we continue to review our forecasting expertise and confidence levels in a range of potential outcomes as we scenario plan for the future.
The ongoing digitisation of services will further increase the organisation's resilience to market fluctuations and support the mitigation of fraud risk. We have significant ongoing investment planned and financed within our Medium Term Financial Strategy including a new, simplified fee order during 2018 to support this digital transformation and to invest in our underlying IT infrastructure.
This includes replacing our legacy Finance and Human Resources systems with an integrated Enterprise Resource Planning system during 2017/8.
We hold strong cash-backed reserves to mitigate against the risk of an unexpected downturn in the economy. We also set aside in-year revenue and cost risk provisions.
Operating costs
We reduced our operating costs in 2016/17 despite a higher workload than the previous year, driving efficiency particularly through effective procurement, rolling out new technology to support smarter working and better use of our buildings.
Operating costs were £241.9m (2015/16: £254.2m), a reduction of 5%. Of this reduction, £10.9m relates to movement in the indemnity provision: in 2016/17, the indemnity provision increased by only £0.3m compared to an increase in 2015/16 of £11.2m.
Impairment and depreciation costs also reduced from £11.7m in 2015/16 to £3.8m in 2016/17, a movement of £7.9m. Salary costs increased by £11.3m from £168.1m in 2015/16 to £179.4m in 2016/17 reflecting our increased workload.
As we look ahead to the coming year we will renew our focus on the use of continuous improvement techniques across our offices. We will generate efficiencies both internally and also for our customers by making processes more automated and, where appropriate, standardised.
Capital structure
The amount of Public Dividend Capital remains unchanged at £61.5m. A dividend payment of £18.9m will be made to HM Treasury which results in a retained surplus of £45.7m.
We continue to plan for major investment in our Local Land Charges programme, forward funded through our accumulated reserves, which is estimated to drive at least £88m of benefit to the national economy by 2026/27 and £183m by 2035/36.
The programme will transition the services from the relevant 326 English local authorities to HM Land Registry. It will deliver a new national digital service with 100% of the searches from a spatially enabled digital register. It will reduce turnaround times from an average of eight days to instant online access and will reduce the costs of providing the service.
Indemnity Fund payments
The state-backed guarantee of title underpins the conveyancing system. It enables financial institutions to provide secure personal and commercial lending against property, which supports economic growth.
We therefore carefully control the risk of error or fraud in the register in order to effectively manage the liability associated with indemnity claims. A comprehensive review of current and potential indemnity liability is undertaken annually and an appropriate financial provision made within the budget and accounts.
In 2016/17 we paid £6.9m for 995 claims, compared with £8m for 1,003 claims in 2015/16. The largest claim paid this year was for a forged charge, settled for £702,290 (see note 16.2 in the accounts and Appendix E).
This year the value of the outstanding claims provision decreased to £8.0m (2015/16:£10.5m). The impact of this decrease provision was a reduction of £2.5m to our operating costs (2015/16: £2.1m charge). Further information, including sensitivity analyses, can be found in note 16.2 in the accounts.
The value of the Indemnity Fund Incurred But Not Reported (IBNR) provision has increased to £77.1m (2015/16: £74.3m). The impact of this increased provision was a charge of £2.8m to our operating costs (2015/16: £9.1m). Further information, including sensitivity analyses that reflect the estimated nature of the IBNR liability and susceptibility of the provision to fluctuation, can be found in note 16.2 in the accounts.
Indemnity claims paid £'000
| 2012/13 | 2013/14 | 2014/15 | 2015/16 | 2016/17 | Total for five years |
| --- | --- | --- | --- | --- | --- |
| 11,896 | 11,205 | 8,383 | 8,021 | 6,958 | 46,462 |
Treasury Management
Management of liquid assets is governed by the Land Registry Trading Fund Order 1993, the Additional Assets Order 1996, the Extension and Amendment Order 2003 and the Framework Document 2012. Non-operating cash balances are maintained in interest bearing accounts at the Government Banking Service and the National Loans Fund with the balance held with a UK commercial bank.
Non-current assets
The value of our estate is now £58.1m including assets held for sale of £6.9m. We have continued to reduce the size of our estate and tenants now occupy 24% of it.
We have three properties meeting the definition of investment property (the second floor of Weymouth Office, Old Market House in Birkenhead and the Earle House extension in Hull, which are let on a commercial basis).
Our total spend on property (including rent, business rates and service charges) and facilities management (including utilities, post and reprographics) was £20.2m. Our expenditure on contracted-out services with facilities management provider Carillion was £9m.
We are working in collaboration with the Government Property Unit in the Cabinet Office to align our estate strategy with government strategy including the strategic and mini hubs and One Public Estate programmes.
The northern part of our former Chalfont Drive site in Nottingham was sold to developer Bellway Homes and many new homes have already been constructed. The southern part of the site is expected to be transferred to the Homes & Communities Agency imminently, also for the development of new homes. Our former childcare nursery site at Leicester is also to be transferred to the Homes & Communities Agency. Our surplus property Old Market House in Birkenhead has been marketed for sale and is now under offer and due to be sold for alternative use.
Total capital spend, primarily on IT, software and capitalisation of Local Land Charges development costs, was £10.6m (£2.6m tangible and £8m intangible).
Performance against targets
Performance, see in 'Our performance'.
Future activities
Our strategy is as reported in our 'Foreword and overview'.
Main trends affecting future activities
The main trend affecting future activities is the level and nature of housing market activity. This is reviewed constantly using a range of indicators from internal and external sources but is inherently unpredictable. Our planning for 2017/18 has been undertaken on the basis that activity will be broadly similar to the pattern seen in 2016/17 with 31 million applications (output) including 0.5m bulk registrations.
Directorships and significant interests
Directorships and significant interests are covered in the corporate governance report.
Key relationships
We maintain close relationships with our key suppliers through our procurement and contract management processes. The performance of these suppliers is closely monitored to ensure the contracted service is being delivered effectively, improvement opportunities are sought and we continue to receive good value for money.
During the year certain business critical services migrated to new suppliers following competitive re-procurements; these included our document scanning service and wide area network provision. While some difficulties occurred with the transition of the document scanning service, these were dealt with by a combined team from our operations and commercial groups who worked with the supplier to overcome the initial problems.
Other significant contracts awarded through the year include a replacement Enterprise Resource Planning system for Finance and Human Resources, a planning and delivery partner for the Local Land Charges programme and external capacity and capability to support the building of the Local Land Charges register.
Our key suppliers for the year included TNT, Carillion, Xerox, IBM, Cap Gemini, PA Consulting and Kainos.
Significant use continues to be made of cross-government contracts in line with the Cabinet Office's procurement policy. Where these are not considered to be suitable, opportunities are advertised through OJEU (Official Journal of the European Union).
HM Revenue & Customs
Following a tax compliance audit by HM Revenue & Customs (HMRC), a provision of £1.2m was provided in 2015/16. During 2016/17 £0.5m was paid to HMRC in full settlement of outstanding tax and £0.7m was written back to expenditure.
Payments
We comply with the Late Payment of Commercial Debt (Interest) Act 1998 and the Better Payment Practice Code. During the year we paid 92.1% of undisputed invoices received from suppliers within five working days (2015/16: 92.5%).
Auditors
The accounts have been audited by the Comptroller and Auditor General (C&AG). The cost in respect of services relating to the statutory audit for 2016/17 was £65,000 (2015/16: £65,000).
Future expenditure trends
The chart below shows the indicative surpluses and deficits in our core planning scenario in our Medium Term Financial Strategy after returning a dividend to HM Treasury of 3.5% of the average capital employed during the year plus inflation. It shows a modest overall surplus over the planning period consistent with the expectations of a Trading Fund and the requirements of Managing Public Money. It excludes the investment in Local Land Charges (LLC) which is being forward funded from accumulated reserves.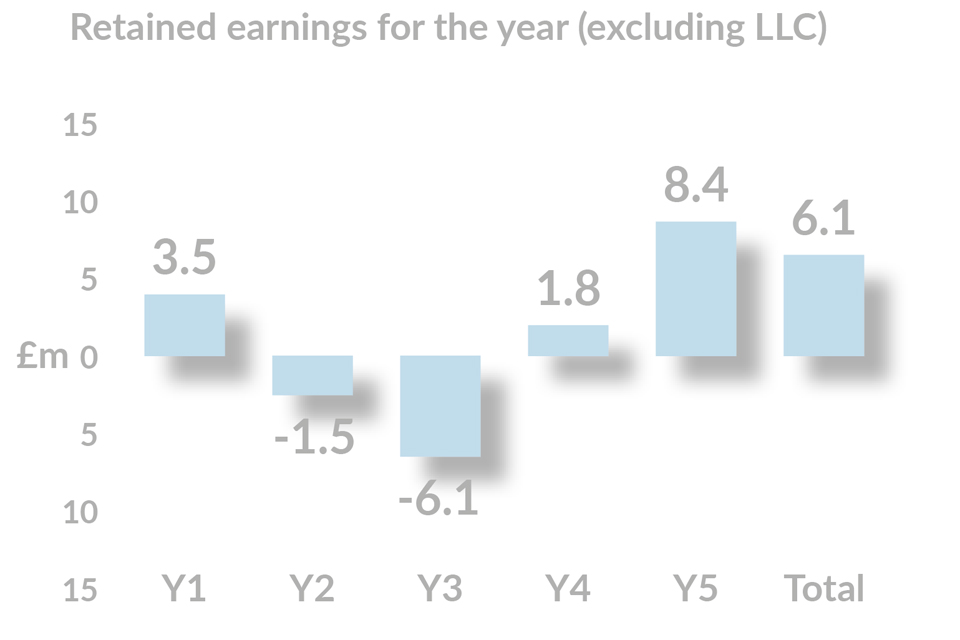 Revenue is assumed to grow only at a modest rate over the five-year planning period although there are a wide range of potential scenarios that have been tested. The five-year cost profile reflects the current plans and assumptions, which are better understood in the first three years of the plan than in the latter two. This will involve the Finance function undertaking a regular annual review, adapting to new information, learning from experience and responding to emerging Government policy.
The investment in our digital transformation is reflected in both revenue and capital expenditure. Core business costs are expected to reduce as the benefits of the digital programme are realised, though these are offset in the short term by one-off costs and the amortisation of the capital investment.
Catherine Vaughan
Director of Finance, HM Land Registry
11 July 2017
9.

Our performance

In 2016/17 we set ourselves 11 performance targets.

Seven of these were key performance indicators (KPI), which, in addition to being approved by the Board to HM Land Registry were also endorsed by the then Minister of State (Minister for Small Business, Industry and Enterprise) for the Department for Business, Innovation and Skills.

The remaining four targets were classified as internal performance indicators (PI), which supplemented the KPIs and help to manage the organisation.
Customers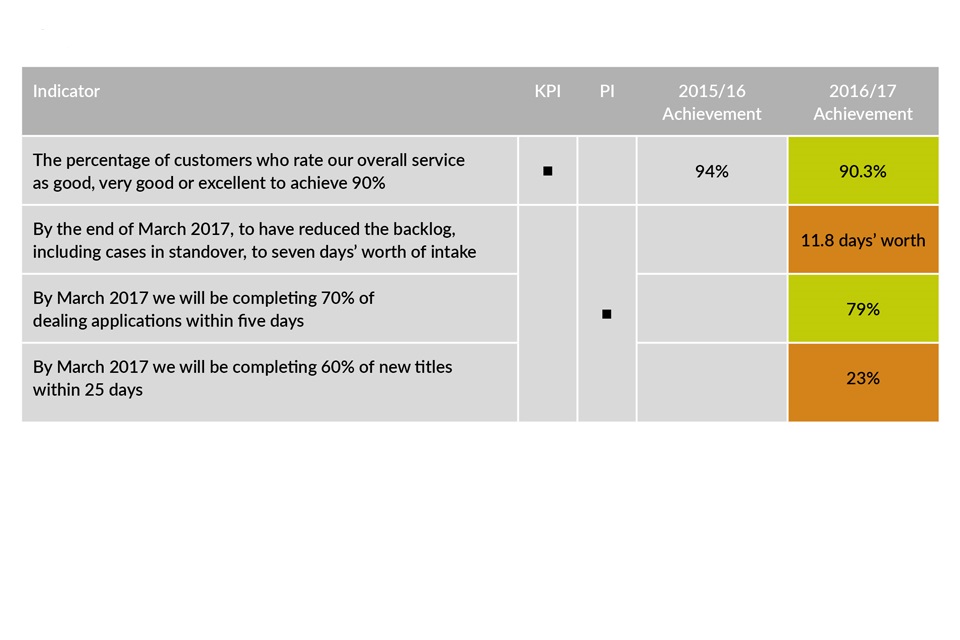 Quality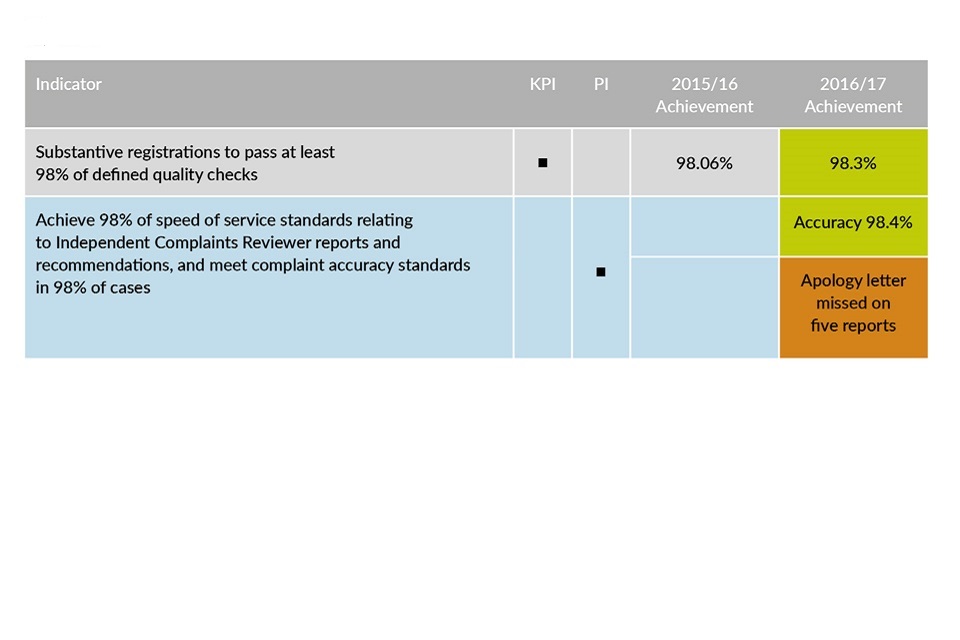 Efficiency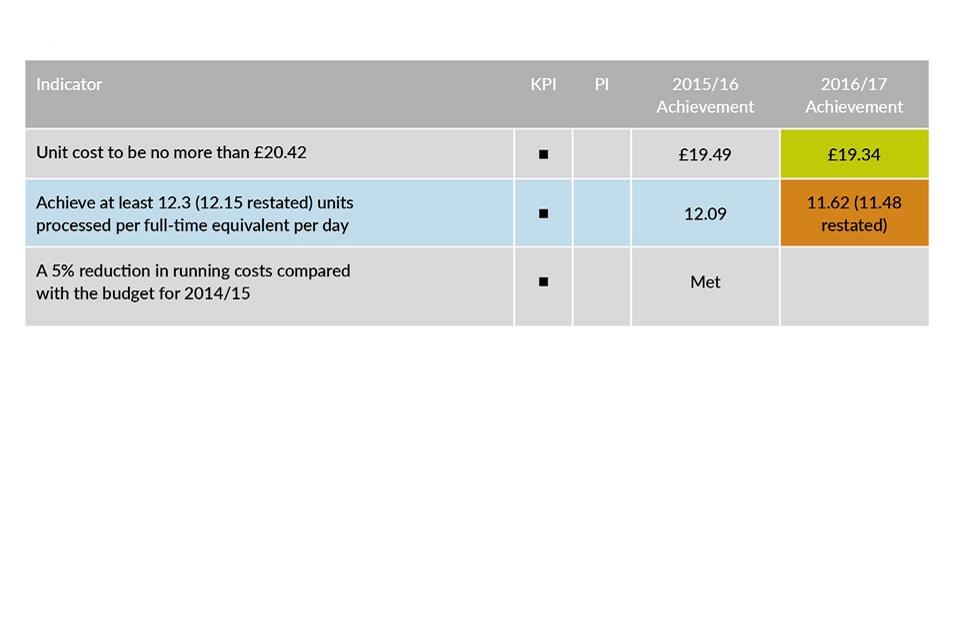 Innovation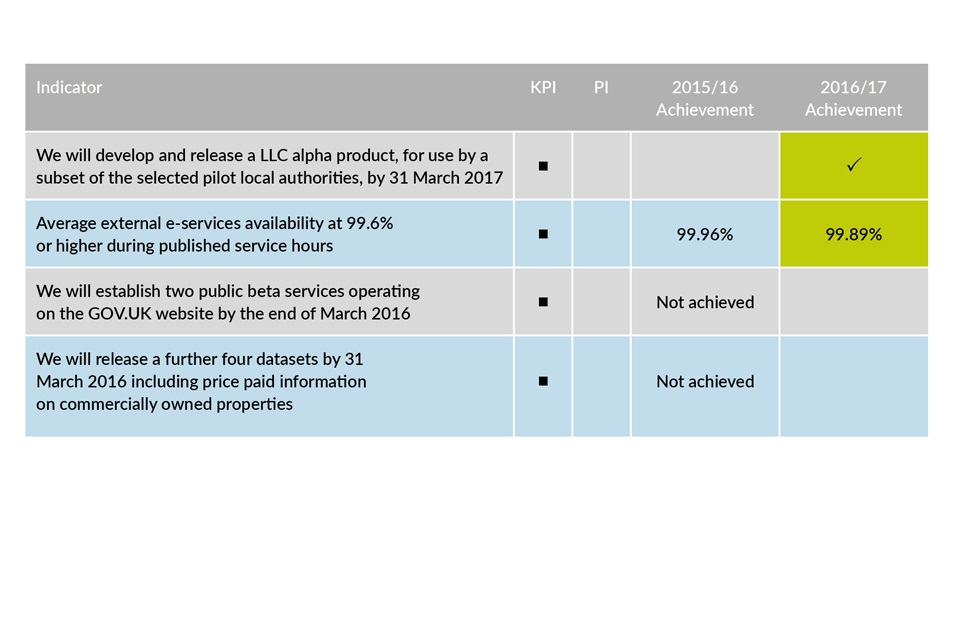 Colleagues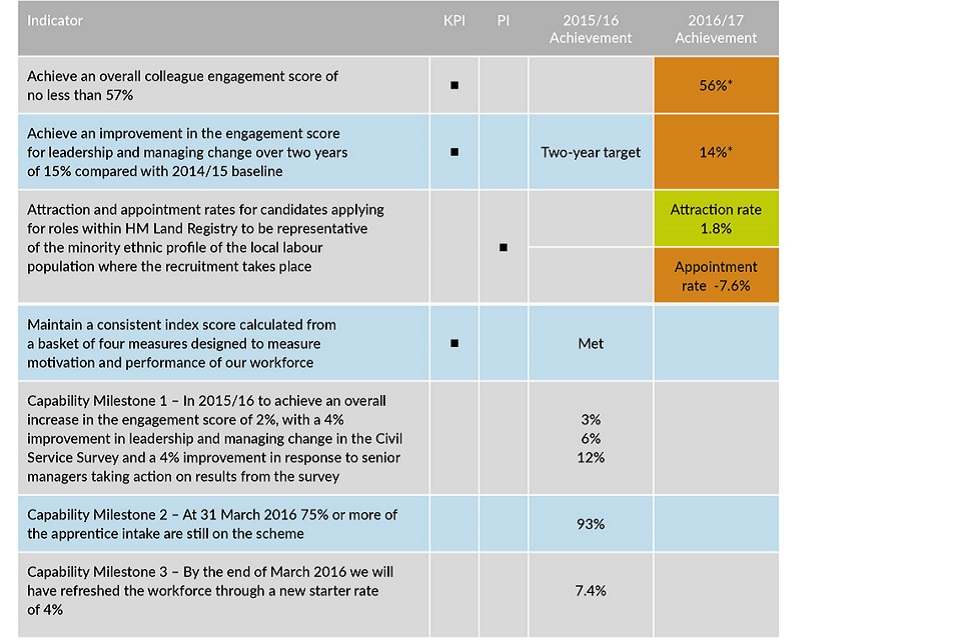 Customers
Key performance indicator – The percentage of customers who rate our overall service as good, very good or excellent to achieve 90%
As trading fund that derives its income from fees we have a responsibility to provide a service that represents value for money and meets the needs of our customers and their professional expectations.
To measure satisfaction we commissioned IPSOS to undertake four quarterly surveys of 300 representative customers on our behalf to independently measure satisfaction, the average of which is used to calculate the final result.
Result for 2016/17: 90.3%
| Year | Customer satisfaction |
| --- | --- |
| 2011 to 2012 | 97% |
| 2012 to 2013 | 98% |
| 2013 to 2014 | 98% |
| 2014 to 2015 | 94% |
| 2015 to 2016 | 94% |
| 2016 to 2017 | 90.3% |
Looking ahead
Our performance on our main customer key performance indicator was lower than in previous years. We will be developing and starting to implement a new customer strategy in 2017/18 to provide greater consistency of service and improve our customers' experience when contacting us to keep pace with increasing customer expectations.
Performance indicator – By the end of March 2017, to have reduced the backlog, including cases awaiting a reply from customers, to seven days' worth of intake
The speed of service we provide to our customers is a product of the volume of work we receive, the level of operational resource available and the efficiency with which we process that work. The combination of these three factors results in a backlog of work at any given time, which at the start of the year stood at around 13 days' worth of intake in total numbers of applications.
While this measure is a useful internal metric it is less understandable to our customers as a measure of the service they receive. Our plans to reduce the backlog of work were therefore underpinned by rigorous service standards, which were:
by March 2017 we will be completing 70% of applications relating to existing titles within five days
by March 2017 we will be completing 60% of new titles within 25 days
Result for 2016/17
By the end of the year we:
had reduced the backlog to 11.8 days' worth of intake
were completing 79.4% of dealings within five days
were completing 23% of new title applications within 25 days
This is a mixed result for us. Straightforward transactions (updates to an existing title) represent by far the greatest volume of our work and exceeding our target meant that the majority of applications received a very good service. However, due to the increased intake volumes, we were unable to meet our speed of service targets for the more complex applications to create new titles, which take more resource and are handled by our more experienced caseworkers.
This target was a stretch target for HM Land Registry and was the first time that we have expressed our ambition for our speed of service in this way. Our first year driving towards this target has given us significant learning which will enable us to drive closer to our ultimate service targets over the next year, and then give us an opportunity to improve these targets even further in future years.
Looking ahead We are raising the standard through an ambition to complete all existing title applications within five days and all new title applications within 25 days where it is possible to do so. We believe this is a more meaningful measure to our customers and aligns with feedback received through our customer satisfaction surveys.
Quality
Key performance indicator – Substantive registrations to pass at least 98% of defined quality checks
The integrity of the register is paramount. As the definitive record of property ownership in England and Wales ensuring the register is accurate and of the right quality is vitally important.
To measure the quality of our registration work, our Register Integrity and Assurance Group take a monthly 5% representative sample from the work we have completed and undertake a number of quality checks to make sure the registration has been completed accurately.
Result for 2016/17
We achieved 98.3%, the best for three years.
Looking ahead
As we digitise and automate more of our services we will build in additional validation checks that will mitigate the opportunities for errors to be made and further enhance the integrity and accuracy of the register.
Performance indicator – Achieve 98% of speed of service standards relating to Independent Complaints Reviewer reports and recommendations, and meet complaint accuracy standards in 98% of cases
We strive to resolve all customer complaints as quickly and efficiently as we can and have clear guidance and escalation procedures for our people to follow. However, customers do have the opportunity to refer complaints to our Independent Complaints Reviewer (ICR) and a small number of these referrals occur every year.
To make sure any systemic issues are identified and dealt with we introduced this target for the first time. The speed of service element of the target is measured through:
provision of apologies and any other specific redress to customers recommended by the ICR within two weeks of receipt of the ICR's final report
agree action plans for the implementation of systemic recommendations by the ICR within four weeks of the date of the next ICREST (Independent Complaints Reviewer Evaluation and Study Team) meeting following receipt of the ICR's final report
complete agreed actions arising from systemic recommendations within 10 weeks or, if the action or change needed cannot be delivered within that timeframe, to agree and schedule the date it can be delivered within that same period.
Result for 2016/17
We achieved the accuracy standards in 98.3% of cases, exceeding the target. All of the action plans were agreed within four weeks and the resulting actions completed within ten weeks. However, there were five occasions where the initial letter was not issued within two weeks, missing this deadline by a day or two.
Looking ahead
We have already strengthened the initial stages of the process will continue to monitor this target internally and implement any systemic recommendations identified and agreed with the ICR.
Efficiency
Key performance indicator – Unit cost to be no more than £20.42
We receive over 30 million applications a year that vary hugely in nature and complexity, ranging from a simple request for a copy of a document we hold to an intricate registration where we determine legal ownership based on complex documentary evidence, often dating back decades.
To help with our budgeting and workforce planning, we allocate a notional unit value to each type of application we process based on the relative complexity and effort involved in the work needed to complete the application. A unit cost is then derived that we use to help measure and drive our efficiency.
Result for 2016/17
We achieved a unit cost of £19.34, beating our target by 6%. Efficiencies in unit cost were primarily driven through IT and procurement savings, enhancements to case-working systems and the recruitment of entry level grades to tackle the more straightforward work (once trained) enabling our more experience caseworkers to deal with more complex applications.
The following chart shows performance for the past five years.
| Year | Unit cost performance |
| --- | --- |
| 2011 to 2012 | £27.16 |
| 2012 to 2013 | £23.36 |
| 2013 to 2014 | £19.65 |
| 2014 to 2015 | £19.29 |
| 2015 to 2016 | £19.49 |
This year costs relating to investment projects were included in the calculation to provide a more comprehensive measure. However, this means a direct comparison of this year's result is not possible with the chart below. To provide a degree of context, had the same methodology as in previous years been used the target for this year would have been £22.51.
Looking ahead
We are very conscious that expressing targets in per unit terms is not completely transparent to our customers and stakeholders. We intend to replace this measure with a cost per type of application measure that will be able to show increased efficiency in our registration work over time in a more transparent way.
Key performance indicator – Achieve at least 12.3 units processed per full-time equivalent per day
As mentioned above, we allocate a notional unit value to each type of application we process based on the relative complexity and effort involved to complete the work. Alongside the cost per unit score this allows us to measure the productivity per each full-time equivalent (FTE). We do this by dividing the number of units of work produced by the number of FTEs used to process the work, giving a figure that represents the productivity of the workforce.
Aligned to change in the calculation of the cost per unit KPI referred to above, early in the year it was identified that the additional costs included had the effect of adding additional FTEs to the target – making it more difficult to achieve than intended. To provide a direct comparison, from that point we tracked 12.15 units as a target in addition to 12.3 units.
Result for 2016/17
We achieved 11.62 and 11.46 units per FTE per day against the 12.3 and 12.15 targets respectively. We fell short of this target due to recruiting in significant numbers and then taking too long for new staff to become fully productive with additional training taking experienced caseworkers away from registration work. However, while this may have meant we were not able to meet our KPI this year, it is a critical investment in our future and now that we have new people trained and tackling appropriate levels of casework we can become even more productive next year.
Looking ahead
In addition to digitising and automating services we are introducing a programme of continuous improvement across our offices that will drive out efficiencies, create and share best practice across teams and locations and improve performance across the organisation.
Innovation
Key performance indicator – Average external e-services availability at 99.6% or higher during published service hours
The availability of our e-services is of critical importance to our business. Most of the applications our customers submitted were lodged via our e-service channels.
This target is calculated by measuring the availability against advertised service hours for five of our online channels. These are:
| System | Description | Published daily service hours | Annual hours | Max downtime hours |
| --- | --- | --- | --- | --- |
| Business e-services | Portal for professional customers to access our full range of e-services | 16.5 | 6,023 | 24 |
| Business Gateway | A seamless interface into customers' case management systems | 16.5 | 6,023 | 24 |
| Inspire | A service that provides access to HM Land Registry index map polygons | — | 8,760 | 35 |
| Find a property | Service aimed at citizens that provides access to copies of the register | 18 | 6,570 | 26 |
| Corporate website | HM Land Registry information hosted on GOV.UK | 24 | 8,760 | 35 |
|   |   | Total | 36,136 | 144 |
Result for 2016/17: 99.9%
| Year | Average external e-services availability |
| --- | --- |
| 2011 to 2012 | 99.6% |
| 2012 to 2013 | 99.7% |
| 2013 to 2014 | 99.7% |
| 2014 to 2015 | 99.9% |
| 2015 to 2016 | 99.9% |
Looking ahead
We are planning to invest heavily in new digital services, modernising our IT infrastructure and enhancing our cyber security defenses while maintaining the excellent availability seen this year.
Performance indicator – We will develop and release a Local Land Charges alpha product, for use by a subset of the selected pilot local authorities, by 31 March 2017
We are delivering our ambitious programme to transform the Local Land Charges (LLC) service currently delivered by 326 English local authorities. In doing so, we will significantly improve the customers' experience of the LLC process, by making it better, quicker and cheaper. This will include:
a new national digital service with 100% of the searches from a spatially enabled digital register will be established;
a reduction in committed turnaround times from a current committed average of eight days to instant online access; and
a reduced price for a LLC official search.
Result for 2016/17
At the heart of the new service is our LLC Register Service. We passed our Government Digital Service (GDS) alpha assessment in January 2017. The build of our LLC Register Service was, and continues to be, informed by a significant amount of user research across local authorities.
Looking ahead
Our GDS alpha assessment has informed the next stage of the programme and has shaped the remainder of our LLC Register Service build. Subject to approval of our Programme Business Case we plan to incrementally migrate each of the 326 English local authorities to our new register over the next few years. We plan to have the service being used by 50% of local authorities by the end of 2020.
Colleagues
Key performance indicator – To achieve an overall staff engagement score of no less than 57%
Our success depends upon our people. We will have an ambitious strategy to deliver that will require engaged and committed colleagues. After a prolonged period of uncertainty following two consultations on the future of HM Land Registry in quick succession we have worked hard to engage our people in the debate and provide clarity where certainty cannot exist.
Result for 2016/17
The result for the key performance indicator is taken from the annual Civil Service People Survey undertaken in October each year. We achieved a result of 56% against the target of 57%, an improvement of 3% over the previous year. Of course we are disappointed that we did not hit the target by the time of the October Civil Service survey but nonetheless, a 7% increase over only two years is a significant improvement. The results of our February internal pulse survey show that we have enhanced colleague engagement by 59% and put us in a good starting position for the next Civil Service survey.
Looking ahead
We will continue to drive increased engagement and seek to galvanise our people around our new direction with a longer term aim to be in the top quartile of the Civil Service.
Key performance indicator – To achieve an improvement in the engagement score for leadership and managing change over two years of 15% compared with 2014/15 baseline
With an ambitious transformation ahead of us, our ability to lead and manage change will be key to our success. We are investing in developing our leaders, our change management approach, supporting tools and capability.
Result for 2016/17
The result for this key performance indicator is also taken from the Civil Service People Survey where we achieved a score of 33% – an improvement of 14% in two years, just 1% short of the stretching 15% target. Again, in the last internal pulse survey we achieved a result of 38% which is 4% ahead of the target and a record high for the organisation.
Just as with the overall engagement score the movement over the last two years has been significant, and the February internal survey result puts us in a really strong position for next year.
The baseline for this measure was set in 2014/15 where we achieved a score of 19%, rising to 25% in 2015/16.
Looking ahead
We plan to further enhance our leadership and change management capacity and capability through a combination of new executive level recruitment and additional temporary capacity procured from partners as and when needed to support new initiatives.
PI – Attraction and appointment rates for candidates applying for roles within HM Land Registry to be representative of the minority ethnic profile of the local labour population where the recruitment takes place
Prior to 2014 we had not recruited in significant numbers since 2007 and typical length of service is was in excess of 20 years. This resulted in our workforce no longer being representative of the local population where our offices are based. This PI was developed to bring a focus to help address the situation.
Result for 2016/17
We have a two-year diversity target which covers both the attraction and appointment of minority ethnic staff. In our first year we successfully delivered 1.8% above the attraction target, but did not see enough of those applications turn into appointments thereby missing the appointment target by 7.6%.
Looking forward
This PI will continue to be a focus. With recruitment planned to take place in the coming year we are looking to build upon the successes we have had in attracting diverse applicants to HM Land Registry and will be looking to turn that attraction into appointments.
10.

Sustainability perfomance

We manage the delivery of land registration in an environmentally responsible way. We utilise our Environmental Management System to ensure we are continually improving and working towards the required targets set as part of the Greening Government Commitments (GGC) and the Greening Government ICT requirements.

This report is delivered in line with the 2016/17 guidelines supplied by HM Treasury.

We continue to be accredited to the environmental ISO14001 standard which independently ratifies our performance across the full range of sustainability activities within the organisation.

Current performance against the 2009/10 sustainability baseline data is as follows against the GGC targets.

In addition the following requirement within the GGC continues to be delivered:
continue to pursue public procurement practices that are sustainable, so that the government buys more sustainable and efficient products with the aim of achieving the best overall value for money for society
Departments will report on the systems they have in place and the action taken to support this commitment, including:
to embed compliance with the Government Buying Standards in departmental and centralised procurement contracts, within the context of government's overarching priorities of value for money and streamlining procurement processes
to understand and reduce supply chain impacts
Performance data
| Area | Achieved | Proposed draft target for 2020 | On target? |
| --- | --- | --- | --- |
| Carbon | 49% reduction | 40% reduction | Yes |
| Waste arising | 47% reduction | Reduce the amount of waste generated by at least 25% | Yes |
|   | 98% recycled | Recycle or compost at least 70% of waste | Yes |
|   | 2% to landfill | Landfill less than 10% of waste | Yes |
| Water consumption | 39% reduction | 25% reduction (self-imposed) | Yes |
| Paper consumption | 56% reduction | Reduce our paper use by 50% from 2009/10 baseline | Yes |
Performance data against draft GGC targets
| Area |   | Performance |   |
| --- | --- | --- | --- |
|   |   | Actual | 2020 reduction target |
| Energy: greenhouse gas emissions, all areas within scope | Carbon emissions (tonnes) | 7,328 | 7,328 |
|   | Expenditure (£) | 1,485 |   |
| Waste | Consumption (tonnes) | 1,105 | 1,484 |
|   | Expenditure (£) | 129 |   |
| Water | Consumption (m3) | 34,967 | 38,346 |
|   | Expenditure (£) | 152 |   |
Sustainability governance
Compliance with environmental legislation is managed through the Sustainability Governance Framework and compliance meetings with the facilities management provider Carillion. This is managed through the Sustainability Manager by our Senior Facilities Business Partners and Carillion.
Overall delivery of additional requirements of GGC
The targets continue to drive central Government to be more sustainable and ensure the requirements of the Climate Change Act (2008) of a reduction of 31% by 2020 in greenhouse gas emissions is delivered.
Climate change adaptation
Climate change impacts are considered during the delivery of building works and projects. We utilise information delivered in building condition surveys and forward maintenance plans as part of our sustainability reduction strategy while carrying out major refurbishments, relocations or when delivering significant building plant replacement. The climate change adaptation plan is under continuous review.
Biodiversity and the natural environment
Improvements continue to be introduced where financially viable through Carillion. Improvements continue to be made by a number of initiatives with grounds maintenance, with an emphasis on habitat creation when replanting activity occurs.
Carbon
Gross emissions have reduced by 49% over the baseline.
Consumption of both electricity and gas has reduced over the last year and this is a reflection of the efforts put in through the save@work programme. The reductions are all the more impressive given the additional staff recruited and the extension of hours throughout the year.
The cost of the Carbon Reduction Commitment to the organisation was £157,170.
Our overall reduction in carbon emissions since 2009/10 is 49%. See Appendix D for historic trend data.
| Greenhouse gas emission | 2016/17 | 2015/16 | 2014/15 | 2013/14 | 2012/13 |
| --- | --- | --- | --- | --- | --- |
| Non-financial indicators (tCO2e) |   |   |   |   |   |
| Total gross emissions for scopes 1 and 2 | 6,818 | 7,835 | 8,048 | 8,404 | 10,447 |
| Electricity: green/renewable | 1,710 | 1,195 | 2,306 | 2,780 | 2,265 |
| Total net emissions for scopes 1 and 2 (for example having removed renewable elements) | 5,108 | 6,640 | 5,742 | 5,624 | 8,182 |
| Gross emissions scope 3 travel (see footnote 1) | 510 | 557 | 608 | 724 | 893 |
| Total gross reported emissions | 7,328 | 8,392 | 8,656 | 9,128 | 11,340 |
| Non-financial indicators (mWh) |   |   |   |   |   |
| Electricity: purchased (grid, combined heat and power, and non-renewable) | 12,808 | 12,956 | 12,902 | 12,200 | 15,943 |
| Electricity: renewable | — | — | — | — | — |
| Gas | 5,774 | 7,325 | 6,989 | 8,355 | 11,567 |
| Other energy sources | — | — | — | — | — |
| Total energy | 18,582 | 20,281 | 19,891 | 20,555 | 27,510 |
| Financial indicators (£'000) |   |   |   |   |   |
| Expenditure on energy | 1,485 | 1,641 | 1,684 | 1,810 | 2,043 |
| Expenditure on accredited offsets (eg Government Carbon Offsettting fund) | — | — | — | — | — |
| Expenditure on official business travel | 1,231 | 1,222 | 1,142 | 1,240 | 1,127 |
Gross emissions scope 3 includes all available business travel.
Note: data includes other government departments in occupation of our estate, but excludes data relating to non-government tenants.
Note: Ordnance Survey and the NHS who use HM Land Registry data centre services report their carbon consumption directly to government. This equates to 2,730,431KWh resulting in the removal of 1,227 tonnes of carbon.
Note: throughout this report our consumption data includes government tenants sharing our estate but excludes data relating to non-government tenants.
The greenhouse gas draft target set for all BEIS agencies and public bodies is to reduce emissions by 40% by March 2020 over the baseline data for 2009/10.
Waste
The waste target set is to reduce the amount of waste generated by at least 25% from a 2009/10 baseline, and strive to reduce it further, recycle or compost at least 70% of waste, and landfill less than 10% of waste.
In partnership with our waste providers through our Carillion contract we are working towards zero to landfill. We are currently meeting all of the targets with performance as follows: the amount of waste generated reduced by 47%, the amount of waste recycled, diverted or composted is at 98.5% and landfill is at 1.5% of waste.
| Waste | 2016/17 | 2015/16 | 2014/15 | 2013/14 | 2012/13 |   |
| --- | --- | --- | --- | --- | --- | --- |
| Non-financial indicators (tonnes) |   |   |   |   |   |   |
| Hazardous waste | 3 | 1.6 | — | — | — |   |
| Non-Hazardous waste | Landfill waste | 13 | 31.9 | 105 | 101 | 379 |
|   | Reused/recycled waste | 1,028 | 972.0 | 802 | 858 | 1,042 |
|   | Energy from waste | 5 | 6.6 | — | — | — |
|   | Total waste arising | 1,049 | 1,012.1 | 907 | 959 | 1,421 |
| Financial indicators (£'000) |   |   |   |   |   |   |
| Hazardous waste |   | — | — | — | — |   |
| Non-Hazardous waste | Landfill waste |   | 4 | 180 | 144 | 197 |
|   | Reused/recycled waste |   | 208 | 99 | 146 | 218 |
|   | Incinerated waste | — | — | — | — | — |
|   | Total waste costs | 129 | 212 | 279 | 290 | 415 |
Waste management is delivered through two routes. Paper waste is managed through a confidential waste disposal contract outside of the facilities management contract with Carillion. All other waste management is delivered through the facilities management contract.
Of the waste arising 801 tonnes is paper sent for recycling. Paper equates to 69% of our total waste arising.
Our overall reduction in waste production since 2009/10 is 47%. [See Appendix D] (https://www.gov.uk/government/publications/hm-land-registry-annual-report-and-accounts-2016-to-2017/annual-report-of-hm-land-registry-2016-to-2017-appendices#appendix-d) for historic trend data.
Water consumption
The water target is to continue to further reduce water consumption from a 2009/10 baseline. This allows departments to set their own internal targets for water reduction and report on their progress against these. Additionally departments will continue to report on office water use m3 per full-time equivalent.
A 39% reduction in water consumption has been achieved against a target of 25%. Consumption per full-time equivalent, including colleagues on HM Land Registry sites from other government departments, is 6.7m3.
| Water consumption | 2016/17 | 2015/16 | 2014/15 | 2013/14 | 2012/13 |
| --- | --- | --- | --- | --- | --- |
| Non-financial indicators (cubic metres) |   |   |   |   |   |
| Consumption |   |   |   |   |   |
| Supplied | 34,967 | 36,395 | 38,153 | 36,037 | 31,230 |
| Abstracted | – | – | – | – | – |
| Total consumption | 34,967 | 36,395 | 38,153 | 36,037 | 31,230 |
| Financial indicators (£'000) |   |   |   |   |   |
| Total supply costs | 152 | 173 | 188 | 228 | 236 |
Paper usage
The GGC reduction target to reduce our paper use by 50% from an HM Land Registry baseline year of 2011/12 shows a current improvement of 56% over A4 equivalent paper use. Our digital services programme and our move to on-request printing are having a significant impact.
Sustainable procurement against GGC
The Corporate Procurement Team continue to work to maintain and, we hope, improve on Level 3 (Practice) across all categories in the Sustainable Procurement Flexible Framework maturity model. By working with our business stakeholders and key suppliers, the Cabinet Office's Government Buying Standards are now embedded into our procurement processes.
Key suppliers are to identify and progress opportunities for making social and environmental improvements. We have continued to work on sustainability issues as highlighted by:
enterprise, our vehicle hire provider, working closely with us to help identify which category of vehicle will provide the best value for money while at the same time reducing our carbon footprint
procurement & Commercial Group undertaking an exercise to obtain sustainability information on suppliers
Work is also being done to implement the use of Contract Sustainability Action Plans.
So far these have been introduced to the Scanning, Processing & Electronic Data Services and Ordnance Survey contracts and are reviewed and updated at supplier meetings.
11.

Performance on other matters
Land registration
We registered the freehold title to 210,786 hectares for the first time, taking the total registered area to 12,745,582 hectares or 84.27% of England and Wales. We adopted a more refined means of measurement during the year, so can now exclude any new registrations that do not relate to the freehold surface.
Public Sector Information Holder
We fulfil our role as a Public Sector Information Holder, which we take very seriously, through adherence to the Data Protection and Freedom of Information Acts. We mandate annual Responsible for Information learning for our people and augment it by promoting good practice in the areas of email security, password protection and the use of cloud collaboration tools. Our Senior Information Risk Owner (SIRO) oversees an information risk management process, which is measured through external accreditation (ISO27001) and independently challenged self-assessment (using the Information Assurance Maturity Model – IAMM). We also undertake regular internally and externally assessed Cyber Defence Capability Assessment Tool assessments (CDCAT) as part of the Critical National Infrastructure.
Open and full information
We received 422 Freedom of Information requests, of which 417 were answered within 20 working days.
12.

Other information
Rule Committee
The Rule Committee was constituted under the Land Registration Act 2002 to provide advice and assistance, originally to the Lord Chancellor but now to the Secretary of State for Business, Energy and Industrial Strategy, in making land registration rules and fee orders under the Act. During the past year the Rule Committee was reclassified from an Advisory Non Departmental Public Body to an Expert Committee.
The Rule Committee was involved in the following activities in the past year:
in December 2016 the Law Society nominated Warren Gordon as its representative on the Rule Committee in accordance with s.127(2)(d) Land Registration Act 2002. Mr Gordon replaced Jonathan Smithers who resigned from the Rule Committee on completion of his term as President of the Law Society
the Rule Committee was not called on to give advice and assistance to the Secretary of State during this period as no land registration rules or fee orders were made
in February 2017 the Rule Committee was asked to consider the consultation on proposals to amend the Land Registration Rules 2003. This was in preparation for the Rule Committee carrying out its role of giving advice and assistance to the Secretary of State through a detailed consideration of the draft amendments to the rules once the consultation closed in April 2017
there were no expenses claimed by members of the Rule Committee in the current financial year
Modern slavery
HM Land Registry is committed to ensuring there is no modern slavery or human trafficking in its supply chains or in any part of the organisation.
We have taken the following steps to ensure that neither slavery nor human trafficking (together referred to as 'modern slavery') have taken place in our organisation or supply chains:
recruited and employed colleagues and procured and engaged suppliers and advisers in each case in accordance with robust policies and procedures which seek to minimise the risk of modern slavery occurring in HM Land Registry

maintained robust policies and procedures to require HM Land Registry employees to raise concerns about any issue at the earliest possible stage, which would include any concerns relating to modern slavery occurring in our organisation or supply chains
Business Impact Target
The Government set itself a target to reduce regulatory burdens on business by £10 billion (Business Impact Target) over the life of the last Parliament. When the target was set, it was anticipated that this Parliament would end in 2020.
In common with all parts of government, HM Land Registry has undertaken impact assessments on all its policy changes since May 2015 to the end of this financial year. HM Land Registry's policy changes have resulted in time savings for conveyancers and we estimate that, so far, HM Land Registry has contributed to reducing this target by at least £500,000.
Policy and stakeholders
We ensure our interests are properly represented domestically and globally and the importance of land registration and its benefits are promoted to others. Our Policy & Stakeholder hub sits as part of the Chief Land Registrar's Office, giving us a presence across government and counterpart organisations overseas.
The main focus for the hub during the year was leading the cross-government Strategic Review of HM Land Registry where it worked with colleagues from across the organisation and other government departments on policies aiming to complete the Land Register and increase transparency in the housing market.
Following 2015's inaugural stakeholder event, this year's event held in November 2016 at the Royal Society in London was attended by an increased number of stakeholders from a wide range of organisations. We had the pleasure of welcoming the then Minister with responsibility for HM Land Registry, Margot James MP.
HM Land Registry representatives hold positions on various international forums, including Nicky Heathcote on the United Nations Economic Commission for Europe (UNECE) Committee for Housing and Land Management, Howard Bushell on the UNECE Working Party on Land Administration and Andrew Trigg on the EuroGeographics Management Board. Alasdair Lewis continued as President of the European Land Registry Association. Having served four years, his term ends on 11 May 2017.
HM Land Registry is part of a coalition of international professional bodies and land experts developing International Land Measurement Standards (ILMS). Launched in June 2016, ILMS seeks to improve land reporting efficiency and economic development by offering principled standards in the public interest, focusing on key land information to strengthen land rights, tenure security, investment, government revenue and economic development.
In support of British foreign policy we assist with the development of land administration overseas. This year we participated in a UNECE mission to Kazakhstan, a Department for International Development-funded mission to Zambia and a mission to India under the Foreign and Commonwealth Office Prosperity Fund.
In the last year we have hosted educational study visits for representatives from many jurisdictions including Botswana, China, Malawi, Serbia and Zambia. We also welcomed our new Minister, Lord Prior of Brampton, and the then Minister of State for Housing Gavin Barwell to our Croydon office in March.
We responded to 13 written and oral Parliamentary Questions about HM Land Registry and supported other departments with responses to their questions.
Graham Farrant,
Chief Executive and Chief Land Registrar
11 July 2017