Corporate report
Annual report of HM Land Registry 2016 to 2017: foreword and overview
Updated 12 September 2017
© Crown copyright 2017
This publication is licensed under the terms of the Open Government Licence v3.0 except where otherwise stated. To view this licence, visit nationalarchives.gov.uk/doc/open-government-licence/version/3 or write to the Information Policy Team, The National Archives, Kew, London TW9 4DU, or email: psi@nationalarchives.gsi.gov.uk.
Where we have identified any third party copyright information you will need to obtain permission from the copyright holders concerned.
This publication is available at https://www.gov.uk/government/publications/hm-land-registry-annual-report-and-accounts-2016-to-2017/annual-report-of-hm-land-registry-2016-to-2017-foreword-and-overview
1.

Who we are and what we do

We register ownership, interests, and mortgages and other secured loans against land and property in England and Wales.
Our ambition
HM Land Registry is committed to becoming the world's leading land registry for speed, simplicity and an open approach to data, and aiming to achieve comprehensive registration by 2030.
Our mission
Your land and property rights: guaranteed and protected.
Our primary role
Provide a reliable record of information about the ownership of and interests affecting land and property.
Provide land and property owners with a title which is guaranteed by the state.
Provide the financial sector with the capability to secure lending against property.
Our values underpin everything we do:
we give assurance
we have integrity
we drive innovation
we are professional
Our statutory duties
HM Land Registry was established in 1862. We are a non-ministerial government department, an executive agency (since 1990) and a trading fund (since 1993) that makes no call on funds voted by Parliament. By statute we are required to ensure that our income from fees covers all of our expenditure under normal operating conditions.
The head of HM Land Registry is the Chief Land Registrar, appointed under statute by the Secretary of State for Business, Energy and Industrial Strategy (BEIS, formerly known as BIS – Business, Innovation and Skills) who has Parliamentary responsibility for HM Land Registry and for the legislation under which we operate. The Secretary of State's day-to-day lead for HM Land Registry issues on his ministerial team is currently the Parliamentary Under Secretary of State. The Department for Business, Innovation and Skills (BIS) and the Department of Energy and Climate Change (DECC) merged in July 2016 to form the Department for Business, Energy and Industrial Strategy (BEIS).
Our functions are entirely statutory. We have no prerogative powers. The Land Registration Act 2002 empowers us to deal with "the business of registration under this Act" and is our primary governing statute.
The Infrastructure Act 2015 enabled HM Land Registry to undertake new services that would further improve the conveyancing process or benefit the wider property sector. The first step we are taking is to create a digitised local land charges register that will improve access to data, standardise fees and improve turnaround times for property professionals and citizens.
Our services
Register change services
Every plot of registered land is given a unique register title with a corresponding title number and plan. Properties are sold, homes and office buildings are re-mortgaged, people get married or property is transferred when owners pass away, buildings are split into several flats and new developments completed. Making changes to the register and creating new titles can be complex and highly technical so this is where our expert caseworkers focus their knowledge and experience.
Register query services
We hold one of the largest transactional property databases which we allow anyone to view for a small fee but our guaranteed and official searches provide even greater protection and assurance to property professionals and citizens. These services are almost entirely automated so customers can get results instantly, making conveyancing quicker.
Other services
Our Land Charges service protects interests in unregistered land and we maintain the bankruptcy index for England and Wales. We also offer commercial services to organisations who want to use our data. For example, lenders can validate mortgages by confirming their priority and status on the Land Register.
Annual services revenues and volumes 2016 to 2017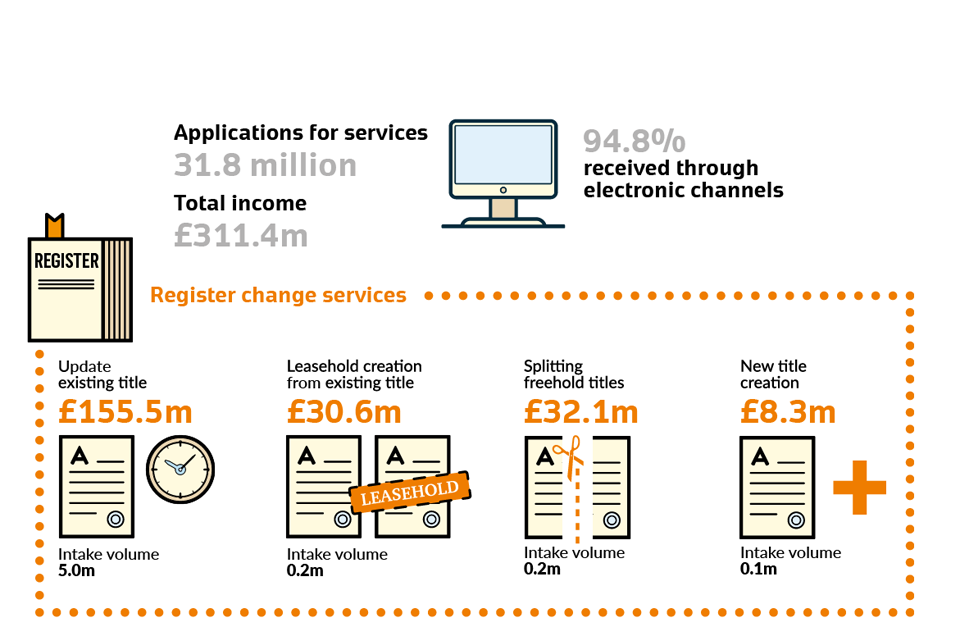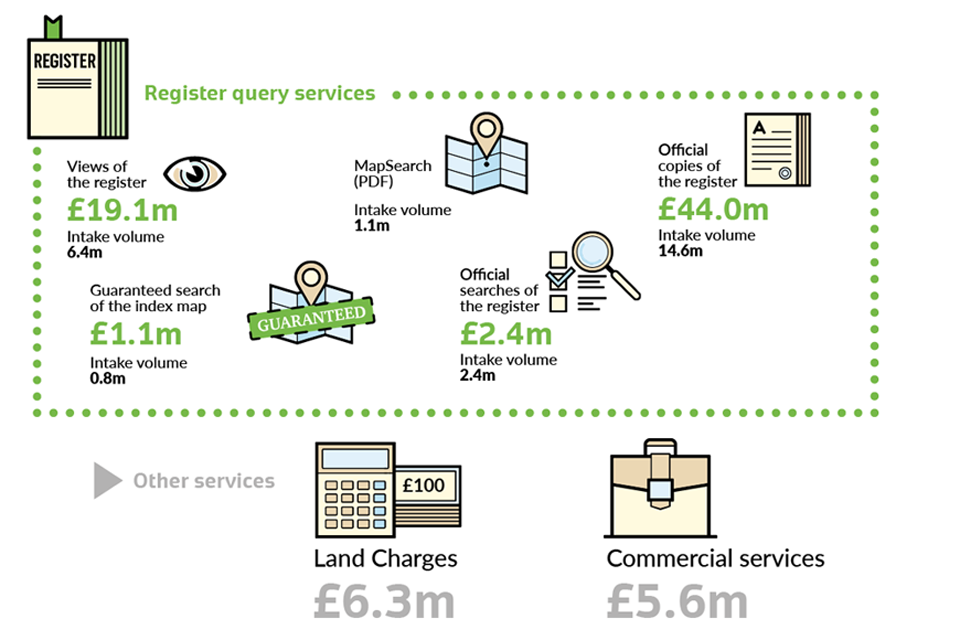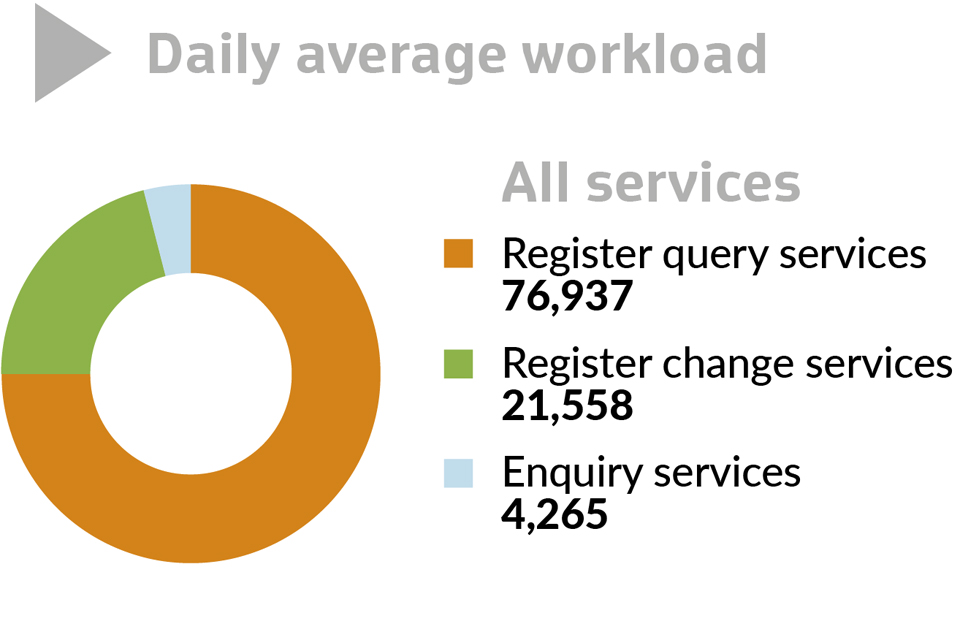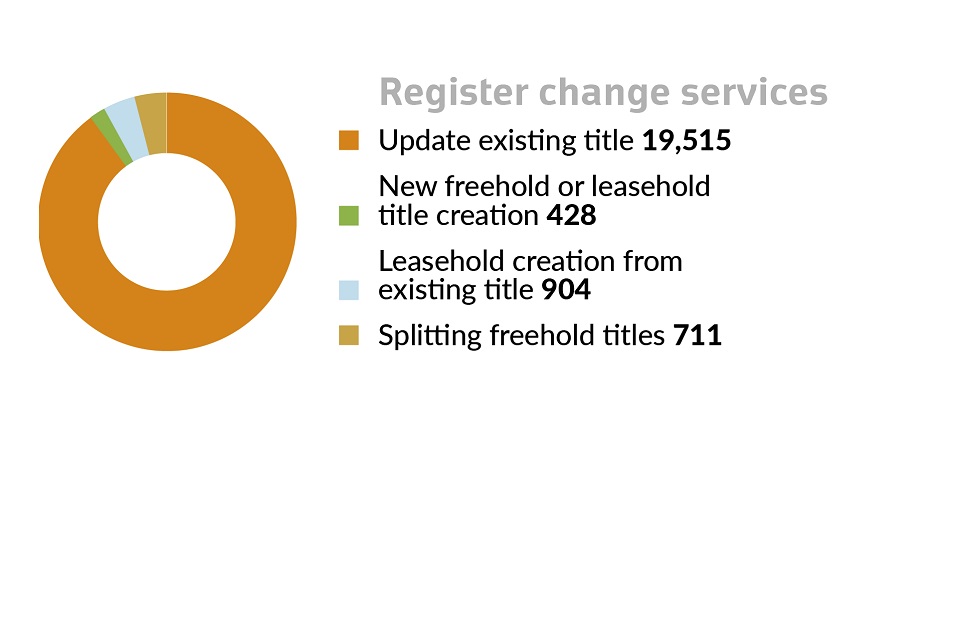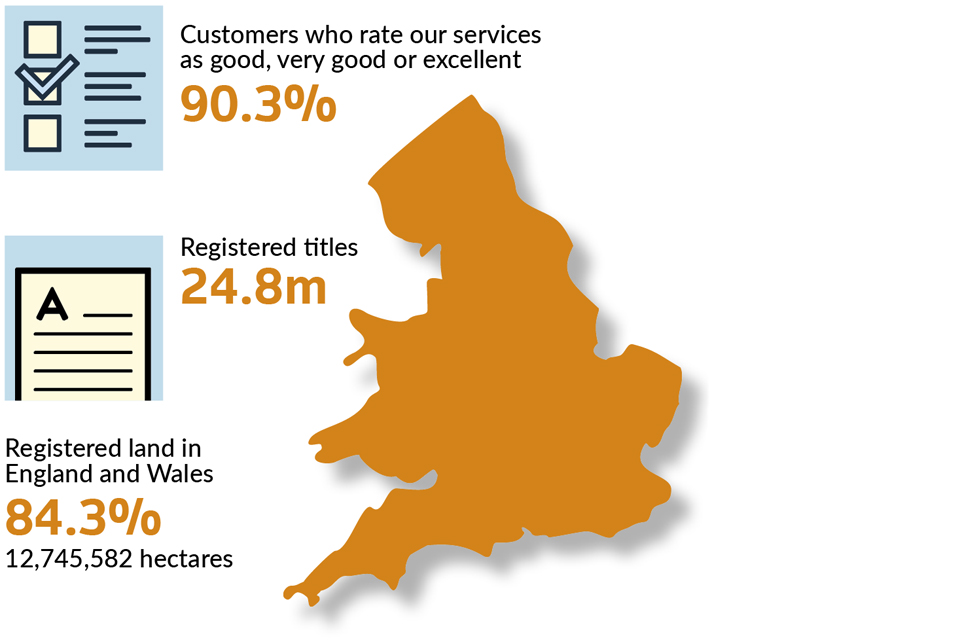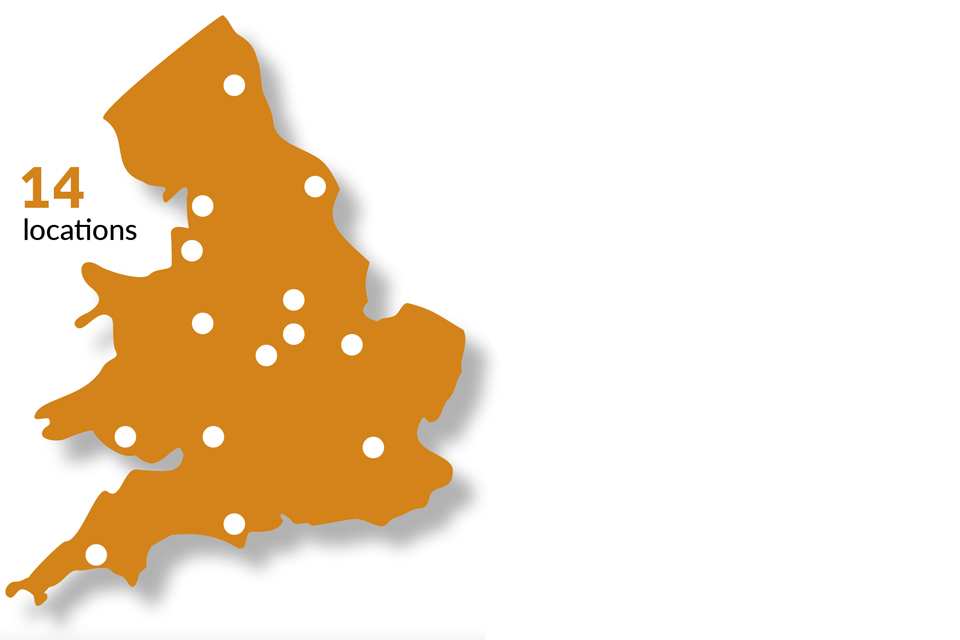 of which:
4,148 permanent full-time equivalent
60% female
40% male
35% part-time
277 apprentices
Our strategy
Our mission
Your land and property rights: guaranteed and protected
Our ambition
The world's leading land registry for speed, simplicity and an open approach to data.
Customers
Meeting the changing needs of our customers to make conveyancing simpler, faster and cheaper.
Transformation
Delivering benefits through strong governance, planning and implementation.
Digital
Digitising our services and the register, modernising our IT and maximising the re-use of our data.
Estate
Right sizing our estate and embedding smart working to create modern efficient work environments.
Financial
Ensuring value for money and a robust financial plan.
People
Empowering our people, developing capability, building capacity and modernising the organisation.
2.

Foreword: Chair's statement by Michael Mire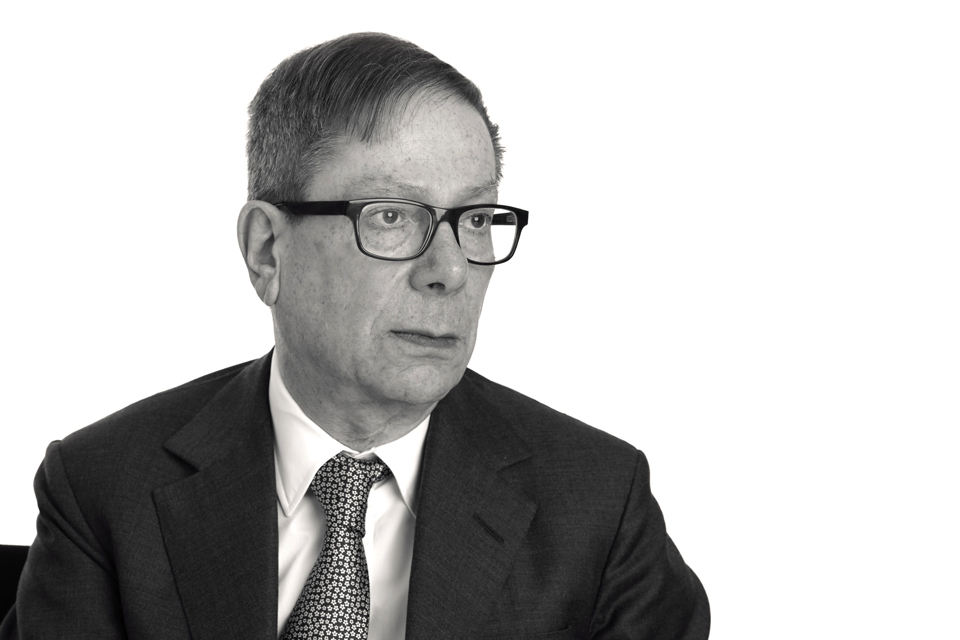 Ultimately our goal is for HM Land Registry to be globally viewed as one of the very best. This is why we are starting a transformation that will see HM Land Registry becoming almost fully digitised with a modernised culture that recognises the contribution of all our colleagues.
Digitisation will allow us to provide our customers – citizens, firms, government, lawyers and conveyancers, and financial institutions – with information and data which are renowned for their accuracy and usefulness. HM Land Registry's strategy is to make its part in developing, buying and selling land and property, and collateralising mortgages and loans to provide finance, almost totally frictionless.
This will not distract us from our central mission. HM Land Registry will always ensure that property rights and financial rights over property are guaranteed and protected. We will continue to provide an unlimited state-backed guarantee for free through our indemnity scheme. Our property price data will continue to be the basis of the country's most trusted source of valuation insight. But the transformation programme will reinforce our mission by making its delivery more effective, far quicker and much simpler.
Our Annual Report describes how the transformation will unfold. Digital is pivotal but culture is what will make it succeed. Our frontline colleagues are experts. We will help build on their expertise using cutting-edge science, like artificial intelligence, so that our colleagues become the most digitally skilled land registration experts in the world.
Our transformation will also enhance HM Land Registry's role as one of the UK's most important geospatial agencies. Our land and property intelligence, and therefore the nation's, will be radically improved. The register will become increasingly digital, 3D, comprehensive and significantly richer in data than the register today. The platform we are building will be essential visiting for everyone interested in land and property intelligence.
HM Land Registry's reputation for accuracy, integrity and professionalism, and our dedicated expert colleagues, are our most cherished assets. We are starting our transformation but not forgetting our history. It is a huge privilege for me to chair an organisation so important to the country and to its customers.
Michael Mire
Chair of the Board to HM Land Registry
July 2017
3.

Overview: Interview with Graham Farrant, Chief Executive and Chief Land Registrar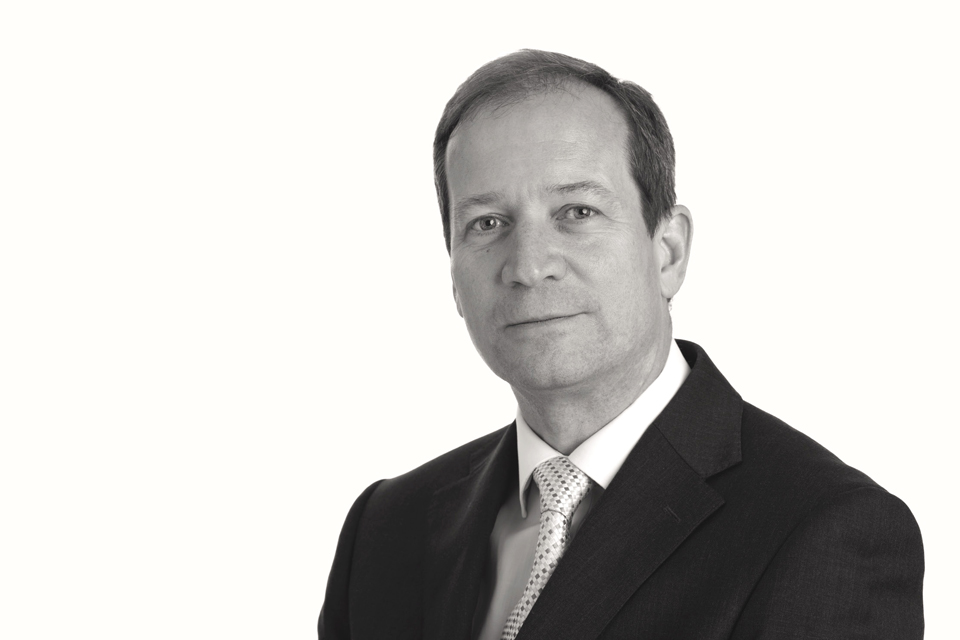 What will you be focusing on in 2017?
Central to our plans for 2017 will be engaging our people on our priorities so that they fully understand what we are asking of them before starting our transformation.
The Government has set an ambition for HM Land Registry to become the world's leading land registry for speed, simplicity and open approach to data and aim to achieve comprehensive registration by 2030.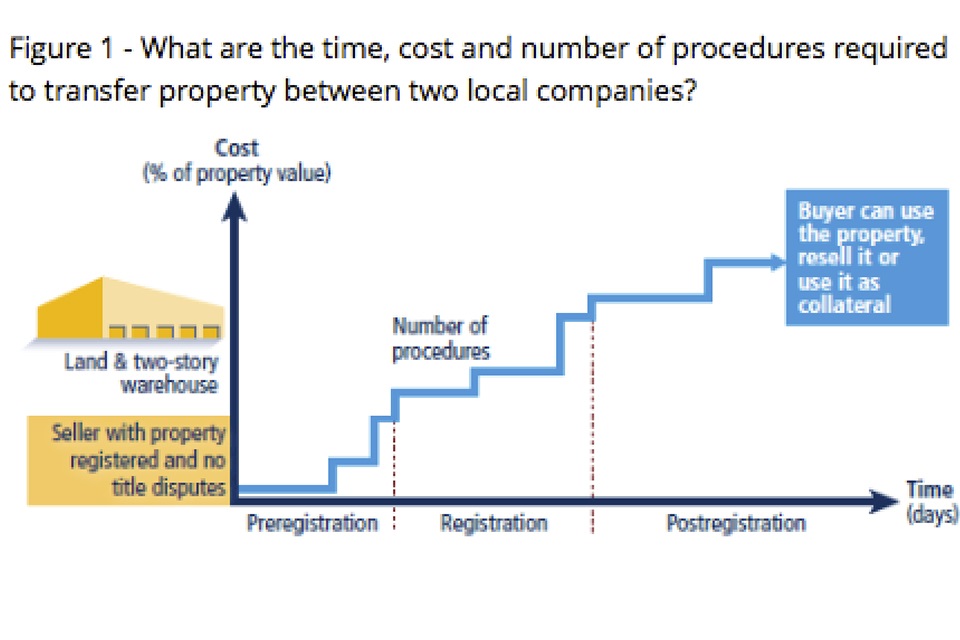 The graphic shows how the World Bank ranks land registration and we know that becoming a world leader will be challenging.
This is why our strategy is to become a truly digital service provider with our data made available to the benefit of citizens, customers, entrepreneurs and government partners. Together with comprehensive registration, our strategy will be transformative.
Alongside the key role we already play in the property market our transformation will help us to support the UK in developing a vibrant and innovative digital economy. Our plans will not only involve the digitisation of our existing services but we will explore how, through new digital technology, we can help to potentially release even more value from the Land Register.
To do this we will work creatively with key players and innovators across the market to help us create a truly digital register through our "Digital Street" pilot which we intend to launch in summer 2017.
The Government will also examine how we and Ordnance Survey can work more closely together to provide more effective digital land and property intelligence and strengthen the UK's leadership in geospatial.
A modernised HM Land Registry will aid data sharing across government for the purposes of supporting development, financial stability, tax collection, law enforcement and the protection of national security.
How are you preparing for transformation?
To prepare ourselves for transformation we will continue to strengthen our executive and non- executive board member portfolios to ensure we have the right mix of experience in the private and public sectors; combining experience at HM Land Registry with fresh insight and ideas from outside the organisation. We will also ensure our teams are fully resourced and capable of modernising the organisation and our services.
Our long history has always given us a strong sense of purpose but we now have a renewed clarity of direction for our future.
But while we seek to push the boundaries as we innovate in digital and data services we will never lose our focus on our customers or our core statutory priorities. 'Your land and property rights: guaranteed and protected' summarises our promise of assurance to the market and our overriding priority is to ensure the integrity of the register as we receive and process many millions of applications each year.
Our values will continue to underpin everything we do and our transformation will reinforce the key elements of assurance provided to land and property owners and the integrity of the register, which will always be paramount to our future success.
How would you describe 2016?
As a year that began with challenges for HM Land Registry but ended with real clarity over our future.
At the beginning we were seeing ever increasing volumes of work, undergoing a public consultation on a potential privatisation and during the summer there was further global uncertainty over Brexit.
The decision set out in the Autumn Statement for HM Land Registry to focus on becoming a data- driven registration business in the public sector was not an endorsement of the status quo. Rather, it gave us fresh impetus to modernise and develop our digital and data services and location intelligence to support the property market and the economy.
This was then further reinforced in the Housing White Paper "Fixing our broken housing market" in February 2017 which committed us to become the world's best land registry for speed, simplicity and openness of data, and to aiming to achieve comprehensive registration by 2030.
These statements marked a milestone in our long history, presenting us with an unparalleled opportunity to rethink and reshape the way we work and what we do to aspire to be the very best land registry in the world.
They also provided the momentum to conduct a strategic review of our business which has helped us to develop a clear view of how we will transform to become the world's leading land registry for speed, simplicity and an open approach to data.
Talk us through the performance for the year
As a headline we only achieved or exceeded six of our eleven performance indicators but this does not tell the full story.
Despite speculation of a market downturn, we continued to see an increase in service requests across most application types. Our operational colleagues were kept incredibly busy and ensured that the property market continued to function by processing applications as quickly as they could and by prioritising time-critical applications as they arose.
Our refusal to compromise on quality, maintaining the integrity of the register, even in the face of the highest volumes since the market crash in 2008/09, has meant delays in dealing with more complex types of applications that require more effort by our people and more input from our customers.
To meet this challenge we took on nearly 600 new colleagues, our biggest intake of new people in many years, introduced more flexible ways of working and made changes to our casework systems to increase efficiency.
For our customers we have made improvements to our services such as to the Application Enquiry service we launched last March which enables solicitors and conveyancers to see the progress on their specific cases online.
As the year progressed we reduced case handling times and I am crystal clear that this will continue into the next financial year until we are meeting our speed of service targets as a matter of routine. I believe those efforts have been recognised by our customers as we were still able to meet our customer satisfaction key performance indicator (KPI) despite such a challenging backdrop. Our aspiration for next year is to achieve all of our KPIs.
What about progress in making the register more digital?
In terms of our digital performance we met our KPIs to ensure our online services were available to customers whenever they needed to access them. However it hasn't just been about maintaining our services as they are. Over the past 12 months we have made further advances, including:
operating a pilot version of our digital mortgage service with borrowers, who gave good feedback. We will be using the Government's Verify service to provide security of identity

trialling our Find Property Information service, whichallows members of the public to view a title summary

winning recognition for our common technology platform through its short-listing for the UK IT Industry Innovation Award. The platform will be a launch pad for a range of services that will benefit a variety of customers and the UK economy as a whole

giving a live demonstration of the first alpha version of the new register service to our stakeholders during our Local Land Charges conference in November
How have your colleagues reacted to these challenges?
Reflecting on our people, despite the increased pressure and uncertainty, we only narrowly missed the ambitious two-year target we set ourselves to increase colleague engagement scores by a massive 15%, In fact our year end internal pulse survey showed we were exceeding this target, achieving the highest engagement scores for the organisation since recording began in 2009.
This huge and sustained effort by a loyal and experienced workforce has been given fresh impetus by our new recruits and the apprentices we are introducing to the world of work to build the next generation of expert colleagues.
What has surprised you about your colleagues?
Our first tranche of 80 apprentices 'graduated' in the autumn after two years of training and the great majority have stayed on with us as registration executives.
We have made sustained efforts to widen the pool of potential applicants for our jobs, reflecting the importance we put on the diversity of our workforce. This was recognised by our placing at 70 in Stonewall's Top 100 Employers for lesbian, gay, bisexual and transgender staff and our award for Network Group of the Year in the Employers Network for Equality & Inclusion Awards 2016.
Many of our new recruits have joined their existing colleagues to become actively involved in the social, sport and charity events that make HM Land Registry such a special place to work. Our people collected almost £72,500 this year for good causes by holding sponsored and fundraising events large and small.
Perhaps nothing illustrates their generosity of spirit better than the campaign for colleague Hannah Miller, who suffered a life-changing spinal injury and needed a major refurbishment of her home. Colleagues across the organisation, many of who had never met Hannah, threw themselves into fundraising to collect the necessary money.
It is that collective effort which, despite the significant challenges and uncertainty outside of our control, has underpinned a solid performance from HM Land Registry but also set the foundations to start our transformation.
Do you have a final message?
To our people, thank you. You have achieved a tremendous amount against a very challenging backdrop. But I am going to be relying on you all to do even more – 2017 is going to be a year of exciting changes for us but I will need all your support to turn our ambitions into reality.
To our many stakeholders, I would ask you to join, support and partner with us as we explore how through digital technology we can work together to make conveyancing quicker, cheaper and simpler for everyone – a digital proposition which actually expresses the essence of why our system of land registration was created more than 150 years ago.
Graham Farrant
Chief Executive and Chief Land Registrar, HM Land Registry