Guidance
Dementia: applying All Our Health
Updated 23 January 2018
© Crown copyright 2018
This publication is licensed under the terms of the Open Government Licence v3.0 except where otherwise stated. To view this licence, visit nationalarchives.gov.uk/doc/open-government-licence/version/3 or write to the Information Policy Team, The National Archives, Kew, London TW9 4DU, or email: psi@nationalarchives.gsi.gov.uk.
Where we have identified any third party copyright information you will need to obtain permission from the copyright holders concerned.
This publication is available at https://www.gov.uk/government/publications/dementia-applying-all-our-health/dementia-applying-all-our-health
Dementia is a term used to describe a collection of symptoms including memory loss, problems with reasoning, perception and communication skills. It can also lead to a reduction in a person's abilities and skills in carrying out routine activities such as washing, dressing and cooking.
The number of people estimated to be living with dementia globally is 44 million, and it is thought that this number will double by 2030. In the UK, it is estimated that around 850,000 people have dementia. This progressive condition can have a devastating effect, not just on the person who has dementia, but also on families, carers and wider society.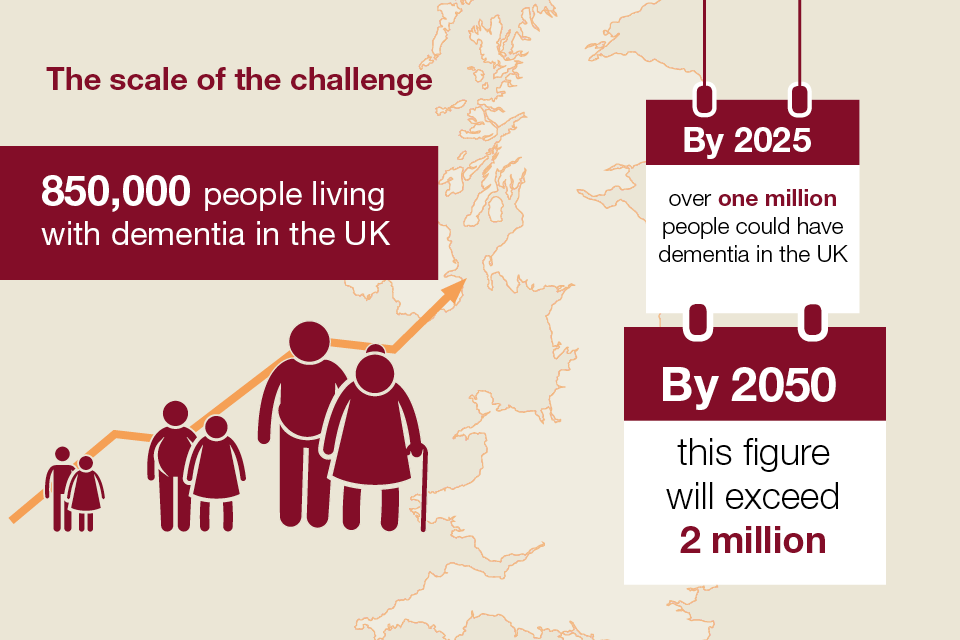 Most people associate dementia with older people but there are more than 40,000 people in the UK under the age of 65 years who are affected by this condition. Dementia costs society £26 billion per year in the UK, and this cost is set to rise as the population ages.
Reducing risk of getting dementia
In the absence of a cure for dementia, it is important that healthcare professionals promote evidence-based risk reduction messages that can positively help individuals to take action to reduce their risk of getting dementia. Working alongside other professionals and public health teams, they can influence population level impact by delivering whole-system approaches to promoting healthy lifestyles and encourage people of all ages and stages of life to:
be more physically active
eat healthily and maintain a healthy weight
not drink too much alcohol
give up smoking
connect with people
Smoking is the biggest risk factor for dementia and can double an individual's risk through narrowing the blood vessels in the heart and brain, and causing oxidative stress which damages the brain.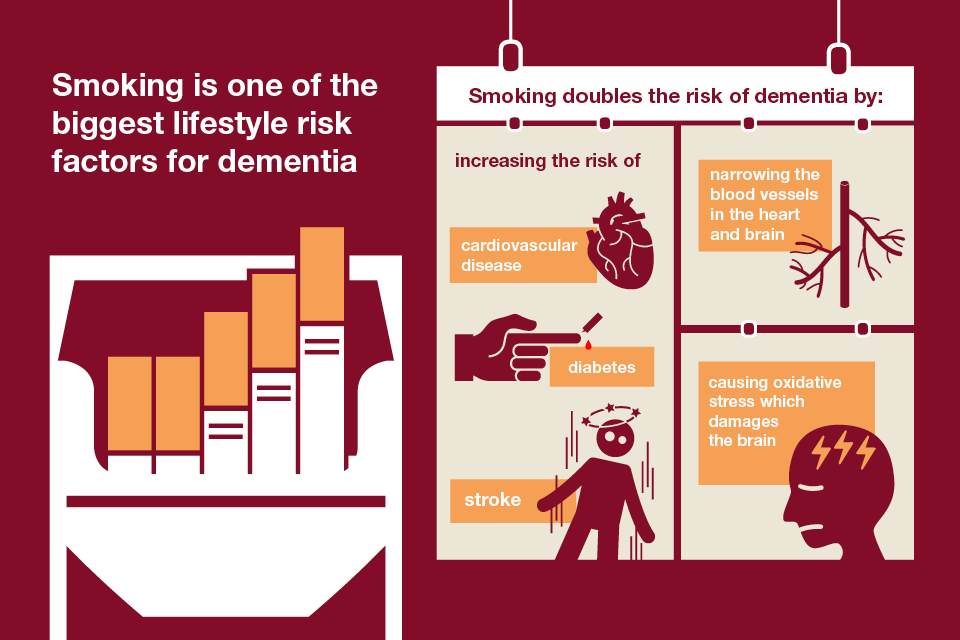 The Lancet Commission on the 'Prevention and management of dementia: a priority for public health' published in July 2017, identifies 9 potential risk factors that if eliminated might prevent more than a third of cases of dementia. The London School of Economics report on 'The effect of mid-life risk factors on dementia in older age' (August 2017) also sets out key messages on this issue.
Facts about dementia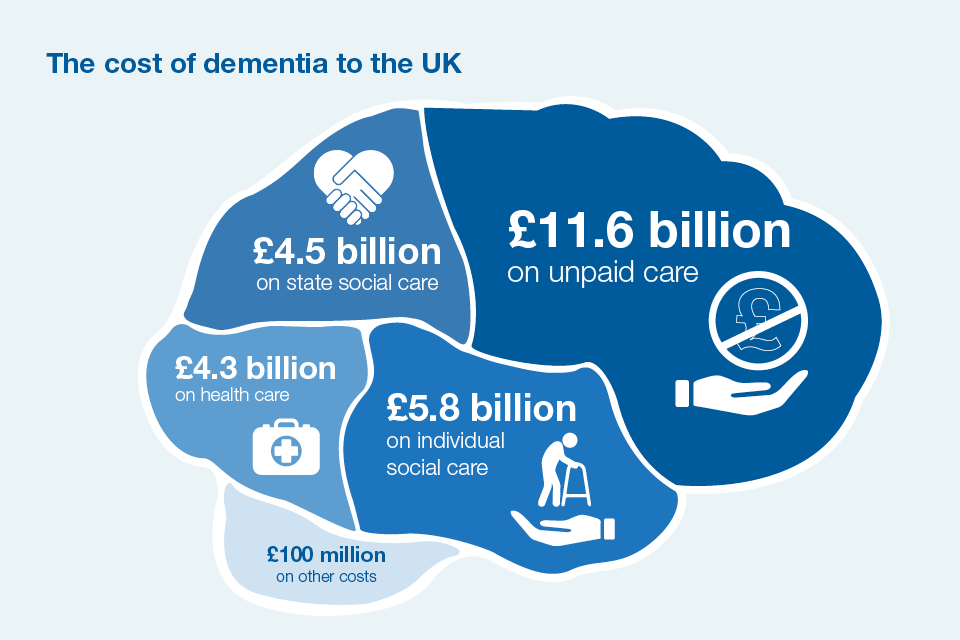 The Prime Minister's challenge on dementia 2020 reported that around 60% of people with dementia have Alzheimer's disease, 20% have vascular dementia (caused by problems with the blood supply to the brain), there are also a few less common forms of dementia. In older age groups, most people living with dementia have a mixed condition.
An estimated 540,000 people in England act as primary carers for people with dementia; half of these are employed, 50,000 have needed to leave employment to meet their caring roles and 66,000 carers have cut their working hours. This results in a lower standard of living for those carers and significant costs to society in general.
The number of people with dementia admitted to hospital in an emergency rose by 48% between 2008 and 2013. Around a fifth of these admissions related to potentially preventable acute conditions such as urinary tract infections, pneumonia, and other respiratory infections.
Alzheimer's Society shows the contribution of unpaid carers of people with dementia in the UK totals £11.6 billion per annum; costs which would otherwise have to be picked up by the government. Approximately 69% of care home residents were estimated to have dementia in 2014.
Core principles for healthcare professionals
Healthcare professionals should:
know the needs of individuals, communities and population and the services available
think about the resources available in health and wellbeing systems
understand specific activities which can prevent, protect, and promote
Interventions
Population level
Healthcare professionals should be aware of the interventions at population level, which include:
local health and wellbeing boards tackling dementia in the Joint Strategic Needs Assessment (JSNA) and health and wellbeing strategy, action plan and local commissioning plans
local authorities setting out local approaches to promote healthy lifestyles including sport and physical activity plans and food strategies to improve the diet and levels of activity in local communities; this might include things like using supplementary planning guidance to limit the number of new hot food takeaways being opened near leisure centres, or developing active travel plans for health services and leisure facilities
local authorities adapting the built environment towards being age friendly and dementia friendly, to make healthier choices easier
local authorities maximising on the local signposting opportunities, such as the NHS Health Check, into healthier lifestyles; local authorities often provide information on what's available locally on their website
all healthcare professionals completing dementia awareness e-learning or training, and becoming a Dementia Friend
using every opportunity to promote 'What's good for your heart is good for your brain' messaging, to reduce risk of dementia, such as through the NHS Health Check website, which also has links to associated leaflets and online resources which are available to download or order in a number of different languages.
The NHS Health Check website now also includes new training resources for commissioners and providers. See also a leaflet from Alzheimer's Research UK on Reducing your risk of dementia
Community level
Community health professionals and providers of specialist services can have an impact by:
engaging with communities to make links to local healthy lifestyle and support services, encourage their take up and reinforce the support that they offer
making preventing and managing dementia a priority at both strategic and delivery levels in community based programmes
becoming a dementia friend and supporting changing attitudes 
working with local public health teams to support initiatives working with shops, supermarkets, restaurants, cafes and voluntary community services to promote healthy lifestyles and living well with dementia
supporting the uptake of community based interventions to address healthy lifestyles, social isolation, and loneliness
supporting the uptake of flu vaccinations and health checks to reduce complications and avoidable hospital admissions 
knowing who to get further advice from
Family and individual level
Healthcare professionals should provide information, advice and support around dementia risk reduction and support, as part of routine daily contact with individuals; making every contact count as an opportunity to educate and empower individuals to make positive choices about their own health.
Healthcare professionals can have an impact on an individual level by:
knowing where to direct people for timely diagnosis and intervention if concerns are raised
involving the individual and carers in all treatment planning, making it personal 
considering the needs of carers and knowing where to direct them to get support
promoting healthy lifestyle messages to promote general health and wellbeing of patients and their carers
checking if it's delirium or dementia 
Measuring outcomes
The Dementia Intelligence Network brings together data already collected about dementia and dementia risk factors. It aims to turn the data into knowledge and intelligence that can be used by commissioners when making decisions about dementia services.
See data on the proportion of patients with dementia in a GP registered population. This definition applies to all patients diagnosed with dementia either directly by the GP or through referral to secondary care.
The Public Health Outcomes Framework has 2 measures on estimated diagnosis rate for dementia:
health related quality of life for older people (4.13)
estimated diagnosis rate for people with dementia (4.16)
The Health and Social Care Information Centre contains has 9 indicators related to dementia (type 'dementia' in the search box located in the top left corner).
Public Health England's Health matters: midlife approaches to reduce dementia risk provides a resource for public health professionals, which brings together important facts, figures and evidence of effective interventions to tackle major public health problems.
The Alzheimer's Society's Talking Point is an online discussion forum for anyone affected by dementia. It's a place to ask for advice, share information, join in discussions and feel supported. This is a good place to get some qualitative feedback from service users.
The face to face dementia review should focus on support needs of the patients and their carers. As the condition progresses, and more agencies are involved, the review should additionally focus on assessing the communication between health and social care, and non-statutory sectors as appropriate, to ensure that potentially complex needs are addressed.
The Everyday Interactions Measuring Impact Toolkit provides a quick, straightforward and easy way for health care professionals (HCPs) to record and measure their public health impact in a uniform and comparable way.
The dementia impact pathway is recommended for healthcare professionals to record and measure actions undertaken as part of routine care which impact on adult obesity.
Examples of good practice
Specialist link nurses in Surrey Downs aims to increase diagnosis rates in the Surrey Downs community by adopting an innovative approach of using specialist link nurses.
Primary care early detection and support services for dementia in Kent and Medway aims to establish a primary care based model of memory assessment to increase the recognition, diagnosis and targeted case management of people living with dementia.
South Manchester Memory Service is available to Manchester residents who have been diagnosed with dementia before the age of 65. It offers post-diagnostic counselling and support for the person with the illness as well as to carers.
The Dementia core skills education and training framework was published on 29 October 2015 and sets out the essential skills and knowledge necessary for all health and social care staff involved in dementia care.
The South London and Maudsley NHS Foundation Trust provide a Mental Health Older People's Service and a Dementia Management Home Treatment Team. They aim to support people with dementia to remain in their own homes whenever possible.
Talking Together: A handbook that includes facilitating peer support activities to help people with learning disabilities understand about growing older and living with dementia.
Guidance
NICE guidelines
NICE pathways set out a structured approach to identification of dementia and supporting people with dementia and their carers in health and social care.
Disability, dementia and frailty in later life - mid-life approaches to delay or prevent onset (NG16) aims to increase the amount of time that people can be independent, healthy and active in later life.
Dementia: supporting people with dementia and their carers in health and social care (CG42) makes specific recommendations on Alzheimer's disease, dementia with Lewy bodies (DLB), frontotemporal dementia, vascular dementia and mixed dementias, as well as recommendations that apply to all types of dementia.
There are 2 NICE Quality Standards for dementia: