Think before you buy - counterfeit vehicle parts
Published 25 July 2018
© Crown copyright 2018
This publication is licensed under the terms of the Open Government Licence v3.0 except where otherwise stated. To view this licence, visit nationalarchives.gov.uk/doc/open-government-licence/version/3 or write to the Information Policy Team, The National Archives, Kew, London TW9 4DU, or email: psi@nationalarchives.gsi.gov.uk.
Where we have identified any third party copyright information you will need to obtain permission from the copyright holders concerned.
This publication is available at https://www.gov.uk/government/publications/counterfeit-vehicle-parts/think-before-you-buy-counterfeit-vehicle-parts
This is the first time in the UK that the government has brought together key players to highlight the dangers consumers face from counterfeit car parts.
Audi, BMW, Independent Automotive Aftermarket Federation (IAAF), Manufacturers Against Product Piracy (MAPP), TecAlliance, Independent Garage Association (IGA), Amazon, eBay, Trading Standards, the Police IP Crime unit, Intellectual Property Office (IPO), M-Sport, Motor Sport Association UK (MSA), International Automobile Federation (FIA), NGK Spark Plugs, TMD Friction and Philips Automotive.
All recognise that consumers need to understand the risks they are taking in buying fake vehicle parts.
Counterfeiting is more often than not perceived as a victimless crime. It is present in almost every sector of the worldwide economy and consumers are at the mercy of unscrupulous criminals looking for quick and easy profits. Counterfeiting is very often linked to other criminal activities such as organised crime, drugs, child exploitation and prostitution. Many consumers are unaware of the risks associated with such products and don't appreciate who really benefits from this crime.
The motor vehicle sector is no exception. The influx of counterfeit car parts on the market is huge and is on the rise. Consumers are very often unaware of this problem and the dangers counterfeit car parts pose to drivers, passengers and other road users when fitted to a vehicle.
All those that work in the automotive industry are working hard to remove counterfeits from online and offline outlets, and consumers can play their part in this ongoing battle.
1.

The scale of the problem

Counterfeit car parts and accessories are seized on a regular basis around the world including in the UK. Evidence to quantify the scale of the problem is difficult to obtain. However, many industry insiders suggest that this worldwide market runs into billions of pounds. A recent study from the European Union Intellectual Property Office, which focussed on the market for counterfeit tyres and batteries inside the EU, estimated that over €2 billion are lost every year.1

The value of the market for the most commonly counterfeit car products is even higher. Accordingly to Illicittrade.com, some of the most commonly counterfeit car parts include filters, brake pads, lights, wheel rims and air bags.2 These are essential components with obvious safety implications.

This track test performed by BMW illustrates the potential consequences of fitting counterfeit vehicle parts. If fake parts fail on a controlled test, they will fail on the road. Drivers, passengers and other road users are all at risk from the catastrophic failure of vital car components which, because they are fakes, do not adhere to any safety standards.
2.

The supply chain

The vehicle parts supply chain became a globalised business. By its nature, it's very complex, new and upgraded parts come to the market regularly as a result of new technologies, materials, regulations. Criminals will always try to disrupt a legitimate business regardless of its complexity.

Wendy Williamson IAAF's Chief Executive explains.
3.

Don't supply your own parts, leave it to the experts!

Counterfeit car parts are not just a problem for vehicle and parts manufacturers and consumers, it is also a particular issue for independent garages.

In attempts to save money, consumers are often looking to purchase parts themselves and ask a local garage to fit them. However, garages are increasingly reluctant to do this because of the risks to consumers and for the garages themselves.

Terry Gibson, IGA's Head of Member Services, explains more:
4.

Counterfeits vehicle parts in motorsport

Criminals are also infiltrating the motorsport world, as recently reported by Autosport. It is needless to say an even greater risk to drivers, fellow competitors and spectators when unscrupulous teams are using counterfeit car parts in motorsport events.

The images of a recent controlled crash test conducted by Carmarthenshire Trading Standards following a seizure of counterfeit motor racing harnesses in Wales is shocking and says it all.

Roger Edmunds from Carmarthenshire Trading Standards explains:
5.

Tackling the problem

Automobile and parts manufacturers are working hard to tackle the problem and consumers can play their part in the fight against counterfeit car parts.

The car parts supply chain has mechanisms in place to trace parts back to their source. However, criminals operate outside this system, making detection and prevention difficult.

The MAPP code, initiated by a cross-company initiative in 2008 for example, is being used by a large number of well-known suppliers in the automotive sector including Bosch, Mann Filter, TRW and Schaeffler. It serves to uniquely identify the products across the various stages of the value chain.3 This includes verification of originality with the help of the oneIDentity+ platform using a mobile phone app which plays an important role, both in wholesale and retail, in the workshop or for the end customer.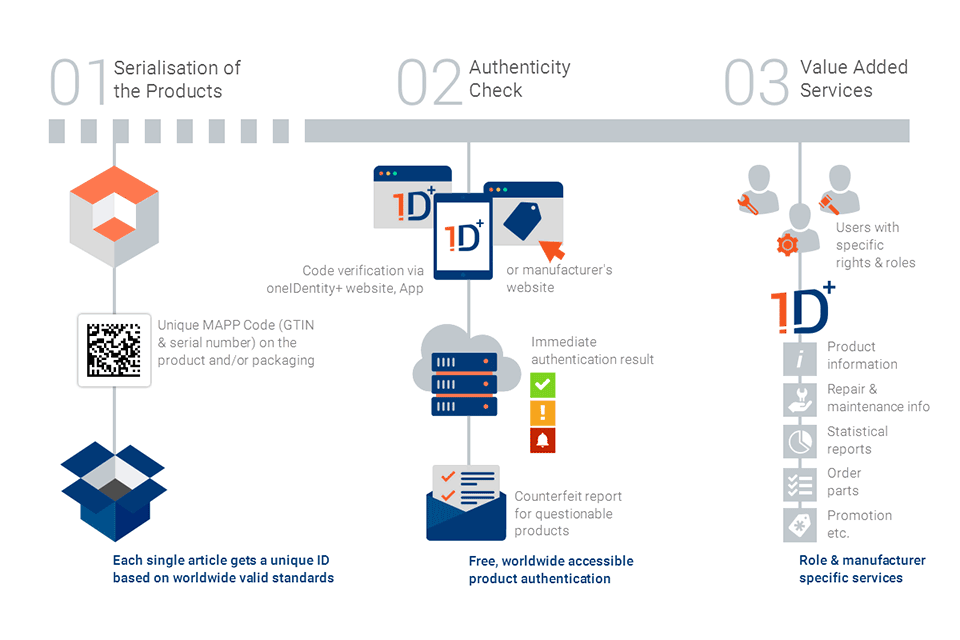 On the motorsport side, the FIA has recently introduced a labelling system to tackle the use of non-compliant and counterfeit parts in its competitions. They are also looking at other ways to increase awareness, particularly amongst drivers and team owners, who are ultimately responsible for building and then using the machinery to compete in their events.
The IPO in partnership with the motor industry and law enforcement has developed consumer guidance for prospective buyers of car parts. If you are in doubt, consult your local independent garage, authorised manufacturer dealership or parts distributor to be sure you are avoiding fakes.
6.

Footnotes