Bees' Needs campaign
Updated 20 July 2023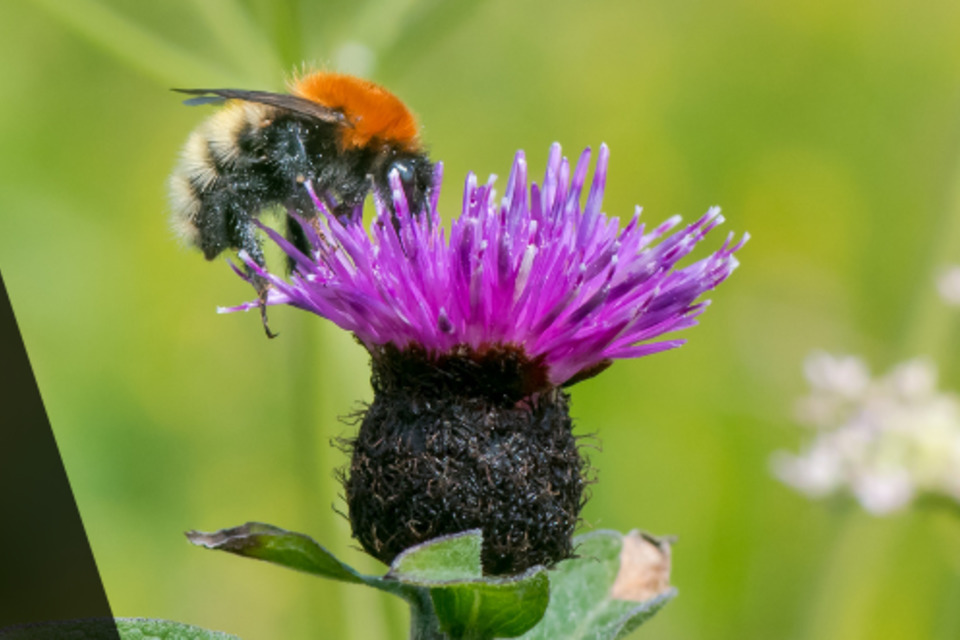 Pollinators are a priority for the UK government and a key part of delivering the Environmental Improvement Plan. We know that bees, and other pollinating insects, are an essential part of our environment and play a crucial role in food production.
Defra works in partnership with many organisations and partners to help our precious pollinators survive and thrive.
Everyone has a part to play to encourage more beautiful butterflies and buzzing bees in your local area. We can all take simple steps to protect our pollinators and help to restore our natural world.
Bees' Needs Week 2023
Bees' Needs Week (10 to 16 July) is an annual event coordinated by Defra, working alongside charities, businesses, conservation groups and academic institutions to raise awareness of bees and other pollinators.
St James's Park in London held an event promoting citizen science with flower-insect timed counts. These counts form an invaluable resource from which to measure trends in pollinator populations and target conservation efforts.
Defra works with a host of organisations to share ideas, action and activities on the many ways in which everyone can help bees and other pollinators.
We'd love to have as many people and organisations involved as possible and sharing more. To get involved email us at beesneeds@defra.gov.uk.
For media enquiries, contact the Defra press office on 020 8225 7318.
5 simple

actions

There are 5 simple actions that anyone can take to help pollinators:
Grow more nectar rich flowers, shrubs and trees. Using window or balcony boxes are good options if you don't have a garden.
Let patches of garden and land grow wild.
Cut grass less often.
Do not disturb insect nests and hibernation spots.
Think carefully about whether to use pesticides.
Flower-Insect Timed (FIT) Counts
This year, you can also get involved with invaluable citizen science.
All you need to do is simply spend 10 minutes watching flowers and insects in good weather. FIT Counts can be done anywhere, including gardens and parks in warm, dry weather, any time from April to September.
Every single count submitted to the UK Pollinator Monitoring Scheme (PoMS) helps make our data more meaningful, to help us learn more about where pollinators live and how their numbers are changing.
Read the PoMS instructions for FIT Counts and help us help pollinators!
Bees' Needs Champions
Each year we celebrate Bees' Needs Champions. The awards recognise and celebrate examples of exceptional initiatives undertaken by local authorities, community groups, farmers and businesses to support pollinators. Whether that's creating a wildflower patch, educating the local community about pollinators, or taking special measures on your farm.
This year we have 25 Bees Needs Champions, awarded to people and organisations who have taken inspiring action, however big or small, to benefit pollinators.
Our 2023 Bees' Needs Champions are:
Agrial Fresh Farms Ltd
Bainbridge Farm
CBRE
Coventry University
Friends of Portwood Rec
HR Wallingford
Incentive FM/Gavin Jones Ltd
Jones Lang LaSalle Limited (JLL Ltd) (with awards across 7 sites)
Kent County Council
Labcorp-Huntingdon
Leicestershire County Council (LCC)
Marlow Town Council
Royden Park Volunteers
Shieldfield Art Works (SAW)
Staines Park Residents Association (SPRA)
University of Sussex
Volunteer Station Adopters of Greater Anglia
Wapley Bushes Conservation Group
Westwood Cross Shopping Centre
National pollinator strategy
The National pollinator strategy is a 10 year plan published in 2014, developed after a thorough review of the evidence base and wide consultation.
It sets out how government, beekeepers, conservation groups, farmers, researchers, industry and the public can work together to improve the status of pollinating insect species in England.
The National Pollinator Strategy Action Plan sets out more specifically how we will act to fulfil the vision, aims and objectives of the Strategy, over the period 2021 to 2024. It details what we will do and how we will monitor progress.
Through our Species Survival Fund, we are creating and restoring nature-rich landscapes full of wildlife-friendly habitats that will help our bees and pollinator populations prosper.
We are also funding Local Nature Recovery Strategies to develop opportunities to restore and create habitats locally, benefiting a range of species including pollinators.
Through our Environmental Land Management schemes, farmers and land managers will play an essential role in halting the decline in species, including insects, by 2030. The schemes offer a choice of support for more regenerative approaches to farming, and creation or restoration of habitats in appropriate areas.