Hybrid, electric and hydrogen fuel cell systems: guidance for MOT testers
Updated 12 September 2018
© Crown copyright 2018
This publication is licensed under the terms of the Open Government Licence v3.0 except where otherwise stated. To view this licence, visit nationalarchives.gov.uk/doc/open-government-licence/version/3 or write to the Information Policy Team, The National Archives, Kew, London TW9 4DU, or email: psi@nationalarchives.gov.uk.
Where we have identified any third party copyright information you will need to obtain permission from the copyright holders concerned.
This publication is available at https://www.gov.uk/government/publications/alternative-fuel-vehicles-guidance-for-mot-testers/hybrid-electric-and-hydrogen-fuel-cell-systems-guidance-for-mot-testers
Overview
This guide briefly explains:
the different types of vehicle technologies you could come across as an MOT tester
the things you need to beware of when inspecting these vehicles
Some vehicle makes and models may have systems that are slightly different to those described in this guide.
Always check the vehicle's handbook or speak to the owner if you're in any doubt.
1.

Hybrid

Hybrid vehicles have 2 different sources of stored energy - usually petrol and electricity.

The main reason for using hybrids is to reduce carbon dioxide (CO2) emissions.

Hybrids usually have smaller engines. The engine spends more time in the 'sweet spot' - the speed where the engine runs most efficiently.

Driving wheels through a generator and an electric motor is more efficient than through a gearbox. The batteries regenerate on overrun, further improving efficiency.

On true hybrids (not range extenders or plug-in hybrids), all of the energy to drive the vehicle comes from the fuel in the tank.

There are 3 common types of hybrids used in light vehicles:
series hybrid
parallel hybrid
series parallel
Series hybrid
In series hybrids, the engine drives a generator, which in turn powers an electric motor to drive the wheels.
If the battery is fully charged, the extra energy from the battery can be used to supplement the power from the engine for a short while. This is usually for moving off.
On overrun, the battery is recharged and ready for the next time that extra power is needed. This is more often used on larger vehicles, for example, buses that do a lot of stopping and starting.
Parallel hybrid
In parallel hybrids, the engine drives the vehicle mechanically through an automatic gearbox.
As with series parallel, the battery provides extra energy when needed through an electric motor. This is usually mounted between the engine and the gearbox.
This also acts as a starter motor and an overrun generator to charge the battery. These are sometimes called 'mild hybrids'.
The Honda Insight was a parallel hybrid but they're less common now.
Series parallel
Most modern hybrids are 'series parallel' or 'full hybrids' - sometimes called 'strong hybrids'.
Series parallel hybrids can drive the wheels:
directly from the engine through a mechanical automatic gearbox only
by electric power only
by a combination of both
2.

Electric vehicles

These vehicles are driven by stored electrical power only.

Common examples are:
Tesla range
Nissan Leaf
Renault Zoe
Range extenders
Range extenders are designed to run on batteries which are charged from an external supply. This power lasts for a limited period of time - longer journeys will start the engine.
However, the vehicle is always driven electrically from either battery power or from the engine-driven generator.
Common examples of range extenders include:
Vauxhall Ampera
BMW i3
Volkswagen Golf GTE
Plug-in hybrid electric vehicles (PHEVs)
Plug-in hybrid electric vehicles (PHEVs) are very similar to full hybrids, but they can also be charged from an external supply.
Common examples of PHEVs include:
Mitsubishi PHEV
Toyota Prius Plug-in
3.

Hydrogen fuel cells

Hydrogen fuel cell technology is very complex.

In simple terms, it works a bit like a battery. Oxygen and hydrogen are fed into the cell. Under the action of catalysts, water (in the form of invisible superheated steam) and electricity are produced to provide energy to drive the wheels through electric motors.

There are only a few in the country at present, such as the Honda Clarity and the Toyota Mirai. There are also some buses running in London.

Hydrogen fuel cells carry the increased risk associated with the storage of hydrogen, as well as high voltage.
4.

Carrying out MOT tests

You cannot refuse to carry out an MOT test on one of these vehicles because you're not familiar with them.
Driving and powering down
The biggest danger with hybrids and electric vehicles is that the vehicle may start or move off and cause injury or damage.
You need to know how to safely drive the vehicle and immobilise it.
If you're unfamiliar with the vehicle type, ask the customer to explain:
the starting and moving off procedure
how to make the vehicle safe
You can also look in the owner's handbook.
Most vehicles have a 'ready' symbol on the dash - this is usually green.
Pressing the accelerator will make the vehicle move (whether the engine is running or not) if the 'ready' symbol is lit.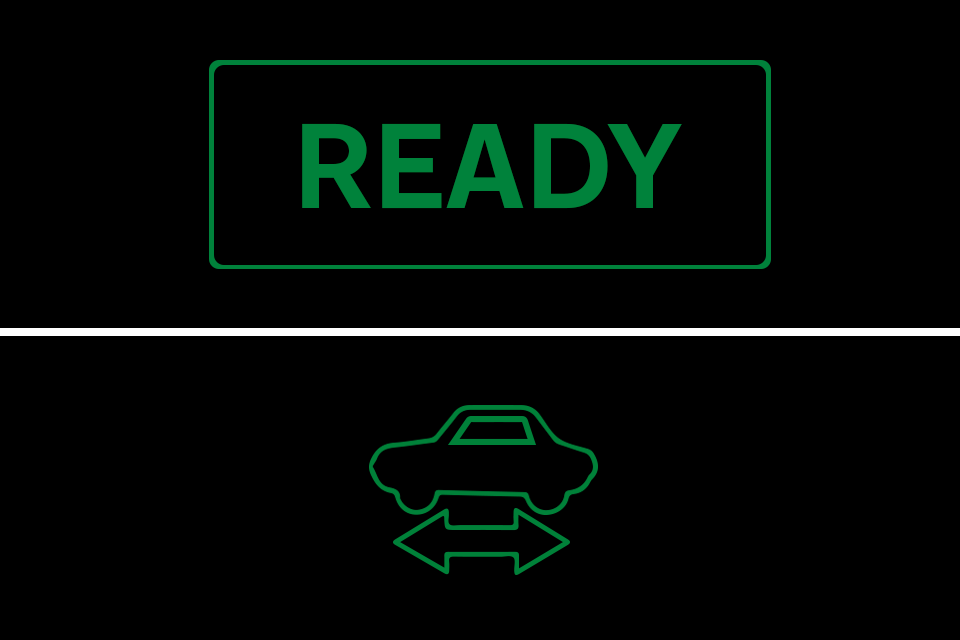 Powering down
'Powered down' is the state in which the high voltage system is isolated and the vehicle cannot start up or move off.
If the vehicle has a conventional key, remove it to make the vehicle safe to inspect.
Most hybrids and electric vehicles now have 'smart keys'. These usually have a start/stop button and keyless entry.
As a general rule, follow these steps.
Put the vehicle in 'park' with the parking brake applied.

Shut the system off with the 'start/stop' button.

Check that no warning lamps are lit.

Remove the smart key from the vehicle and then store it at least 3 metres away - ideally further.
When you need the engine running
For the parts of the test that need the engine running, simulate this by having the vehicle in the 'ready' mode.
You'll need an assistant for this, even if you're using a one-person testing bay.
Make sure they:
are fully briefed
do not touch the accelerator
hold the foot brake on when carrying out turn plate checks
Risk from high-voltage systems
All electrically powered vehicles pose a theoretical risk because of the very high voltage used in these vehicles.
High voltage is defined as being more than 48 volts DC and 25 volts AC.
The voltages in these vehicles are usually between 350 volts and 600 volts. These are lethal levels.
Identifying electric cables and components
The cables and some components are coloured orange. This can extend to other components, for example, air conditioning and power steering.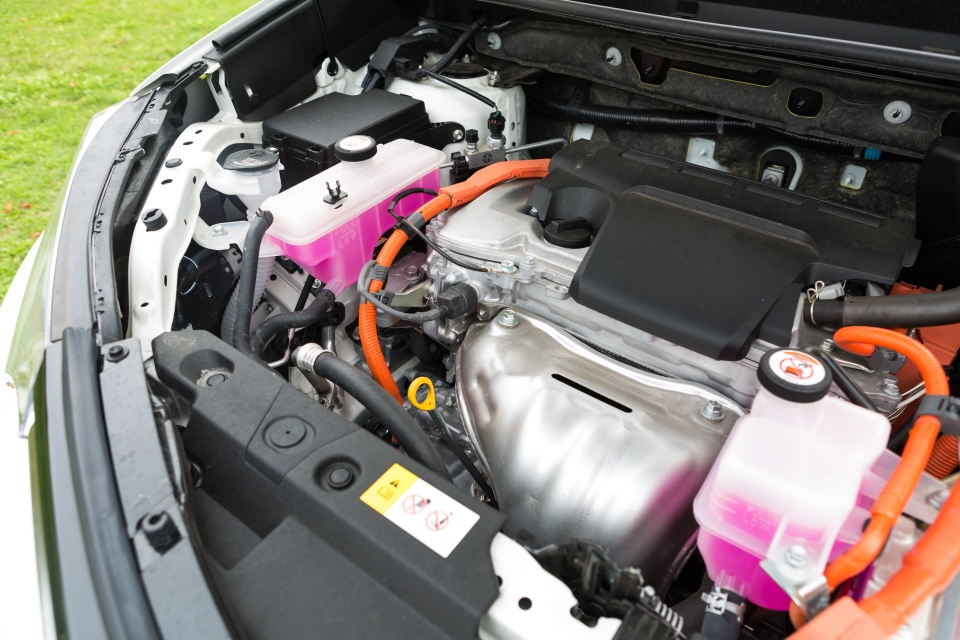 Managing risk when working with these vehicles
Follow these simple precautions to keep the risk of electric shock extremely low:
assume high-voltage battery and associated components are energised and fully charged
do not interfere with the high-voltage system - no dismantling is needed when carrying out an MOT test
abandon the test in the unlikely situation that any orange coloured cables or components are damaged or the wires are exposed - these are a potential shock hazard
Venting batteries also pose a risk in a confined environment.
If you have a pacemaker
Consult your doctor before working with these vehicles.
5.

Training and more information

Do not carry out any repairs on high-voltage systems unless you've had recognised training for that type of vehicle.

Many manufacturers and trade associations run in-depth courses on these types of vehicles.

Trying to repair these vehicles without the right knowledge carries a danger of death.

You can get more detailed information from:
vehicle manufacturers
trade associations
the 3 MOT qualification awarding organisations