Press release
Zero hours contracts consultation closes with over 30,000 responses
The government's consultation on zero hours contracts has now closed, having received more than 30,000 responses.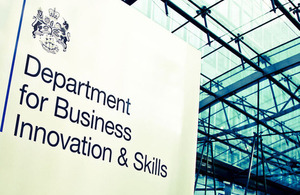 The 12 week consultation was launched in late December 2013 by Business Secretary Vince Cable, following a review of evidence on the extent of the use of zero hours contracts conducted last summer (2013).
The consultation focused on 2 key issues that were raised in the summer review: exclusivity in employment contracts and lack of transparency for employees.
We recognise that a growing number of employers and individuals are using zero hours contracts. The latest ONS estimates put these at 580,000, but we expect further detailed estimates soon. These contracts are 1 of the flexible arrangements that give individuals more choice to combine their work with other commitments. But it was also clear from the review BIS conducted over the summer that there was some abuse. The government has always been clear that we will crack down on any exploitation of individuals in the workplace and this consultation is the first step in that process.
Commenting on the consultation, Business Secretary Vince Cable said:
It is clear that a growing number of people are using zero hours contracts. While for some they offer welcome flexibility to accommodate childcare or top up monthly earnings, for others it is clear that there has also been abuse around this type of employment, which can offer more limited employment rights and job security.

We believe they can have a place in today's labour market and are not proposing to ban them outright, but we also want to make sure that people are getting a fair deal.

This is why we conducted research last summer (2013) and launched a consultation looking at the key concerns, such as exclusivity clauses and the availability of clear information. We don't think that people should be tied exclusively to 1 employer if it unfairly stops them from boosting their income when they are not getting enough work to earn a living. We also want to give employees and employers more guidance and advice on their rights and responsibilities around these types of employment contracts.

The consultation received a high level of interest, with over 30,000 responses. We will publish our response to the consultation in due course.
Notes to editors:
1.All workers, regardless of the type of contract they have, are entitled to core rights. These include the right to receive the National Minimum Wage; protection against unlawful deduction from wages; the right to a minimum duration of paid holiday and minimum duration of rest breaks, the right not to work more than 48 hours on average per week (or to opt out of this right on a voluntary basis); protection against unlawful discrimination and protection for whistleblowers.
2.The key areas of concern identified for zero hours contracts:
exclusivity. A small number of businesses who engage people on these contracts insert clauses into the contract (or tell people) that they cannot work for another employer
transparency and information advice and guidance. In some cases people engaged on these contracts were not aware of the fact that there was a possibility they could be offered no work. Businesses did not make this clear when advertising or interviewing people for jobs or in the employment contracts themselves
3.The government's economic policy objective is to achieve 'strong, sustainable and balanced growth that is more evenly shared across the country and between industries'. It set 4 ambitions in the 'Plan for Growth', published at Budget 2011:
to create the most competitive tax system in the G20
to make the UK the best place in Europe to start, finance and grow a business
to encourage investment and exports as a route to a more balanced economy
to create a more educated workforce that is the most flexible in Europe
Work is underway across government to achieve these ambitions, including progress on more than 250 measures as part of the Growth Review. Developing an Industrial Strategy gives new impetus to this work by providing businesses, investors and the public with more clarity about the long-term direction in which the government wants the economy to travel.
Published 15 March 2014