News story
Youth violence falls in areas targeted by government's 'Ending Gangs' programme
Youth violence is continuing to fall in areas targeted by a government programme aimed at stamping out gangs and gang culture.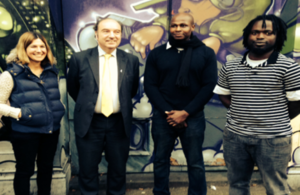 Youth violence is continuing to fall in areas targeted by a government programme aimed at stamping out gangs and gang culture, according to a new report.
The Ending Gang and Youth Violence Programme was set up in November 2011 in response to the London riots. It prioritised 33 local authority areas across England and Wales where gang culture was deemed to be an issue.
An annual report into the results of the programme, published on Friday (13 December) reveals that work by the government, police, health professionals and community projects is all seen to be contributing to a reduction in gang violence.
Work includes the introduction of a system of young people's advocates who provide direct and dedicated support to young women in gang affected areas who have been victims of, or are at risk of, sexual violence or exploitation. A team of 70 gang experts, including youth offending officers, community activists and social workers, are now working across the areas to help target gang members.
Crime Prevention Minister meets Mac-UK
Reductions in crime
Overall reductions in police recorded violent crime offences involving 10-19 year olds have been observed in the areas targeted by the Ending Gang and Youth Violence (EGYV) programme in 2012-13 compared with 2011-12.
Inflicting Grievous Bodily Harm without intent fell around 25% in London programme areas and around 33 per cent in non-London programme areas. Wounding fell around 17% in London programme areas from 1070 to 883 offences.
Crime Prevention Minister Norman Baker said:
Gangs have to go and we are getting rid of them. They're not just bad for society but bad for gang members themselves, particularly girls.

Our Ending Gang and Youth Violence Programme has already made real progress but we will continue to work hard to change the lives of young people before they get drawn into a life of violence and crime.

We now have a network of 70 people with front-line experience of dealing with gangs and youth violence who offer practical advice and support to local areas with the worst problems. We are also providing £1.2m funding over three years to protect vulnerable girls from sexual exploitation by gangs.
Work under the programme also includes:
Hospital emergency departments are also playing their part. Our frontline team is helping to spread good practice like the work at Kings College Hospital, where a youth worker from Redthread is based in the A&E department. This means that young people who come in with an injury such as a stab wound can be offered help to leave gang life.
Employment advisers are working in the worst-affected London boroughs, and have now helped over 1,300 youngsters – some as young as 14. Over 600 of these young people have moved into work, education or training.
Publishing a fact pack for police and crime commissioners on the programme, highlighting issues and opportunities around tackling gangs and youth violence and presenting work undertaken in each of the 33 priority areas.
Support
Work with 33 priority local areas across the country continues to be at the heart of the Ending Gang and Youth Violence programme. In the first year of the programme (2012-13), the Home Office invested in 29 areas, to enable them to improve the way they respond to youth violence. In December 2012, a further four areas were added to the programme to receive support from our frontline team.
The original 29 areas the Home Office has been working with since April 2012 are: Barking and Dagenham; Birmingham; Brent; Camden; Croydon; Derby; Ealing; Enfield; Greenwich; Hackney; Haringey; Islington; Knowsley; Lambeth; Lewisham, Liverpool; Manchester; Newham; Nottingham; Oldham; Salford; Sandwell; Sheffield; Southwark; Tower Hamlets; Waltham Forest; Wandsworth; Westminster; Wolverhampton.
In January 2013 four additional areas - Bradford, Hammersmith and Fulham, Leeds and Merton - also began receiving support.
Any parent or member of the public concerned about a young person involved in or affected by a gang can seek advice or discuss their concerns with the NSPCC on 0808 800 5000, text 88858 or email help@nspcc.org.uk 24/7. Calls can be anonymous.
Published 13 December 2013