Youth United in action in Birmingham
Communities Secretary Eric Pickles today saw first-hand how Government funding is creating new youth groups to teach young people valuable skills…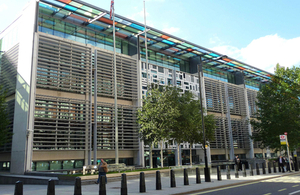 Communities Secretary Eric Pickles today saw first-hand how Government funding is creating new youth groups to teach young people valuable skills and provide them with a wide choice of activities and opportunities.
Mr Pickles was visiting the West Midlands Fire Service funded Safeside education facility in Birmingham city-centre, one of the first programmes to launch following the announcement earlier this year of £10m Government funding to Youth United. Youth United was established by The Prince of Wales and is a coalition of the major youth volunteering organisations from the Army Cadets to the Scouts to train thousands of volunteer leaders for national youth groups.
The event was part of a St John Ambulance 'Stick It' one-day training event, led by young people, teaching life-saving first aid skills to other young people.
Eric Pickles said:
Young people should never be able to say they are stuck for something to do. And it's great to know that many more thousands of young people will soon have the opportunity to join one of our great uniformed services.

So whether it's Guiding, the police or St John Ambulance, all of them give young people opportunities to have fun and make new friends while at the same time develop their interests and skills, building self-confidence and a sense of adventure.

Our uniformed services also provide a tremendous opportunity to volunteer. During the Olympic and Paralympic Games those thousands of volunteers from across the country offered a warm welcome, ensured that the Games went without a hitch and were a terrific example to us all. We must ensure this Olympic spirit of volunteering doesn't end along with the Games. Volunteering is a great opportunity to develop leadership skills and get involved in your local communities.
Throughout the year, Youth United has been identifying specific areas where traditionally there have been limited youth opportunities and where existing volunteers need additional support.
New cadet units are now being established in fire stations, police stations and other existing public buildings and within two years over 10,000 more young people are set to benefit from the setting up of around 400 permanent self-sustaining new branches across the country staffed by 2,700 new adult volunteers.
Abi Collier (16) from Birmingham said:
The thing is most people think being in a youth group is boring. Well I can tell you it's not - being a Scout has given me the chance to travel to try out new activities like zorbing, meet new people do something constructive with my life for my local community. It feels good to do something worthwhile.
Rod Jarman, the Chair of Youth United said:
Youth United is a network of voluntary organisations who have a proven track record of supporting young people develop into adults. These are independent organisations led by volunteers for young people. They have structured programmes to develop leadership and communication skills and provide young people with something meaningful, exciting and fun to do; whether that is gliding, sailing, creative or competitive activities.

Through the funding from the Department for Communities and Local Government we are able to support growth of provision in some of the areas of highest need, provide young people who may not have had these opportunities before the chance to do something different and give another generation the benefit of being part of something positive and worthwhile.

We are going to use the funding to support a step change of growth in the areas of greatest deprivation and lowest provision. To make this work we need to find more resources for local groups and more volunteers to help run them.
Wendy Human, Head of Youth from St John Ambulance said:
Uniformed organisations such as St John Ambulance are constantly reinventing themselves to better meet the needs of society. The DCLG funding means that we're able to help more young people learn first aid so they can save lives, through recruiting more youth leaders and reaching hard to reach groups.

One of the schemes we're investing in is our RISE project which targets 16-25 year olds not in education, employment or training (NEETs).
Vij Randeniya, Chief Fire Officer for West Midlands Fire Service said:
We were delighted that the Secretary of State saw some of the vital work that goes on with young people - not only at Safeside, but throughout the West Midlands region.

Our service works with tens of thousands of young people every year - many of them disadvantaged or troubled - delivering fire prevention and home, street and transport safety initiatives. The Young Firefighters' Association programme lets young people learn firefighter skills, boosting their confidence and improving fitness.

These programmes achieve so much more than making young people safer. They enhance their skills, job prospects and attitudes, reduce anti-social behaviour, and encourage many to take part in volunteering and mentoring work.
Images
All images are available from the DCLG Flickr channel (external link).
Notes to editors
Youth United was established by the HRH The Prince of Wales and supported by The Prince of Wales's Charitable Foundation. Youth United organisations work to co-ordinate and lead action across the coalition of the major youth volunteering organisations which collectively provides volunteer-led volunteering opportunities for 1.5 million young people. The Youth United member organisations are: Air Training Corps, Army Cadets, Boys' Brigade, Fire Cadets, Girlguiding UK, The Girls' Brigade England and Wales, Marine and Sea Cadets, Scouts, St John Ambulance, Volunteer Police Cadets. For more information on Youth United organisations please see: www.youthunited.org.uk (external link).

In addition to Birmingham, Youth United is working in Bradford, Knowsley, Hackney, Haringey, Manchester, Middlesbrough, Newham, Redbridge, Rochdale and Tower Hamlets areas, identified where this money can make the biggest impact.

Four further areas are also being targeted as HRH The Prince of Wales's priority areas for helping young people are: Broadwater Farm Estate, (Tottenham), Burnley, Burslem (Stoke-on-Trent) and Redcar (Redcar and Cleveland).
Published 7 October 2012