World news story
Youth tackles violence against women
We welcome proposals aimed at raising awareness and addressing the issue of violence against women. Deadline 31 January 2018.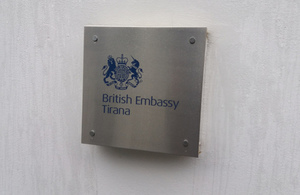 The British Embassy in Tirana supports gender equality, diversity and human rights. To support our work in these areas, we welcome proposals to conceptualize and implement projects aimed at raising awareness and addressing the issue of violence against women.
To be successful bids should:
draft a campaign aimed at raising awareness and/or help prevent violence against women in Albania. The proposal should aim to change attitudes and/or behaviour of individuals, communities and institutions towards violence against women
implement the campaign within deadline: The successful campaign must either commence or conclude on 8 March commemorating International Women's Day
Applicants must ensure that they draft and implement the project by the proposed timeline.
To be considered for the call, applicants should be between 18-25 of age, and include a diversity of disciplines and geographical locations. Proposals are open but not limited to the creative field. In addition, applications may be put forward by individuals or groups.
To apply for funding, interested applicants or teams must submit a project proposal to British Embassy Tirana.
The project bids are shortlisted and approved by the British Embassy's Post Programme Board. Applicants will hear of the outcome by 5 February 2018.
Deadline: 31 January 2018 Completed applications or questions should be sent to: british.embassytirana@fco.gov.uk
Total funding available £3000 or equivalent in Albanian LEK.
Download application: Call for proposals - Ending violence against women (MS Word Document, 68.5KB)
Published 17 January 2018