Youth Contract opened up to help more young people who are NEET
Information on the extension of the Youth Contract, designed to help disengaged young people to return to work or training.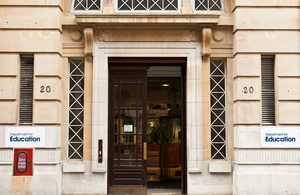 An extra 15,500 16- and 17-year-olds are now eligible for tailored help to return to work with training, school or college after the Department for Education extended the eligibility criteria for the Youth Contract.
The scheme for those who are not in education, employment or training (NEET) is part of the government's Youth Contract, which was launched in July 2012. It originally targeted funding to the most disengaged group of teenagers - those with no GCSEs at A*-C - through a payment-by-results system.
The Department for Education saved £20 million during this competitive procurement process, meaning the scheme can now be extended to a wider range of 16- and 17-year-olds who are NEET, including:
young people who are or were in care
young people who have one GCSE at A*-C
young offenders released from custody
Schools Minister David Laws said:
Helping these young people to get on in life is crucial if we want to build a strong economy and a fair society. We want every young person, regardless of their circumstances, to be able to fulfil their potential.

I am delighted we can now support many more of the hardest-to-help young people get back into education or get a job with training.
Young people in the scheme will be given tailored programmes to suit their needs, getting a wide range of support and taking part in projects. This may include:
being assisted to apply for education and training courses and jobs, such as through practice interviews and application writing
getting involved in projects focusing on a range of activities, such as skills training and improving literacy and numeracy
mentoring on issues such as personal finance, health and wellbeing
Youth Justice Minister Jeremy Wright said:
Education and training are key to getting young people who have offended back on the right path. We are improving access to education for those leaving youth custody by creating better links between the secure estate, youth offending teams and local colleges and are conducting a review of the youth custodial estate with the intention of developing a much stronger focus on education.

The extension of the Youth Contract to young people leaving custody is a welcome and important step in the government's commitment to reduce reoffending.
Rosemary Watt-Wyness, director of strategy and policy at The Prince's Trust, said:
At The Prince's Trust, we are especially concerned about young people from disadvantaged backgrounds who find themselves furthest from the jobs market.

Young offenders and those who have been in care often face the greatest struggle to get into work, so we welcome the widening of the Youth Contract to help these young people get their lives on track.
Seven providers successfully bid for contracts when the scheme launched. These providers will work with local authorities and other local agencies and organisations to identify the young people newly eligible for the Youth Contract. The young people will be able to start their tailored package of support from February.
Ends
Notes to editors
The Youth Contract, launched in November 2011, aims to lift all young people out of unemployment. It is being jointly delivered by the Department for Education, the Department for Business, Innovation and Skills, and the Department for Work and Pensions. Key features include: * cash payments to encourage employers to recruit young people * an extra 250,000 work experience places over the next 3 years * at least 20,000 extra incentive payments worth £1,500 each for employers to take on young people as apprentices * extra support through Jobcentre Plus in the form of weekly (rather than fortnightly) signing-on meetings, more time to talk to an adviser, and a National Careers Service interview. More information can be found on the Department for Work and Pension's website.

The Department for Education's part of the Youth Contract - the scheme to help the most disadvantaged 16- and 17-year-olds who are NEET - was launched in July 2012. More information can be found on the news pages of the Department's website.

The list of providers who are delivering this scheme are: * Manchester and Cheshire: Groundwork * east Midlands: Groundwork * Merseyside, Lancashire and Cumbria: Groundwork. * East of England: The Consultancy Home Counties Ltd * north east: Pertemps People Development Group Ltd * south east (A): Skills Training UK * south east (B): Skills Training UK * south west: Prospects Training Services (Gloucester) Ltd * west Midlands: Prospects Limited * Yorkshire and the Humber: Prospects Limited * London north: Prevista * London south: Prevista

The Prince's Trust is youth charity that helps disadvantaged young people to get their lives on track. It supports 13- to 30 year-olds who are unemployed and those struggling at school and at risk of exclusion. Many of the young people helped by The Prince's Trust are in or leaving care, facing issues such as homelessness or mental health problems, or they have been in trouble with the law.
The Trust's programmes give vulnerable young people the practical and financial support needed to stabilise their lives, helping develop self-esteem and skills for work. 3 in 4 young people supported by The Prince's Trust move into work, education or training. The Prince of Wales's charity has helped more than 700,000 young people since 1976 and supports 100 more each day.
DfE enquiries
Central newsdesk - for journalists 020 7783 8300
General enquiries - for members of the public 0370 000 2288
Website: www.education.gov.uk/help/contactus
Published 15 February 2013