Your views on extradition wanted
Members of the public can have their say on a review into the UK's extradition arrangements from today.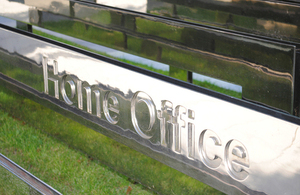 Extradition is the process which allows countries to make formal requests to each other for the return of suspects to stand trial for a crime in the country it was committed.
An independent review of the UK's extradition laws was announced by the Home Secretary in September. As part of that review, the public has until 31 January to contribute views. 
Efficient and fair
The review panel is being led by the Rt Hon Sir Scott Baker and is focusing on five areas to ensure that the UK's arrangements work both efficiently and in the interests of justice. These areas are:
the Home Secretary's powers to stop extradition
the operation of the European Arrest Warrant, which deals with extradition requests between European countries
where a crime is mainly committed in the UK, whether the person should be tried here
whether the US-UK Extradition Treaty is unbalanced
whether requesting countries should be required to provide sufficient evidence to prove an allegation
Your views
The panel would like to hear from anyone who may wish to contribute to the review. You can put forward your views by email to: extradition.review@homeoffice.gsi.gov.uk.
 
The closing date for contributions is 31 January 2011.
Published 8 November 2010