World news story
Young Uzbek Entrepreneurs Compete for the Enterprise Award
This was published under the 2010 to 2015 Conservative and Liberal Democrat coalition government
British Embassy announced the winners of the Enterprise Award.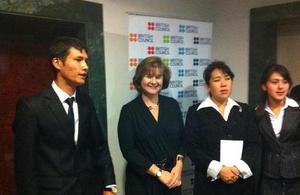 On 22 November, the Deputy Head of Mission at the British Embassy in Tashkent, Alison Beckett announced the winning team of the British Council Enterprise Competition. "This event is very important for young and promising entrepreneurs of Uzbekistan as they have had a fantastic opportunity to develop further their teamwork, problem solving as well as entrepreneurial skills. I wish the winning team, as well as all other participants, all the best in the future and look forward to seeing how your many inspiring and creative business ideas will take shape in the future," – Alison Beckett said at the ceremony.
The team from the Republic of Karakalpakstan took first place followed by Tashkent city and Navoi region. The winner will be recommended to participate in the international competition for young entrepreneurs in 2014. The Enterprise Competition gave young participants the unique opportunity to develop their teamwork, problem solving as well as entrepreneurial skills as well as promoting the spirit of entrepreneurship among young people of Uzbekistan. This event is part of the British Council's regional Vocational Education and Training project in Central and South Asia (CSA) which helps thousands of young people live and work in a global economy by equipping them with required skills and competences. During the Competition young and aspiring entrepreneurs were involved in a number of innovative and fun activities.
The jury assessing the teams consisted of representatives of various Ministries of Uzbekistan, the Chamber of Commerce and Industry of Uzbekistan, Youth Movement Kamolot, businesses and enterprises and other organizations.
"As we all know, societies thrive and repeat the benefit from the ideas and skills of entrepreneurs: in the UK, we just have to think of inspiring people like Sir Richard Branson, founder of the Virgin group to know what this means in practice. Some of our most well known companies such as Marks and Spencer started off with an idea and a vision of how things could look in the future," – said Ms. Beckett.
Initiatives to promote entrepreneurship are also a key aspect of the UK economy. The Business is GREAT campaign sponsored by the British government aims to showcase the best of this country to international business looking to invest or set up their business in the UK. The UK provides a good environment for companies to grow and a unique gateway of opportunities, as well as it is the best place to do business in the EU and the G8. "Maybe something for you to think about in the future as the visions you have today become international reality tomorrow," – Ms. Beckett added at the end of the event.
Document information
Published: 25 November 2013