World news story
Young Thinkers' Conference comes to Mohali
The British Deputy High Commission Chandigarh and Indian School of Business (ISB) will host the Young Thinkers' Conference in Mohali.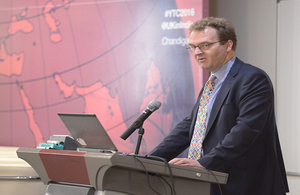 The conference will take place at the ISB's Mohali campus on 13 to 14 October 2016.
The Young Thinkers' Conference is the British High Commission's flagship foreign and security policy conference, which brings together the best and brightest experts and young thinkers to discuss a range of issues. Already well established in Delhi, where it has been held for the last six years, this is the first time the conference is being held outside the capital. It is structured as four panels, each covering a thematic topic and moderated by a senior journalist.
British Deputy High Commissioner Chandigarh David Lelliott said:
I'm really looking forward to this conference. It brings together great speakers and experts, discussing an incredibly wide range of subjects – there really is something for everyone with an interest in foreign or security policy. We hope it will help to build understanding of a range of issues that shape the region and world in which we live. It is also an important element of our engagement with younger Indians – both those who already have expertise in the subjects we're discussing and those who are simply curious and want to learn more. We're pleased to have been able to partner with the Indian School of Business to bring a discussion of this calibre to the Chandigarh region.
The two day conference will see discussions on topics like:
What is the impact of growing involvement of women in foreign policy?
How should peacekeeping adapt to evolving challenges?
India-UK: New Opportunities
Are economic considerations adequately reflected in foreign policy?
The conference will see an impressive line up of speakers and panellists including:
Gaurav Gogoi, MP Kaliabor, Assam
Ambassador Meera Shankar
Ambassador Veena Sikri
Manjeet Kripalani, Executive Director, Gateway House
Asa Torkelsson, Deputy Country Head, UN Women
Lt.Gen Abhijit Guha (Retd)
Lt. Gen JS Lidder
Jyoti Kamal, Senior Editor CNN IBN
Gowhar Geelani, Journalist
Mani Shankar Aiyar, Former Minister
Shaban Khalid, President, Commonwealth Association of Young Entrepreneurs
Praveen Swami, Editor, Strategic Affairs, Indian Express
British High Commissioner to India, Dominic Asquith will deliver the keynote address on Friday morning.
People interested in attending the conference can register here.
Further information:
Young Thinkers' Conference programme (PDF, 431KB, 2 pages)
Representatives of the media are cordially invited to attend the conference.
For more information, please contact:
Alam Bains
Media Adviser
British Deputy High Commission, Chandigarh
Ph: 9501925556

Mail to: Alam Bains
Follow us on Twitter, Facebook, Flickr, Storify, Eventbrite, Blogs, Foursquare, Youtube, Instagram, Vine, Snapchat @UKinIndia, Periscope @UKinIndia
Document information
Published: 10 October 2016