Young pupil's plea for children's education
International Development Secretary Andrew Mitchell joined African leaders on Sunday to hear a young girl's plea to deliver education for 72 million children worldwide.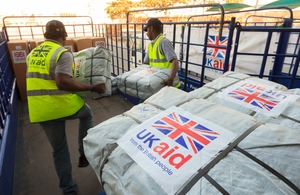 At an international education summit hosted by South African president Jacob Zuma, 12-year-old Soweto school pupil and 1GOAL education campaign ambassador, Nthabiseng Tshabalala, handed over a letter to world leaders present urging them to 'do everything they can' to deliver primary education for all children.
In the letter, Nthabiseng, a member of a DFID-supported Soul Buddyz club, said: "I enjoy going to school very much and my favourite subject is English.
"When I was seven years old my mum died. I realised how important it was that I got the best education I could, to make a better life for my family, and to make my mum proud of me.
"There are millions of children in Africa and around the world who can't go to school. As leaders you had your opportunity to go to school. Please make sure that 72 million children get theirs."
Sunday's summit was called by South Africa's president, Jacob Zuma, as part of a campaign involving FIFA, football's governing body, to push Africa's education crisis up the international agenda.
The 1GOAL campaign, from the Global Campaign for Education, is an international push to ensure world leaders deliver on the two Millennium Development Goals on education by 2015.
Among those present at the education summit, hosted by South African president Jacob Zuma, were Archbishop Desmond Tutu, Zimbabwe President, Morgan Tsvangirai and Dutch Prime Minister Jan Peter Balkenende.
Earlier, on a visit to the Winnie Ngwekazi primary school - where Nthabiseng is a pupil - Mr Mitchell met pupils and teachers with 1GOAL ambassadors John Barnes and former South African star Quinton Fortune.
Mr Mitchell said:
"TV coverage of the World Cup has reminded us that children are the same the world over.  We've seen footage of African children playing football in the streets and cheering on their footballing heroes, just like kids in the UK.
"Yet we are worlds apart when it comes to education. Across Africa, there are 32 million children without access to a basic education.
"The 1GOAL Education Summit is an opportunity for the world to renew its commitment to education for every child."
The Winnie Ngwekazi school hosts one of 2,400 Soul Buddyz clubs across South Africa, as part of the DFID-supported Soul City health communication programme.
The clubs give young children education and support on HIV, health, discrimination and human rights, along with counselling, fun and leisure activities to promote leadership and life skills.
Published 13 July 2010