Young music makers centre stage at new Nottingham rehearsal space
Young people in Nottingham are being given new opportunities to make music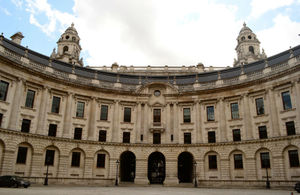 Young people in Nottingham are being given new opportunities to make music and benefit from a range of youth services at a newly equipped music rehearsal space, as part of CRS studio based at Russell Youth Club. 
Formally opened by Minister for Culture and the Creative Industries Ed Vaizey and Chief Executive of UK Music Feargal Sharkey today, the space will give young people the chance to develop their talents, confidence and skills through a range of music activities. The wide variety of opportunities range from instrumentation, vocal training, lyric writing, sound engineering and production, through to artist development and live performance.
The centre, in the St Ann's area of Nottingham, is one of 14 rehearsal spaces opening across the country as part of the music rehearsal space scheme. The scheme was set up with a £500,000 fund from the Department for Culture, Media and Sport (DCMS) and supported by the music industry. Instigated by Feargal Sharkey, the scheme has been supported by the Music Industries Association (MIA) whose members have provided cut price instruments.  Within the next few weeks, all 14 spaces will be up and running, and Government and industry will be working together to ensure their continued success.
Aimed at local teenagers and young adults aged 16-25, the spaces provide the opportunity to learn to play and rehearse with a range of instruments from turntables to violins, to use recording and production equipment, and experience live performance. And, as well as providing access to music facilities, the Nottingham centre is a gateway for connecting with local youth services and support and to make links to industry and education. 
Ed Vaizey said:
"This new music rehearsal space in Nottingham is a great way to bring together young people from across the local community and to inspire and motivate them through music. This is a great example of the Big Society in action because the young people here are making decisions about what they want in their communities and taking a lead in running their own facility.
"I'm very grateful to UK Music for their help so far, and to the MIA and their members who provided the instruments and equipment at this and the other spaces at discounted prices.  This is a great example of what can be achieved when the private and public sectors collaborate."
Feargal Sharkey said:
"I've always worked on the principle that, if a young person shows interest in banging a drum…then give them a drum.
"The rehearsal space scheme works on the same principle: give young people easy access to a range of music-making equipment, and they will use it. Nottingham will prove no different to spaces in Liverpool, Cornwall, Sunderland or Bristol, where nearly 450 have registered in the short time it has been open. 
"For such a small investment, the impact is extraordinary. The spaces may provide a first step for the next global superstar or music entrepreneur. Or they may simply instil a young person with the confidence to think, 'I can do this,' and open doors to a career in the creative industries. Going forward, UK Music is committed to working with Government to develop the scheme into a fully-functioning network. And we'll soon have 14 spaces up and running."
CRS Studio Manager, Trevor Rose said:
"CRS seeks to realise the potential of young people through music. We are, therefore, tremendously proud to be selected as one of the national Music Rehearsal Space pilots and are grateful for the support given from DCMS, Nottingham City Council, and the music industry. We can now move forward positively to develop the musicality and life chances of Nottingham's young people for many years to come."
Notes to editors
For further information about the opening in Nottingham or DCMS Rehearsal Spaces please contact Gayle Douglas on 020 7211 6145, gayle.douglas@culture.gsi.gov.uk

For further information about UK Music please contact Adam Webb on 020 7306 4447 or visit the UK Music website.

14 community music rehearsal spaces are being set up in England with £500,000 from the Department for Culture, Media and Sport.  In Nottingham DCMS met the full cost of the musical instruments and equipment (£11,000) and paid £37,000 towards the cost of capital works. Nottingham City Council met the balance of the capital works through its Youth Capital Fund.

This initiative, which follows a recommendation made by DCMS's Live Music Forum, has been supported by a range of partners including UK Music, local authorities, youth music organisations, and the music industry, including the Music Industries Association and their member companies who supported the scheme by providing cut price instruments and equipment.

The other 13 spaces are located in disadvantaged areas in Liverpool, Bristol (2 spaces) , Washington, Birmingham (two spaces), Coventry,  Hastings, Manchester, North and West Norfolk, Cornwall and Rotherham.
Press Enquiries: 020 7211 2210
Out of hours telephone pager no: 07699 751153
Public Enquiries: 020 7211 6000
Published 26 November 2010