Press release
Young Enterprise partners with Virgin Money and Department for Business to launch new enterprise challenge for primary school children
Primary school children will be given chance to start their own business with a £5 loan under a new scheme to encourage young entrepreneurs.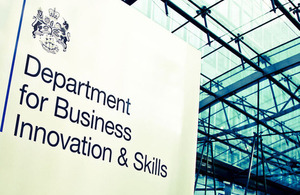 school children will be encouraged to set up a business and watch their money grow
the Fiver Challenge will provide schools with £5 for every pupil taking part
Lord Young launches a call for evidence for his report to the Prime Minister on Enterprise in Education
the Fiver Challenge builds upon Virgin Money's 'Make £5 Grow' scheme
A new nationwide competition that gives primary school children a loan of £5 and encourages them to do something enterprising to grow their money launches today (30 January 2014).
It coincides with the news that the Prime Minister's Enterprise Advisor, Lord Young, will focus his third and final report to the Prime Minister on how to boost enterprise and entrepreneurial spirit in education - right through from nursery to further and higher education.
Thousands of pupils aged up to 11 will be challenged to set up mini businesses under the scheme, created by Young Enterprise, in partnership with the Department for Business, Innovation and Skills and Sir Richard Branson's Virgin Money.
The first round of this innovative contest will run throughout the month of June 2014 and there will be a national award ceremony in September 2014 with winners in various enterprising categories.
Called the Fiver Challenge, the programme will provide schools with a loan of £5 for every pupil taking part. The young people will create products or services to sell at a profit – which they are allowed to keep. They return the original loan to the Fiver Bank, with a voluntary additional donation which will be used to fund next year's contest.
Skills and Enterprise Minister Matthew Hancock said:
It's important that young people gain the skills and experience they need to help them understand what it means to run a business and to do it successfully.

The new Fiver challenge and Lord Young's upcoming Enterprise Education review support the government's drive to build a culture of enterprise and I hope this will inspire a new generation to consider entrepreneurship as a career option.

From my experience kids can be incredibly enterprising, I can't wait to see what ideas they come up with.
The Prime Minister's Enterprise Advisor, Lord Young said:
A society and an education system which fosters and values enterprise is vital if young people are to be fit and ready for the real world when they leave school, college or university. I will be looking across the education system to see what more can be done to boost our entrepreneurial spirit and will report back to the Prime Minister in the summer.

I am delighted that government has been able to provide funding and partner up with Young Enterprise and Virgin Money to fund this innovative scheme – who knows, maybe I've met the CEO of the next Virgin or Google in Lauriston School this morning.
Michael Mercieca, Chief Executive of Young Enterprise said:
Ever since we launched Tenner, which runs in March and suits secondary schools best, we have received many requests from primary teachers to create something similar in June – which is much more convenient for primary schools.

I am delighted that Sir Richard Branson and Virgin Money have forged a partnership with Young Enterprise to make that possible. Thanks also to the support of the government, the Fiver Challenge will give tens of thousands of primary pupils a vital chance to make an early start in acquiring enterprise and employability skills and attitudes that could transform their lives and the future prosperity of this country.
Virgin Money Chief Executive Officer, Jayne- Anne Gadhia said:
The Virgin brand has a long history in enterprising and entrepreneurial endeavours and we are delighted to be supporting Young Enterprise in this initiative. There is a great synergy between Virgin Money's Make £5 Grow scheme and the Fiver Challenge and this programme is going to offer a wonderful opportunity for aspiring, young entrepreneurs to demonstrate that with the help of £5, they can turn a great idea into an exciting little business and learn how to grow their money at the same time.
The initiative is designed to encourage school children to develop valuable enterprise skills such as teamwork and problem solving and to see entrepreneurship as something they can aspire to.
The Fiver Challenge builds upon Virgin Money's 'Make £5 Grow' scheme that launched during 2013 and has already reached around 5,000 school children, and the Young Enterprise 'Tenner' scheme which involved 15,000 secondary school children last year.
Notes To Editors
1.The first year plan is to engage 20,000 children in up to 500 primary schools across the UK, increasing to 30,000 young people in 2015 and 40,000 in 2016.
2.Schools interested in taking part in the Fiver Challenge should register their interest at fiverchallenge@y-e.org.uk
3.Lord Young's Enterprise Education review is a commitment in Small Business: GREAT Ambition, the government's statement of how it will make it easier for small businesses to start and grow. The review will look at how to inspire more young people to consider enterprise and ensure they have the skills to succeed in running or working in a small business, and will report to the Prime Minister in the summer (2013).
4.Suggestions for Lord Young can be emailed to enterpriseforall@bis.gsi.gov.uk
5.Fiver will receive £330,000 from the Department for Business, Innovation and Skills
Young Enterprise is the UK's leading enterprise education charity. Every year they help 250,000 young people aged between 4 and 25 learn about business and the world of work in schools, colleges and universities. The students do this under the guidance of a network of 5,000 volunteers from 3,500 companies. This year more than 25,000 young people are taking part in the flagship Company Programme.
Virgin Money provides savings, mortgages, credit cards, pensions, investment and protection products to customers throughout the UK Virgin Money's business ambition is to make "everyone better off" – this philosophy underpins their approach to business by offering good value to customers, treating employees well, making a positive contribution to society and delivering a profit to shareholders.
8.Media enquiries contact:
On Lord Young's report, Janine Lloyd-Jones in No 10 press office, 020 7930 4433
Emma Brown, Press Officer, BIS, 020 7215 5981, emma.brown@bis.gsi.gov.uk
Paul Eastham, Head of Communications, Young Enterprise, 020 7549 1980, 07713 393 594, paul.eastham@y-e.org.uk
Kate Corry, Press Officer, Young Enterprise, 020 7549 1980, 07909 990 531, kate.corry@y-e.org.uk
Brian Giles, Head of Communications, Virgin Money, 0191 2794981, 07855 257 288, brian.giles@virginmoney.com
9.The government's economic policy objective is to achieve 'strong, sustainable and balanced growth that is more evenly shared across the country and between industries'. It set 4 ambitions in the 'Plan for Growth', published at Budget 2011:
to create the most competitive tax system in the G20
to make the UK the best place in Europe to start, finance and grow a business
to encourage investment and exports as a route to a more balanced economy
to create a more educated workforce that is the most flexible in Europe
Work is underway across government to achieve these ambitions, including progress on more than 250 measures as part of the Growth Review. Developing an Industrial Strategy gives new impetus to this work by providing businesses, investors and the public with more clarity about the long-term direction in which the government wants the economy to travel.
Published 30 January 2014