Yorkshire crowds cheer soldiers before deployment
Soldiers from The Yorkshire Regiment received huge receptions during hometown parades in North Yorkshire this week ahead of their deployment to Cyprus as the UK reserve battalion for operations in Afghanistan.
The soldiers from the Regiment's 2nd Battalion (Green Howards) are to move to Cyprus in August 2011, where they will become the UK's Theatre Reserve Battalion, with troops ready to support ongoing operations in Afghanistan.
Hundreds of people turned out in the towns of Whitby and Guisborough to wish the soldiers well and cheer them on their way, with the streets lined with people applauding and children waving flags.
In Guisborough, 80 soldiers from 'C' Company, commanded by Major Rich Grieve and led by the Battalion's Pipes and Drums, came to a halt in the town's market place. The troops were inspected by the Mayor of Guisborough, Councillor Mike Kilby, and there was a short ceremony before the parade dismissed at Prior Pursglove College.
Major Grieve thanked the public for their support and praised their enthusiasm: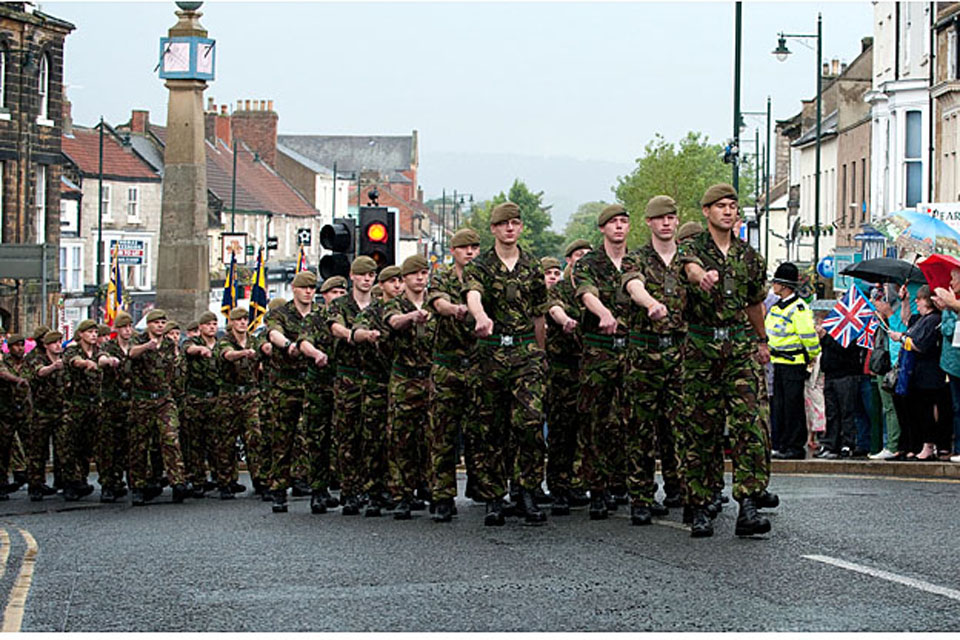 "The parade went fantastically well, and it did so because of the reaction of the crowds - it really made the day. There was impromptu applause which grew and was much appreciated by the troops. They were really pleased with the reaction we had."
On parade in his hometown, Guisborough soldier Sergeant Stuart Gibson said:
We had a really good reception, and a lot more people turned out than I expected. I even spotted my younger brothers and sister at the side of the road waving to me. Unfortunately I didn't get to speak to them today, but I will before I go to Cyprus.
Between October 2009 and April 2010, the Battalion served in Afghanistan, working closely with the Afghan National Security Forces throughout Helmand province, in areas such as Sangin, as part of the Operational Mentoring and Liaison Team.
The Battalion also exercised its Freedom of the Borough of Scarborough this week - which includes Whitby, marching through the town's streets for the first time. Like Guisborough, Whitby is one of the Battalion's heartland towns, with close ties to the soldiers and their families.
Eighty soldiers from 'B' Company, commanded by Major Barry Terry, marched over the Swing Bridge to Pannett Park where there was a short ceremony attended by the Mayor of Whitby, Councillor John Freeman, civic dignitaries and onlookers.
The Mayor inspected the troops and presented a picture of the town and a town flag to the Deputy Honorary Colonel of the Regiment, Colonel Ray Butcher. He received a plaque of The Yorkshire Regiment emblem.
Published 21 July 2011