Press release
Yorkshire court worker awarded OBE
A local man has received an OBE in this years' New Year's Honours list, for services to the administration of justice.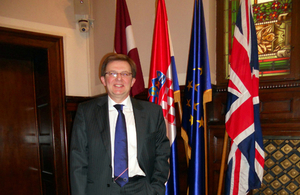 David Greensmith, Justices' Clerk for North and West Yorkshire, has been given the honour after 30 years working for Her Majesty's Courts and Tribunal Service.
As a Justice's Clerk, he is primarily responsible for ensuring that 700 magistrates across the region receive timely legal advice, managing a team of advisers who work across the two counties' eight courthouses.
David spoke of his delight on receiving the award:
I'm honoured to receive this OBE. My 30 years serving as a Justice Clerk has brought with it a number of unexpected opportunities both at home in Yorkshire, the North West and further afield.

The variety of legal work has meant that no day is ever the same and I've particularly enjoyed seeing so many individuals develop and flourish in their professional and magisterial careers.
Mr Greensmith's varied career has taken him to a number of exotic destinations, leading successful programmes developing the court systems of Serbia, Croatia and the Falkland Islands, as well as helping to launch a judicial efficiency project in Serbia.
Closer to home, he previously sat as President of the Justices' Clerks Society and has contributed to a number of national programmes, working to increase efficiency and modernise the court system.
Courts and Justice Minister Dominic Raab said:
Throughout his time working for HMCTS, David has made a tremendous contribution to the administration of justice, using his knowledge and experience to implement real change in the court system of the UK and internationally.

I congratulate him for the honour he has earned through his hard work and commitment.
Mr Greensmith has also been honoured for his services to the UK Scouting movement.
Published 30 December 2017