Press release
Yorkshire benefits from multi-million pound transport schemes
Transport secretary Patrick McLoughlin officially opens Wakefield Westgate's new £8.6 million train station during tour of region.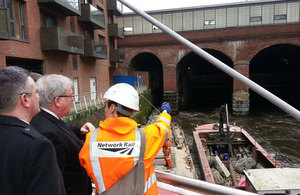 Transport Secretary Patrick McLoughlin officially opened Wakefield Westgate's new train station today (3 February 2104) during a tour of multi-million pound infrastructure projects being rolled out across West Yorkshire.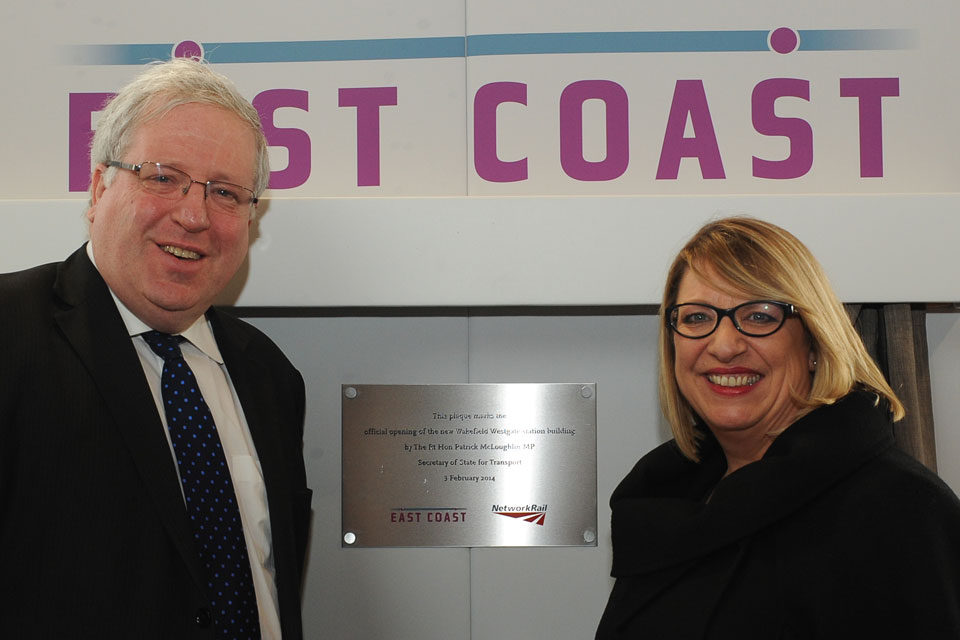 The new £8.6 million station was the centrepiece of his visit to the region, which also included stops in Leeds and Pudsey to discuss how government investment is improving transport links for passengers. He also viewed work to reduce congestion on the A647 between Leeds and Bradford.
The government is investing heavily in the Yorkshire and Humber region with £370 million planned to be spent on roads this year, while rail passengers will benefit from improved services as part of the £500 million Northern Hub project.
West Yorkshire will also benefit from the government's new north-south high speed rail link, which will improve connectivity and boost the regional economy by £1 billion annually.
Transport Secretary Patrick McLoughlin said:
Strong transport links are vital to ensuring that communities and local economies can thrive. That is why we are investing heavily in West Yorkshire delivering a raft of improvements across the region's rail and road network, bringing real benefits to passengers and motorists.

The region will also receive a massive boost from the new high speed rail line, which will significantly improve connections and boost the regional economy.
The Transport Secretary started his tour in Wakefield, where the new Westgate station has been serving the public since late December.
The government initiative, jointly funded by Network Rail and the English Cities Fund, has brought about improvements for passengers, providing a new travel centre, ticket machines and gates, first and standard class waiting lounges and a host of new retailers. In addition, access between the station building and platforms 1 and 2 has been significantly improved through a new footbridge and lifts as part of the government's Access for All scheme – a multi-million pound initiative to improve disabled access at stations.
The Transport Secretary also marked the start of work on the Leeds Station southern access scheme. The £17.3 million project, funded by Department for Transport, West Yorkshire Local Transport Plan and Leeds City Council, will provide a brand new pedestrian entrance to the south of Leeds Station. This will support the continued regeneration of the southern quarter of the city centre, where significant development has already taken place.
He also visited the ongoing improvements works at New Pudsey Station, which is being refurbished as part of the industry's national station improvement plan. Works are taking place to improve the booking hall, toilets and waiting area as well as improving access to the car park and station forecourt.
He concluded the tour by meeting Deputy Leader of Leeds City Council Councillor Richard Lewis and viewing investigation works for the A647 Thornbury Barracks Local Pinch Point Scheme, ahead of work starting in early summer.
This £3.4 million project, to which the Department for Transport is contributing £2.4 million, will address both congestion and road safety issues on the main highway connecting Leeds and Bradford. It will also improve the reliability of bus journeys on this key commuter route. The work will include putting signals at the junction and constructing central running lanes through the roundabout.
This scheme is part of the government's multi-million pound Pinch Point programme, which has been launched to tackle bottlenecks on the local road network.
Find out what else the government is doing to support and grow the UK economy
Rail media enquiries
Press enquiries 020 7944 3021
Out of hours 020 7944 4292
Switchboard 0300 330 3000
Published 3 February 2014