Yemen: British-led initiative gives new hope
A meeting of key donors in Saudi Arabia has today agreed a vital package of support for Yemen that will help to stabilise the country and ensure it does not slip back into serious conflict.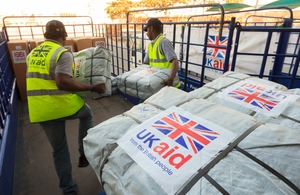 At the Donor Conference in Saudi Arabia, representatives from Gulf Cooperation Council countries, the World Bank and others, made firm pledges totalling $6.4 billion towards an agreed list of priorities and funding mechanisms.
These range from substantial support for macroeconomic stability and major new infrastructure projects, to financing for health, education, and humanitarian needs.
Speaking from the Donor Conference the UK's Minister of State for International Development, Alan Duncan, who has driven commitments over the last three months, said:
For the first time ever for Yemen, donors have come together to say in detail what they are going to do to help, how they will do it, and when they will deliver their aid, an effort to which Saudi Arabia has given the most.

Over the last few months, we've put together a package of support which will underpin the Yemeni economy, direct funds into infrastructure, and will urgently address Yemenis' basic needs such as healthcare, education and access to sanitation. Britain is an important friend of Yemen, and along with Saudi Arabia, the World Bank, the US, the EU and others, has raised $6.4 billion to help rescue Yemen from the brink of a slide into instability.
Yemen already has the highest poverty levels in the Middle East, and faces a range of deep-seated development challenges including significant corruption; food and water shortages; high population growth; and almost non-existent social service provision. On-going conflict in the north and the south of the country has displaced thousands of civilians and put some areas of the country beyond effective state control.
The UK will provide £196 million from 2012-2015. Most will go to alleviating humanitarian suffering and to the Social Fund for Development for improving rural infrastructure and expand social protection.
Specific outcomes set out in the UK plan include help to:
Protect two million women and children from chronic malnutrition
Provide 42,000 people per year with paid work such as farming and labouring
Support successful constitutional and presidential elections in 2013 and 2014, as agreed under the Gulf Cooperation Council process
Provide access to finance for 44,700 people (60% women) between 2012-2015 to enable them to work their way out of poverty by setting up or expanding small businesses
Support the private sector to create 2,700 new jobs by 2015 through provision of expertise and financing to businesses
Deliver short term humanitarian assistance (to 2013) to provide 300,000 people with emergency food assistance and essential health services for 170,000 people.
Published 5 September 2012