Year's busiest week for Culdrose Search and Rescue
The search and rescue crews of 771 Naval Air Squadron (NAS) based at Culdrose in Cornwall have had their busiest week so far this year.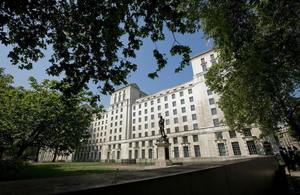 It all started on Wednesday, 20 July 2011, when the duty crew of Rescue 193, pilots Lieutenant Commander Nigel Terry and Flight Lieutenant Jon Owen (RAF exchange pilot), observer and aircraft commander Lieutenant Commander Rob Suckling, and winchman/paramedic Chief Petty Officer Aircrewman Dave Rigg, were called out to two jobs at Mawnan and Newquay.
The following day, the next duty crew of pilots Captain Martyn Roskilly, Royal Marines, and Lieutenant Paul White, observer and aircraft commander Lieutenant Commander Simon Daw, and winchman/paramedic Petty Officer Aircrewman Taff Ashman began their set of duties and were called out to Land's End.
During the next seven days, the two crews attended a total of 15 call-outs, which included the transfer of a severely injured child to Frenchay Hospital in Bristol on Saturday, 23 July 2011, and the following day, Sunday 24 July 2011, the crew had a very busy duty with four call-outs.
Two were to Plymouth, one to Falmouth, and finally another transfer to Frenchay Hospital in Bristol.
Having handed over the patient at Bristol, one of the aircraft's engines failed to start and the crew had to remain on the hospital landing site overnight until an engineering support team arrived from 771 NAS to conduct a repair.
Available 24-hours-a-day for Search and Rescue, the familiar red and grey helicopters are supported by a dedicated team at the Royal Naval Air Station Culdrose who are on call around the clock.
A six-man specialist engineering team from 771 NAS, led by Chief Petty Officer Andrew Driver, deployed to the hospital landing site to conduct the engine repair.
After a successful repair, the aircraft recovered safely back to Culdrose after the airfield opened late, specifically to recover the helicopter:
This was a very challenging task due to the distance from Culdrose, and the fact that the aircraft was sitting on the helipad at Frenchay Hospital added pressure to get it fixed and flown back to base," said CPO Driver.
He added:
The support we received was excellent, with the motor transport section providing an additional vehicle at short notice, the logistics team providing the necessary spare stores and obviously some food to keep us going!
During this busy week were some major personal milestones for the crews involved: Lieutenant Commander Terry achieved 3,000 flying hours, CPO Aircrewman Rigg completed his 400th rescue and Lieutenant Commander Suckling completed his 100th rescue.
The squadron's Commanding Officer, Lieutenant Commander Chris Canning, said:
This week has seen a significant rise in the number of call-outs, signifying the start of the seasonal summer increase.

It has also highlighted the excellent united effort required from both my engineering team and the support teams from the Royal Naval Air Station to ensure that we are able to stand ready and provide the immediate response of aircraft and crews to wherever an incident occurs.
Published 3 August 2011